Fashion
UGG is REAL
A new global marketing Spring/Summer 2017 campaign has been launched by UGG to break down stereotypes.

Aptly titled "REAL" and bearer of a strong message, the campaign features a collective of authentic Californian artists, musicians, surfers, creatives and eccentrics that in their provocative, progressive and free spirited attitudes mirror the core values of the Californian fashion apparel.

Inspired by the beaches, mountains and iconic architecture of California, the stories of Tasya, the songs of Warm Brew, the trips of Colleen and many others will mix together to give birth to a whole contemporary romance where diversity is the main splendid character.

www.ugg.com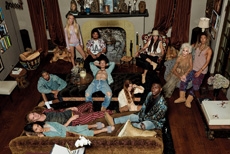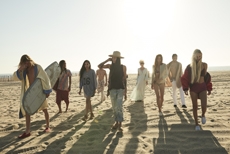 Fashion
Make Love Not Walls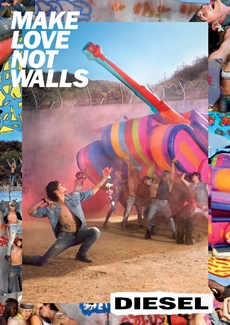 Through photographic material and a series of global actions, Diesels breaks down all barriers in communication with its #makelovenotwalls movement and tears down the mental and physical walls that separate us. In a time where hate, walls and fear seem to prevail, the brand urges us all to unite for the greater good.

"At Diesel we have a strong position against hate and more than ever we want the worlds to know that. Love and togetherness is crucial in creating a society we all want to live in, and the future we all deserve" explains Diesel Artistic Director Nicola Formichetti.

For this campaign, Formichetti collaborates with legendary artist and photographer David LaChapelle using the Wall as a symbol of separation and breaking it down to create strong stories through a simple yet powerful narrative: walls are built and the heart-shaped Diesel love tank tears them down. As a symbol of separation is reinterpreted into a symbol of unison and flowers fills the space, a celebration of freedom and love is born. Diesel is known for pushing the boundaries creatively.

From its 1995 LaChapelle campaign with two kissing sailors, to this year's anti-wall ads, it encourages us to let fear aside and focus on what brings us all together rather than what divides us. If You've got walls, Diesel's got wrecking balls!

www.diesel.com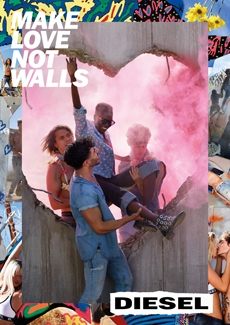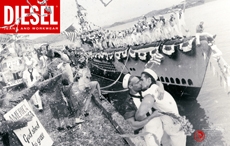 Fashion
Woolrich Re-imagines Men's Outerwear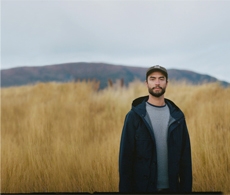 Woolrich continues its long-standing tradition in conceiving and manufacturing technical outerwear of exceptional quality, a tradition born in the late 70s that has continued to be well-received by avid mountaineers.

The brand is relaunching its Mountain Jacket, one of the first examples of technical outerwear that ushered in the expansion of men's outdoor clothing in order to cater to the requirements of outdoor activities such as backpacking, camping and cycling. Designed with functional elements that suit the requirements of such activities, Woolrich's latest edition of the Mountain Jacket strikes the perfect balance between style and function thus also catering to the more aesthetically driven consumer.

A more contemporary style is brought to the fore ensuring maximum freedom of movement, comfort and warmth with its form-fitting cut, adjustable cuffs and ergonomic style. Gore-tex®'s lightest fabric, the Paclite, guarantees the best performance. Despite the air of innovation that characterises the latest jackets, the brand loyally adheres to the design elements of the late 70s that proved so successful in the past.

With a perfectly breathable waterproof Gore-tex® layer beneath the traditional durable and water repellent outer layer, the Mountain Jacket has proved itself to be a perfect companion for adventures in nature.

www.woolrich.com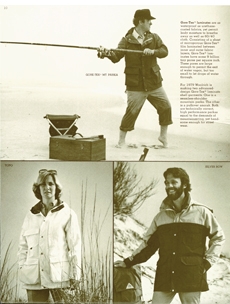 Fashion
Paul Smith Menswear Fall/Winter 2017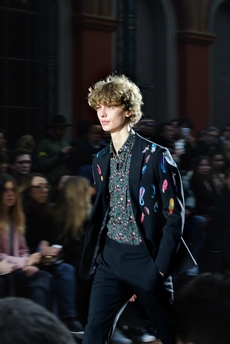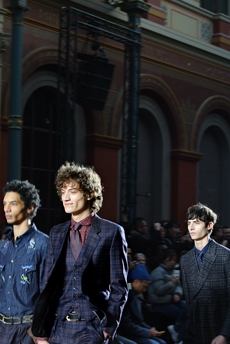 Paul Smith is one of the few brands that gives you the feeling of security, of home and the certainty of effortless style.

With its timeless tailoring, the classic yet fun twistS in textiles and cuts, for his Fall/Winter 2017 Sir Paul Smith presented Menswear and Womenswear together. It was a storm of several declinations of what it could be Paul Smith now, and how any person, especially young, could sport it. Lush checked classic English fabrics, for men and women, silk dresses both in solid colours and printed with hundreds of feathers as taken from a XIX century treatise on naturalia.

Paul Smith with his masterly style showed us how we can wear a shearling short jacket over a suit. Or how a woman can sport a deep blue velvet suit and look so sexy. Coral, blue, green, khaki, grey: a colourful palette true to the brand's signature identity. We particularly loved the relaxed blazer suits – womens' were long, below the hips - and the coats over them, for him and her, a full dive into that Smith heritage of effortless elegance.

www.paulsmith.co.uk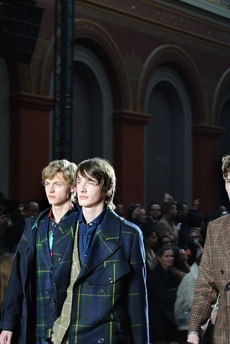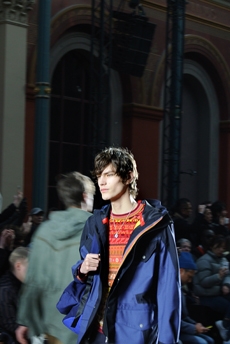 Fashion
OFF WHITE Fall/Winter 2017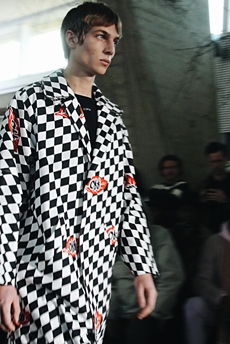 "The show is real" Virgil Abloh told us backstage after the show. Real and now, much like the urge to touch the everyday life of many in various forms. For OFF-WHITE Menswear Fall/Winter 2017 collection Abloh stood up for a new chapter of the brand. Oversized outwear gives way to tailored silhouettes. The extreme youthful approach is now moving into a more grownup vision.

The spectacular set design featuring real fading leaves and shedding trees inside the harsh concrete brutalist UNESCO building, wraps the collection in a surreal atmosphere. As we walk inside the venue we feel overwhelmed by this recreated landscape. It almost urges you to just take a stroll and roll in what looks like a wintery park's forgotten route.

Checked coats with embroidered foliage, denim printed with flying doves and adorned with golden leaves by London based jeweller Duffy. Exquisite knitwear permeates the whole collection, both for men and women, featuring the brand's signature bar logo. In all its wearability Seeing Things – as named by Abloh - is a romantic and ambitious collection yet staying true to OFF-WHITE's identity rooted in the streets.

A new way of seeing, as resonating in the words of British writer John Berger's Ways of Seeing, was chosen as the opening narration for the show: "The images has come to you, you don't go to them. The days of pilgrimage are over. It is the image of the painting which travels now".

www.off---white.com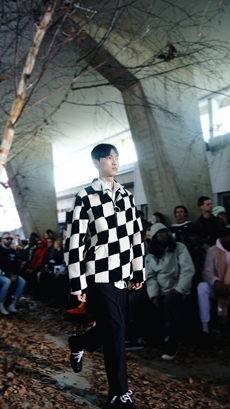 Fashion
Esther Perbandt's androgynous Fall/Winter 2017 collection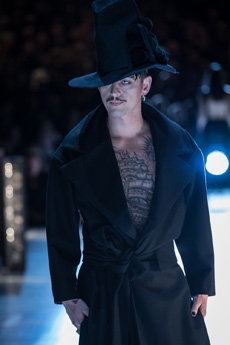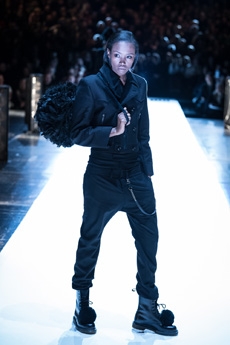 Perbandt's anti-cyclical collection for the colder seasons featured visionary garments that play with the slightest of contrast between black and white and gender. The designer is famous for touching upon human limitations delicately, forgetting about diversity and giving birth to a brand that strikes the perfect balance between androgyny and independence.

Esther Perbandt has been internationally recognised for her trademark stage productions. The Fall/Winter 2017 show only reinforced her status with a veritably unconventional yet sophisticated event that attracted celebrities from around the globe as well as personalities from the world of design, art and fashion; collectively they paid homage to a powerful production.

www.estherperbandt.com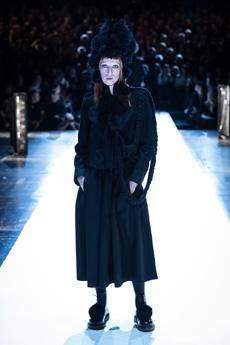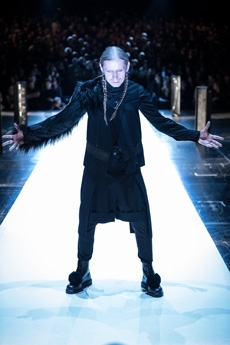 Fashion
Vivienne Westwood summer trip to the Mediterranean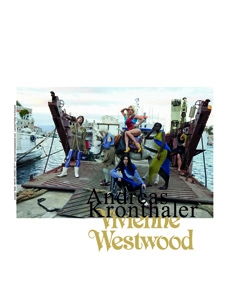 The Mediterranean has always served as a source of inspiration for poets and artists. A symbol of eternal beauty, of endless summers. A beauty that many have attempted to explain with words but that is better left to feelings and emotions.

Andreas Kronthaler's Spring/Summer 2017 'Europa' collection for Vivienne Westwood is a case in point. The collection is an ode to the Mediterranean's laid-back summer vibes and evokes images of sandy beaches, sunsets by the sea and days spent in nothing more than a bikini. But much like everything that bear's Vivienne Westwood's signature, there's a political statement to be read between the lines: 'Europa' is a continent in crisis, struggling to come to grips with the humanitarian crisis of mass migration, an issue that stains its reputation but somehow doesn't distract from its charm.

Legendary photographer Juergen Teller shot the campaign in Greece, with the picturesque white houses and blue waters serving as the perfect backdrop. Showcasing the garments as well as the scenery beautifully, Teller also managed to highlight the Mediterranean's grotesque facade with a mixture of sophistication and grunge very synonymous with the Vivienne Westwood brand.

Former sex-symbol Pamela Anderson features in the campaign providing a contrast that also links to the power of Mother Nature. The result is simple and delicious, just like a plate of spaghetti.

www.viviennewestwood.com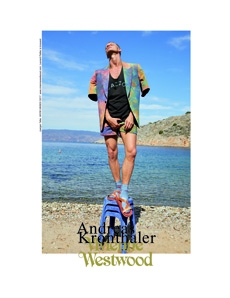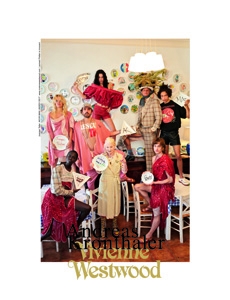 Fashion
Dior Homme Fall/Winter 2017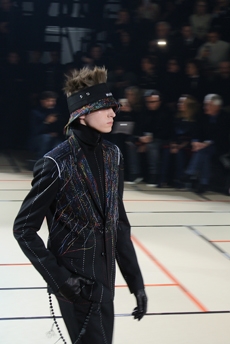 Thousands of little flags suspended from the Grand Palais ceiling, as one of those summer festivals when the night breeze brush them gently. The coloured lights illuminating the room mimicking the stage reflectors of any hard rock concert we have attended in our teens.

When the Depeche Mode lyrics started to play and the lights went up revealing the cardboard boxes and "HARDIOR" packing tape paving the regal space, it all came together.

Kris Van Assche channelled his childhood memories in 90s Antwerp clubs, the music, the parties, creating an electrifying collection that explored not only the new course of Dior Homme after 10 years at its reigns but also the possible declination of modern tailoring.

Van Assche designed the suit for the young man, a dialogue between the cool boy party animal and formal clothing. Close fit blazer revealing baste stitching matched with relaxed loose high waist trousers worn with trainers and white socks. Winking to street-wear.

A sweater with the clustered image of monsieur Christian Dior himself - whose birthday was surprisingly the day of the show - and the sentence written right below "They should just let us rave" turned quickly the attention to a more rebellious side of Van Assche: the gothic sweeping floor length capes and teddy bear chain trousers, the hand painted short fur bomber jackets, the aquamarine jumpers and the orange pony double breasted trench coat.

The Belgian designer picked the candy boys, the gabba, the new wave and the mosch pits at raves as his references. The latter, illustrated by the hand of American artist Dan Witz and printed in few closing looks - like the intricate reverse sequins suit - gave a poignant accent to the whole collection.

Dior Homme is beautifully evolving into a strong luxury fashion brand and as the light goes down we can't help but be excited, like the post feeling of any great concert.

www.dior.com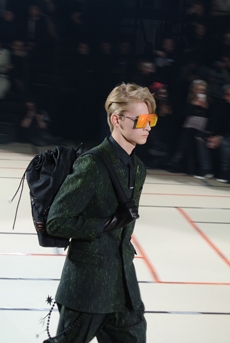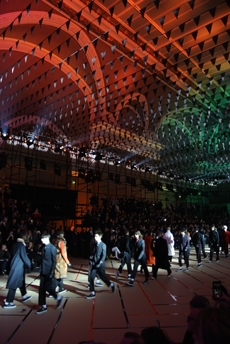 Fashion
PORTS 1961 LOVERS ARMY
PORTS 1961 Fall/Winter 2017 collection is all about love and its universal meaning. A collection that is minimalist and gives off a younger appeal than past seasons, will definitely warm your wardrobe and your heart.

The Ports 1961 man is ready to face whatever the day has in store. From protective sports clothing inspired by urban workwear to construction suits. Materials are primarily sober, solid and thick, giving a touch of virility to a pretty chic sportswear collection. In the contrasting palette of black, grey, red and orange, reversible bombers, slit sleeves' coats, studded blousons and piped trousers are just a bite of this collection that sees heart and love all over it.

Details are what bring this collection its tempo – camouflage prints adored by Milan Vukmirovic are reworked and the quintessential white shirt is embellished with a blood red embroidered heart.

www.ports1961.com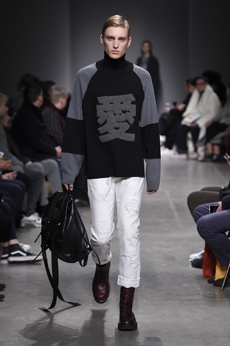 Fashion
FENDI Spring/Summer 2017: it it girls in a pink pink world
Sisters Bella and Gigi Hadid are undoubtedly a winning model duo in this day and age. For Fendi's Spring/Summer 2017 campaign the Hadid siblings join forces with Italian model Vittoria Ceretti to bring the brand's latest collection to life.

Set in a Parisian apartment, Karl Lagerfeld created a pastel-coloured world with floral wallpapers, infusing a fresh, young campaign with a delicate touch. Bella, Gigi and Vittoria reflect the brand's proposed shabby chic aesthetic while paying homage to Fendi's DNA in an ultra feminine way.

Fendi's Peeakaboo, Dotcom and Strap You bags are given candy-coloured makeovers, further enhancing their status as must-have accessories for the summer season. Fun fur details transform these into the perfect companions for these contemporary Marie Antoinettes.

The intimate, romantic and magical atmosphere created is made current with the addition of an edgy, sporty twist. Classic, yet current and so very Fendi.

www.fendi.com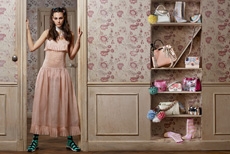 Fashion
Invictus and Olympéa Intense: Paco Rabanne's divine fragrances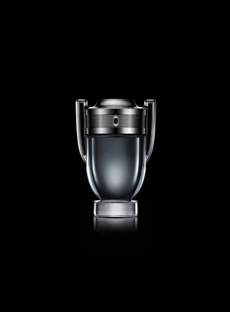 Radical, free, avant-garde. These codes are at the core of Paco Rabanne both in fashion and scents. Invictus and Olympéa Intense are the ultimate unconventional and open to fantasy scents representing two exceptional figures that together create an explosive encounter.

Invictus is man in all his force, robustly pure and athletic. It plays on the shock between blazing amber woods and a marine "salty skin" accord, in a woody-fresh wake. Green-aromatic laurel leaf and orange blossom electrified by notes of black pepper are added to give an intensified, sensual effect. The bottle, dark and sculptural, represents what the Invictus man is all about: an infallible hero who never gives in, a God on earth.

Olympéa empowers women by taking sensuality up a notch. Salty vanilla wrapped up in cashmere wood is at the base of the scent enriched by a duel in which opposites attract. On one side a floral pulse given by white pepper, orange flower and grapefruit blossom. On the other, the warmth of white amber and cedar wood. A glass circular bottle in metal colors represents the perfect construction between geometrical strength and curves, embodying the sacred female of Olympéa, the divine queen.

www.pacorabanne.com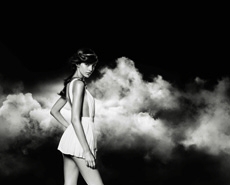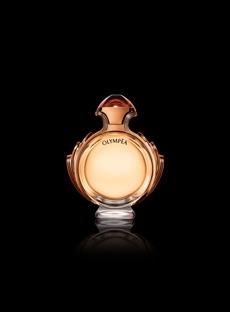 Fashion
Nike Air Max 97: the Silver side of Italians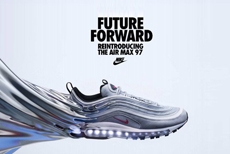 As the homeland of prêt-à-porter, Italy has always introduced new ways of fashion appreciation that we've all emulated at some point or another. Nike's 'La Silver' sneaker has been, and remains to this day, a strong example of this very concept.

When this sneaker made its first appearance in the fashion market in 1997, it failed to capture the hearts of fashion-forward Italians. It was snubbed, regarded as ugly, weird, otherworldly even. For others, those were La Silver's winning characteristics, making this model the star of 20th century footwear trends in Italy.

For a decade, its ostentatious shine and sleek lines made it a staple in many young Italians' Christmas wish lists. As a symbol of Italian gabber dancing culture and futurism, this sneaker was offered in colour variations that never went unnoticed. It wasn't long before La Silver had snuck its way into the hearts and wardrobes of both fashion addicts and proponents of a more 'chav chic' aesthetic.

Straight out of its homeland, "La Silver" by Nike is back on the market after 20 years. This makes us wonder: is this a new icon for this generation or a mere throwback for those who were there from the start?

www.nike.com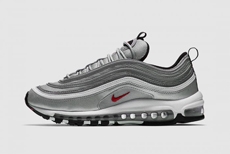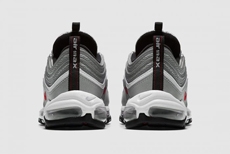 Fashion
DIESEL creates ALRITE: the timeless watch that takes art to the street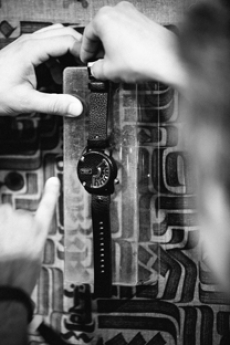 To do good and in an innovative way has always been considered one of Diesel's mottos. This winter and in collaboration with Fossil, the Italian brand has undoubtedly hit its target with its latest project: the Diesel ALRITE timepieces.

Cut out from 150 square meters of original artwork by Rostarr, who collaborated in the design of this accessory, ALRITE is literally a work of art that endures the passage of time while paying homage to both art and Diesel's DNA.

The 555 pieces that make up this Limited edition collection are completely unique and each different from one another, making for one-of-a-kind watches. This feeling of exclusivity is exactly what this hand-wrapped genuine leathers watch brings to the wearer by intertwining the aspects of time and timelessness.

Moreover Diesel ALRITE teams up with Sotheby's to reinforce the message of not only bringing art back, but also doing so for a good cause. Three pieces from this unique collection will be auctioned via e-bay for charity. Funds will be donated to the Only The Brave Foundation that has been working with Diesel for many years to fight against social inequality and working on sustainable development across the world.

"Create products that draw the line between pragmatic and fashion forward" this mission has been definitely brought to life.

www.diesel.com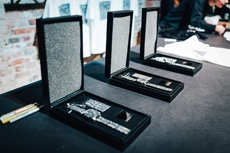 Fashion
KENZO X EASTPAK…and CHARITY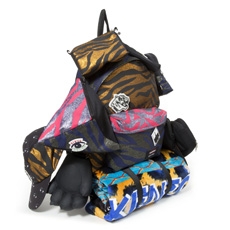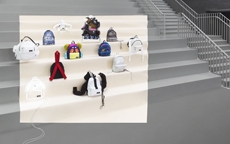 Once again the iconic Padded Pak'r® backpack by Eastpak will serve as the "carte blanche" given to a selection of the world's most influential designers to create a unique work of art.

When it comes to creativity and eccentricity, Kenzo, one of the brands participating in Eastpak's Artist Studio competition along with Giambattista Valli and Vêtements, never disappoints giving birth to a "never-seen-before" piece. Humberto Leon and Carol Lim's prints trimmed with a tiger claw key holder and a graphic Kenzo towel and hat, were assembled in a collage that not only twins Eastpak and Kenzo, but fashion and charity too.

The collection, comprised of one-off creations from each designer will drop on the 1st of December, World AIDS day. And for a good cause too: all proceeds go to the Designers Against AIDS organization to raise awareness, even among fashion victims, for HIV/AIDS.

www.kenzo.com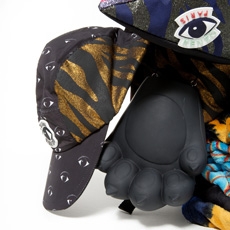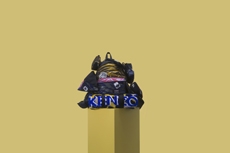 Fashion
Prince Claus Fund Gallery welcomes El Anatsui: Meyina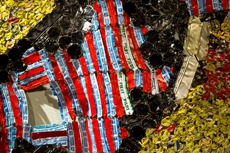 As of the 24th of November and as part of its continuing mission to collaborate with artists from backgrounds where opportunities for cultural expression and creative production are limited, Amsterdam's Prince Claus Fund Gallery will be hosting El Anatsui's Meyina exhibition.

Curated by independent curator and founder of the Centre for Contemporary Art – Lagos, Bisi Silva, Meyina paints a portrait of the artist that brings together disparate fragments that form a whole. The exhibition includes an array of materials from the artist's workspaces and past collaborations.. Sketchbooks, drawings and letters offer a unique glimpse into Anatsui's creative process.

The Ghanaian artist transforms found materials into large shimmering forms by assembling elements into vibrant patterns with a unique visual impact. Large-scale assemblages of thousands of pieces of aluminium sourced from alcohol recycling stations, are sewn together with copper resulting in an interesting texture that resembles woven cloth. El Anatsui's visually impactful cloth-like wall sculpture serve as contemporary commentary on African history, colonialism, post-colonial reality and the daily reality the continent faces.

In the exhibition the concept of a limitless horizon, an immersive space where possibilities become real resonates. The artist's dedication to exploring political and environmental issues through his work's raw materials has established him as a staunch defender of artistic freedom and an inspiration in the development of the visual arts in Africa.

Paraphrasing Ghanaian author Kofi Anyidoho, Anatsui states that, 'when I am in the studio it is as if the sky bends down to have a word with the earth.'

The exhibition, launched as part of Amsterdam Art Weekend, will run until April 28th 2017 at the Prince Claus Fund Gallery.

www.amsterdamart.com
www.princeclausfund.org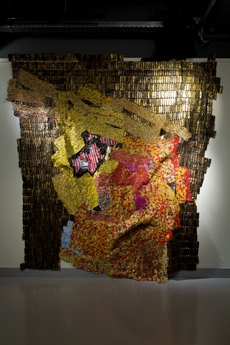 Fashion
Hype moment: Supreme X The North Face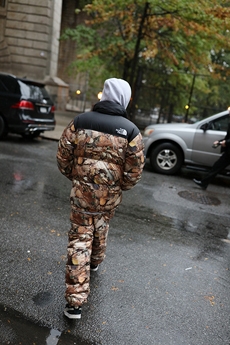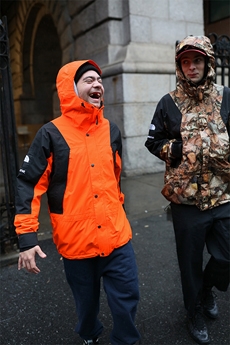 Supreme confirms its status as a hugely popular street wear apparel brand with the drop of Supreme's ever popular collaboration: Supreme x The North Face.

For the past ten years Supreme has been dubbed as 'the most hyped street wear pieces of all time' – and rightly so as the latest collection was sold out online in just under ten seconds.

Everything is about leafy camo, hi-vis orange, technically proficient and high performance pieces that create a balanced mix between style, quality and authenticity. The collection is made of cozy essentials for fall obtained by bold re-workings of TNF iconic garments in the perfect countercultural sprit of Supreme.

Representing the embodiment of the downtown culture, Supreme's rebellious New York skaters have a bomb in their hands that has definitely set off. Chapeau!

www.supremenewyork.com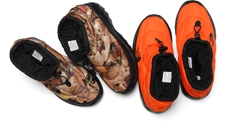 Fashion
Prada presents 'Past Forward'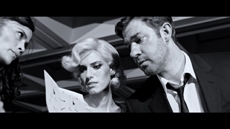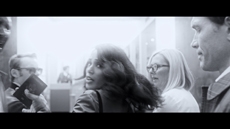 Miuccia Prada has teamed up with director David O. Russell to produce a cinematic poem that transcends logic and goes beyond traditional narratives and plots.

This futuristic silent dreamscape explores the nature of time through an intertwining series of scenarios, characters, costumes and genres that blend into each other. Viewers are left to decide on their own which parts of this amalgamation are memory, which are dream and which are real life.

The star-studded cast that includes, Freida Pinto, Allison Williams, Kuoth Wiel and John Krasinski among other recognisable figures, are dressed from head to toe in signature Prada outfits as they perform their roles in shifting combinations.

Much like in silent movies from the 30s music plays a pivotal part in the short film and infuses the moving images with tangible emotion. The absence of word also allows viewers to get completely immersed in the beautifully shot black and white scenes that unfold before one's eyes. Executed in a way that does not distract from the process of deciphering complex and nuanced meanings, Past Forward is much more than a silent fashion film. As O. Russell himself stated what is magical and strange about cinema is precisely what is so magical and strange about life – where beauty lives is entirely subjective to the individual.

The multi-platform film project premiered in Los Angeles on November 15th in the company of Prada's esteemed guests and is now available on the brand's official website.

www.prada.com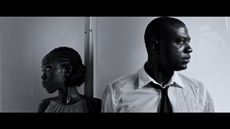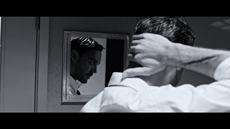 Fashion
Prada Resort 2017 Campaign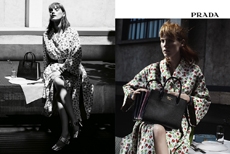 American actress Jessica Chastain features in the latest Prada campaign, shot in Milan by Willy Vanderperre. Captured around the Northern Italian city's most memorable places, like the Civic Planetarium "Ulrico Hoepli" and the newly introduced Fondazione Prada, the images see Chastain dressed in Prada essentials. As Prada firstly goes through its own traditions, the new blend of textures and patterns make feminine and masculine fuse, seeing the brand explore a different venture.

www.prada.com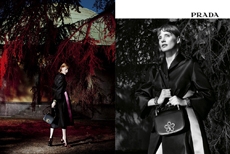 Travel
Le Narcisse Blanc: pure Art de Vivre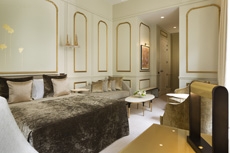 Like a bright flower blossoming in the heart of Paris, Le Narcisse Blanc is a contemporary pleasure dome where guests can breathe the magic of the French capital.

Situated between the Eiffel Tower and Les Invalides, this 5-star hotel and spa casts an incredible view to the Seine and the most majestic Parisian buildings from its bohemian terraces. Le Narcisse Blanc offers the proper Art de Vivre feeling through its cozy sitting rooms, luxurious spa with swimming pool, hydrotherapy massage jets and sauna and last but not least its 37 spacious bedrooms and suites in silky champagne tones.

Designed in luxurious and refreshing taste by "Laurent & Laurence", the hotel creates a perfect balance between Art Nouveau and Art Deco that are fused with contemporary elements, serving as an homage to the perfect Parisian lifestyle. Because, in the words of Victor Hugo "Respirez Paris, preserve l'âme".

www.lenarcisseblanc.com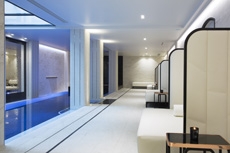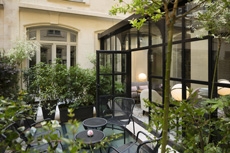 Fashion
Woolrich opens flagship store in Antwerp
Woolrich has opened its first Belgian store in Antwerp, the centre of design and fashion. This marks the beginning of the expansion of Woolrich across Europe, with 75 new stores opening over the next three years. The Woolrich store in Antwerp is located on the Schuttershofstraat, a new home for luxury brands. Its interior blends contemporary furnishing with classical Belgian traits, lending inspiration from creative director Masamichi Katayama, but sticking to Belgian heritage. The Creative Director Andrea Canè says: "Woolrich has grown exponentially in Belgium in the few last years. The opening of a flagship store in this particular moment in time makes communication with our customer not only simpler but also direct and allows us to bring the world of Woolrich to Belgium."

www.woolrich.eu
Fashion
Balenciaga Spring 2017 Ready-to-Wear
We have seen it for quite some time now. Big shoulders, oversized garments tightened on the waist and the crazy most wanted item by stylists: the sock-boots. It's the Demna Gvasalia fever. Bringing in some of the hot themes that punched Vetements to the top, Gvasalia explored that aesthetic for Balenciaga Spring Summer 2017 collection, staying true to his vision. As the boot elevates now till the waist becoming a pant all in one, the trench coats and jackets have a sharper silhouette and 80s shoulders line boned. The lavish bejewelled draped tops in one of the most un-couture material – Spandex, the vivid palette of flowers prints and the latex capes with hoods reinforced that fetish underground 80s vibes. For its second collection as creative director at the iconic French house, the young designer stepped away from that boxy look of last season to create a sleek architecture, conferring an even more powerful effect. It's a vocabulary that Gvasalia knows well and used it since its work at Maison Martin Margiela. Pushing boundaries, elevating streetculture mixed now with the intelligent subtle reference to Balenciaga heritage.

www.balenciaga.com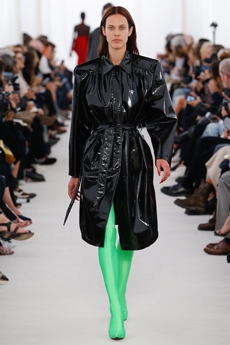 Fashion
LOEWE Spring 2017 Ready-to-Wear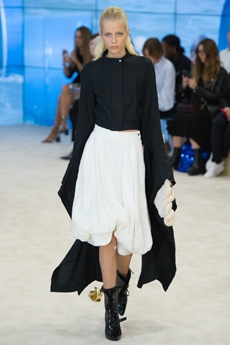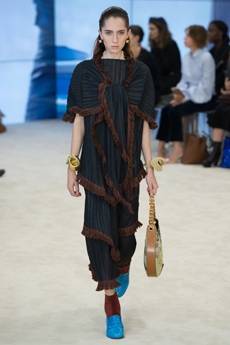 The shore of an unidentified coast. Men swimming endlessly in a deep blue sea against oil barrels floating in the water. The unsettling vision of "Offshore", the short video by Dutch artist Magali Reus, served as scenic element for Loewe Spring Summer 2017 show, giving that contemporary reference to a collection sophisticated yet sensual and fresh.
Jonathan Anderson created flowing silhouettes in black, off white, brown with a splash of fuchsia, blue, green, mixing a number of references from Japan to the Spanish heritage of the brand. Oversized long flared sleeves with leather waist cinchers as a revised contemporary version of a kimono obi belt. Long twirling dresses with bias cut, unfinished hems, the raw feeling of burlap, fringes and patchwork textiles masterly hinting to Spanish folklore.
The powerful broad collection of accessories with the most iconic bags of the brand declined in several new finishes and colours and accessories like the calla lilies on bracelets and ankles complete the luxurious atmosphere frame.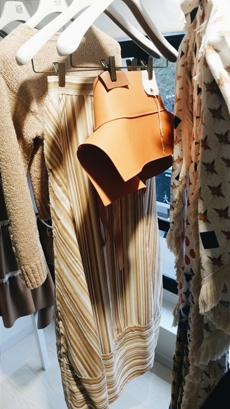 Anderson's vision for Loewe is growing and becoming season after season more mature and daring, transforming in short time this label to a relevant player in the industry.

www.loewe.com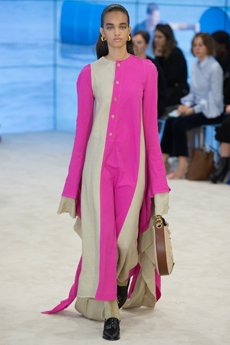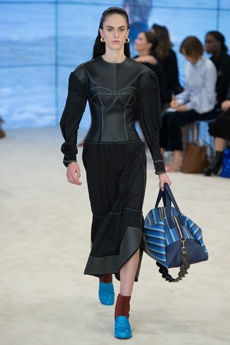 Fashion
Scotch & Soda's "Misguiding Guide of Amsterdam"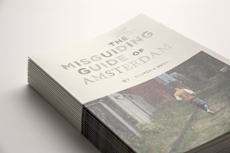 A map that'll help you getting lost and explore the hidden greatness of Amsterdam: an innovative way to discover the places Google doesn't suggest. Scotch & Soda presents the Misguiding Guide of Amsterdam, an newspaper-zine available in stores and the online app from mid-October. Visual artist Jan Rothuizen and journalist Fiona Hering roam around the city with well-known influencers in the creative fields music, fashion, business and art, the so-called "Misguiders". For its first edition, the Misguiders five Amsterdam "un-tips" and further includes a redrawn and reimagined Amsterdam by Rothuizen and pictures of the Misguiders by photographer Mounir Raji. For its launch, Papersmith studio artist Mandy Smith created an origami garment made from the zine.
Adam Kakembo, CMO of Scotch & Soda, says: "Nowadays, we don't go anywhere offline without fully exploring online first: then we know exactly what to expect when we get there. With the "The Misguiding Guide of Amsterdam" we want to spark curiosity and rediscover the forgotten art of personal discovery."

www.scotch-soda.com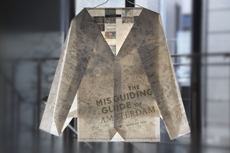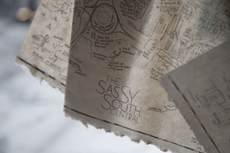 Fashion
Gucci Spring 2017 Ready-to-Wear
Resurging against a tide of tepid good taste, it seems collectively we've been revelling with childish glee at the sheer unpredictability of Gucci's new mood – an exercise in indulgence, ostentation and unbridled eccentricity. Of course, SS17 stands a season that was defined by its very volatility; fashion houses would fast-forward the commerce of their catwalk goods, while others would lie in wait in lieu of constant Creative Directors. In the wake of all this uncertainty, one thing was assured; Alessandro Michele would deliver a line-up to fawn over. And that he did, from the first look to the last. Candy colors collided in a charged kaleidoscope of powder pink and pea green, clipped tailored cuts topped by rose turbans, while separates eschewed all the fustiness of jacquard with the glitzy glaze of lurex. Frills spilled down ruffled bibs as aristocratic outlines reigned, from pigeon-breast blouses to ball gowns bolstered by mutton sleeves, arriving via the disco as decadent tradition took a trip for tinsel. All were stitched by the insignia that serves the signature of Gucci's new sovereign, an eclectic embroidery of exotic animals, love hearts and sweet slogans, artfully patched across tulle smocks, fuzzy fun-fur coats and snakeskin hardware in an exuberant stream of consciousness. This is the doorway to the mind of a man with the imagination of a boy. Little of Michele's world makes logical sense, but why live in the world when you can live in your head? We're just thankful he invited us in.

www.gucci.com
Fashion
Fendi Spring 2017 Ready-to-Wear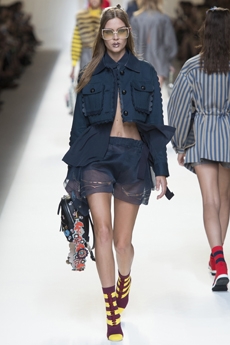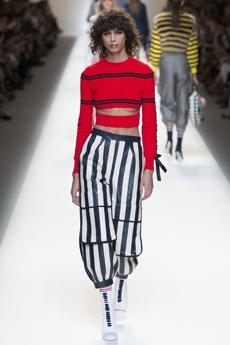 It's a habit of Fendi's to disorientate its audience of time and place, warping history's resolvable symbols so they can no longer be defined by date, resigned to obsolescence as recognisable relics of the past. For SS17, heritage harbored a hint of the alienesque, as Marie Antoinette aprons abjured their impracticality in favor of terse technical cuts. Fine pencil stripes stalked slender peplum blouses, cinched at the waist and bolted with a highway of plump covered buttons from navel to neck. Patch pockets punctuated the breast, their sensibility softened by the buttery cuts of sloped shoulders, even the most straight-laced starched cotton evoking the ease of the neighbouring gauzy silks. Rugby hoop stripes sat thicker, banded across scarlet crop sweaters, slit with an anarchist's mind for modesty in spite of the prim powder-pink A-lines which swayed beneath. Apron dresses made a break from diaphanous tulles and brief bloomers, V-necks slashed at right angles from shoulder to sternum, as hems vied for a deep diamond, centering from the hip in towards the knee. All this technicality circuited to the finer details of the collection, models pallid but for pithy metal pouts, hair parted at the center with strands seeping into wispy pig-tails at the crown. History may have repeated itself, but you wouldn't necessarily know it, not with Lagerfeld at the helm.

www.fendi.com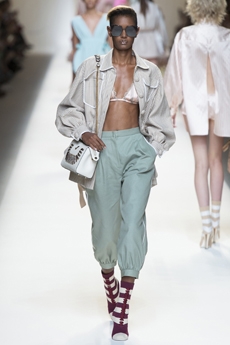 Fashion
Acne Studios Fall/Winter 2016 Campaign
Photographer David Sims has collaborated with Acne Studios on its latest Fall/Winter 2016 Campaign with three separate stories, which will be fully released during New York Fashion Week starting 5th September. Acne Studios' Creative Director Jonny Johansson has long admired the work of Sims and envisioned the latest campaign to be a fashion story without boundaries incorporating David Sims' classic take of fashion shoots and his ability to set a specific mood without a conventional narrative.

www.acnestudios.com
Fashion
Acne Studios Emoji Collection
The latest capsule collection for Acne Studios embraces their playful side, as the garments are embellished with emojis. Classic staple pieces have been giving a slight twist by the quirky detailing of ordinary objects. Bananas, doughnuts and microphones are printed oversized on black and grey sweatshirts, while hot dogs are presented as a knitted pattern on sweaters and jersey t-shirts. Smaller accessories are a pig's nose printed on the chest and square emoticons with thought bubbles. The collection is available now in store and online.

www.acnestudios.com
Fashion
MARC O'POLO DENIM Campaign Fall/Winter 2016
The latest MARC O'POLO DENIM campaign presents a new and young generation, boosting with confidence, creativity and translates the brands' DENIM collection in their own way. Bruce Weber's pupil Sean Thomas knew how to accurately illustrate this generation, while stylist Ursina Gysi created the modern looks. Following on from the last campaign, shown at the heart of the images is the metropolitan climate of Paris – unconventional, natural and multicultural.

www.marc-o-polo.com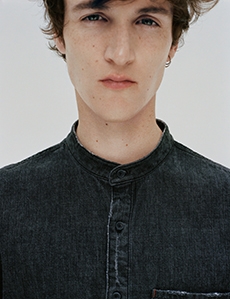 Fashion
Diesel Fall/Winter 2016 Campaign
Photography duo Santiago&Mauricio worked alongside Artistic Director Nicola Formichetti and stylist Davey Sutton for the Diesel Fall/Winter 2016 Campaign, translating fashion culture and creating a dialogue in a series of honest and humoristic images. As diesel celebrates difference and diversity, cast are a group of individuals with different cultures and personalities. "We worked with director/photographer duo Santiago & Mauricio to shoot beautiful ad impactful images where the product is celebrated with a twist on the traditional advertising images", reveals Formnichetti.

www.diesel.com
Fashion
"Watching Water" John Elliott SS17
A mirrored pool as runway, DJ Lee Bannon playing the soundtrack in collaboration with Boiler Room. At the SKYLIGHT CLARKSON SQ, John Elliott presents Spring Summer 2017 Watching Water, styled by Eugene Tong. Elliott says he has matured as a designer and so have his curiosities, one of them being understanding the idea of luxury. "One element of curiosity that was left untouched is the idea of understanding luxury. As a child, when I would think of what the idea of luxury is, I would envision the obvious status symbols – vacationing on an island, laying on a beach, or cruising on a yacht. For this season I took the literal approach of what you might need when you are Watching Water, and I let this idea infect me". The collection blends smart and street wear, tailored trousers and bomber jackets, with a vibrant colour palette of crisp whites, cobalt blues and a range of greens. As Elliott expands his repertoire, he introduces bright eyewear and includes vintage Nike Aqua Socks on the runway for selected looks.

www.johnelliott.co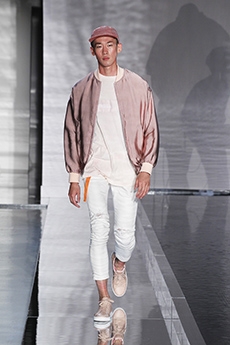 Fashion
Dolce & Gabbana Alta Moda Show FW16
A collection inspired by Italian actress Sophia Loren, Naples and tradition, Domenico Dolce reveals. The Dolce & Gabbana collection is shown on the streets in the middle of old Naples. A white satin cincture hung across the body, Miss Eleganza sewn in gold, a hint to how Ms. Loren first started out; in a provincial beauty contest. The collection includes shapely pencils skirts, wavy hems and fitted suits, all in true Dolce & Gabbana manner. The looks are completed with flower, heart and bow embellished headgear, and induced with some humor; one of the satin soccer shirts reads Maradona 10 on the back.

www.dolcegabbana.com
Fashion
Fendi Haute Fourrure Collection Fall/Winter 2016/17
Legends and Fairy Tales are the main inspiration for Fendi's Haute Fourrure Collection, as Karl Lagerfeld reveals; "I always take inspiration from what is in the air. But this time I especially took inspiration from some illustrations of legends and fairy tales, very romantic and modern at the same time. All the looks have something poetic, but in a very contemporary dimension". A romantic colour palette of soft pink and whites along with light materials like silk and tulle symbolize a dream. The sunset is portrayed with shades of blue and knitted organza. Black, cashmere and fur portray the dark night sky. 600 hours of expert artisan skills were involved in creating the beautifully applied flower and feather embroideries, which illustrates the Maison's creativity and expertise.

www.fendi.com
Fashion
CHANEL Haute Couture Fall 2016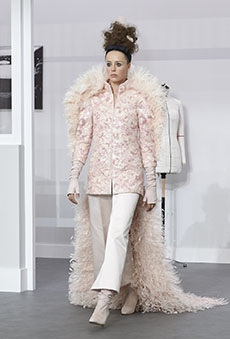 "I thought that was a modern idea to make them participate. They should be shown too", Karl Lagerfeld says about the CHANEL Haute Couture Fall/Winter spectacle, which saw the Grand Palais transformed into an atelier. Decorated with mannequins, sewing machines, threads and toiles, the show pays tribute to the seamstresses, tailors and dressmakers who make the collections happen. The garments have a polished silhouette, with angular shoulders, three quarter length sleeves and wide-cut trousers styled with leather thigh-high boots. CHANEL's statement tweed jackets draws focus on the waist with pockets placed on the hips. Autumnal shades are balanced out and enhanced with hints of pink, black and white. Closing the show is CHANEL's bride, who Lagerfeld has envisions in a bustier and trousers formed from lace tulle and satin, coated with pink and white wool.

www.chanel.com
Fashion
the-miumiu-club Paris
Miu Miu Club members were invited to attend the-miumiu-club Paris exclusively for the celebration of Paris Couture Week, to view the Cruise collection and which also showcased the new autumn/winter 2016 campaign. Dirty Pretty Strings performed at the event, on the turntables were Paul Simonon, Kate Moss alongside others. The rooms with impeccable detailing, including the painted ceiling by Paul Baudry, were transformed into clubrooms such as a cinema, restaurant and show house. This was held in the Hotel de la Paiva on the Champs-Elysees, built mid-1800s as private residence for commissioner Esther Lachmann, also known as La Paiva. Miu Miu Clubs are also held in London, Shanghai, Los Angeles and Macau, China.

www.miumiu.com
Fashion
Giorgio Armani New Normal A/W 2016/17 Campaign
Giorgio Armani announces its New Normal Autumn/Winter 2016/17 advertising campaign, shot in black and white by Peter Lindbergh on the Plage du Touquet in France. Giorgio Armani New Normal focuses on today's women, proposing classic, timeless garments. The series of natural images promotes the idea of a global, multi-faceted beauty and features models Liu Wen, Liya Kebede, Elisa Sednaoui and Amanda Murphy. "I wanted to show different types of beauty, without barriers – four young women who experience the present in their own ways", thus revealing Giorgio Armani.

www.armani.com
Fashion
MBFW: Marina Hoermanseder S/S 2017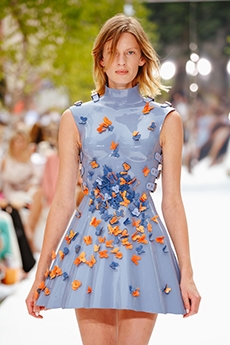 Dressing her models in three-dimensional garments, Marina Hoermanseder's S/S 2017 collection at the Berlin Fashion Week reminds of playing dress-up with dolls. Glossy dresses resemble the perfection found in the bodies of plastic puppets. The finishing dress of the collection is definitely the highlight – it looks like the glossy body of a mannequin, a bare body showing breasts and a belly button. A tiny waist and wide hips lead into a stiff knee-length skirt, scalloped at the back and heavily encrusted with a mix of red and white diamonds. The bejeweled dress and corsets are not the only eccentric extra. Butterfly applications on shiny leather tops and dresses give the impression that butterflies are more drawn to settling on a beautiful dress than on a flower. 
Some tops are made entirely out of frilly flower applications. There is a girly and playful feel to the collection. It is an interesting progression from last year's summer collection. Similar straps and belts are still essential elements of coats and dresses, but this time the skirt made entirely out of straps wrapping around the model's legs is boasting of a powerful pink and neon orange. Fiery red, neon peach and hot pink are combined with baby blues and creme colours. Pleated mini skirts and wide legged 3/4 trousers are key to the collection. Neon collars spice up dress shirts. A shiny bomber jacket in a bright orange offers an option for summery outerwear. The plastic feel of the garments is what makes them stand out.

www.marinahoermanseder.com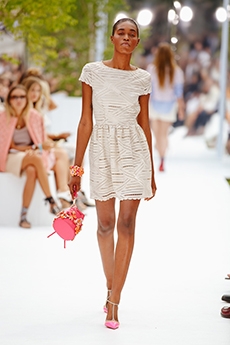 Fashion
MBFW: Lala Berlin Spring 2017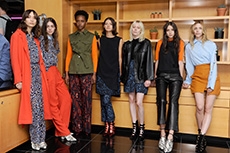 Lala Berlin's Spring 2017 collection, called Hypnotic Nights, is presented in the highest penthouse in Berlin, among an exclusive group of 200 invitees. The looks are energetic and vibrant, made of delicate silks and with elegant pleats. it's colour palette a mix of red, orange combined with black, blue and brandy-coloured garments. The presentation saw Heike Makatasch en Laberenz at the turntable, opening up the dance floor for the guests. Leyla Piedayesh said that then she saw the view of Berlin for the first time, a completely new perspective stretched before her. "I was so touched, I didn't want that feeling deprived from anyone."

www.lalaberlin.com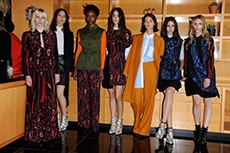 Music
PITCH FESTIVAL 2016
The fifth edition of Pitch Festival will kick off this weekend at Cultuurpark Westergasfabriek in Amsterdam. The impressive line-up is suggesting it will be a fun two-days. Featured in our #50 issue, Canadian singer Grimes will be performing, as well as William Phillips, a.k.a. Tourist, alongside many more. For those not familiar, Tourist is an electronic musician and is co-writer of Grammy-winning Song of 2015 Stay with Me by Sam Smith.

To get a feeling of what PITCH is like, watch last year's impression on our Facebook. Weekend and day tickets are available on www.pitchfestival.nl
Fashion
Willow Smith for CHANEL Eyewear Fall 2016/17
As actress and singer, Willow Smith is the face of a new generation and has now been chosen as the face of the Fall/winter 2016/17 campaign for CHANEL eyewear. The images and short videos for the campaign are shot by Karl Lagerfeld, with a minimal black and white focus. Dressed with jewels from the Fall/Winter 2016/17 collection, Willow shows her bubbly personality for the new eyewear collection, which features optical designs and sunglasses.

www.chanel.com
Fashion
PFW: JULIEN DAVID SPRING 2017
"This season I was inspired by the inertia of waves from sound to ocean and creative waves", says Julien David on his Spring 2017 Menswear collection, taking its inspiration from comfortable tropic summer days in Japan. The colour palette includes pastel pinks, blue and green silks highlighting the infamous Hokusai print. Trousers and sleeves are printed with texts like 'Wave Length' and the layered styling, accessorizing jumpers with belts across at chest height, which gives the collection a grungy feel.

www.juliendavid.com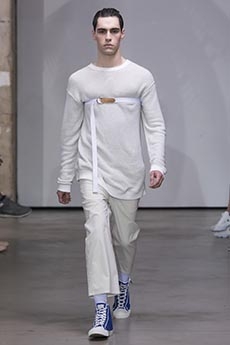 Fashion
PFW: LOUIS VUITTON SPRING 2017
Going back to its blueprint and claiming its identity. In Louis Vuitton's Spring 2017 collection, they return to the brand's heritage, drawing inspiration from Africa in rich textiles and prints with a colour palette led in Savannah-bleached tones. We find a dose of London Punk in the garments, in the use of 'dog-collars', mohair and transparent rubbers. The collection has the characteristic elegance and expertise we're used to from Louis Vuitton. Visual artist-duo Jake and Dinos Chapman have for the second time collaborated with Louis Vuitton by creating four animal-like prints, used on the mohair jumpers.

www.louisvuitton.com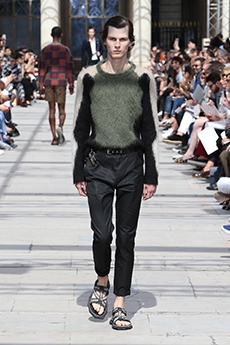 Fashion
Marcelo Burlon SS17 Show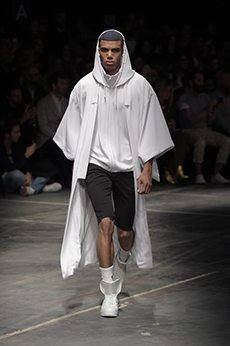 Marcelo Burlon believes in the strength of the melting pot as he is a fearless social aggregator and enthusiastic herald of the liberating power of multiculturalism. An intertwining of worlds, a convergence of polar opposites defines his credo and practice of creative director and contemporary polymath. As visually bold and culturally layered as it possibly gets, the outcome keeps a note of authenticity that comes from real-life personal experiences.
This season Marcelo Burlon embarks on a loud sonic trip across ninja iconography, metal assertiveness and outer space futurism. The germ of this new exploration of the fast-paced, high-spinning, hyper-performing, urban style comes from Burlon's childhood days spent under military dictatorship in Argentina.The collection is an ode to noise that ignites unstoppable waves of change. Under the slogan SONIDO, spelt out loud in gothic fonts, a new cultural clash happens within the County of Milan premises. Numbers and graphic weaves mix with Ninja stars and County's very own Patagonian symbols, swarming on bomber jackets, hoodies, tops and shorts.
Kimonos both long and short and sliced samurai skirts point towards the East, chain-mail and PVC nod at the future, lace-up trousers provide a slight tingle of fetish. Shapes have both an utilitarian and adventurous feel, while a profusion of embroideries adds texture and visual stimulation. Clear PVC parkas and elongated sheer vests amplify the layering of the looks. Robotic trousers, jumpsuits and multi-pocket field jackets put a combat mode into play. In his quest for the balance of opposites, Marcelo Burlon keeps celebrating the clash as the essence of now and only fuel of progress.

www.marceloburlon.eu
Fashion
PFW: MAISON MARGIELA SPRING 2017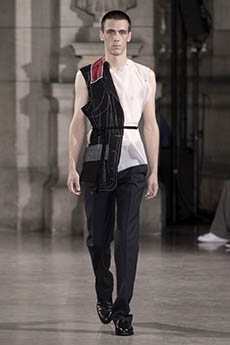 We enter a world where masculine fragility is not considered a weakness. The Maison Margiela Spring 2017 collection includes variations of the two-piece suit, exposed stitching creating a sleek finish and rounded coat shoulders. Crossings of shirts from contrasting fabrics are blended together, whilst also showing a mixture in colour palette; Sepia tones are shown next to technical shell tops and knits, which awaken an active elegance. The looks are completed with lace-up boots and square-toed loafers. Looking through its own archive, a selection of seven garments are recovered and included from collections between 1999 and 2005.

www.maisonmargiela.com
Cinema
Antony Morato Film Premiere
Antony Morato, the contemporary, Italian fashion brand with international and cosmopolitan terms drew attention to the world of cinema. The brand has partnered with L'Uomo Vogue, the reliable source for men's fashion and lifestyle on the short film "We have to be courageous" presented in Milan which also participates on Fashion Film Festival Milano.
The 5-minute short film, produced by K48, tells of the growth of self-consciousness and the desire with a hedonistic expression representing even one's own identity. The conclusion of the film leaves a feeling of uncertainty back as it represents the change and the final separation of an already defined world. The appearance of the Don Giovanni is finally ready, almost as if he would say, "Here I am". The film is directed by Elisa Fuksas and the viewer can watch the exceptional performance of the lead actor Alessandro Roja.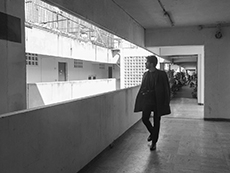 The story approaches the Antony Morato campaign "I am who I am" on a vivid and lively way. The brand, founded by Lello Caldarelli sends a strong message and a claim, addressed to the contemporary man. Without risk of misunderstanding he realizes that he can understand and interpret his own freedom. This requirement is universal and shows more than ever that Antony Morato invites us to it.
Fashion
MFW: VERSACE SPRING 2017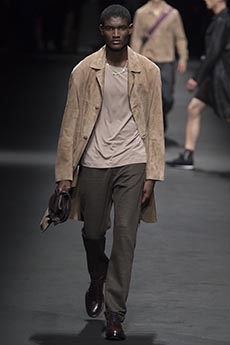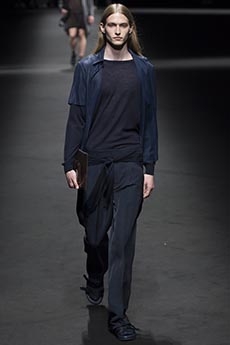 The Versace Spring 2017 show is opened with a short version of Bruce Weber's advertising film for the brands Fall 2016 collection, shot during a four-day period with Donatella Versace in Chicago. This heavily influenced her latest collection, as she said 'when we came back, we designed the collection in five days.' Layering is key here; sweaters are tied around the waist, ankle-length parkas are paired with cycling shorts, but also throw over clean-cut suits. Donatella Versace paid homage to the late Prince by using one of his original songs, gifted to her by the singer, as soundtrack during the show as well as making an appearance at the end wearing an all-purple suit. Donatella loves changes, as she says: "I want to push Versace forwards, and capture the spirit of individuality and creativity in the men that I love."

www.versace.com
Fashion
MFW: EMPORIO ARMANI SPRING 2017
The Emporio Armani Spring 2017 collection is sleek and sharp, with as main focus present-days meaning of the term identity. The collection envisions the idea of belonging, as some models walk down the runway in groups, whilst encouraging everyone to be themselves. The garments, embroidered and printed with digital imprints, are inspired by athletic attire but are made with fine fabrics. In pure Emporio Armani fashion, the collection stays true to its signature colour palette, including navy and denim blue and fir greens, alongside hints of orange, red and electric blue.

www.armani.com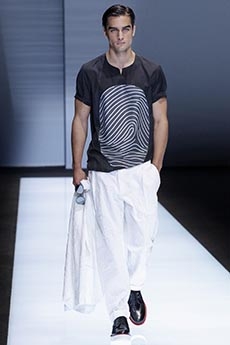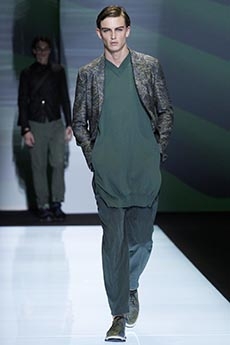 Fashion
MFW: LES HOMMES SPRING 2017
Les Hommes Spring/Summer 2017 takes its inspiration from the Spanish Conquest of South America.
Belgian design duo Bart Vandebosch and Tom Notte have created a military wear collection with oversized shapes and fit, colour scheme fitting the military theme as mostly green, white and black are used. Models' ears, noses and lips are pierced and footwear consists of mid-calf black stud-embellished sandals. The collection feels urban yet utilitarian, with golden and silver details in zips hinting to Mayan adornments as well as military elements.

www.leshommes.com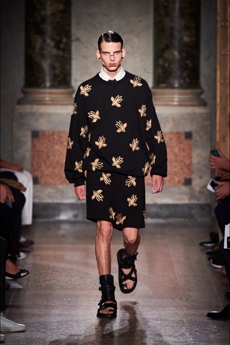 Fashion
MFW: GIORGIO ARMANI SPRING 2017
Giorgio Armani's Spring/ Summer 2017 embraces change and crosses borders, but remains true to the brands philosophy as it evolves into a mysterious yet urban collection. Garments are designed with a mix of geometric patterns and graphic elements, which somehow give of a Caribbean finish. The fit is loose, trousers oversized but it has a clean-cut undertone, perhaps through the colour choices. Its colour palette is romantic, orange tinted reds styled with an array of warm greys and light blues.

www.armani.com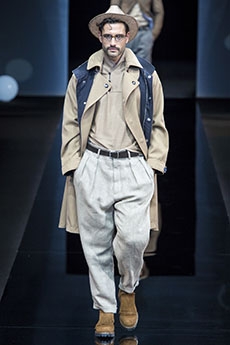 Fashion
WUNDERKIND x Les Petits Joueurs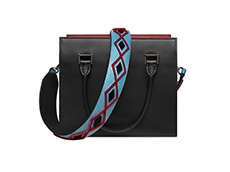 Eye –catching and playful designs that are spotted in the hands of it-girls and celebrities worldwide consist the new WUNDERKIND x Les Petits Joueurs handbag capsule collection by the Italian accessories designer Maria Sole Cecchi. Maria Sole is one of the young talents invited by Wolfgang Joop to interpret his vision of the WUNDERKIND style for Fall/Winter 2016. The collection marks the beginning of a series of design collaborations with young emerging talents.
The exclusive handbag range with fun details, bold statements and quirky geometric patterns translate the spirit of the WUNDERKIND Fall/Winter 2016 collection at its best. Janis is a compact size clutch in printed fur, which recalls the WUNDERKIND African wax print just like the Daliah Bucket with its embellished stars and studs. Exquisitely crafted in Tuscan leather, Jackie turns a classical luxury handle bag into a humorous statement piece. Handmade by skilled Florentine artisans utilizing exceptional materials the three models elevate all day-to-night ensembles

www.wunderkind.com
Fashion
Dior Homme Campaign Autumn/Winter 2016/17
Dior Homme has launched its Autumn/Winter 16/17 campaign, shot by Willy Vanderperre and styled by Olivier Rizzo. The campaign expresses diverse backgrounds in creative fields such as music, photography, film and fashion and has a sense of duality of youth and experienced. Headlining the cast of muses is American rapper and fashion icon A$AP Rocky, highly praised for both his music directory and personal style, personifying the urban and masculinity of the brand in the images. 
Photographer and filmmaker Larry Clark very elegantly features in the campaign, in a distinct and dark series of portraits.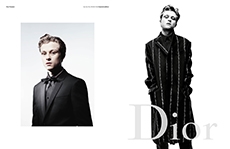 On the forefront of a new era in art-house cinema is 20-year old French actor Rod Paradot, pictured dressed in smart coats and formal eveningwear.
Last new face is model Dylan Roques. who is no stranger to the brand as he has opened the runway just last season, who expresses the rebellious energy of Dior Homme.

www.dior.com
Fashion
LC:M Craig Green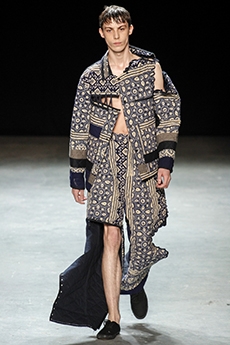 London born Craig Green showed his first collection for LCM through Fashion East and Topman's initiative MAN in 2013. Now, three years later he is an established name on the London Collection Men's schedule and recent winner of the BFC Menswear Fund. The bold new collection opens with fawn colours, transitioning into quilted jackets with rich prints and closing with black and white garments. Cords tied through eyelets are detailing elements and the colour-blocking trend is beautifully incorporated. The Spring 2017 collection also exposes some flesh. A slit coming just above the knee on wide-legged trousers, as well as some backless pieces, gives the collection a sharp edge. Added in the collection is a Scout scarf, which Green describes as a 'symbolism of belonging to something.'

www.craig-green.com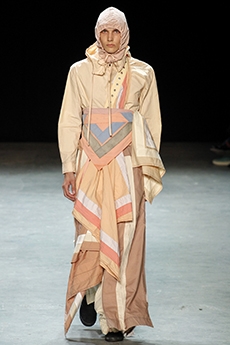 Fashion
LC:M MAN
MAN, the support scheme for emerging menswear designers, launched by non-profit initiative Fashion East and sponsored by TOPMAN, gave platform to three new designers this LCM season. First up is Swedish newcomer, Per Götesson, who showed his graduate collection at the Royal College of Art just the day before. Models are dressed in a functional and casual collection, primarily oversized denim jeans, accessorized with metal key-chains.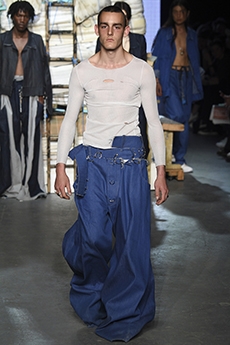 Second up in line is Feng Chen Wang. The collection has elements of the sporty trend coming through, with details like the string cord and the use of technical nylons. When speaking to Dazed about her inspiration for her functional, tied and connected collection, she explains to be inspired by how all her friends are connected.
Closing the MAN show is Charles Jeffrey. The runway is covered in roses and flower petals, where models walk down and show off the collection, blending club scene with the Elizabethan era. As founder of LOVERBOY, Jeffrey has gender fluidity as centre point in his establishments. This is present in this collection too, exposing new silhouettes and long, fake nails.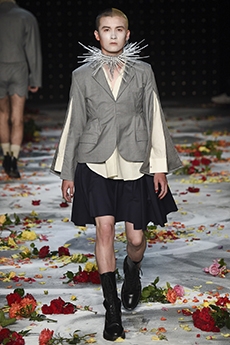 Fashion
Marc Jacobs' Resort Collection 2017
MTV logos and studs, bright pink colours and leopard prints. Leave it to Marc Jacobs to take you back to the 1980s in his Resort 2017 Collection. ''We took Fall and made it kitsch and went from Youtube back to MTV'', the designer, who won a CFDA Womenswear Designer of the Year award just yesterday, said after the show. Music track playing is of British popband Duran Duran and models were sporting scrunched hair and dark eye make-up, sticking to the overall feeling of 80s punk revival. The collection is loud, bold and feels retro and is refreshing since the 70s trend that has been dominating fashion and retailers over the last few years.

www.marcjacobs.com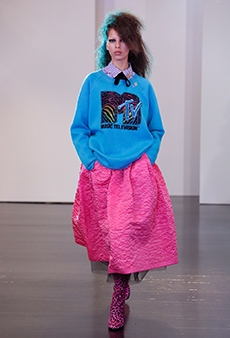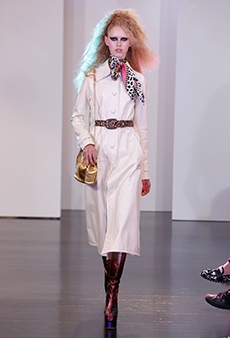 Fashion
EA7 Emporio Armani For Olympics 2016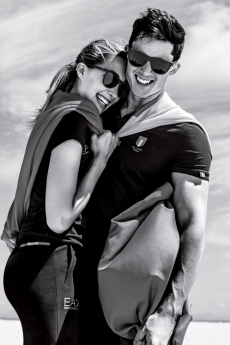 The Rio Olympics and Paralympics are only a few months away and it's just been revealed EA7 Emporio Armani will be the official outfitter of the competing Italian Team. The new advertising campaign has now been launched, shot by Serge Guerand, in the beautiful Canary island Fuerteventura. Models Penny Lane and Pietro Boselli show off the sportswear line in a series of striking images, posing energetic and with their passion for the sport sparking from their eyes. The collection also features accessories and eyewear, which is available for purchase at Emporio Armani stores.

www.armani.com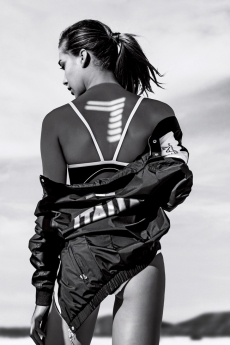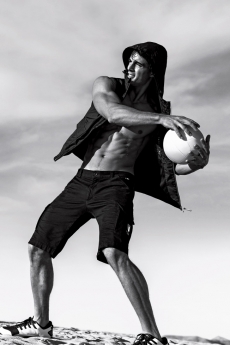 Fashion
Dior Cruise Ready-To-Wear 2017
Blenheim Palace in London is home of the Dior Cruise Ready-to-Wear 2017 collection, creatively led by designers Lucie Meier and Serge Ruffieux since Raf Simons' departure late last year. The brand chose to showcase in the UK partly because Dior has recently opened a flagship store on Bond Street.The collection is inspired by post-war attire of the upperclass and the idea of wanting to discover newness. We see silks with rich prints, knits and typically British tweeds walk down the fox-themed runway, with models wearing heavy eye shadow and slicked back hair. The foxes also recur on the garments as well as zebra stripes and giraffe prints. With accessories made from materials such as stones and dark wood, the collection feels very much influenced by nature. This is the third time Dior shows their collection at the Blenheim Palace, the first two times dating back to the 1950s.

www.dior.com/couture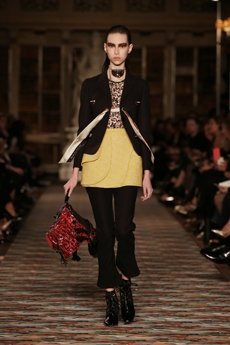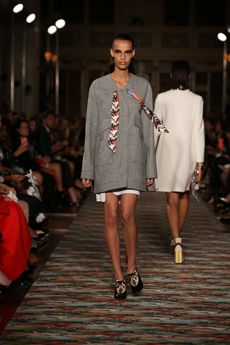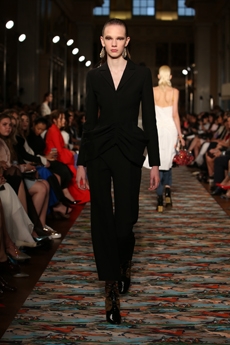 Fashion
Teva-Han Kjobenhavn Sandal
The Teva-Han Kjobenhavn sandal has arrived, combining the almost contrasting philosophies of the two brands - the practical, everyday wear of Teva matching the runway aesthetics of the latter. The results are striking. Teva has already collaborated with the brand at Copenhagen Fashion Week for two seasons, and this creative partnership is flourishing. Mixing Teva's outdoor look with a runway brand creates a unisex, distinctly Danish design. Han Kjobenhavn, wanting to maintain their trademark minimalism, has made the footwear monochrome, and are said to be inspired by the local football clubs of their youth - giving the shoes a nostalgic appeal. Available now in HK's New York, Paris, Copenhagen and online stores, the Teva-Han Kjobenhavn sandal is a distinctive, breathable piece for summer.

http://www.teva-eu.com/nl/han-kjobenhavn/
Cinema
amfAR's 22nd Cinema Against Aids Gala in Cannes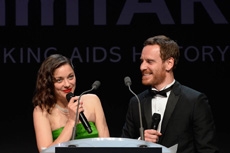 The 22nd annual Cinema Against AIDS gala in Antibes, France, raised more than $30 million for amfAR's AIDS research programs and the search for a cure. The undisputed highlight of the evening's live auction was a stunning 18½ foot tall sculpture by Jeff Koons, titled Coloring Book which was sold for over $13 million. The star-studded black-tie event, held at the Hôtel du Cap-Eden-Roc in Antibes, France, during the Cannes Film Festival, was presented by Harry Winston and Bold Films.

Event Chairs included amfAR Chairman Kenneth Cole, Harvey Weinstein, Jake Gyllenhaal, Carine Roitfeld, Isabella Rossellini, Frances McDormand, Aishwarya Rai Bachchan and Abhishek Bachchan, Diane Kruger, John C. Reilly, Michel Litvak, amfAR Global Fundraising Chairman Milutin Gatsby, Len Blavatnik, Nayla Hayek, Remo Ruffini, and Vin Roberti.

Other guests in attendance, many of whom participated in the evening's auction included: Antonio Banderas, Matt Bellamy, Andrea Bocelli, Adrien Brody, Marion Cotillard, Xavier Dolan, Lily Donaldson, Jourdan Dunn, Michael Fassbender, Tom Ford, David Gandy, Melissa George, Madalina Ghenea, Jake Gyllenhaal, Bella Hadid, Gigi Hadid, Lewis Hamilton, Eva Herzigova, Chanel Iman, Kendall Jenner, Harvey Keitel, Karlie Kloss, Zoe Kravitz, Karolina Kurkova, Adriana Lima, Eva Longoria, Sienna Miller, Petra Nemcova, Rita Ora, Barbara Palvin, Michelle Rodriguez, Irina Shayk, Paolo Sorrentino, Dita von Teese, Mario Testino, Robin Thicke, Chris Tucker, Alicia Vikander, Binx Walton, and Lindsey Wixson, among many others.

Some of the pieces auctioned was an outstanding work by one of the world's best known artists, legendary Colombian painter and sculptor Fernando Botero. Bollywood star Aishwarya Rai Bachchan introduced an exquisite bespoke diamond necklace, designed exclusively for amfAR and Cinema Against AIDS by Harry Winston. A work by Banksy, the world's most famous and mysterious street artist, was donated to the auction by Leonardo diCaprio from his private collection and sold for over $1 million

A stunning feature of the evening was a Black and White fashion show curated by longtime amfAR supporter Carine Roitfeld. The dazzling collection featured one-of-a-kind looks, half in black, half in white, from the world's most celebrated fashion houses. Participating designers included Chanel, Dior, Louis Vuitton, Givenchy, Gucci, Prada, Céline, Balmain, Giorgio Armani, and Tom Ford, among others.

The unforgettable evening also featured live performances by internationally renowned musical acts. British pop sensation Charli XCX kicked off the evening. Mary J. Blige got the crowd on their feet with a performance of her classic hit "Family Affair." The evening culminated in an electrifying performance by the rock band Imagine Dragons.
Fashion
Drykorn Fall/Winter 2016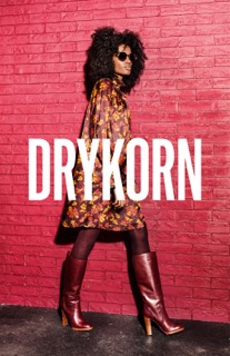 A touch of 60's, 70's and 80's lays in the new men and women's collection of Drykorn. The firm takes us a fashion trip back to the past with its new Fall/Winter Collection 2016. Inspired by the Detroit of the 70's the men's collection has large collars, broad lapels and flaps that come to the fore once again. Soft materials like velvet, corduroy and wool jerseys play an important role and emphasize the look of the natural, warm color shades like beige, cognac and rust. As an opposite pole to the unconventional ready-to-wear production, the focus of the collection lies on authenticity and heritage styles. Robust lambskin jackets, cut off raw denims and corduroy shirts cater for a solid work wear style. The collection focus on the silhouette and oversized jackets are combined with low crotch pleated pants. In the women's collection Fall/Winter 2016 the highlight is the comeback of the bohemian chic with a focus on playful mix of colour, material and pattern. The ''Mod Look''of the 60's also celebrates a revival with mini dresses and skirts in leather in combination with high neck blouse and biker jacket. In terms of colours orange is the new black and delicate grey and pure white can be found in the classic patterns like glen check, herringbone or pinstripe. The ''Bad Taste Spirit''of the 80's comes to life again. Sportswear unites with glitter and it is paired with wild leopard patterns in indigo blue and dark green. Waist?high is the name of the game when it comes to military and skinny pants. Draperies, Victorian elements and little details cater for the romantic twist that is presented in velvet, lace and nappa leather establishing the ''Gothic'' trend. DRYKORN represents premium processings and high quality materials. The Credo is: perfection of the nonchalance which is reflected in every production step.

www.drykorn.com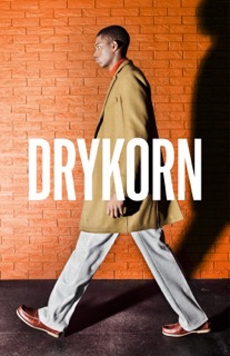 Art
Miron Zownir's Shots Of The City Sidelines At Hamburg's House Of Photography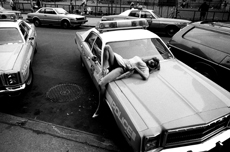 The city has served an inexhaustible source of inspiration for many an artist, but few have managed to capture it quite like Miron Zownir, for all its raw impulses and capability of fostering superb loneliness amidst a sea of people. For over thirty years, Zownir has been baring a side of society some would rather not see, portraying the seemingly parallel worlds of outsiders – those resigned to the fringes of society for their idiosyncrasies, aberrant behaviour, or merely ceding to the so-called dark desires of the human psyche. And Zownir does not merely expose them; his subjects seem to forbear the flatness of the photograph, pervading every inch of the frame with an intensity of emotion, whether that be pain, passion, defiance or downright decadence. In black and white, his sidelined subjects are afforded the poignancy they deserve, proximately framed and charged with truth. Berlin, London and the cities of a post-communist Eastern Europe provided fertile ground for Zownir's uncensored stare, but it is his spirited renderings of the seditious New York sidelines which form the focus of the Deichtorhallen Hamburg's latest exhibition, SCHLES SILVERTHORNE ZOWNIR.

Curated by Ingo Taubhorn, the collection calls together three figureheads of their field, each of whom have overthrown our consciousness with their radical experience of an urban underworld; in the House of Photography, Ken Schles, Jeffrey Silverthorne and Miron Zownir express with remarkable richness the subcultures of the city, its delights and dangers offered up as equally delectable symptoms of a life well-lived, albeit, ever resigned to the shadows, until now….

www.deichtorhallen.de

SCHLES SILVERTHORNE ZOWNIR will be on display at the House of Photography, Deichtorhallen Hamburg, from May 5th – August 7th 2016.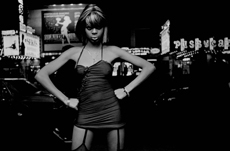 Fashion
BOSS Pre-Fall 2016
Rigorous, precise, focused. Natural, but abstract. Luxurious – and classic. With the Pre-Fall Lookbook 2016, Jason Wu has unveiled another cutting edge collection that comprises sophisticated looks with a modern and noiseless message. Whether it's with the slim coat, the A-line skirt or the pant, Wu re-engineers new classic into a contemporary wardrobe for the BOSS woman.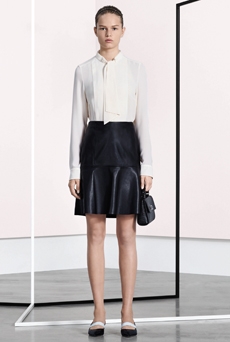 Business and leisure are balanced out equally, with a Hitchcockian flair contrasting the image of sportswear. As often, Wu is keen to incorporate a flair of menswear and does so in applying metal rings and fastenings, which simultaneously suggest a vibrant and energetic feel. Even if this collection is a red carpet for simplicity and urbanity, Wu still does not cease to go down a more lighthearted route and inserts floral patterns that in their assembly allude to camouflage.
The key element of functionality is furthermore not only highlighted in Bauhaus inspiration but also in flat shoes and other understated accessories. It's rigorous, it's precise, it's focused – BOSS just knows how to wrap a collection.

www.hugoboss.com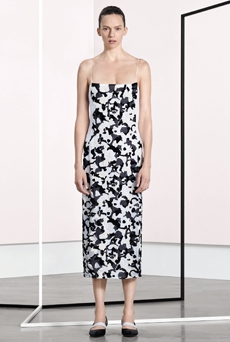 Fashion
CHANEL Spring/Summer 2016 Eyewear Campaign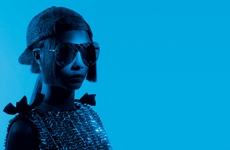 Cara Delevingne may have stopped walking the big runways, but she still has some of her modeling duties in mind – especially, if they involve her close friend Karl Lagerfeld. The British model stars in the new CHANEL eyewear campaign, which was teased by a flashing video released a few weeks ago. While the bespoke visualization presented a pair of unique CHANEL sunglasses adorned by a laser-cut quilt design, the campaign now shows a collection enhanced by more optics and sunglasses from the Plein and Bijou 2016 ranges. The Plein collection revisits models in a tie-dye optic, merging the colors from black to blue or white in the frame acetate. Bijou on the other hand focuses on a CHANEL code classic, the timeless camelia. Made from metal and enamel, it adorns the glasses in an abundance on their legs. Next to eyewear, the campaign also sees Delevingne sporting pieces from the CHANEL AIRLINES Ready-to-wear collection. A tweed cap and jacket and a grosgrain ribbon-bowed top complete her urban and contemporary CHANEL look, subtracting the need for a logo on the campaign pictures. Even if Miss Delevingne has abandoned the runways, we're still glad she makes time for her fashion friends – especially, if it's Karl Lagerfeld.

www.chanel.com
Fashion
CHANEL Fall/Winter 2016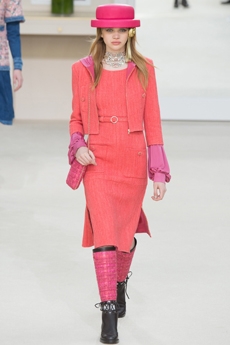 A trip inside the mind of Karl Lagerfeld must feel like an hourlong guided tour through the world's biggest museum. His creative mind, or the ones behind it, is like an infinite archive with multiple crossings, shortcuts and junctions. Therefore, it is no surprise that even after decades, the maestro still finds a way to put a spin on the very, very classic brand that is CHANEL. Still, a CHANEL presentation these days sometimes holds more surprise in the setting than in the fashion on display. This time, though, Lagerfeld stepped away from themes and backdrops and onto the "real" runway. On there, he showed classic CHANEL elements, from tweed-tops to tartan trousers, and one everlasting classic accessory: the impeccable, traditional CHANEL pearl necklace, worn in multiple layers on numerous looks. Topped off with a French twist on a bowler hat, it's maybe the accessories that deem this collection contemporary. However, the choice of colors also checks off everything that is on the line for this season: starting off with shades and combos of pink, the collection then moves onto dark blues and greys, to a range of beige and nude tones, only to end with a – what else- classic rendition of black-and-white looks. That trip to Lagerfeld's mind really must be quite the voyage. Where do we sign up?

www.chanel.com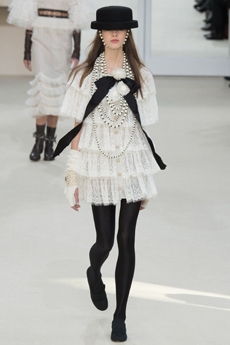 Fashion
LOEWE Fall/Winter 2016
Just like in their latest advertising campaign, earthy colors and monochrome looks dominated the LOEWE runway at their Fall/Winter 2016 presentation. The inexplicable, elusive mind that is Creative Director Jonathan Anderson always seems so put together a distinctive and strict aesthetic in which every garment is utterly different from the other, but in which everything blends perfectly like grains in the sand. At Paris Fashion Week, the Spanish label thus unveiled a collection of various flowing silhouettes, with dresses and skirts being the most prominent pieces. Paired with either asymmetric or body-tight tops and contrastingly oversized coats, they brought to life a modern look that speaks to women from Barcelona to Beijing equally. The cool, sophisticated combinations are interrupted by this season's go-to accessory: purses disguised as cat and mask-faces dangle around the models' neck, giving a funny twist on the tourist-style money bag usually very wisely banned from fashion. LOEWE though quite literally let the cat out of the bag, and the result will have the fans purr in pure bliss.

www.loewe.com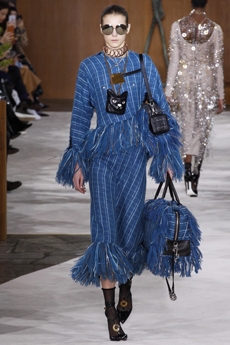 Fashion
Looking for Marni: Eyewear Presentation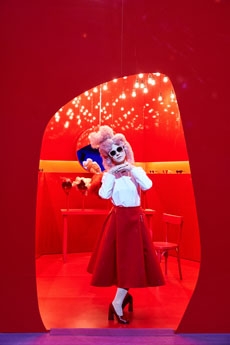 For its latest eyewear presentation, Italian label Marni stepped up its game. Their showcase "Looking For Marni" was not just a presentation, not just an exhibition or event: it was a theatrical demonstration, an intimate performance piece that highlights the famous links between art and fashion design. As Marni says, a brand is defined by its actions and not just the aesthetic it creates. Thus, the Italian house took its creative atmosphere to the stage and unveiled their showpiece at the Padiglione Visconti, a singular industrial space that is currently being used as a rehearsal atelier by the La Scala Theater. The theatrical spirit easily transferred itself onto Marni's presentation: a cast of dancers is presented with a variety of props, ranging from oversized tables and chairs to a raised stage – that is, if the performers are not dangling from the ceiling. The theater piece was conceived in collaboration with Susanna Beltrami and her dance company and has a duration of 90 minutes. Marni's aim is not solely to entertain, but also blend the lines between performer and spectator. Looking For Marni is both a theatrical and real-life experience. Poetic feelings ignite in between the performance and its viewers, bringing to life the incomparable, eclectic Marni spirit. Come to think of it, it's hard to think this presentation was only about eyewear, after all.

www.marni.com
photos: D. Lovati
Travel
Draw the Curtain: Monsieur Hotel Paris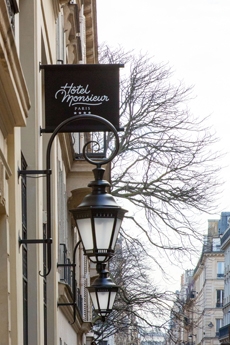 When booking a stay in a nice hotel, who doesn't feel like taking up a new identity? We're thinking more role-play than secret service. Doesn't a hotel stay feel like of taking part in a play? The lobby your stage, the room the backstage area? The Monsieur Hotel in Paris certainly has this idea in mind. Situated in the heart of the Rive Gauche, it is surrounded by a range of theatres, from the Mathurins to the Olympia just the throw of a stone away. The hotel's character and design were highly inspired by the French playwright Sacha Guitry, whose spirit is set to "live on" in the hotel's 29 rooms and two suites. Maybe Guitry was also inspiration to the name, but the "Monsieur" naturally doesn't only welcome male guests. In fact, the rooms are individually designed to make it appealing for both of the sexes. Draw the velvet curtain in the "Front Rows" or sleep heavenly in the "Gods" rooms. Whatever role you take on, we're sure that your stay at the "Monsieur" will earn you a whole lot of applause.

www.hotelmonsieur.com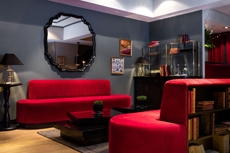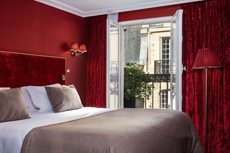 Fashion
Etro Fall/Winter 2016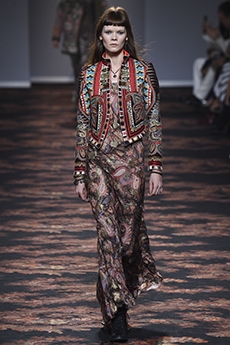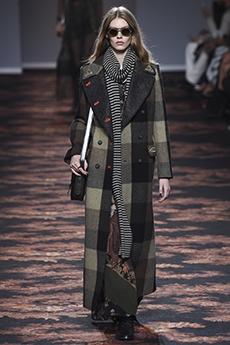 On Friday, February 26th, models stepped out on Etro's flower carpet to impress. Floating over the red-and-brown floor decor, they sported the latest Fall/Winter designs, which were a true reference to Etro's signature looks. It was not only the carpet that alluded to flora, but so did the garments. Mixed with Etro's typically tribal and Aztec patterns, they composed a true and traditional collection while staying focused on new twists. For instance, there was this season's it-item in outerwear, the floor-length coat, there were shiny velvet jackets, there were even Scottish-looking checks. Etro is back on track and leading it at the same time, with new ideas quite literally revolutionizing tradition. It is in in moments like these that one is completely satisfied with getting what was expected – because it just made everything even better.

www.etro.com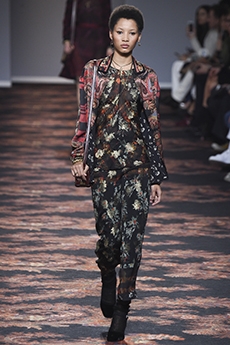 Fashion
Costume National Fall/Winter 2016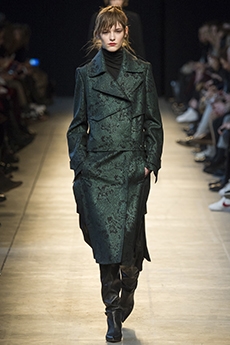 Cool, cooler, Costume National. With the latest Fall/Winter collection, the label presented designs that spread the perfect interaction of casualty and precise tailoring. Effortlessly cool looks dominated the runway at Milan Fashion Week, formed by loose silhouettes and descending pleats and ruffles. The go-to item this season is the coat, and at Costume National, it comes in various shapes and styles. Whether it's the short-and-slouchy version, the flower-embellished overcoat or the green trench: with Costume National's Fall/Winter range, you're covered on the coat side. Below the outerwear, ladies can sport oversize blouses combined with tailored blazers and pleated knee-high boots. Look for something more fancy? Go for the all-red velvet ensemble or the full-on print combination. You don't need to worry, anyway. With Costume National, you're cool; you're dressed for success. Always.

www.costumenational.com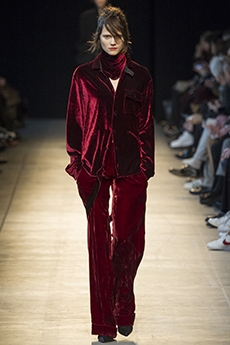 Photos: Yannis Vlamos
Fashion
JOSEPH F/W 16/17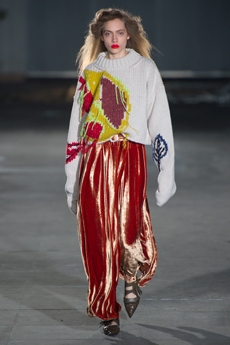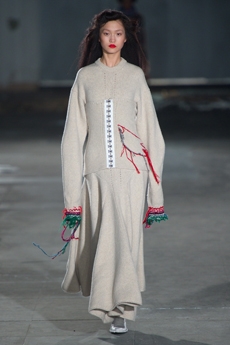 For season Fall/Winter 16/17, JOSEPH went in for the big game. Big hair, big silhouette, accumulated in a look that is as eclectic as a freely assembled art exhibition. Freedom, in both the inspirational and creative way, is a base to the latest designs. Motifs incorporating the nostalgic idea of freedom, such as a hand, an eye and a bird, are knitted into sweaters. This season for JOSEPH means badge, patch and collect: applications are randomly sewn onto the pieces, bringing to life the unique personality that is envisioned by this collection. JOSEPH wants to highlight an anti-conformist look that each wearer can assemble in a puzzle manner. Therefore, leather corsets are fastened over shearling jackets, British jacquards are cut on the reverse to expose floating thread and trousers are laced up, buttons intentionally mismatched. This season, JOSEPH went in for the big game, and whatever you make out of it for yourself: the big entrance is all yours.

www.joseph.co.uk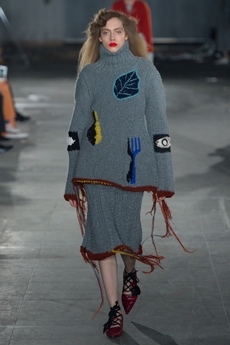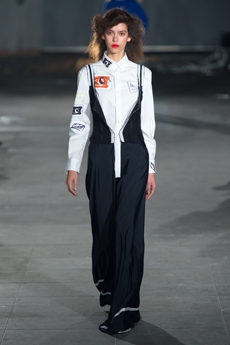 Fashion
Calvin Klein Fall 2016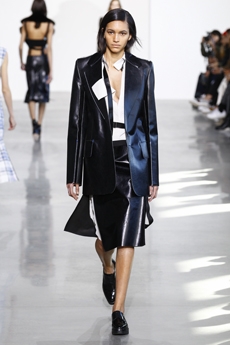 While in recent days, Calvin Klein's strategy revolved strongly around their celebrity-studded "mycalvins" campaign, at their NYFW fashion show, it was back to business instead of bras. On the runway, creative director Francisco Costa presented a mixture of sleek, precise looks and loose silhouettes. The classic suit for the Calvin Klein lady is reinvented through the ever-present crossover with menswear influences. Nevertheless, Costa puts emphasis on urban eroticism in form of light and sultry shift dresses with deep v-necks and unraveled hems. Besides that, proportions undergo distortion, with broad shoulder cuts contrasting slim waists. Next to its urban sexiness, this collection has seriousness to it, with dark tones leading the color palette and faux fur collars, lynx and skunk prints adding a grown-up feel. In the eyes of Francisco Costa, Calvin Klein accumulates both luxury and wilderness, and they certainly melt together in inserted stones and geodes, adding an unexpected twist to numerous dresses. Naturally, famous faces lined the front row at this presentation, but with a collection this convincing, the center of attention is nothing but the dress.

www.calvinklein.com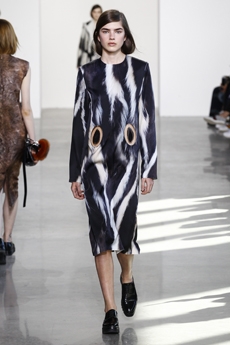 Art
New Kohei Nawa Exhibitions
Japanese artist Kohei Nawa, featured in ZOO's issue No. 49, will be presenting his artworks in new exhibitions spanning across the globe. Opening of March 5 in German town Karlsruhe, Nawa will show his installation work "Force" as part of the exhibition "New Sensorium – Exiting Failures Of Modernization" at the ZKM exhibition space. The group show features mainly Asian artists that are defined by the traditional meaning of Asian: the Eurosian continent minus Europe. It pays attention to new realms of sensoriums, evolved through the ongoing developments in digital culture and the sweeping effects of globalization. Many thousand kilometers east, a screen presentation of Nawa's performance work "Vessel" will be held in Tokyo's Media Ambition 2016 on March 16. Furthermore, Nawa's pieces will be shown on the storefront of German jewelry store Niessing in Osaka. Here, Jewelry will be staged upon various sculpture pieces created by Nawa based on the theme "CELL / FORCE".

www.kohei-nawa.net
Fashion
Alexander Wang RTW F/W 2016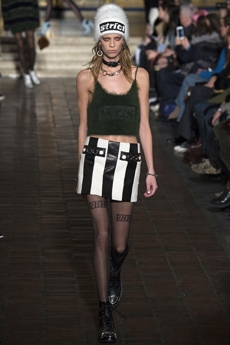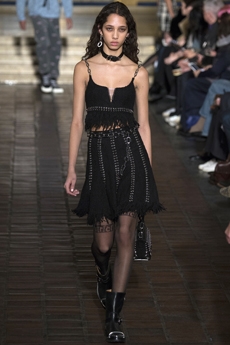 St. Bartholomew's Church, New York, in the middle of February: Marijuana leaves, pole dancers and chained leather are assembled in the church aisles. Coming from every angle are words like "strict", "tender", "girls", "faded" and "violator". This scenery is by far no church service, but the presentation of Alexander Wang's latest Fall/Winter designs. Displaying garments anything but holy, the designer sent down the runway rebellious garments that set upon the popular "sloganeering". Hats, sweatshirts, dresses and tights call out the aforementioned key words in this collection, crossing over both mens – and womenswear. Going along with that are fuzzy sweaters as much as see-through tops and dresses and more classic tweed ensembles. Still, Wang takes on a little bit of Prep with reinvented Argyle sweaters (with exposing parts, of course) and a checkered coat in menswear. Although we're not sure what the priest would say about this, in St. Bartholomew's Church, New York, in the middle of February, the applause spoke for itself.

www.alexanderwang.com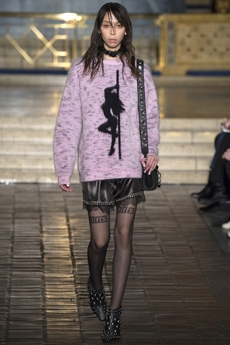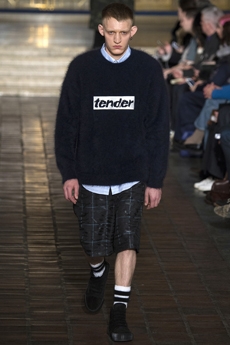 Fashion
Wind and Rain: Woolrich S/S 2016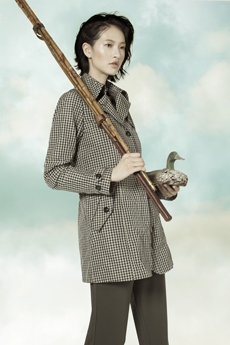 With their latest campaign, Woolrich is set. Set for wind, set for rain, set for almost every weather change the Spring/Summer season can hold. Shot by artistic photographer Paolo Ventura, the visuals take the models through a climate change that is displayed by fake painted panels. They pose clad in the latest Woolrich designs, showcasing both mens – and womenswear. For his now fourth collaboration with the brand, Paolo Ventura chose to narrate stories within each picture, equipping the models with accessories that are not part of the collection. At first glance, the fishing rod, helmet or binoculars may be startling, but they do inspire the viewer to enhance the pictures with stories in mind. The fashion designs meanwhile range from light quilted jackets to dark trench coats in womenswear and elegant anoraks and vests in menswear. Woolrich presents itself summery – but also weatherproof. And that, in fact, is not a wild fashion imagination. Even though the campaign might show fake climates, Woolrich takes the Spring/Summer season as few do: realistic.

www.woolrich.eu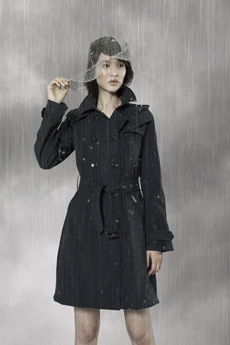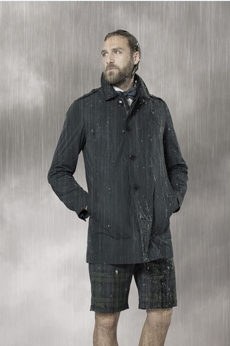 Art
FEIT's Man vs. Machine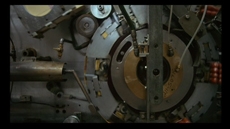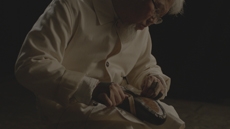 On the left: thousands of rattling wheels set off sparks. Every move is programmed; every step repeats itself. On the right: a needle is slowly plunged into leather, pulling through a thread as if in slow motion. Man Vs. Machine, shoe brand FEIST's new film endeavor, sets against each other fast-paced fabrication and traditional craftsmanship. Produced by Benjamin Millepied and directed by New York filmmaker Jack Riccobono, the movie splits the screen into two scenes, one showing the frantic processes of machine fabrication while the other displays dedicated, handmade manufacturing. The intention behind the clip is to highlight the rhythm, skill and artistry of crafting shoes by hand. In a world where the footwear industry is a billion dollar business with production numbers increasing every year, FEIT is ready to make a difference. Premiered at the New Museum New York, the movie relies on FEIST-founder Tull Price's new belief of luxury: according to him, real luxury lies in responsibility and taking a stand rather than giving in to needless excess. Man Vs. Machine highlights this once more when at the end, the craftsman presents his finished work: a handmade boot shining in all its glory. Underlined with a fine classical music composition, the moment of reveal seems almost angelic. We'd say the score is pretty obvious: Man Vs. Machine, 1:0.

"Man Vs. Machine" was premiered at the New Museum New York along with a live presentation of manufacturing and the presentation of FEIT's F/W 16 collection.

www.feitdirect.com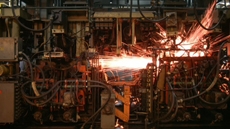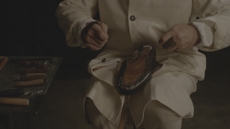 Fashion
Dior Homme's "Stranger In A Room" SS16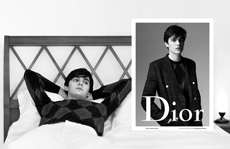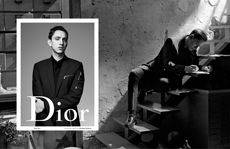 In a world where voyeurism is ever-present in many ways, Dior Homme managed to turn secret spying into something intriguing and artistically beautiful. For their new SS16 campaign "Stranger In A Room", longtime-collaborator and photographer Willy Vanderperre followed four distinctive famous faces around – as the title suggests - a room. Viewers watch actor Alain-Fabien Delon, The xx member Oliver Sims, artist Rinus van de Velde and model Victor Nylander act as different versions of themselves while participating in seemingly everyday actions. In doing so, they are set to embody both the current spirit of the Dior Homme brand and their own charismatic and individual style. "Each young man is respected for who he is as a person and in what they do; all of them have talents you would want to possess", photographer Vanderperre commented on the testimonial selection. He developed the narrative for Stranger In A Room with Dior Homme designer Kris Van Assche. The title was chosen from the eponymous song by Oliver Sims' The xx bandmate Jamie xx. And as the song, the short movie has something magnetic to it. Whether it is the gripping, charismatic actors or the delicate cinematography – that kind of voyeurism we'd like to indulge in even more.

www.dior.com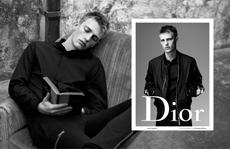 Fashion
Lala Berlin: Persian Queen Goes Berlin Vol. 2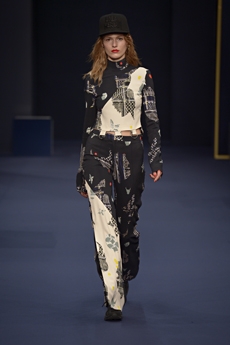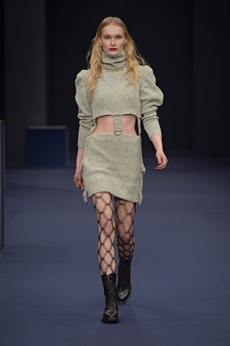 If you want to do it right, do it twice. Leyla Piedayesh, designer of Lala Berlin, made her latest F/W 16 collection stand out even more in presenting it twice – in two completely different places. Even though the collection's theme is "Persian Queen Goes Berlin", the designer chose to host her runway show at Copenhagen Fashion Week. As a matter of course, Piadayesh did not neglect her hometown. At Berlin Fashion Week, she had already presented the collection with a special mirror installation and an exclusive film. In the now following classic runway show, the "Persian Queen" went for a strut down the catwalk clad in designs that were inspired by ancient cultures – two in particular. The antique Persian town Persepolis performed a major inspiration to Piedayesh. Animal and fairytale statues are reflected in print motifs while oriental elements are a nod to the designer's background. On another note, they also contrast with the collection's modern and street style vibe, formed by 3-D High-Low knitwear, a variety of outerwear and one-shoulder silhouettes. Asymetrical cuts and diagonal cutlines are playfully used to create a glamourous look that could also survive in fast-paced Berlin. To be fair, if Leyla Piedayesh's Persian Queen would enter Berlin, we're certain everyone would slow down for her. Anything else would be too much of a miss.

www.lalaberlin.de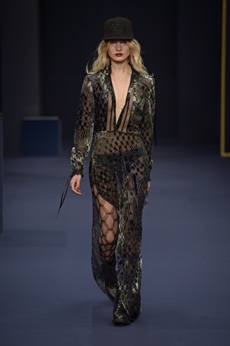 Travel
Residences by Armani/Casa in Miami
There are a lot of people in the world who love to wear Armani, but who actually gets to LIVE Armani? This round goes to Miami residents. Here, the fashion brand is building an apartment complex in cooperation with Casa Design, Dezer Development and the Related Group. 308 flats are being built on 60 stories, forming a tower designed by well-known architect César Pelli. Inside, the design solutions made by Armani/Casa Design Studio represent the Art Deco heritage of Miami and try to emulate its stellar and exclusive spirit. One central element in the works of the designs was the curved line. Its aim is to lead the viewer's eye to the azure ocean and can even be detected in the design of the furniture. Apart from these very tastefully designed apartments, the complex will inhabit a, say, "distinguished" assortment of rooms on the ground and first floor, consisting of bar, private rooms, spa, gym, kids room, cigar room, wine room, game room and theater. While it may dawn upon the one or other what these seaside-escapes cost, there is no need for despair. As part of the sales area, the team has created a "show flat" to give visitors an insight into the luxurious apartments. You know what they say, mi casa es tu casa.

www.giorgioarmani.com
Travel
Cecconi's Opens at The Store x Soho House Berlin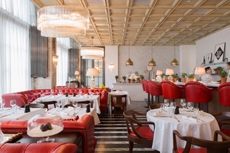 What to do after an exhausting shopping spree, after enjoying some music and art, after having taken in so much creativity that your stomach just craves the perfect dish? The answer just opened. "Cecconi's" has unlocked its doors at 2800 square meter location The Store in Berlin's Soho House. Being one of the go-to-places in the German capital, the Soho House inlcudes a publicly accessible ground floor which will now also be home to some of the finest Italian dishes. Cecconi's has already amazed guests in the UK, US and Istanbul and will feature a various menu with classic Northern Italian dishes. On there, guests will find cichetti (Italian tapas), appetizers, carpaccio, tartare, salads, pizza, pasta and risotto, vegetables and wood and charcoal dishes. All that is to be enjoyed surrounded by the stripped-back Soho House interior, combined with Venetian flair. Grab a bite under Art Deco-inspired chandeliers hanging against a concrete backdrop or sling back a glass of wine in one of the cherry-red leather booths. You don't even need to go shopping for that. No explanation needed. Just enjoy.

www.cecconisberlin.com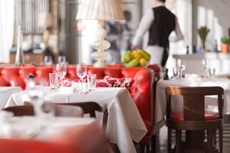 Fashion
ETRO's Circle Of Poets
A poet by no means always has to be a lyricist. In a way, every form of art can depicted as poetry. Italian fashion label ETRO has therefore introduced their new project "The Circle Of Poets", which sees artists from painters to filmmakers unite for a unique artistic exchange. As ETRO itself defines art as the very heart of the brand, it is with no surprise that the project includes an exhibition space for artists on the ETRO website. Although there is a selected circle of eleven elite "poets", this art space is not an exclusive area for them. With the call-to-action "Are You A Poet?", ETRO offers artists from around the world the chance to feature their works in an exciting collaboration, possibly even in local events and exhibitions. "The world within the circle spreads to meet other circles", ETRO tells us, "now close your eyes and tell us what you can see". Will do. Are You A Poet?

www.etro.com/en_de/thecircleofpoets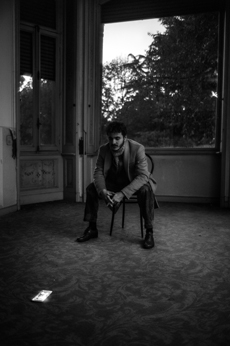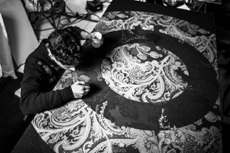 Fashion
Calvin Klein #mycalvins SS16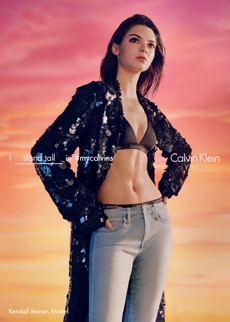 With just one campaign, Calvin Klein has gone quite monumental. The new strategy is not just another advertising campaign, it's a sweeping blow that endorses fashion, pop culture, music and – surprisingly - street life. To visualize the idea of a global campaign that establishes a new philosophy of participation and creation, the brand tapped photographer Tyrone Lebon, who shot the campaign in collaboration with his father, his brother and Klein cooperator David Sims. Even more striking than this creative team is the class of millennial celebrities that lend their faces to the campaign: Justin Bieber, Kendall Jenner, FKA twigs, Kendrick Lamar, Fetty Wap, Saskia de Brauw, to only name a few. Again, Calvin Klein sweeps in musicians, models, artists, but also – and that's for the street life element – street cast models. Each shot is completed by the line "I _____ in #mycalvins", obviously aiming at a social-media driven participation in the campaign. One step ahead, Calvin Klein also added a Spotify profile to supply fans of both brand and campaign with playlists and interactive content. And with a package this complete, we really can't help it. We're swept away, too.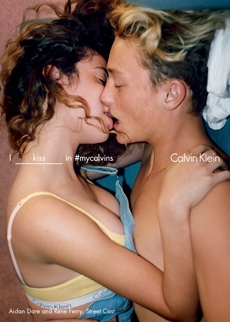 Fashion
Baldessarini F/W 16/17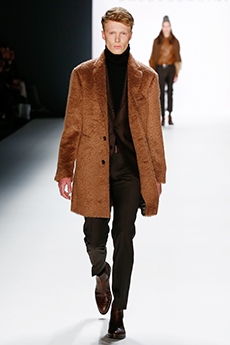 Baldessarini caters to the confident man about town, providing him with classic and elegant wardrobe staples rather than trendy throwaways. Key to success are craftsmanship and high-end materials, combined with a sustainable production centered in Europe. By no means is Baldessarini's FW 16/17 collection old-fashioned though: Yes, designs are predictably dapper. Why would you change a running system? Here and there, noticeably younger items turned the collection on it's ear: rough leather pants, sheepskin jackets, sweats with smart jackets and ties all carried a youthful vibe onto that runway. Aside from sweaters, turtlenecks were big, worn under crisp button-downs or suits. For one-stop shoppers, the label offers a complete range including scarfs, gauntlets and hats. Stripes and checks livened up an otherwise muted color palette of black, grey, blue, green, oxblood and beige, adding some well-received youthfulness to Baldessarini's Mercedes-Benz Fashion Week Berlin debut.

www.baldessarini.com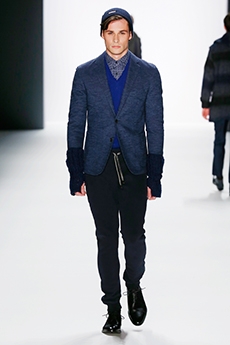 Fashion
Vladimir Karaleev Fall/Winter 16/17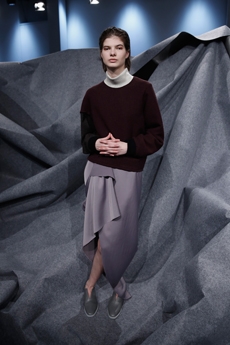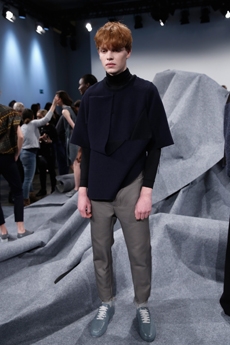 For his first show during MBFWB since July 2014, Vladimir Karaleev hit a high note with his intricate construction and easy breezy styling. His expertly crafted, sculptural designs were set in a presentation rather than a runway show – a no-brainer considering Karaleev's pieces are more of an art installation than a nod to fast fashion. His FW 16/17 designs combine touches of cubism, mod-style and origami, resulting in exciting plays on volume, fabrics, and personal style. Each piece is in itself glorious and intriguing, yet full of possibilities in terms of combination. Grey, black, midnight blue and petrol, deep magenta, mauve and mustard could easily be overwhelming, yet Vladimir Karaleev has nuance and the masterful eye of an artist. Here's to hoping he won't hold out on us for another season or two.

www.vladimirkaraleev.com
Fashion
Louis Vuitton's Time Travel: F/W 2016/17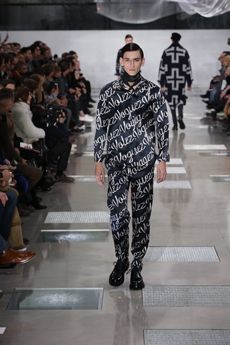 Presented at the Parc André Citroën, Louis Vuitton revealed the Men's Fall/Winter collection as a ride with a time machine. With his seventh collection for the label, Men's Artistic Director Kim Jones once again dug into the archive of Vuitton and found inspiration from 162 years of brand history. Intertwined with the latest trends from today, he created a "new heritage", a conversation between past and present. The past starts in the era of Art Déco, of the Dandy and aesthetics shaping the image of Paris. Naturally, the inspiration from the present is drawn from today. This dialogue between now and then finds support in an exclusive art display by Japanese artist Shinji Ohmaki, titled "Liminal Air Space-Time". A floating piece of fabric is set to underline the flow of time and to raise the viewer's attention to the dimensions of time and space. Additionally, the designs are also inspired by men of the past, who were originators of style even back then. Among these is Alexis Von Rosenberg, the Baron de Redé, who inspired jewellery pieces that riff on the edges of Dandy style. Kim Jones also extends this collection as a continuation of other Vuitton projects: a ribbon motif sketches out the words "Volez Voguez Voyagez" as a wink to the recent same-titled travel exhibition. Dandys, Art Déco and a flowing piece of art? To us, Louis Vuitton's time machine seems like a pretty exciting ride.

www.louisvuitton.com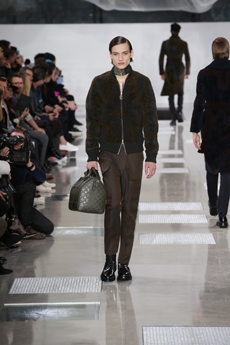 Fashion
Laurèl FW 16/17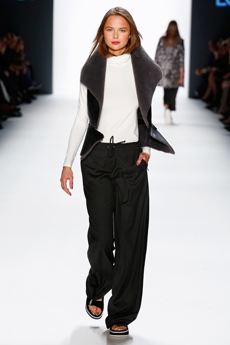 Congratulations are in order: designer Elisabeth Schwaiger celebrates her 20th anniversary with Laurèl and has all of 40 collections under her belt. The occasion translated into a throwback to the label's core and a bright look ahead. "Say my name" is the tagline for the FW16/17 pieces with empowering garbs that bring out each woman's personality. Schwaiger celebrates the modern woman as cool, calm and collected, as seen in an all white ensemble of turtleneck and pants, adorned with a leather vest or a number of velvet evening gowns straight from the Laurèl archives. Ultimate highlight? A formation of 4 models dressed in short mohair sweaters with names woven onto the back: Christy, Amber, Stella, Diane – credit where credit is due.

www.laurel.de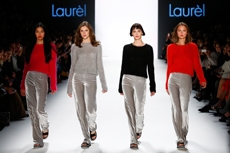 Fashion
"The Stig" Vernissage In Munich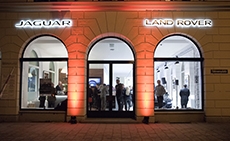 Friday, January 22nd, combined car and camera: ZOO's Bryan Adams and Sandor Lubbe attended the opening of the vernissage "The Stig" at the Jaguar Land Rover Store at Odeonsplatz in Munich, Germany. The photos displayed are an extension to the exclusive editorial shot by Bryan Adams and art directed by Sandor Lubbe for our current issue No. 49. In reminiscence of the TV cult series "Top Gear", the editorial was called "The Stig" after the mysterious series character. It visually combines high fashion with quality cars, presenting the model in a face-covering bodysuit by A.F. Vandervorst as well as the Jaguar XF. For the Munich vernissage, the photo shoot even came "alive". Model Anna Meyer starred as the evening's "Stig", again referring to the pictures by posing in a full-on bodysuit. The free exhibition will be on display until February 21st, open Mon-Sat 10am-7pm and Sun 11am-4pm.

www.jaguarlandrover.com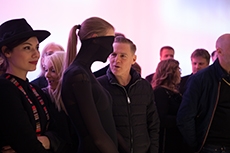 Fashion
Les Hommes F/W 2016 Collection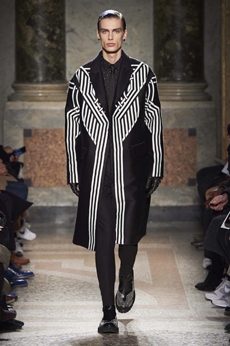 The men at Les Hommes are "born to be wild". We hope that now, you have that road trip suggesting tune in your ear and imagine yourself on a roaring motorcycle. Seemingly, that's what Tom Notte and Bart Vandebosch did. Their latest Les Hommes collection is a road trip on the back of a motorbike – with a gang of friends, a group of fellow bikers, all there to support. With these bikers as major inspiration, Les Hommes undergoes a journey from urban surroundings to the final destination of the African continent. Eventually, this also transfers onto the looks. Menswear classics from the world of motorcycles like performance fabric pants, perfecto and biker jackets and studded shirts mark the start of this on the go collection. They develop into colorful, almost pop looks with multi-material 3D geometries and a hint of couture inspiration. As the bikers reach Africa, the layering of Central Africa costumes comes through in layers of wools and oversize scarves. Accessories on the other hand stay simple: we travel without bags, only wearing studded gloves and bandanas. Ready for the ride? Hop on!

www.leshommes.com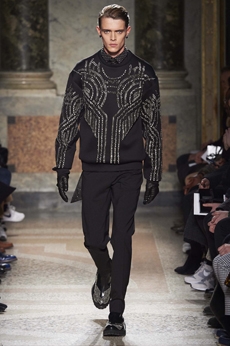 Fashion
Dior Spring/Summer 16 Campaign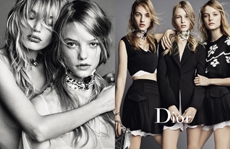 In fashion, time has no meaning. It is as swinging as a pendulum and as shifting as the arms of a clock. Therefore, the current releases of Fall/Winter collections go along with the releases for Spring/Summer campaigns. Get over the bizarre and focus on the facts: Dior has released their new Spring/Summer campaign. Typically charming and light-hearted, with these visuals, Dior stays soft and romantic. Dresses are equally airy or delicately pleated. Contrasting to that are black blazers conveying a serious attitude. In terms of delicacy, one has to have a look at the accessories: grosgrain necklaces are embellished with an "8" pendant that throws it back to the first Dior show in 1947. Less retro-reminiscence is found in the Diorever and Diorama bags, which remind of architectural lines and an innovative level of design. It might be time to reveal both Fall collections and Spring campaigns, but after campaigns like this one, we're asking ourselves: Spring, why are you taking so long?

www.dior.com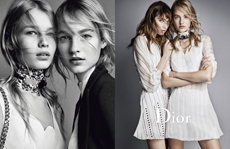 Fashion
LOEWE's Fall/Winter 2016 Campaign
"A redefinition of normality in classics" – Jonathan Anderson finds poetic words for the new LOEWE collection. His latest designs, revealed on Friday, January 22nd, are preceded by the corresponding advertising campaign. Model Jackson Wakefield is shot against another rather artistic backdrop: a sculpture by Paris artist M/M combines rugged rock-like formations with iridescent sections, which is set to reflect the character of the Fall/Winter collection. Wakefield poses in a blue overcoat with an eccentric piece of headwear. Redefinition of normality, it seems. To highlight the closeness to real "normality", the campaign was distributed to 510 kiosks across all Paris as well as a billboard outside of LOEWE's design studio at 76 rue Bonaparte. So, if you pop out in Paris to maybe catch the latest newspaper, an edition of ZOO or just a quick coffee, keep your eyes peeled for the new LOEWE campaign. Your idea of normality might just be redefined.

www.loewe.com
Fashion
Versace Men F/W 2016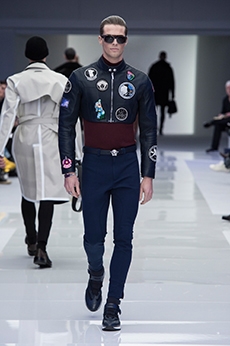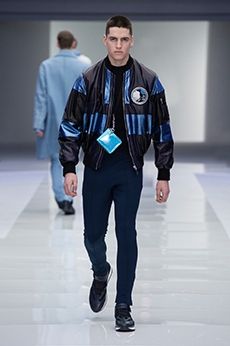 Versace certainly isn't only known but also loved for their eccentricity. For decades, the creative minds behind the brand have proved to be unlimited in their creative innovation. With the latest menswear collection, introduced at Milan's Men Fashion Week, Creative Director Donatella Versace presented yet another take on their anything-but-quiet attitude. For the latest designs, the Italian brand shot off into space. It's Versace-on-the-mars with futuristic metallic looks, astronaut-inspired sweatshirts and astrological prints. Additionally, the collection features all that is in style on planet earth right now: tracksuits, MA-1 jackets, cropped leather jackets and, of course, just the right amount of denim. "The Versace man is a pioneer, his ambition as big as the universe. This is a collection for men who are totally real, totally bold and totally connected with the future.", Donatella Versace commented. Houston, we don't see a problem here!

www.versace.com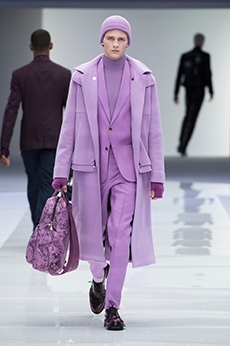 Fashion
Antonio Marras F/W16 Collection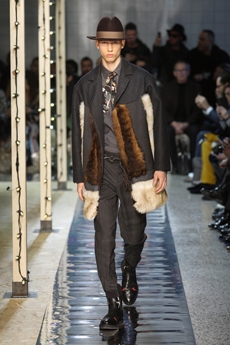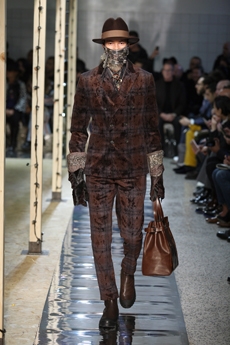 Cowboys, Indians, gold prospectors, saloon girls. Tumbleweeds, dusty roads, no life in sight, apart from a few wild horses, lizards and the occasional mosquito buzzing near your ear. We're thinking of the Wild West, thinking of Colorado, maybe, or some nameless town in the outskirts of the US. We're wrong. Antonio Marras has taken the latest collection to the West, but it's not western at all: the location in mind is in Sardinia. Illustrating the picture of a rural ghost town, the brand reinvented the motif of the Wild West by dislocating it to the Italian south. Inspired by this abandoned place in Sardinia, the designs feature a new take on the cowboy look with mélange sweaters, plaid trousers and a lot of checks. Intarsia shirts and velvet trousers dislocate the traditional idea of Wild West as much as the actual location. They are teamed up with patchwork jeans or denim overalls, biker jackets or floral jacquard fabrics. Colors range from moss, forest and military greens to red and mustard, forming an eclectic mix for a collection that can't possibly be narrowed down to one definition. There is no need for definition, though, as we know, that with a Wild West in Sardinia, the things are not what we define them as anyway. Open your mind to new definitions. Antonio Marras certainly does.

www.antoniomarras.it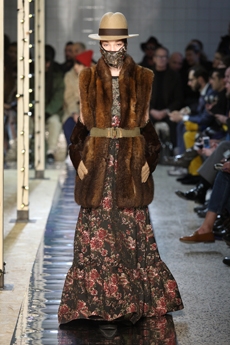 Fashion
Marni Men Fall/Winter 2016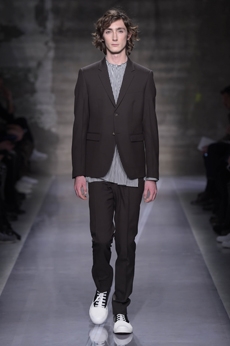 Marni's Fall/Winter 2016 is a swift motion between balanced elegance and subtle rebellions against clothing classics. On one hand, the brand presents soft and elegant silhouettes and suggests intimacy with this collection's number one theme: wrapping. On the other hand, raw cuts also convey strength. Suits are still precisely tailored and the use of fur provides some texture. Never judge a book by its cover, and never judge a fashion collection by the first impression. Caps and sneakers that contradict the elegance of the garments make another break in balance. The collection's color palette adds in elegance and subtleness with blues, greens, burgundy, ochre and light blue. We told you it was a swift movement. And with Marni, you just go along easily.

www.marni.com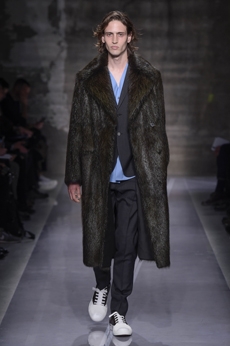 Fashion
Louis Vuitton & UNICEF: #MAKEAPROMISE
Louis Vuitton's latest campaign line-up reads like the database of a Hollywood agency. For their #MAKEAPROMISE campaign, the fashion house collaborated with UNICEF to raise worldwide awareness for children in need and captured various darlings from the entertainment industry. Shot by Patrick Demarchelier at the sixth UNICEF ball in Los Angeles, the likes of Paul Bettany, Nicole Kidman, Léa Seydoux, Xavier Dolan, Adèle Exarchopoulos, Mariah Carey and many more posed with the "Pinky Promise" gesture, a symbol to assure commitment to the campaign's goals. These include not only raising awareness to children suffering from humanitarian catastrophes but also providing actual help. The brand will collect donations through an exclusively designed product: the Silver Lockit (wristband or necklace) will have 200 Euros from its total price of 500 Euros be forwarded to UNICEF immediately. The campaign is set to be a long-lasting project and was developed by Vuitton's employees. Having put an increasing focus on social media in their recent campaigns, LV and UNICEF once again ask users worldwide to share their #MAKEAPROMISE moment with a #pinkypromise post as a continuation of the movement started by the testimonials. Promises might be given out like free samples these days, but there's a feeling that this one might just be the change. Agree? Show your pinky. Promise.

www.louisvuitton.com
www.unicef.com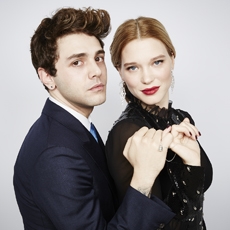 Fashion
Behind The Scenes with VETEMENTS: SS16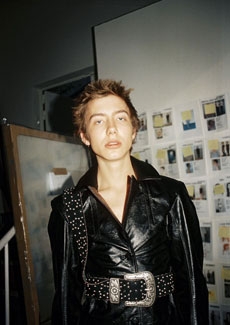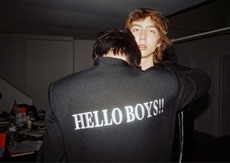 Fashion shows and collections are a nice thing, no doubts detected. Sometimes though, it's even more interesting to peek behind the curtain, to have a behind-the-scenes view at the new collections. Blooming label VETEMENTS has decided to enhance their latest SS16 collection with a book that gives us exactly that: an unfiltered look at the designs, a behind-the-scenes, a personal close-up. Shot exclusively by Pierre-Ange Carlotti, the book features modern photography that depicts models as they check their phones, hug or take their position for the presentation. The artworks additionally feature a handful of detail shots, with the VETEMENTS shoe design being the center of attention more than once. The book will be published by London publishing house "Idea", according to whom it is the largest photography book ever dedicated to a single fashion collection. 304 pages thick, it will be available at the Comme des Garçons Trading Museum in Paris from January, 23 onward. After that, stocks will go to Idea's Dover Street Market locations in London, New York and Ginza, Tokyo. Ever wanted to be behind the scenes at a fashion show without having to leave your seat? Flip open the book and be ready to dive in.

www.vetementswebsite.com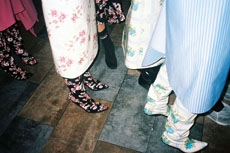 Photos: Pierre-Ange Carlotti for Idea
Fashion
DIESEL Goes Emoji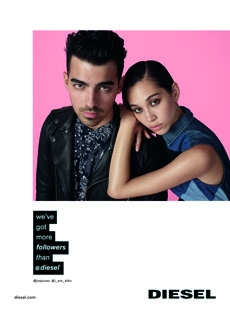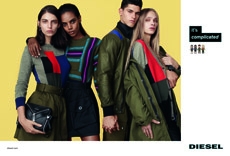 The wink-face, the monkey, or rather just the thumbs up – what's your favorite emoji? Don't deny it, you have one. Emojis have become the new sign language, a universal communication system that everyone in the world can understand. Whereas other fashion labels in the past have taken this as an inspiration to paste the tiny symbols onto their clothing, DIESEL winks at us and creates their own emoji alphabet for their Spring/Summer 2016 campaign. At first sight, the visuals are clearly an established fashion campaign – but with the slogan comes the twist. "It's complicated" is adorned with little couple symbols while the expression "holy denim" is reinforced by – of course – a praying emoji. For DIESEL Creative Director Nicola Formichetti, this campaign is a comment on our digital culture, the absurdities that define our on- and offline life. The digital world is more real than reality and has become a next-level superpower. No part is to be disregarded: the moving intimates visuals will also play on the world's most important porn sites. The campaign's faces are also no strangers to the digital world and it's open-minded spectrum. Model Stav Strashko, who was born male but identifies as a girl, rejoices in the gender diversity now most prominent in the digital world. Singer Joe Jonas poses alongside his colleague Kiko Mizuhara and his band DNCE. Now where did Formichetti find this pool of beaming faces? Your guess is correct, online. We clap our hands to that. Not literally. The emoji. You know.

www.diesel.com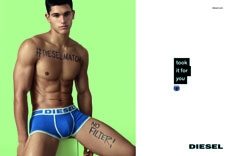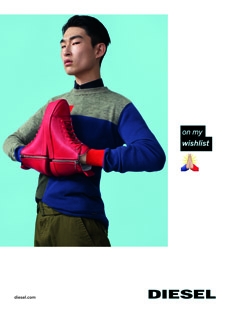 Fashion
Nasir Mazhar FW 2016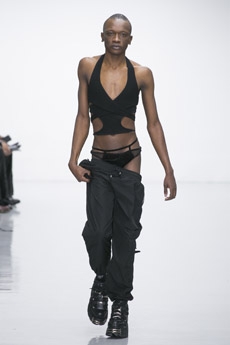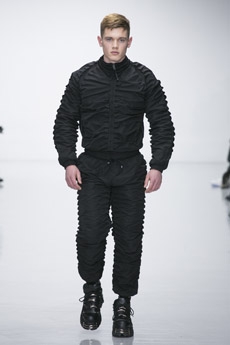 There are few things as fascinating and endless as the darkness. Its space of interpretation appears to be as vast as the darkness itself. Inevitably, the inspiration drawn from the dark is equally as tremendous. London designer Nasir Mazhar took this as a chance to dive into the deep and uncertain – and returns with his FW 2016 collection. His latest designs imagine a club world of individual characters, unified by darkness. A group that shifts in varying shades of black. Black - a color that ties together wide experiments in shapes and textures. Apart from this floating unison, each outfit stays an entirely separate project. Whether it's strapped tops, crumpled looks or extraordinary headwear, Mazhir's collection leaves as vast room for interpretation as the darkness. He recalls the creative freedom of his non-commercial, purely creative beginning. An approach that has been featured for the second consecutive season, as long-planned changes for the brand are set to be revealed. Who knows what they're going to be – as for now, we only know that Mr. Mazhar sure loves a bit of uncertainty. Just like the darkness.

www.nasirmazhar.com
Fashion
Moschino feat. Gilbert & George: FW Men 16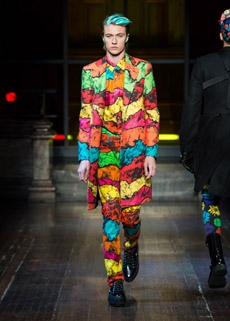 Moschino's Jeremy Scott might just be one of the most contemporary designers of our time. After having incorporated the world of fast food chains and Barbie dolls in his past designs, with the AW 16 menswear collection, he is onto the next collaboration. This time, only, it's art. Scott met up with artist duo Gilbert & George and, after a round of tea, was granted full access to their artworks for the new Moschino collection. The designer jumped at the possibility and therefore included everything he could: the new designs feature collaged coats, knit cardigans and jackets with patches of the artists' images of young men's faces. Typography, words and phrases have also been taken along. Other garments are peppered with crucifix patches that refer to G&G's 1982 art piece "Youth Faith". According to Scott, everything in Gilbert & George's work speaks to him, from the saturated colors to the slogans and provocative attitude. Well, this could just be a match made in heaven. 

www.moschino.com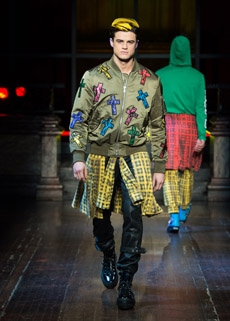 Fashion
Paul Smith for David Bowie: Blackstar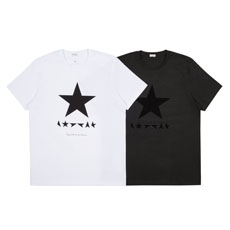 In celebration of the release of his latest album "Blackstar" on January 8th, David Bowie has cooperated with British brand Paul Smith for a set of limited T-Shirts. The designs feature the same logo as Bowie's album, consisting of a prominent star in the middle, underlined by a row of smaller star fragments. Graphic designer Jonathan Barnbrook, who also collaborated with Smith and Bowie for the latter's 2013 album "The Next Day", has conceived the artwork concept. Available in black and white, the shirts are up on sale at paulsmith.co.uk from the day of the album release. Paul Smith was happy to renew the cooperation with Bowie after the two have been friends and collaborators for years. "I've known David Bowie for many years and have been fortunate to spend time with him in the past. I was delighted when he asked me to collaborate on the release of The Next Day in 2013 and equally delighted to work with him again on creating a T-shirt for the release of "Blackstar", the designer commented. The album is Bowie's 27th studio work.

www.paulsmith.co.uk
www.davidbowie.com
Music
David Bowie Shares Video for "Lazarus"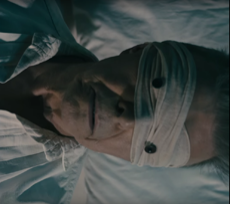 Bedridden, haunted, possessed: music icon David Bowie has released the video for his new single "Lazarus" prior to the release of his new album "Blackstar", out January 8th. In the video, the singer is shown in bed in what appears to be a psychic ward. While wearing a tight blindfold, Bowie moves around the bed frantically while mouthing the lyrics. "Look up here man, I'm in danger", he sings, "I've got nothing left to lose". Later on, Bowie hints at his past days when shown in a striped full-on bodysuit while convulsively writing in a notebook. At the end of the video, Bowie retreats to a closet, seeming to have lost his mind. Resigning, his last lines are: "Oh, I'll be free, ain't that just like me". January 8th will not only mark the release date of the artist's 25th studio album, but also his 69th birthday. Watch the video for "Lazarus" below.

wwww.davidbowie.com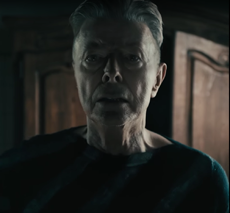 Fashion
JIL SANDER Spring/Summer 16 Advertising Campaign
Naturalness and simplicity have forever been trademarks of German brand JIL SANDER's collections. Now, the new visuals for the Spring/Summer 2016 campaign were revealed – and they make clear that the fashion label once again sticks to its status quo. Shot by Willy Vanderperre in Paris, the campaign shows models Lexi Boling and Jonas Gloeer presenting a collection defined by purity. Womenswear designs allude to one of this year's key colours, an almost pastel blue that is used in the design of wrap dresses, shirt blouses and handbags. Other than that, the collection stays rather un-summery, featuring dark colors like a deep blue in a classic menswear coat or even black. If now the thought of "boredom" creeps into your mind, JIL SANDER is ready to talk back: especially the new women's designs surprise with shoulder cut-outs and restyled coat collars. They might stick to their status quo, but JIL SANDER does it just right. Never change a winning team, people say. We agree.

www.jilsander.com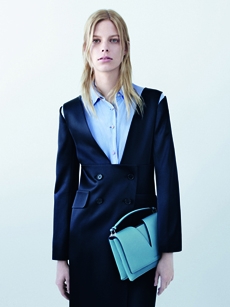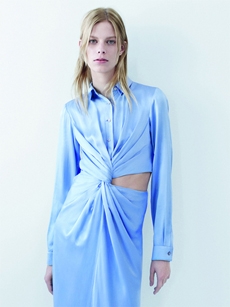 Fashion
Louis Vuitton Series 4 Campaign
Louis Vuitton has revealed the latest campaign "Series4" with another portfolio of visual art. The Spring/Summer 2016 visuals continue the brand's system of releasing a variety of visuals, created by different artists, for each collection. This time, the focus lies on the fierceness of women: the heroine. To capture the spirit of the "new muses of a new era", the brand teamed up with photographers Juergen Teller, Bruce Weber and Japanese video game creator Square Enix. The latter focused on what is most prominent in this particular campaign: the digital age. Enix captured "Lightning", a character from the popular video game series "Final Fantasy". Being the most unusual Vuitton model to date, the virtual character is the secret star among the other campaign testimonials, actors Jaden Smith and Doona Bae. "Lightning is the perfect avatar for a global, heroic woman (…). She is also the symbol of new pictorial processes. How can you create an image that goes beyond the classic principles of photography and design? Lightning heralds a new era of expression.", Nicolas Ghesquière reflected on his choice. New year, new age, new era.

www.louisvuitton.com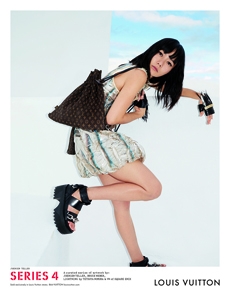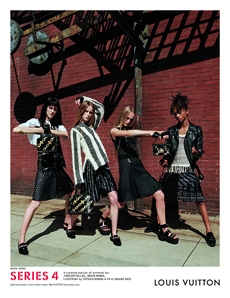 Fashion
J.W. Anderson Pre-Fall 2016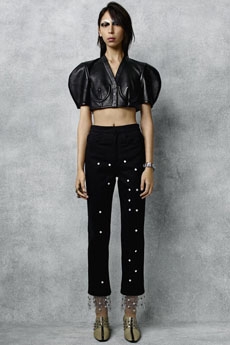 For his latest Pre-Fall collection, British designer Jonathan Anderson has channeled his inner medieval expert. Most noticeable are the leg-of-mutton sleeves featured on woolen jumpers and a short, bolero-style leather jacket. Combined with voluminous trousers that also recall clothing from past centuries, the designer has successfully transferred our ancestors into the present. These references stand alongside a shiny, tracksuit-inspired combination with blown-up, patched pockets that make room for whatever today's fashionista has to carry. The collection's dresses once again are reminiscent of ancient clothing: they remind of habits, only to be transferred into the present by stitched pleats and ruffles. The key accessory comes in form of the "Pierce" bag, that without a doubt lives up to its name: the clasp indeed recalls certain body jewelry. Who knew that one day, medieval sleeves and piercings could go along so well? And for that, ladies and gentlemen, we have J.W. Anderson.

www.j-w-anderson.com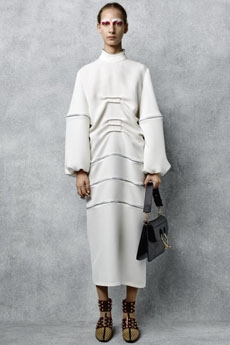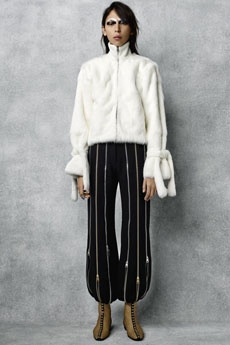 Copyright: J.W. Anderson
Travel
PHOENIX Restaurant Opens in Dusseldorf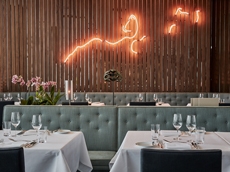 Three architectural "slices" of post-war modernism have defined the skyline of Rhine capital Dusseldorf, Germany, for decades. The Dreischeibenhaus on the riverside is a classic. Now, it is set to also define the city's culinary image. Dec 15th saw the opening of new restaurant "PHOENIX" in the building's former telephone switchboard. The restaurant provides seating for 70 guests and another 30 in a private dining area. High-class cuisine is served in form of modern classics combined with seasonal dishes that ask to be tasted with a bottle from an international wine selection. Guests can enjoy the culinary extravaganza surrounded by a tasteful interior: materials, forms and colors from the historic building have been taken on and mount in a fresh design defined by the key color petrol blue. The combination of walnut wood and steel elements creates the perfect atmosphere for a relaxed lunch or dinner. Need a little more entertainment? The show kitchen area gives guests an insight into the making of their delicacies. Guten Appetit!

PHOENIX is open Tue-Sun nights and at lunchtime from January on.

www.phoenix-restaurant.de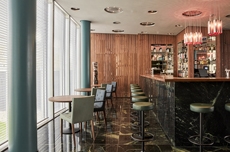 Art
Florian Roithmayr at Camden Arts Centre
December 12th, sees the start of the new Florian Roithmayr exhibition "with, and, or, without" in London. Set to run until March 6th, 2016, at the Camden Arts Centre, the exhibition focuses on material changes in the process of making. Those changes depict the interdependence of materials and surfaces as well as featuring the unexpected gestures that happen between mold and cast. For this particular exhibition, Roithmayr has dared what only few artists would consider themselves capable of: after having set up certain parameters, he handed over the control of the exhibitions configuration to the front of the house. This means that the placement of Roithmayr's work will change daily at the "gusto" of another person. And to that, we can only tip our hats.

www.camdenartscentre.org/whats-on/view/roithmayr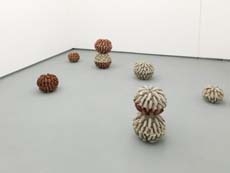 Art
Volez, Voguez, Voyagez: a Journey With Louis Vuitton
Louis Vuitton has quite literally dusted off the suitcases. For the exhibition "Volez, Voguez, Voyagez", the French fashion house retraces its own history back to the very beginning in 1854. Presented in nine rooms at the Grand Palais in Paris, the exhibition contains travel items from archives and Paris fashion museum Palais Galliera. Viewers can even catch a glimpse at never before seen travel items from private possessions and institutions. Curated by Olivier Saillard, the exhibition takes place until the 21st of February 2016. For all those who can't make it, the brand has released a unique and poetic movie exclusively for the exhibition, titled "Never Ending Story". As for us, we wish that the journey with Louis Vuitton indeed would never end.

eu.louisvuitton.com/eng-e1/articles/never-ending-story-the-film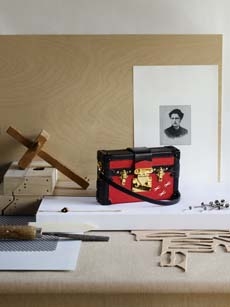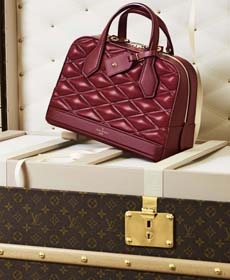 Fashion
DKNY x New Museum Host Intimate Miami Beach Dinner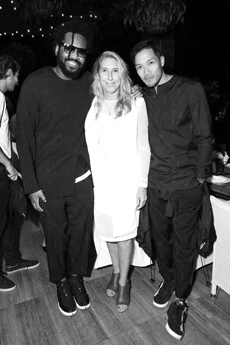 In celebration of a new partnership December 2, 2015, saw DKNY and New Museum host an exclusive dinner as part of the Miami Beach Art Basel. As guests were top names in fashion and art, they included the likes of Lisa Phillips, Shelley Fox Aarons, Dominique Levy and Karen Wong. With creative directors Dao-Yi Chow and Maxwell Osborne, DKNY is collaborating with the art institution to further advocate women artists, as the New Museum has made one of its top priorities over the past 38 years. "The New Women's Project" brings focus and support to the exhibitions and commissions of five women artists this coming year. Not only this, but DKNY will become the Lead Sponsor of the New Museum's spring 2016 exhibitions, including solo exhibitions by Nicole Eisenman, Goshka Macuga, Cally Spooner and more, whilst overseen by Massimiliano Gioni, Artistic Director of the museum.

www.dkny.com
www.newmuseum.org
Art
Miami Beach Art Basel
Catherine Sullivan with George Lewis and Sean Griffin: Afterword via Fantasia (2015)
Louise Nevelson, Untitled, 1964. (Photo: Courtesy of © 2015 Estate of Louise Nevelson/Artists Rights Society (ARS), New York)
In this year's Miami Art Basel, 267 major galleries from all over North and Latin America, Europe, Asia and Africa will exhibit some of contemporary and Modern art's most significant pieces alongside the field's most prominent emerging names. Kicking off on December 3, 2015, paintings, sculptures, films and more will display must-see pieces from the likes of Anselm Kiefer and Louise Nevelson, whilst the Rubell Family Collection "No Man's Land: Women Artists from the Rubell Family Collection" will exhibit over 100 different female artists. Not only will there be dramatic installations and large-scale artworks, but the four-day-fair also presents a number of cultural events and performances, so make sure to check out the calendar!

The Art Basel at Miami Beach is on from December 3 to December 6, 2015.
www.artbasel.com/miamibeach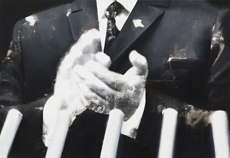 Mircea Suciu -The deceiver - 2015 - 40 x 58 cm - oil, acrylic and monoprint on linen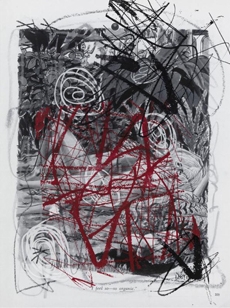 RICHARD PRINCE, Untitled (cartoon), 2015, inkjet and silkscreen on canvas, 73 1/4 × 55 inches (186.1 × 139.7 cm) © Richard Prince. Photo by Rob McKeever
Fashion
Versace opens in Berlin
In an exciting collaboration between Donatella Versace and the English architect, Jamie Fobert, Versace are opening a new concept store on Berlin's Kurfürstendamm. Taking a piece of the label's heritage to their new location, the 350 sqm boutique brilliantly fuses together values of traditional Italian architecture with the dynamic energy we see at Versace today. Providing the immaculate setting for the fashion brand's prêt-à-porter collections and accessories are 9th century Byzantine church-inspired marble mosaics, dramatic brass features and modernistic perspex walls and shelves…As Donatella puts it, "In fulfilling this project Jamie Fobert has created a space in which the new Versace spirit can take flight", whilst paying homage to the label's past, present and future.

www.versace.com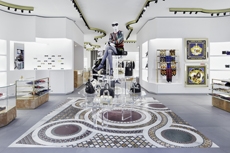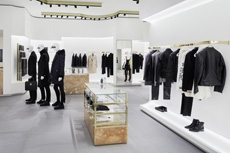 Fashion
Céline opens Munich Boutique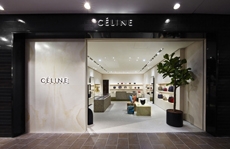 With only a few stores out there, Céline is a label that prides themselves upon exclusivity. However, Munich shoppers can breathe a sigh of relief as the Parisian label has opened an accessories store in the Oberpollinger, one of Munich's major department stores. The 54 sqm ground floor boutique boasts a range of bags, sunglasses and jewellery in an elegant interior design of onyx, ceramic and marble.

www.celine.com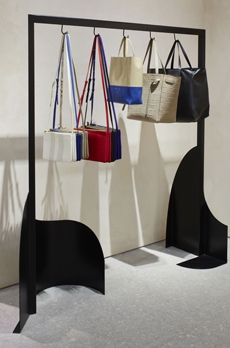 Fashion
Zadig&Voltaire Launch Candide Bag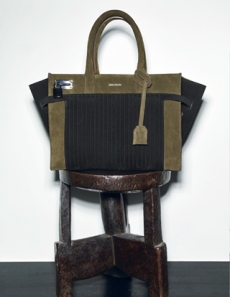 Named after the Voltarian hero, the brand new Candide Bag is destined for cult status. Complete with biker quilting, a stitched Zadig&Voltaire logo and an off-centre padlock, Cecilia Bönström has designed an urban piece that symbolizes the label – think Parisian chic meets edgy rocker. If this wasn't enough, the made-in-Italy, striking bag is realized with Fall/Winter versions, solidifying its iconic status for the label. Available in three sizes and a chic selection of red, black and khaki suede and leather, the Candide Bag fits the needs of the modern Zadig&Voltaire woman. We want.

www.zadig-et-voltaire.com
Art
Bryan Adams Wins Bronze at Lead Awards 2015
We at ZOO Magazine are thrilled to announce that Bryan Adams has been awarded with the Lead Awards 2015 bronze medal!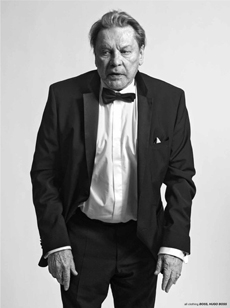 This is for his 2014 portraiture series of the infamous Helmut Berger, who graced the pages of ZOO in issue number 43. when he allowed Adams to step into his life for a day.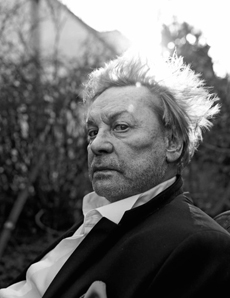 What resulted from this opportunity was an intimate series portraying his enigmatic, larger-than-life personality that became highly critically acclaimed.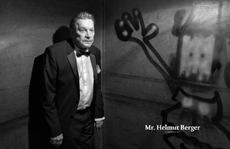 Now Germany's most prestigious photography award ceremony, the Lead Awards 2015, was held last night when the news of his win was announced.

www.zoomagazine.de/the_magazine/back_issues
Fashion
Christian Dior Couture comes to London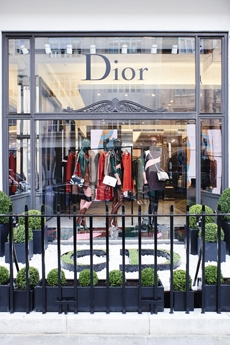 Taking a piece of Paris to the doorstep of Londoners, Dior has opened a brand new pop-up store on Mayfair's Mount Street. In an old Victorian building, just steps away from Hyde Park, lies Dior's temporary address. Surrounded by its contemporary interior, customers can find Raf Simons' FW15 collections for the label, including women's ready-to-wear, accessories, footwear and leather goods.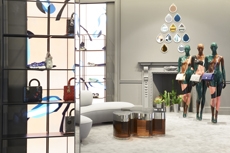 The loft-like space is occupied with pieces by renowned interior designers, such as a Vladamir Kagan sofa, a Nuage table by Guy De Rougemont and Miroirs Gouttes by Hubert Le Gall. Christian Dior's favourite color takes centre stage with a magnificent pink dressing room in the middle of the store.

www.dior.com
Art
No Longer / Not Yet
Italian philosopher Giorgio Agamben once famously raised the question "What is the Contemporary?" With this in mind, the Creative Director of Gucci, Alessandro Michele, opened a creative debate with his FW15/16 collections for the label and explored it conceptually, "What does contemporary mean?".

According to Michele, the notion of contemporary refers to a "state of temporal flux", where relics from the past are fused with signals of the future. In agreement with the statement, "The contemporary is the untimely", from French semiotician Roland Barthes, Michele has gone on to collaborate with the Editor in Chief of LOVE magazine, Katie Grand, and curate the "No Longer / Not Yet" exhibition, shown in Shanghai's Minsheng Art Museum.
Artists such as American sculptor Rachel Feinstein, Chinese Op artist Li Shurui and British photographer Glen Luchford have contributed individual works of all mediums reflecting their conceptualizations of the untimely or contemporary. The exhibition will also include a personal artwork from Alessandro Michele.

"No Longer / Not Yet" is on exhibition at the Minsheng Art Museum, Shanghai, until December 16, 2015.

www.minshengart.com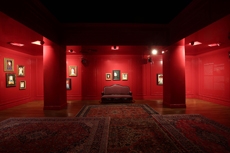 Art
Twice Light – New York
In marking the occasion of the 2015 NY Design Week, Italian artist Gianluca Vassallo conducted his photographic social project: Twice Light. Travelling around the city, the "one to watch" in his field of current emerging contemporary designers, Vassallo studied the relational impact of placing two strangers under a light for a full minute. This was with the aim of temporarily uniting them and thus forming small communities, whilst visually creating an extraordinary profile of New York.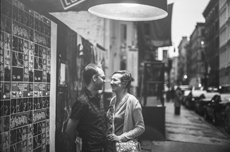 These communities may have only lasted for a brief period, but the "Twice as Twiggy" lamp used throughout the project and erected in various public spaces in the city, is proving to be around for a lot longer. This is after achieving global success as a novel icon of interior design. Influenced by the plasticity of a fishing rod, the floor lamp was created in 2006 by Marc Sadler for the lighting company Foscarini, who now offer an enlarged version lighting up large spaces.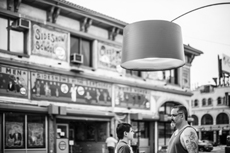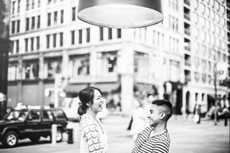 The "Twice Light – New York" exhibition, containing 120 images presented under the Twice as Twiggy lamp, is currently on show at the Spazio Soho, New York.

twicelight.foscarini.com
Fashion
Rick Owens Unveils New Hollywood Boutique
With the aim to create something truly "Cecil B. Demille worthy", a 450 square meter warehouse on La Brea, dating since the 1920s, has been renovated with the help of Owens' long time architect-of-choice, Anna Tumaini.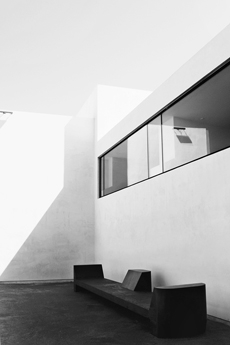 Together they have created something outlandish and abstract, in a tribute to the epic biblical movies that Owens watched as a child. He claims these movies have proved huge to be huge sources of inspiration for him throughout his life with "doomed heroic purity in black and grey draped robes in huge, dusty marble temples".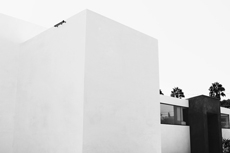 In representing this imagery, the La Brea boutique contains high ceilings, huge angular beams and the label's signature fog glass tank, which by engulfing the room fills it with "a billowing ejaculation of fog every 5 minutes". Not only this but there is also Owens' own dramatic reinterpretation of a swimming pool that tantalizingly releases slow motion bubbles…The boutique is located in L.A. after all.

www.rickowens.eu
Fashion
Moncler Gamme Rouge Spring/Summer 2016 Collection at PFW
A grassy meadow made up the runway of the heavenly romantic Moncler Gamme Rouge show. It was girlish renaissance in white lace florals, A-line skirts and cinched in waists.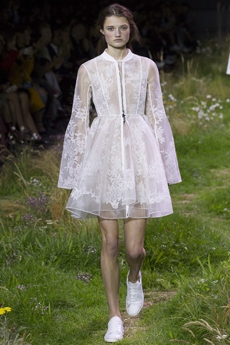 Fencing sword accessories reminded of the sports undertone to the label whilst simplistic sneakers and metallic fabrics kept the collection of short silhouettes contemporary and engaging.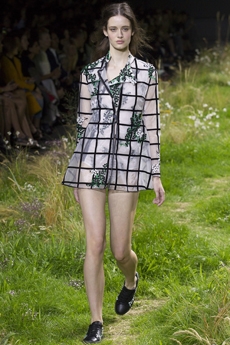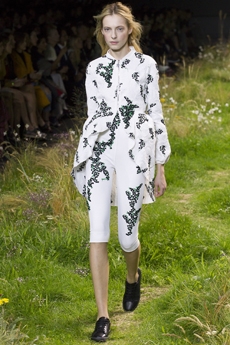 Giambattista Vallia has definitely kept his wits about him with this fresh, romantic look that will ultimately excite his Moncler girls.

moncler.com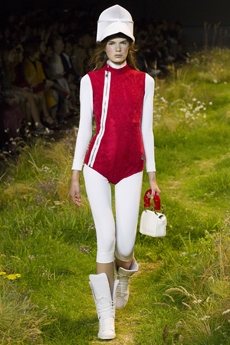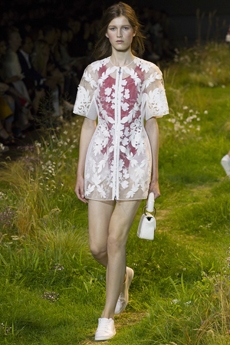 Fashion
Bernhard Willhelm Spring/Summer 2016 Collection at PFW
Undoubtedly the wackiest show of the season, Bernhard Willhelm is "celebrating randomness" with a banana themed collection. The motif is imaginatively plastered throughout the line, taking form in prints, cuts, silhouettes…Even in wired headdresses.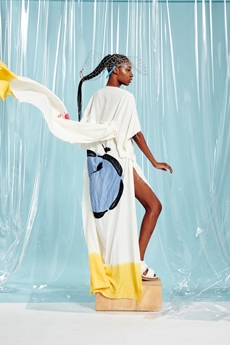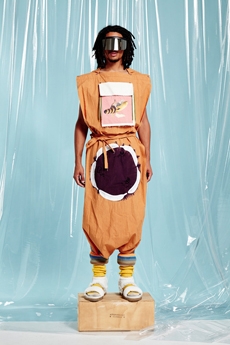 In a celebration of sexuality and identity the line is crafted without any regard to gender and is packed with bright tie-dye, jungle-style camouflaged prints and detailed embroidery.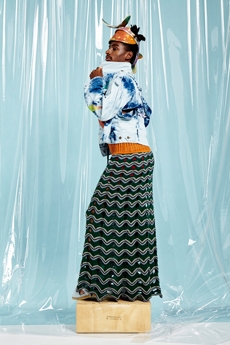 Despite the initial shock factor, when you break down these looks you find they are surprisingly wearable. Deconstructed overalls, statement jackets and low crotch shorts display some clever reworking from Willhelm and prove that there is a method to his madness after all.

www.bernhardwillhelm.com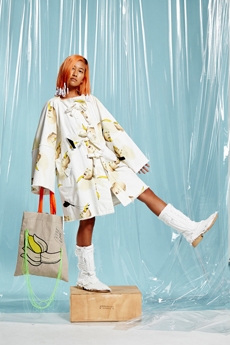 Fashion
Chanel Spring/Summer 2016 Collection at PFW
Karl Lagerfeld has never been one to shy away from the theatrics. His current season for Chanel was shown in a decked out Grand Palais with the theme of an airport.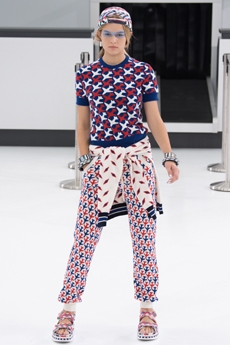 Models were jetsetters wearing aviator sunglasses, gloves and mini luggage-case purses, strolling through the airport to catch their flight.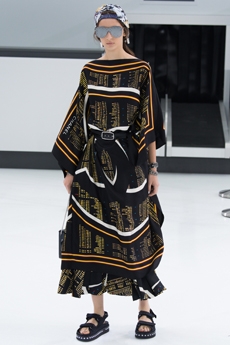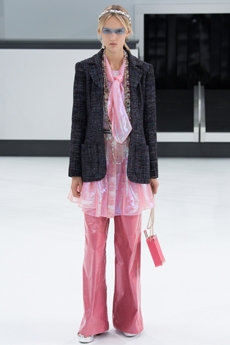 Lagerfeld, who has clearly had enough of joggers and tracksuits in his business class surroundings, created a line of luxury, which he deems more appropriate as in-flight attire. This included leather calf-length A-line skirts worn over matching wide-leg trousers, a number of denim puffed sleeves and fabulous bejeweled bodices. This is Lagerfeld at his finest.

www.chanel.com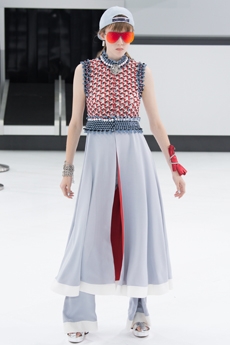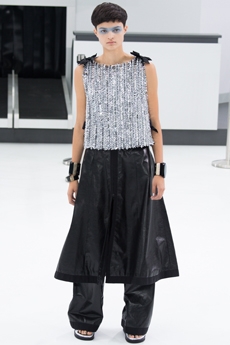 Fashion
Loewe Spring/Summer 2016 Collection at PFW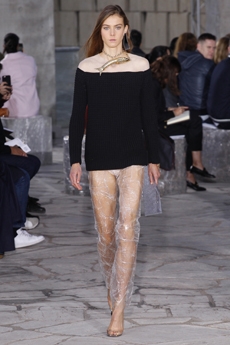 Jonathan Anderson is reinventing the traditionally fine Spanish leather brand, Loewe. This is with a new, particular attention to the logo, which he cleverly brandishes across bags, dresses and coordinating suits.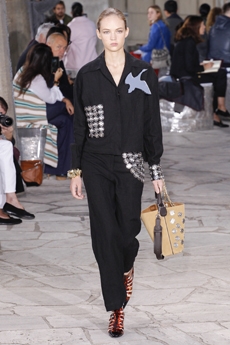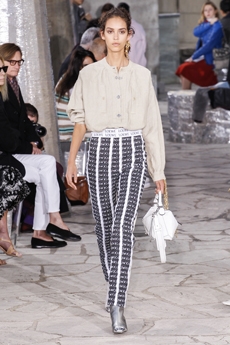 Mixing the outlandish with the undoubtedly ready-to-wear, his newest collection for the label sees a diverse range of fabrics and textures, from mirror shards, to cable knits to translucent plastic. The jewelry is contemporary and eclectic, with fish shaped necklaces, tailored bags and models dripping in gold with fringed earrings and bracelets. An innovative collection, which is bursting with a fresh energy for Loewe.

www.loewe.com
Fashion
Rick Owens Spring/Summer 2016 Collection at PFW
There was a powerful message behind Rick Owen's Paris show yesterday. What many would simply brandish as another bizarre fashion moment actually had a deep sentiment behind it, regarding the empathy and strength of women. Models twisted into unforgiving contortions were strapped to the torsos of other models, who walked the entire runway bearing such a weight in an Owens reinterpretation of a backpack.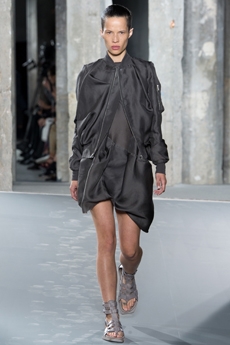 The pieces themselves were beautiful and undertook new looks for the label. Beautifully tailored sleeveless duster jackets were worn over leather and canvas dresses, whilst crinkled raincoats and aviator-style jackets were mixed into the more typical range of Owen's asymmetrical lines. His choice of footwear, being gladiator sandals or black leather boots, underlined the toughness of femininity and the inspiration behind the collection.

www.rickowens.eu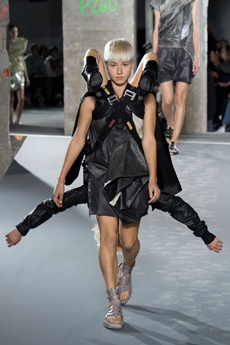 Fashion
Gucci Opens New Milan Concept Store Celebrating Alessandro Michele's First Collection
September 21st saw the luxury fashion label open a new concept store in Milan, showcasing the debut of Alessandro Michele with his Fall/Winter 2016 collection for Gucci.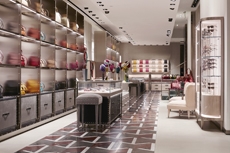 The discreet look of the store welcomes customers to relax inside, perhaps upon on a plush velvet armchair beside a vintage Oriental rug, that contrasts with the harder surrounding features made of iron or marble. In keeping with the theme of their latest eclectic collections, the store draws attention to differences in combining traditional and modern, industrial and romantic.
This new, intimately 'Gucci" look will be adapted to suit other other stores, respective to their locations.

www.gucci.com
Art
Tornabuoni Art Gallery, London, Opens with Lucio Fontana Exhibition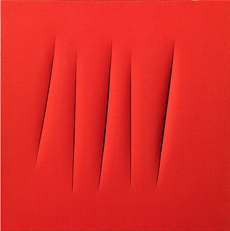 Established by Roberto Casamonti inFlorence, 1981, the Tournabuoni Art gallery is unveiling a new gallery on Albermarle Street, London. The first week of October sees a rare collection of more than 40 works from the Argentinian Italian artist Lucio Fontana in the gallery's opening exhibition. This being the late Fontana's first appearance in London for over a decade, it is perhaps unsurprising that the Casamonti family own the largest collection of his works and will feature an overview of his most renowned series in the upcoming show.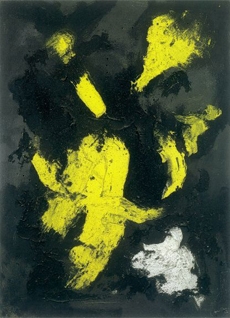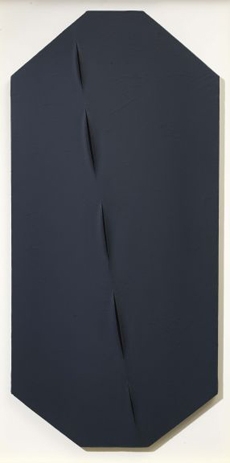 According to Ursula Casamonti, who is running the London Gallery, the space differs from others in that its atmosphere offers one of comfort and intimacy, rather than the usual "white cube" viewers are so often affronted with when visiting galleries. Designed by Marco Casamonti, the gallery is a true family project, and features two spaces across two floors.
The Tornabuoni Art Gallery, London, opens its doors to the public on 8 October, 2015.l The Lucio Fontana Exhibition runs until 5 December, 2015.

www.tornabuoniart.it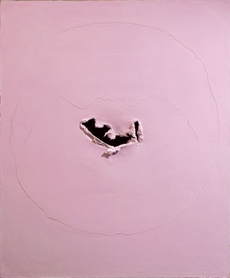 Fashion
Calvin Klein Spring/Summer 2016 Presentation at MFW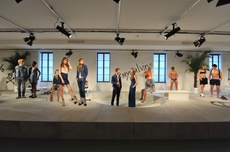 After debuting in New York Fashion Week, the women's ready-to-wear Calvin Klein Collection featured in a Milan presentation along with select men's and women's Calvin Klein Jeans, Calvin Klein Underwear and Calvin Klein Swimwear lines.
Francisco Costa presented the contemporary collections on suspended mannequins underneath a video of her women's Spring/Summer 2016 Calvin Klein Collection on the ceiling whilst accessories were displayed over black platforms. Kevin Carrigan presented the other lines using models posing as skaters in an abandoned pool complete with graffiti in Los Angeles, California.
There was a bit of a retro moment underlining the presentation, with the largely denim ensembles of Calvin Klein Jeans accessorized with snakeskin or suede boots and platform sandals. These vintage-inspired looks showcased denim one-pieces and A-Line skirts that in some cases appeared with a fade-effect or distressed.

www.calvinklein.com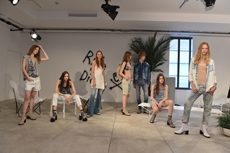 Fashion
Etro Spring/Summer 2016 Collection at MFW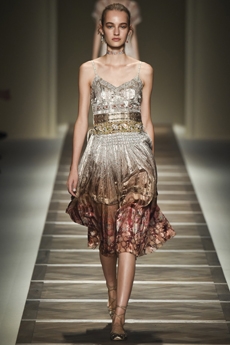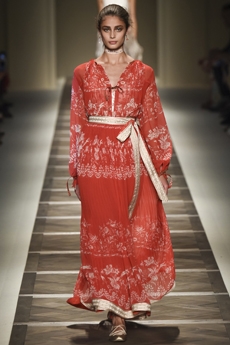 The classic romantic, Etro this season is packed with more of the label's signature, intricate prints. Blending folk-style with Victorian-style florals in a beautiful palette, there are ruffles, lace paneling and a matching choker in any given look. Latticed boots appear amongst satin ballet pumps with embroidered paisley bags accessorizing.
With such a keen eye for the details and so much going on in any given look, Veronica Etro has created a world for us to get lost in with each, individual piece.

www.etro.com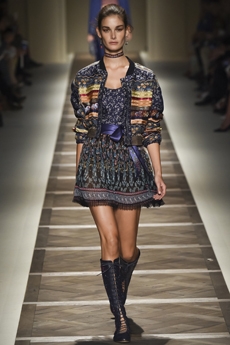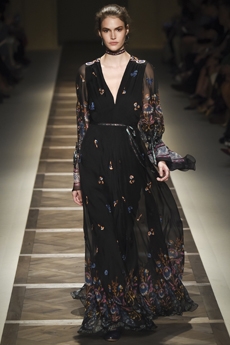 Fashion
Costume National Spring/Summer 2016 Collection at MFW
Inspired by a film noir comes the latest collection from Ennio Capasa. As expected, it entails a largely black pallet, with the incorporation of white and red.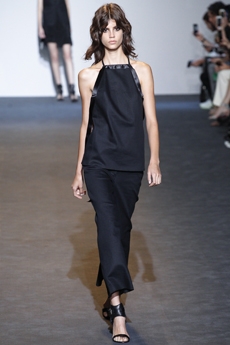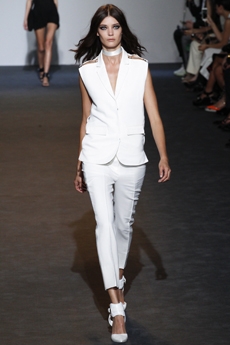 Deconstructed blazers, ruffled skirts and cut out shoulders explore the various shapes Capasa entertains in this collection. Geometric patterns in lace and embroidery, glitter prints and even a metallic ruched dress showcase an anomaly for the designer, and an exploration into "sensuality".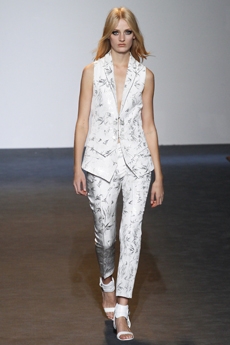 Never one to follow a trend, you cannot help but wonder whether the business of the shows of his contemporaries this past week in Milan have pushed him to venture out of his comfort zone this season.

www.costumenational.com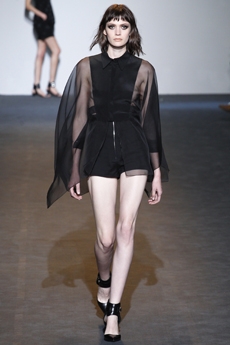 Fashion
Prada Spring/Summer 2016 Collection at MFW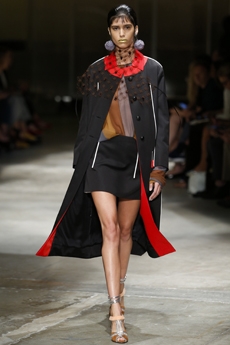 Vintage-inspired collections with an eccentric, Italian twist seems to have been a running trend this season at Milan. And who could do it better than Miuccia Prada I ask you. Her line is an army of skirt suits and coats brought to life in classic tweeds, checks or vivid striped leather and suede, alongside the occasional appearance of a translucent number.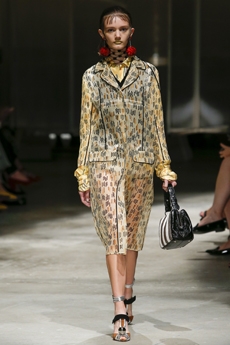 Perhaps if another designer had done this you couldn't help but get lost in repetition… But Prada knows how to play it. She showers each look with her signature style of peculiar accessories and whirls up excitement in her humble onlookers. This season, it's a circle motif – think lace scarves, sequins and glitzy bauble earrings.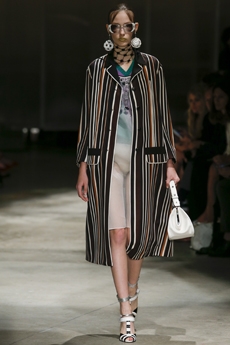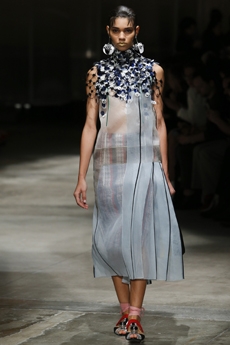 This exceptional collection is proving to be the highlight of the week at Milan and so for that, we salute you Prada. Oh, and for those incredible gold lips as well.

www.prada.com
Fashion
Philipp Plein Spring/Summer 2016 Collection at MFW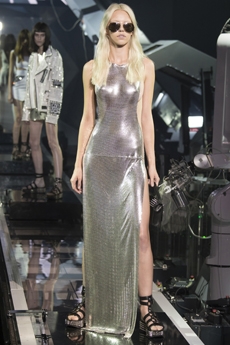 As promised, Philipp Plein has delivered another rock-pop spectacle with his show at MFW. Studded boots, a robot-backed Courtney Love performance and Black Swan style tutus, it is Terminator meets eighties Rock God and conjures up memories of his SS16 menswear line.
Leather biker jackets, emblazoned with patchwork badges reading quotes like "GOD SAVE HIP ROCK", are covered in his signature studs and teamed with slinky metallic dresses.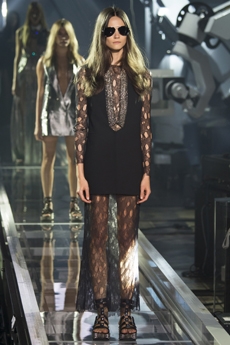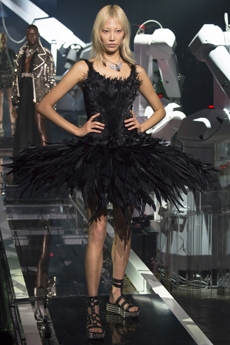 With technology being a key ingredient to this collection, models walking the catwalk as if on a conveyor belt… This was of course after a robot had accessorized them.

www.plein.com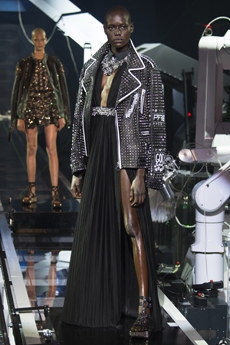 Fashion
Claire Barrow Spring/Summer 16 Collection at LFW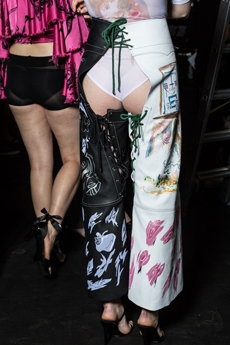 "Broken Machines", reflects Claire Barrow's prophecy of our society's doomed fate. In a world primarily dependent on technology, the NEWGEN designer's presentation reflects a world in which this entity, imperative to our being, breaks down and leaves us out in the cold.
Worn by a selection of models Barrow has personally sought after, the gender-blurred collection is a beautiful jumble of silks, lace-up leathers, power suits and her trademark scrawling prints.

www.clairebarrow.com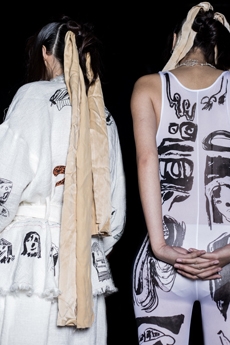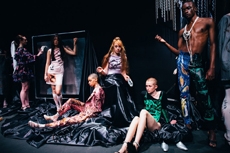 Fashion
CHANEL Unveils Ephemeral Boutique in Rome
In place of its previous Via del Babuino boutique CHANEL has opened an ephemeral boutique, which is just steps away from its new boutique on the Piazza di Spagna, Rome.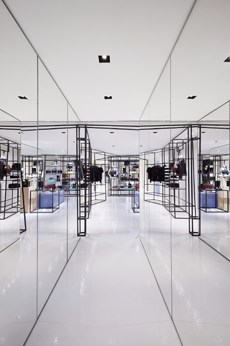 The House welcomes "the masculine-feminine", a concept treasured by Gabrielle Chanel. With a raw, minimalistic design of white floors and ceilings separated with oak, terrazzo and concrete modules, the understated boutique is appealing to both sexes.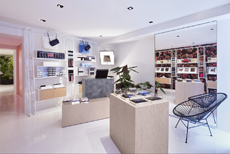 Filling up the space will be the Ready-to-Wear line with accessories and the new, unisex, Boyfriend watch collection. There is also a fragrance and beauty section with a picturesque, Roman courtyard hidden behind the boutique.

www.chanel.com
Fashion
Gareth Pugh Spring/Summer 2016 Collection at LFW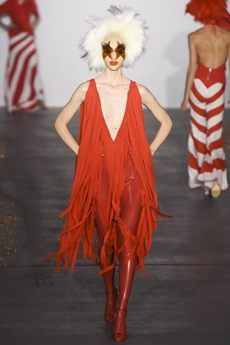 With bold prints, latex and an unflinching red, black and white palette, it was go hard or go home for Gareth Pugh's latest collection. Diverting away from last year's ritualistic themes this season was all about flamboyance.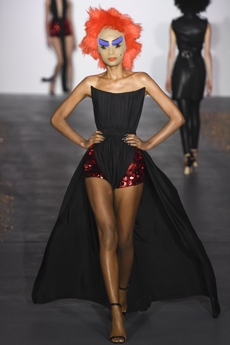 Masked models with choppy wigs wore plunging V-neck cuts and asymmetric shapes. Adorning his clothes with coins, this eccentric motif reappeared throughout the show and reminded onlookers that sometimes, you just have to go all out. At his LFW debut, this show has proven to be iconic for the designer.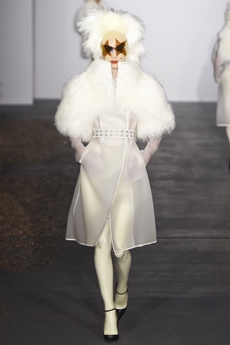 Fashion
Calvin Klein Spring/Summer 2016 Collection at NYFW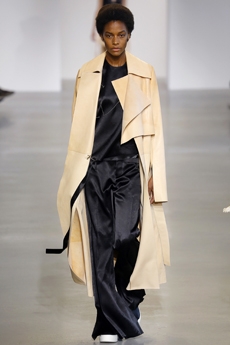 Reminiscent of the label's 1994 collection, which was immortalized thanks to the likes of Kate Moss on its runway, Francisco Costa has turned his head back to basics with the inspiration of a simple slip.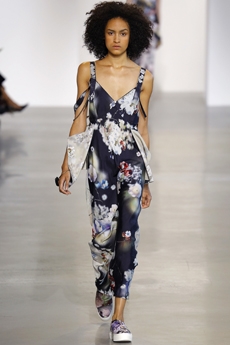 Adding a grunge twist, his sleek soft silk maxi dresses have split hems and loose straps, whilst lightweight, beautifully tailored long jackets with split cuffs billow over frayed-hem trousers. Mainly in a minimalistic neutral palette, Costa adds a touch of unpredictability to the label's collection with the incorporation of floral print.

www.calvinklein.com
Fashion
Givenchy Spring/Summer 2016 Collection at NYFW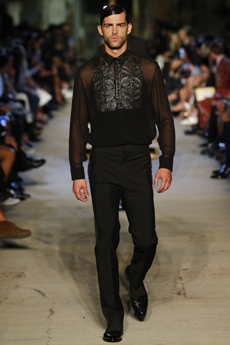 Cranking up several more notches on the face décor scale, Riccardo Tisci returns this season with another classically "Givenchy" collection. Making his debut into New York Fashion Week, Tisci teamed up with Marina Abramovic to make a thought-provoking reference to 9/11 in the opening of his show.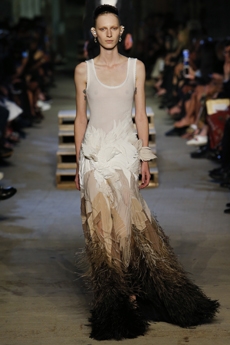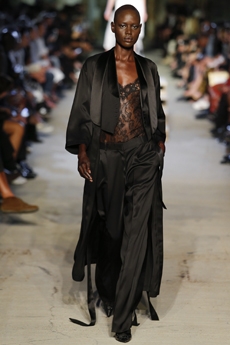 The collection itself is a natural continuation from last season's. Adopting whites and neutrals into his black palette, Tisci experiments with fabrics with an alligator skin couture dress. Perfectly tailored trousers, pointed lace-up shoes and a magnitude of lace leaves Tisci with a collection that is the perfect mix of elaborateness and class.

www.givenchy.com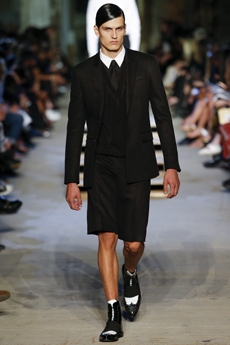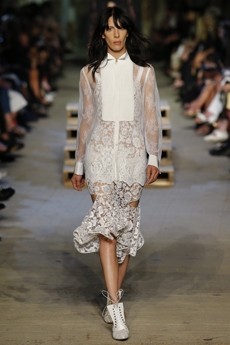 Fashion
YSL Presents Latest Campaign "Rue de l'Université"
It has now been more than a decade since we said goodbye to the astounding couture of YSL, following the retirement of founder Yves Saint Laurent in 2002. Most would surely find the task of filling his shoes too daunting to take on… Hedi Slimane however has presented himself as a match. Since being appointed as the creative director of Yves Saint Laurent in 2012, Slimane has spent the past three years busy renovating the "Hôtel de Sénecterre", a.k.a. the last couture house of Saint Laurent.
The majestic building located at 24, Rue de l'Université, was originally built in 1685 by architect Thomas Gobert and would have probably needed a great deal more than a lick of paint to whip back into working shape… Yet Slimane has done it. The iconic label's latest campaign is shot in the grand house, signifying it's long anticipated opening as the lavish new couture house of Saint Laurent.

www.ysl.com
Art
Art-Lovers Assemble: Berlin Art Week 2015 is Upon Us
2015 sees Berlin Art Week run again for the fourth time with the help of main sponsor, Deutsche Bank. Over 6 days the city will host a diverse range of exciting Contemporary Art events. The joint project STADT/BILD (Image of a City) features across several galleries, whilst there is also the art fair Positions Berlin and a number of awards including the Preis der Nationalgalerie 2015.

To mark the occasion, all over the city there will be striking exhibitions opening, including collections from the likes of Cindy Sherman, Paul McCarthy and Bernard Frize. This year, for the first time, Berlin Art Week will also offer a number of thought-provoking panel discussions of Talking Galleries/Berlin.

According to Tim Renner, Senate Chancellery – Cultural Affairs, "Berlin Art Week reflects the city's great variety as an art centre. Top-notch excellence and underground meet at eye level". With so much going on, Berlin Art Week will surely be the focus of the art world for the next week.

Berlin Art Week commences on September 15, 2015, and runs until September 20, 2015.

www.berlinartweek.de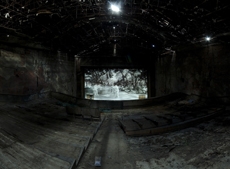 Fashion
Miu Miu Tells a Coming of Age Story with "Les 3 Boutons"
"It's playing a game with reality," Varda says. "The game is called cinema".

Agnès Varda, a.k.a The "Grandmother of the Nouvelle Vague" and the first female winner of Cannes Film Festival's honorary Palme d'Or, has directed the tenth installment of Miu Miu's "Women's Tales" celebrating contemporary femininity and empowerment.

"Les 3 Boutons" sees Varda toy with ideas of classic fairytales versus modern-day reality, avoiding the clichés so often associated with girlhood. Introducing Jasmine Thiré as a typical, 14-year-old farm girl,she takes a break from milking goats upon the arrival of her postman. Avoiding the easy Cinderella tale, the inquisitve Jasmine dons her school uniform and begins a journey of self-discovery. Along the way, she gradually loses three buttons. Each of these seems to mark some element of change in her life, which can be applied to all of us, irrespective of age.

www.miumiu.com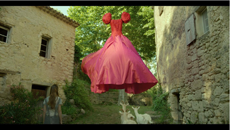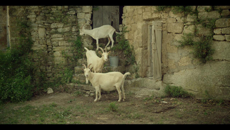 Fashion
Xavier Dolan Realizes His Fashion Dreams with Louis Vuitton
Once hailed Quebec Cinema's Boy Wonder, Xavier Dolan now celebrates being the face of Louis Vuitton's Fall/Winter 2015 campaign. Dolan shot to fame with his directorial debut, "J'ai tué ma mère" at the tender age of 20. His fifth feature film, "Mommy", also gained him international recognition in winning last year's Jury Prize at Cannes Film Festival.

Photographed by Alasdair McLellan, Louis Vuitton's showcases Ombré, the fashion label's latest collection of leather goods. Dolan models two iconic bags from the range, the Keepall and the Porte-Documents Voyage Bandoulière. The actor/director/Paris-front-row-sitter, who has claimed it to have always been a childhood dream of his to front a luxury fashion brand, can now safely tick one off his bucket list.

Louis Vuitton's newest campaign featuring Xavier Dolan hits magazines this October.

www.louisvuitton.com
Art
The "Serial Classic" Exhibition Makes Space for Unique Learning Opportunity
The Fondazione Prada have announced that in dismantling their "Serial Classic" exhibition, a unique opportunity for study and learning will be on offer. Over the weeks that this process will take place in Rem Koolhaas' impressive Podium, Milan, two external walkways will be erected alongside it allowing the public to witness the process. Additionally, groups of university students will be invited to enter the exhibition space and enjoy chatting with experts, technicians, conservators and other professionals.

The "Serial Classic" exhibition itself included more than 60 artworks acquired from other museums on a global scale. It focused on themes of serialities and copies, in regard to Greek and Roman sculpture. We commonly associate the classical period with notions of uniqueness and originality, however there is no other time frame in Western Art History that has seen imitations of other masterpieces been considered so importantly as in late Republican Rome and the Imperial age.

The project is presented from August 28, 2015 for around three weeks and includes daily research sessions.

www.fondazioneprada.org
Art
Dismaland: A Place Where Dreams Don't Dome True
It was over the weekend that the British street artist Banksy opened the gates to his bleak antithesis to Disneyland. Located in an abandoned swimming pool in Weston-Super-Mare, England, the adults theme park is packed with dark humour and political innuendos.

Upon entering, you are immediately searched for weapons and given a brisk pat down. In the park, sullen workers loiter about, wearing bunny ears and holding balloons captioned "I am an Imbecile". Ponds brim with dead bodies and toy boats overcrowded with refugees, whilst another highlight includes a Cinderalla crash scene surrounded by Paparazzis.

Scattering the walls are Banksys' street artworks, whilst he also enlists the help of 52 other artists, such as Damien Hirst and Jimmy Cauty.

"Dismaland" will be open for 36 days, until 27 September 2015.

www.banksy.co.uk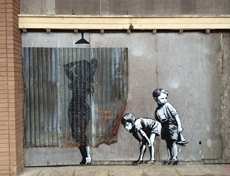 Fashion
Tiger of Sweden Jeans Pop-Up Store in Central Copenhagen
Just this afternoon Tiger of Sweden / Jeans opened a brand new pop-up store in the heart of Copenhagen. Landing in perfect timing for Fashion Week, it stocks the Tiger Jeans A/W 2015 collection for both guys and girls. This collection exudes the brooding edge that Tiger of Sweden Jeans prides itself upon, using a combination of "minimalistic expression with a dark, dreamlike print" in creating looks.

According to Fredrik Folkesson, who is Product Manager for the brand, Tiger Jeans has evolved massively over time, since its birth in 2001. After departing from the larger fashion family, Tiger of Sweden, Tiger Jeans has used it's cooler, more urban reputation to become one of Sweden's' leading jeans brands.

The store opening today in Copenhagen is the first to date that sells exclusively Tiger Jeans, and reflects its' growth to an established Fashion line.

www.tigerofsweden.com
Fashion
Prada Journal. A Place For New Stories.
"Illuminations, shadows and mirages. Things are not always what they seem." This year's theme for the third edition of the Prada Feltrinelli Prize, Prada's international literary contest dedicated to emerging writers was opened in Milan this past week. The Prada Journal collections of optical frames are the embodiment of Prada's adventurous nature and its quest to explore the world through different lenses and perspectives – a just inspiration for the world of literary wonder. Launched in 2013, the Prada Feltrinelli Prize aims to establish and nurture an independent literary research platform open to writers from all corners of the world. The winners of the award will be awarded a cash prize and their stories published as an eBook in the Prada Journal digital anthology and in the Feltrinelli Zoom catalogue. The contest closes on August 31st. Send in your short story at… www.prada.com
Fashion
Gucci Unveils Surrealistic Window For Alessandro Michele's First Collection
July 21st marked the opening of the Gucci-designed window for their new Creative Director Alessandro Michele's FW 2015/2016 collection. His first collection and its dreamlike display will be installed in stores worldwide by the end of the month.
An admix of disco's love for striking neon lights and Salvador Dali's penchant for the odd and grandiose — the window features purple and turquoise LEDs, creating a distinct 3D perspective, alongside embroidered snakes and giant swallows. This nod to surrealism goes hand in hand with the eclectic collection, being both eye-catching and imaginative.

www.gucci.com
Fashion
Antony Morato Fall/Winter 2015 Campaign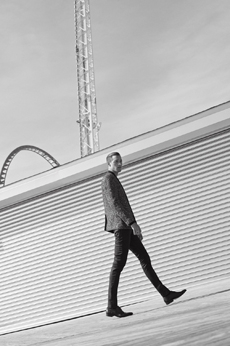 From the beating heart of New York City arises the urbanite "Places" campaign from Antony Morato. Following the footsteps of world-travelling Italian man, this curious adventurer has arrived in the city of a thousand lights. As any traveller would know, culture is as diverse as the winding paths of the road. And a lot of roads lead to New York. As a cradle of cultural exchange, the city continues to breathe new trends, affected by the thousands of "places" it hides. The FW campaign, shot by photographer Tony Thorimbert uncovers the unexpected metropolis, leaving behind what we assume New York to be and presenting it through its vibrancy, its architecture and its urbanism.

www.morato.it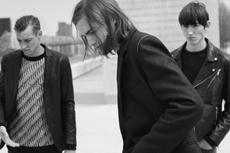 Art
Recontres d'Arles Photography Fair 2015
From the 6th of July to the 20th of September, the annual summer photography festival in Arles will showcase a number of specially designed exhibitions to the public.
The festival prides itself in its variety, having multiple projects running simultaneously throughout the city. From exhibitions, to sites, and artists, the artistic direction works towards fulfilling this kaleidoscopic construction. This year, the photography fair will center on the worlds of music, film and architecture, hoping to blaze the fires of cultural introspection – acting as an x-ray of photographic creation, paired with a festive heart.

www.rencontres-arles.com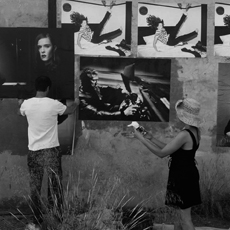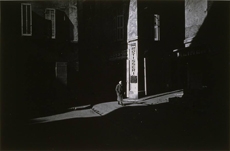 Fashion
Herr von Eden v MÜHLE Shaving Culture
Together with MÜHLE, Herr von Eden is launching a set of premium-grade shaving accessories for all men with an eye for quality and style. Good taste and an attention to detail are perfectly combined in this elegant shaving kit. Timelessly and traditionally crafted, the shaving set consists of a high-quality shaving brush with a handle made of resin, in combination with a low-maintenance synthetic fiber — the Silvertip Fibre ® - a MÜHLE innovation. In addition to this highly constructed kit, the aloe vera shaving soap ensures a thoroughly enjoyable shaving experience — for the cultivated gentleman.

www.herrvoneden.com
Fashion
Fendi Couture Fall/Winter 2015 at Paris Fashion Week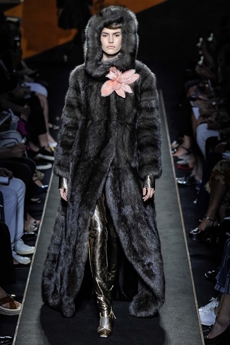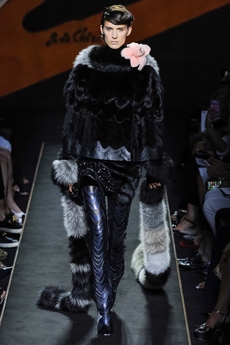 After 20 years heading the Fendi house as its creative director, Karl Lagerfeld proves is unwavering presence as a force to be reckoned with within the fashion world. He is the only couturier with a second show at Paris Fashion Week, and as imagined, did not hold back. The show proved as controversial as expected. Its title Silver Moon, the house's first Haute Fourrure (High Fur) collection drew astonishment both from the public and the audience, a feat the very experienced couturier has managed time and time again. The collection was impressive in its showcased technicality, with Lagerfeld expertly mixing furs, feathers and spectacular embroideries that intended to showcase the creativity and craftsmanship in fur since 1925.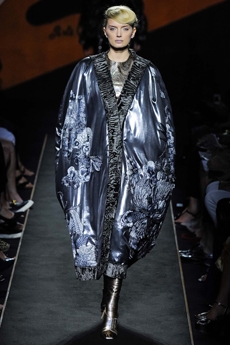 Fashion
Christian Dior Couture Fall/Winter 2015 at Paris Fashion Week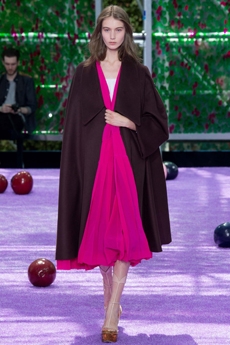 Asymmetrical coats, one arm draped in fur, the other exposed. Dior's Couture show had a little of everything – as kaleidoscopic as the ceilings of the Dior custom made space. However, Raf Simons' conception of Dior Haute Couture looked nonetheless coherent, originating from an inspirational point of view that played itself out on the runway. The platform shoe made itself known in this show, too, giving the models a physical elevation as much as a metaphorical elevation of the collection as a whole – it seemed to float on some other plane – perhaps made more evident by the whimsically constructed location in the gardens of Paris' Musée Rodin. Dominated by ankle-length gowns and steel-like mesh constructions, the collection seemed made for a contemporary noblewoman of some kind. Indeed, the A-line cut of the sleeve and the billowy shape of the blouses recall a certain Tudoresque sensibility – its mesh vests and thick coats reminiscent of a vastly updated dress for the court of Henry VIII perhaps?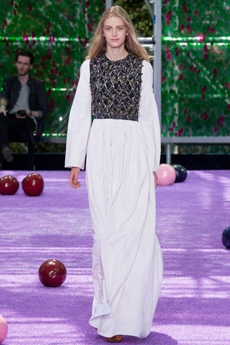 Fashion
Louis Vuitton Series 3 – Fall/Winter 2015-2016 Campaign
Starring new muse Alicia Vikander and returning beauty Jennifer Connelly, the campaign is shot by Juergen Teller and Bruce Weber and showcases the FW 2015-2016 collections worn by the quintessential Louis Vuitton woman. The refined elegance of the garments and the women is highlighted, juxtaposed against an industrial, stark background. Creative Director Nicolas Ghesquière has had an amazing season following the stunning resort collection and continues to take the brand to new heights.

www.louisvuitton.com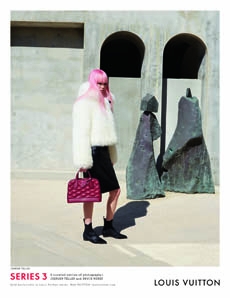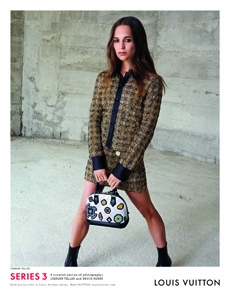 Fashion
Kenzo Menswear Spring/Summer 2016 at Paris Fashion Week
Showcased in an underground, near alien setting, the Kenzo cave was populated by a congregation of outlandish models. The feel of futurism was undeniable. Reminiscent of a reality not too far off, fabrics were constructed geometrically in earthy shades of green, khaki, yellow and grey. Amidst quirky details, rounded glasses included, there were jackets with ruched sleeves and parachute-looking jumpsuits. The collection gave an impression of comfortable style, as functional as it is fashionable.

www.kenzo.com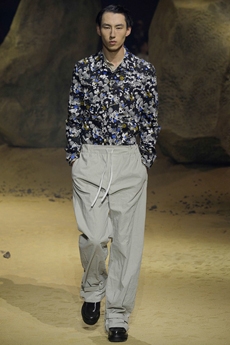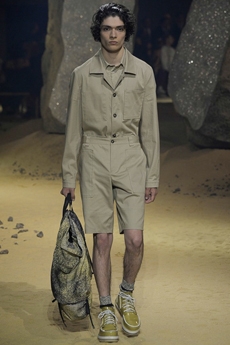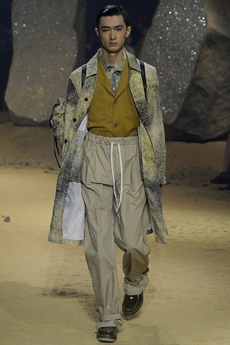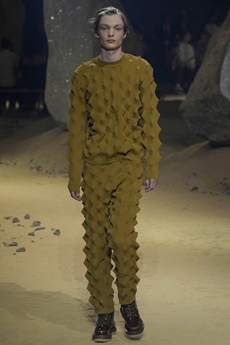 Fashion
Dries Van Noten Menswear Spring 2016 at Paris Fashion Week
Red scorpions, red palm trees, a red Marylin – the Dries Van Noten Menswear collection was a thoroughly enjoyable, somewhat ominous seduction by way of iconic imagery. Images of Marylin Monroe were emblazoned elegantly through monochrome patterns peppered throughout the collection. Checkered billowing pants, striped shirts and paisley shorts were paired with summery, silky pieces in dark, somber colors. The Van Noten theme evoked imaginings of a sumptuous Hollywood pool party, only darker and more eerie.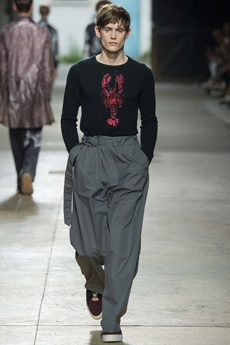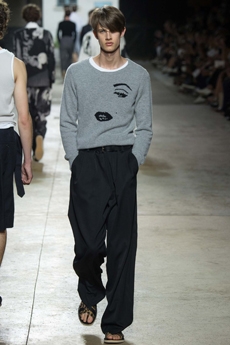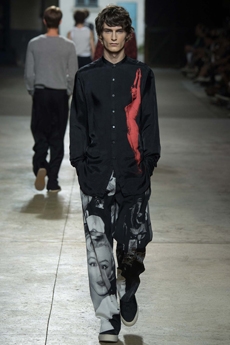 Fashion
Philipp Plein Spring/Summer 2016 at Milan Fashion Week
Welcome to the 'hip-rock' generation. Dubbed and exemplified by Philipp Plein's SS 16 menswear collection, the young fashion house presents a virtual summary of what's what in urban contemporary street fashion. Graffiti, ripped shirts, hoodies, biker jackets and tons of leather characterize this development of hip hop fashion – a movement headed by the pop culture Rock stars of today such as Rihanna, Jay-Z and Kanye West. Philipp Plein's collection is an ode to the focus and celebration of hip-hop tradition and its newborn fashion child appropriately named 'hip-rock'.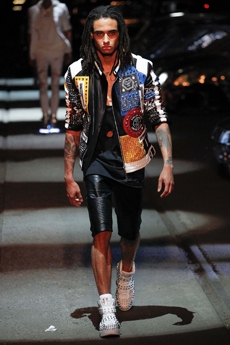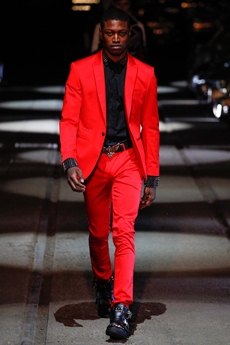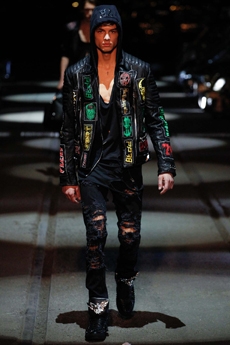 Fashion
Diesel Black Gold Menswear Spring/Summer 2016 at Milan Fashion Week
Creative director Andreas Melbostad presented the Diesel menswear collection in industrial surroundings during Milan Fashion week. With a reworked safari garments, the Diesel Black Gold man is irrevocably modernist and utilitarian. Textured and layered, the collection conjures and image of an urban survivalist. Safari pockets are teamed with survival jackets and cool color palettes, echoing a contemporary tailored collection.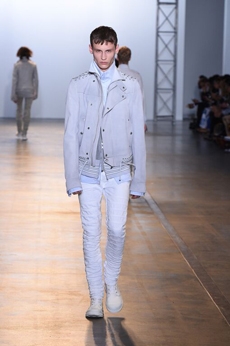 Fashion
Kenzo Resort 2016 Collection
The unifying pillar of the Kenzo Resort 2016 collection is its nod towards the modern-day woman on the go. With the universe at her feet and a yearning for functionality, Kenzo provides the sartorial relief for a woman in need of comfort paired with practicality and elegance. With subdued prints and flowing fabrics, the collection is made decidedly versatile with its soft, natural color scheme. Camouflage greens, stone greys, pale violets and beiges make sure the Kenzo Resort 2016 garments fits into any setting.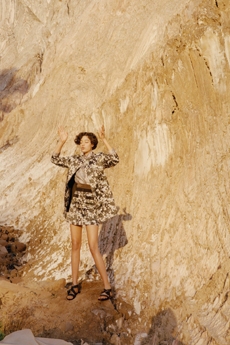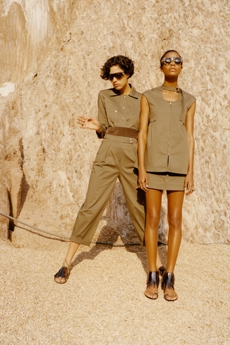 Fashion
ZOO Magazine No. 47, Summer Issue – Out Now!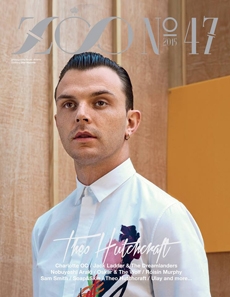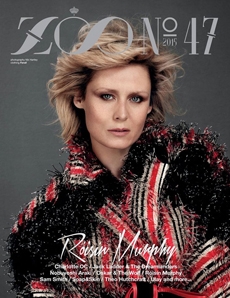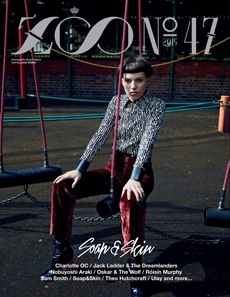 Gracing the covers of ZOO Magazine No. 47 is a decidedly musical cast - Sam Smith, currently touring with his Grammy-award winning album, Irish singer Róisín Murphy with upcoming dates in Europe, as well as Theo Hutchcraft of enigmatic duo the Hurts and experimental Austrian artist Soap & Skin. ZOO's summer issue is packed with an eclectic blend of musicians, artists and shoots!

The issue also features a very special collaboration between ZOO and performance artist Ulay. In a recreation of his opus of the 70s, Anagrammatic Bodies features amongst others actresses Nina Hoss and Iris Berben, and cements Ulay's comeback to the international art scene. Nobuyoshi Araki's August of Araki and Paul Kooiker's latest book Nude Animal Cigar will also feature alongside the best of Berlin's Gallery Weekend.

This and much more will feature in ZOO Magazine's issue #47, the summer edition – out now!

www.zoomagazine.com/the_magazine
Fashion
J.W. Anderson Spring/Summer 2016
The Northern Irish gusto J.W. Anderson displayed for structural and practical garments came forth in full-force with raw denims, soft leathers and cottons at his London Collections show. The collection showcased Andersons' true force within the menswear world – depicting the modern man in avant-garde cuts that were somehow made effortlessly classic.

Carrying forth this fashion-forward man was a striking throwback and definitive nod towards Louis XVI, Dorothy's red ruby slippers and something altogether futuristic all at once. Indeed, this futuristic, mechanical and even astronautically constructed vision firmly plants Anderson in the position as one of menswears' designated innovators.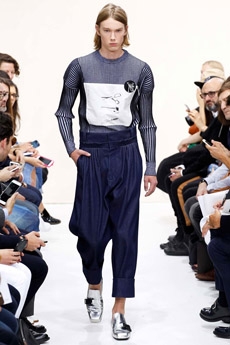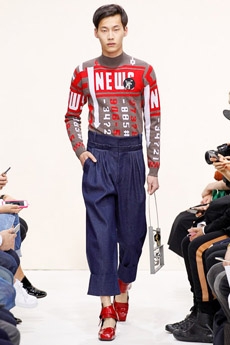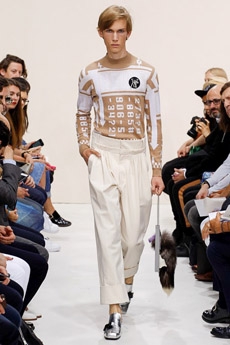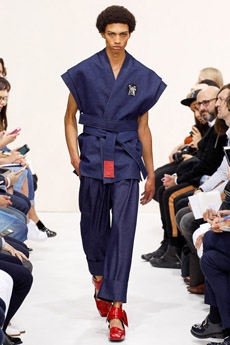 Fashion
Versace FW 2015 Campaign
Versace's color-blocked playground stars models Karlie Kloss, Caroline Trentini and Lexi Boling as the fashion house's campaign protagonists. Championing the strong sophistication of the Versace essence, primary colors dominate and provoke. Introducing the #GREEK motif, Donatella Versace's artistic direction steers the iconic brand towards a remixed, modernized play on the mod-dress.

The striking campaign is the result of the photographers Mert Alas and Marcus Piggott, who enhanced Donatella's vision of the woman unfazed and empowered by boldness through color and cut.


For more go to
www.versace.com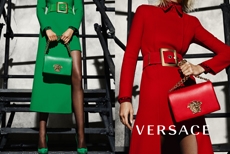 Fashion
HUGO BOSS Fall/Winter 2015 Campaign
Industrial cuts, classical in nature yet futuristic in look is the order of the day in the recently revealed HUGO BOSS FW 15 campaign. Laced with crimsons, the pervading grays are elevated from classic to edgy, safe to bold. Artistic Director Jason Wu brings to the campaign a cemented Berlin feeling in his refined layers of anthracite felt.

Featuring Clément Chabernaud and Edie Campbell, this ode to Wu's structural vision is reflected in the photographic work of Inez van Lamsweerde and Vinoodh Matadin, directed by Stephen Galloway. The collection tells a story through the play between structure form and a striking palette of black, red, camel and gray.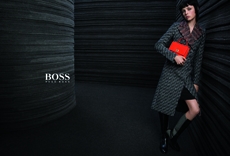 Fashion
The New G-SHOCK MRG-G1000
For more than 30 years, G-SHOCK wares have ascended upon the time-telling industry with impact due to its Japanese-made (Made in Japan) engineering. G-shock was born from a desire to create timepieces of enduring quality. The robust double-coated Titanium housings envelop the newest in G-shock developed technology - creating a near indestructable timepiece.

The latest addition to the G-SHOCK MR-G flagship series is the MRG-G1000. Shock-resistant and stocked with a hybrid GPS and Radio controlled timekeeping system, the independent solared powerded MRG combines affinity for technological utility with a classically strong aesthetic. Made from Titanium with a diamond-like coating which protects the MRG-G1000, the watch is strengthened by a face of sapphire glass, making the piece both anti-reflective and scratch resistant.


For more, go to
Travel
The Hanging Gardens Ubud
Imagine a temple for the rejuvenation of the soul. Does a secluded yet connected location, exotic flora and fauna and an unbeatable view sound anything like it? The Hanging Gardens of Ubud, Bali has this and much more to offer the adventurous soul. With funiculars gliding through the canopies of the surrounding nature, the terraced levels of the Gardens could reminisce of a Peter Pan-like retreat.

Bali lies between the islands Java and Lombok, and is known for its distinctive culture, from its arts and crafts to its scenery and temples. The Hanging Gardens personifies this with its panoramic valley and jungle views, organic restaurant and spa. From Ubud, nature-loving wanderers can easily find themselves hiking up volcanoes and forested highlands to rafting, horseback riding and mountain biking in the local area. The Neka Art Museum and Monkey Forest Sanctuary is also close by, offering their share of impressive cultural experiences.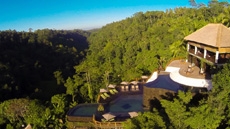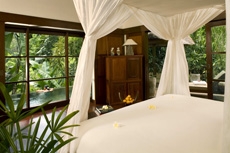 Music
MOKE Returns With Their New Single 'LET IT BURN'
Hailing from the canals of Amsterdam, Moke returns after a one and a half year hiatus. With the announcement of their upcoming fourth studio album, 'LET IT BURN' signals the return of a long-awaited return to the music scene.

With their distinctive guitar and newly incorporated influences brought from sources such as the keyboardist Eddy Steeneken and the Swedish producer Daniel Gibson. 'LET IT BURN' is the prelude to the upcoming album to be released this fall, as well as the first celebratory ring of their 10th anniversary.

Over ten years the band has enjoyed accolades such as achieving gold for their debut album 'Shorland', performances in prominent Dutch festivals (such as Pinkpop and Lowlands), to theatre and European tours, including a unique collaboration with the Metropole Orchestra.
Ease the wait of their album release with 'LET IT BURN', now on Spotify.

www.mokemusic.com
Art
HUGO BOSS Asia Art Award 2015
Rockbound Art Museum (RAM) are partnering for the second edition of HUGO BOSS ASIA ART. Conceived and curated by the Rockbound Art Museum, the biannual award honors emerging contemporary Asian artists.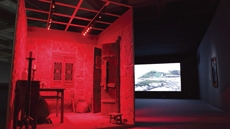 The award is handed to an emerging Asian artist, whose works, along with the participants, will be exhibited at RAM from 30 October 2015 until 3 January 2016. Won for the first time in 2013 by Kwan Sheung Chi, the artworks for the 2015 event will be new commissions made purposefully for the award event. Composed of chair Larys Frogier, Director of the Rockbund Art Museum in Shanghai, advisory committee members Alexandra Munroe, Senior curator of Asian Art at the Guggenheim and curator and critic Hou Hanru among others, the HUGO BOSS awards is a gathering of Asian Art connoisseurs. Branching beyond the Chinese artists, this year's awards have extended its selection to Southeast Asia.
Chinese contemporary art is experiencing a great deal of interest, with increasingly emerging awareness of its international presence. Intended to showcase the artists' vision, the exhibition had no overarching theme. Following exhibitions in Europe such as the recent Focus Beijing at the Boijmans van Beuningen in Rotterdam and the first major exhibition of Chinese contemporary art at the MET, Ink Art in 2014, Asian art is positioning itself strongly in the international art sphere.

The HUGO BOSS Arts program aims at encouraging an exchange between the fashion and arts fields. To discover more about the program, go to:

www.hugoboss.com

Art
Amsterdam Tribal Art Fair 2015
The weekend of Saturday the 16th to Sunday the 17th marks the fourth installment of The Amsterdam Trail, a celebration and appreciation of the historic and contemporary influence and relevance of tribal art. Contemporary artists will be exhibiting in galleries specialized in ethnographic and Asiatic art scattered along the specified trail. Among majestic African masks, New Guinean shields and Tibetan daggers, contemporary photos, videos, jewelry and sculptures inspired by ethnographic and Asiatic aesthetics will be exhibited.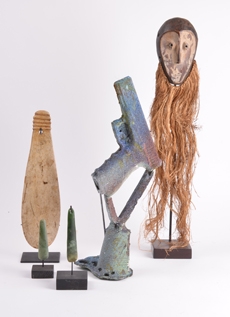 Ethnographic objects have inspired the art world since the beginning of the 20th century. Artists such as Picasso, Man Ray and Modigliani are but a few artists greatly inspired by such objects. Contemporary artists are continuously looking to the masters from Africa, Asia and South America for inspiration. Some are passionate collectors of ethnographica - others are simply inspired by the intensity and deep cultural affiliations of tribal art.

For this years' trail, the artist Folkert de Jong has created new pieces, which will be exhibited amongst objects originating from Oceania in Gallery Lemaire. Amongst others, Vincent Vulsna examines the appropriation of other cultures by the west and this problematization in his work, which will be exhibited in the Amstelkerk and Tatjana J. van Vark will demonstrate her creations on Saturday, May 16th and will give a talk about her work in the Michel Thieme gallery.

For more information about the Trail, go to
www.amsterdamtrail.nl
Art
Milan Opening of Fondazione Prada Art Center
The industrial complex and former Società Italiana Spiriti distillery made for an imposing yet grand setting for the May 3rd opening of Fondazione Prada, the OMA-designed art center in Milan. With attendees such as Hans-Ulrich Obrist, curator of the Serpentine, artist Damien Hirst and filmmaker Steve McQueen, the creative world were out in full force. The new permanent venue is the result of a reinvigoration project developed by architectural giant OMA, with the aim of expanding upon the spatial typologies in which art can be exhibited. With Rem Koolhaas at the helm, the architectural configuration is a composite of seven existing buildings dating back to the 1910's with three added structures, the Podium, Cinema and Torre.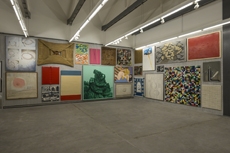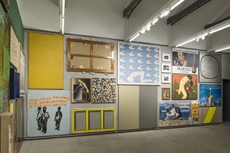 Created in 1993, Fondazione Prada's philosophy of analysing the present is made possible through various creative platforms including contemporary art exhibitions, architecture, cinema and philosophical projects. Curated by several departments and headed by Muccia Prada, Patrizio Bertelli and Gemano Celant, the space is constructed around the idea of creative knowledge exchange and enhanced learning.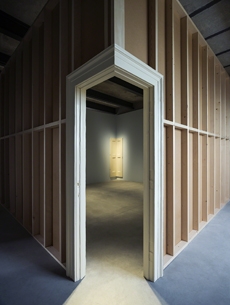 Exhibits are put on in various forms, the upcoming 'Serial Classic', and 'Portable Classic' projects, birthed by Salvatore Settis, taking on the subject of classical Greek-Roman statuary reproduction, whilst their new Bar Luce, conceived by film director Wes Anderson, reconstructs the classical Milanese café through a cinematic lens. The Fondazione Prada is an all-encompassing experience of the creative life – a dynamism reflecting the combined expertise of its creators and contributors.
The Milan venue of Fondazione Prada will open to the public on Saturday 9 May 2015, with the exhibition Portable Classic (9 May – 13 September 2015).

www.fondazioneprada.org
Fashion
Prada Pre-Fall 2015 Campaign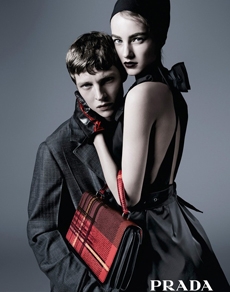 Fashion house Prada kick off their Pre-Fall 2015 campaign with the photographic genius of Steven Meisel. Boldly showcasing the pristine and dramatic elegance that has become a trademark for the brand, shadows play off the subdued patterned fabrics and faces. Alluding to the stoicism of marble statues, the images play with the ambiguity of gender. The fashion house has long been an advocate of exploring the complexities of gender, spurring on the frequently emulated masculine shoe trend with their platform lace-ups.

Characteristics, similar and dissimilar, are explored in the collection, whose campaign highlights the often-synchronous style of male and female. Paired together in couples, models Maartje Verhoef, Niels Trispel, Willow Hand, Artur Chruszcz, Aya Jones, Tim Schuhmacher and others present the stark stoicism of the Prada Pre-Fall campaign.

Check out the Pre-Fall 2015 campaign at:
www.prada.com
Fashion
Filippa K: Sustainability Is The Guide To Growth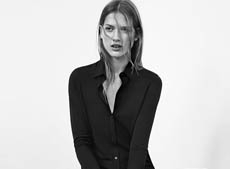 Filippa K's newly launched online platform finally communicates their long-term efforts towards sustainability in fashion.

Founded in 1993 by Filippa Knutsson and Patrik Kihlborg, their vision "Fashion where sustainability is the guide to growth" is channeled through a wardrobe consisting of stripped-down, simplistic designs, essential pieces. Garments of clean design and high quality seem intrinsic to the Scandinavian philosophy, where the flexibility of designs easily transition from season to season and year to year. Durability and a timeless quality is key in this configuration, where style not necessarily opposes sustainability.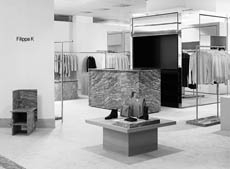 Inspired by ecosystems and planetary boundaries, the company is devoted to the reduction of the textile industry's environmental and social footprints. Their choice of materials and production practices reflect an acute awareness of the long and exhaustive supply chain, in an attempt to produce less of what is needed and deliver long-lasting garments. Their recently launched products "front runners" are completely recyclable in the fabric tencel (wood), including the corozo nut as buttons. 

We want to be part of the solution rather than add to the problem.
This philosophy is based on two main concepts: The Curated Wardrobe and Circular Design. A curated wardrobe is simple rather than excessive, and should be created to last over time – the ecosystems and its inherent processes of reuse in turn inspire the circular design concept.  
To read more about Filippa K's Sustainable philosophy, visit their website at:
 
www.filippa-k.com/sustainability-1
www.filippa-k.com
Cinema
The Artist is Absent: A Short Documentary on Martin Margiela
Directed by the award winning New York based writer and director Alison Chernick, the documentary reveals the impact of the Belgian creative genius Martin Margiela – the enigmatic mind behind several of the most consummately striking creations during the past two decades. Notoriously elusive, Margiela is known for his absence in the media, having never given an interview nor willingly posed for photographs.

As a reconstruction of his path to his dichotomous prominence, his presence becomes tangible through images and frames from his creative career, substantiated by personal interviews with some of fashion's greatest names including Jean-Paul Gaultier, Raf Simons and Suzy Menkes, who have contributed to the mosaic of his extraordinary life. The documentary exemplifies the essence of Martin Margiela's deconstructivist revolution, and has been acknowledged by the 2015 Tribeca Film Festival in the Best Documentary Short category.
Starting April 20, a short version of the twelve-minute documentary will be shown exclusively on yoox.com, thecorner.com and shoescribe.com. The full documentary will be showcased online from April 27, after the announcement of the 2015 Tribeca Film Festival winners.

www.yoox.com
www.thecorner.com
www.shoescribe.com
Fashion
Objets Nomades by Louis Vuitton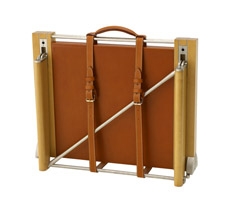 Louis Vuitton presented the latest project at Salone del Mobile in Milan this year. It completely revolves around travel, something we can always expect with this particular fashion house. Keeping in touch with Vuitton's core, travel and innovation, they have asked several artists and designers to create objects that embrace the brand's philosophy.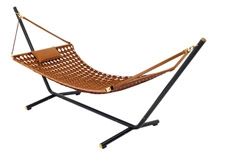 The collection exists out of perfectly crafted items that are not only useful, but extremely beautiful too. Christian Liaigre created a portable travel desk that can be folded into a suitcase. By combining leather, wood and aluminium, the desk becomes a strong and well-designed item. Atelier Oï on the other hand, chose to design a luxurious hammock, made out of leather strips.
Art
New Work by Adam Pendleton at Pace Gallery London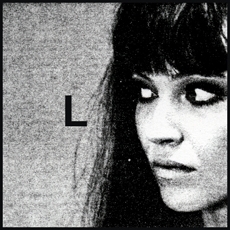 Conceptualist Adam Pendleton is presenting new work at the Pace Gallery in London. From the 16th of April until the 23rd of May, the gallery is open for visitors. This multi-disciplinary artist has been known for using different media such as silkscreen printing, painting and video. To see what he has been up to, make sure not to miss this exhibition.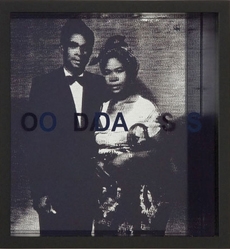 Fashion
Armani's Art of Living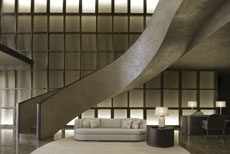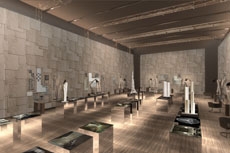 For the first time, Armani Casa is showing work from the most important projects, together with scale models, samples, stylistic research and sketches. To see the process behind the interior collection of the Armani house, you can visit them during this year's Salone del Mobile in Milan.
Since 2015 is an important year for Armani, the exhibition will represent important milestones for the brand. Many projects from all over the world will all be showcased.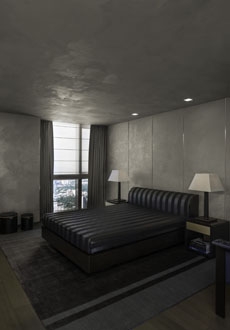 Fashion
Fendi Launches a Digital Boutique
Fendi has just launched their digital boutique. You can now have the experience of visiting a Fendi store whenever you want. Whether it's a holiday or the middle of the night, you're always welcome to look around and see the latest capsule collections. The brand is offering you a 360° experience, where service is of high importance. The boutique is open in Europe for now, but the US and Japan will follow later this year.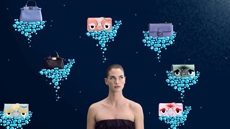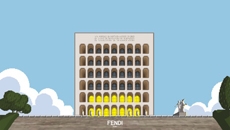 Art
The Infrared Summer by Joseph Lally
The Visual Artist, Writer and Cosmic Thinker Joseph Lally has published his first novel. In this shocking story, he takes us into a world of glamour, sex, drugs, models and the powerful, all told from an insider's perspective.
Now available on Amazon.com
Art
Bally Celebrates Modernist Design
Chinese artist Wang Yuyang was invited by Bally to create Equip, an original art piece inspired by a demountable house that was designed by Jean Prouvé in collaboration with Pierre Jeanneret. This innovative piece is being showcased at the Shanghai Exhibition Centre, which will be open from March 27th until March 30th, 2015. The exhibition celebrates modernity and innovation, which was always expected from Jean Prouvé and Pierre Jeanneret.
Fashion
Chanel at Paris Fashion Week Fall/Winter 2015
Karl Lagerfeld admitted to his love for France during his latest Chanel show. Since he has been opening grocery stores and rebuilding stages for the past few years, it was time for Brasserie Gabrielle to get introduced to the rest of the world.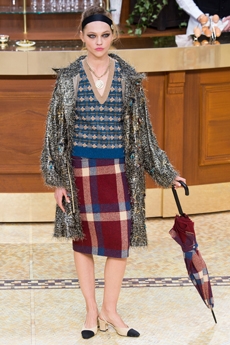 He is known to be the designer that keeps on evolving the oh so classical brand of Chanel, and he managed to do that once again. It is not only in the way he presents the collections, but it is hidden in details and materials too.
Lagerfeld is celebrating Chanel heritage; in the way he refers to French culture, and in every garment he creates.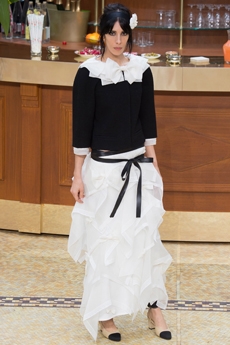 Fashion
Louis Vuitton at Paris Fashion Week Fall/Winter 2015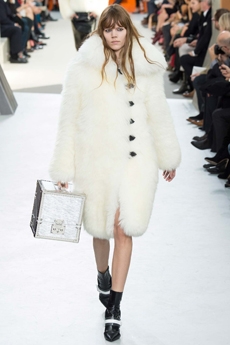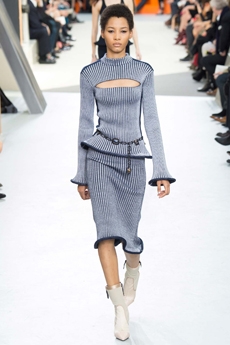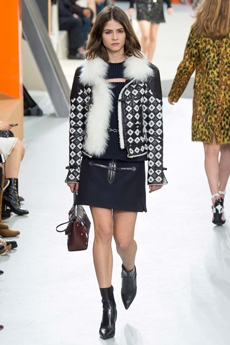 Ever since Nicolas Ghesquière took over the steering wheel, Louis Vuitton has been traveling into a slightly different direction. For the Fall/Winter 2015 collection, he has found a way to add some of that Parisian rock 'n roll into Vuitton's classic luxury.
Biker pants and jackets were combined with short dresses in flower prints, finished up with pointy heels and low, black boots. The looks felt casual and laid-back, but none of them lacked flare.
Fashion
Yohji Yamamoto at Paris Fashion Week Fall/Winter 2015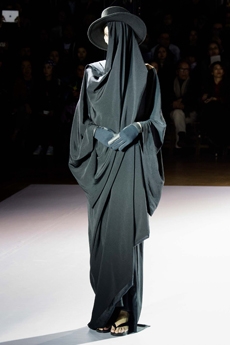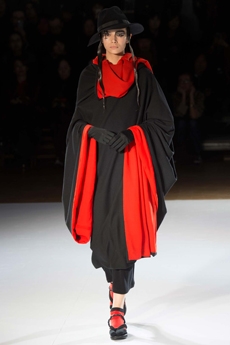 Yamamoto's Fall/winter 2015 show was as sober, sophisticated and uniform like we can always expect. Long dresses in draped velvet and wool gave the feeling of closed intimacy and anonymity.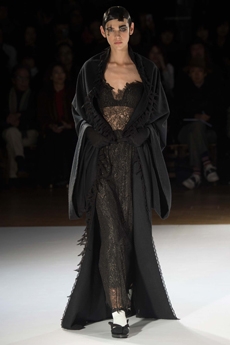 Where other designers go back a few decades to find inspiration, it seems as if Yamamoto went back a few centuries. His looks felt more like they were beautiful costumes, only made to wear by people who could truly appreciate this art. The same goes for the less wearable spider-like constructions that he showed. Even though they are not made for wearing, they show Yamamoto's genius as an artist rather then a fashion designer.
Fashion
Kenzo at Paris Fashion Week Fall/Winter 2015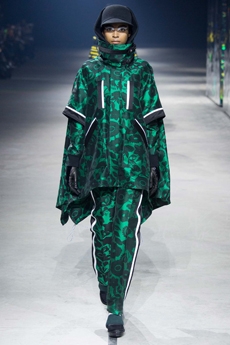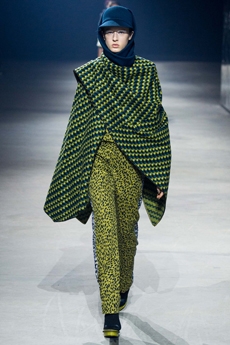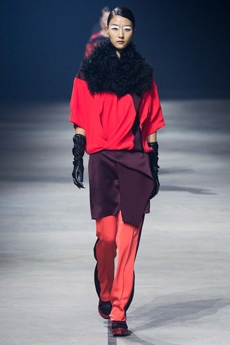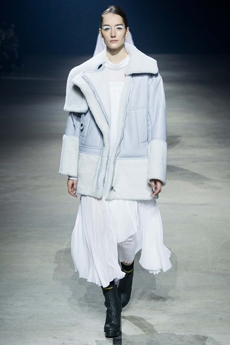 If we try to predict how the streets will look for next fall, we can simply start by showing you the latest collection by Kenzo. Once again, Carol Lim and Humberto Leon have created a collection that is going to be everywhere.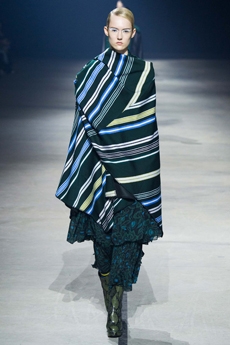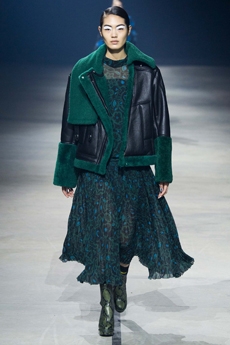 Perfect Kenzo prints, bright colors combined with deep, darker ones and layers of sweaters, skirts and pants. Flowing, light skirts and dressed with large, warm shearling jackets reach perfect balance. It as a highly commercial, beautiful collection, that we won't mind seeing everywhere.
www.kenzo.com
Fashion
Made By You by Converse
Converse has been gathering personal editions of the Chuck Taylor All Star all over the world. They come together in the campaign "Made by you", which celebrates the uniqueness of every customized pair. People have been expressing themselves on their Chuck Taylors for nearly 100 years, which means it is time to bring them together and share their stories. A fresh pair of Chucks has always been like a blank canvas, and now we can explore different creations from artist to skaters and musicians.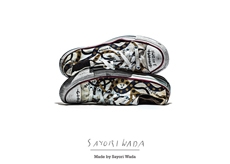 Fashion
Vetements at Paris Fashion Week Fall/Winter 2015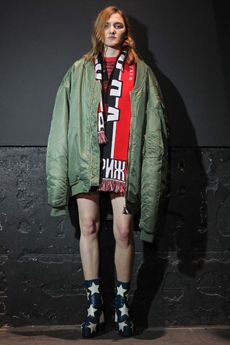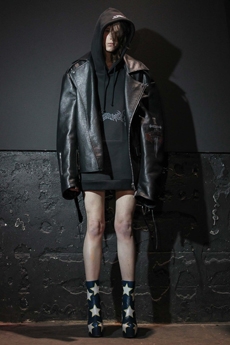 In between all luxury and sophistication, Vetements is a breath of fresh air. Demna Gvasalia does things a bit differently. His latest collection was presented in Le Depot, a gay club in Paris. We saw police uniform-inspired looks, oversized coats and long floral dresses combined with what seemed to be cleaning gloves.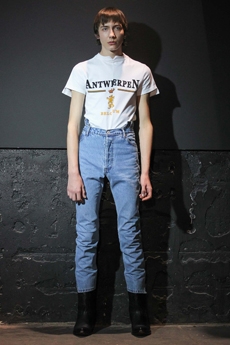 Gvasalia mismatches subcultures and creates a new reality for city kids. Even though the collection is diverse – it contains bomber jackets to full length knitted dresses – every single piece says the same thing: "I won't bother you if you won't bother me."
Fashion
Trussardi at Milan Fashion Week Fall/Winter 2015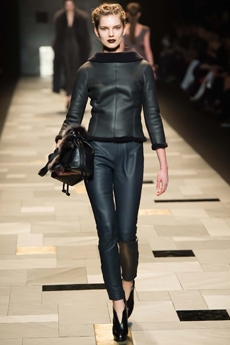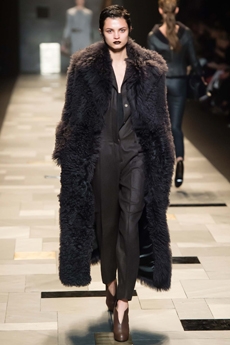 During the latest Trussardi show, Gaia Trussardi portrayed a classic Femme Fatale. She chose an ultra feminine silhouette and combined this with highly luxurious materials. By using natural colors, she made sure that every look in the collection is very wearable, pointing at what is probably going to be a commercial success.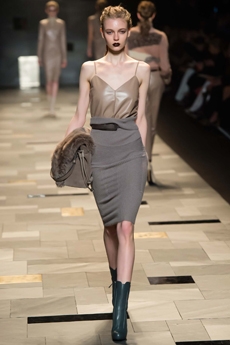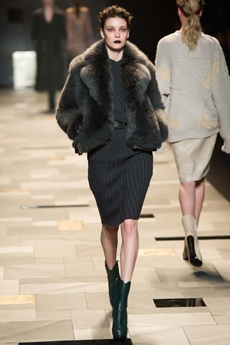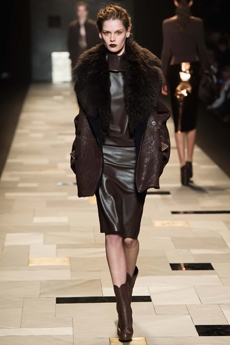 Fashion
CoSTUME NATIONAL at Milan Fashion Fall/Winter 2015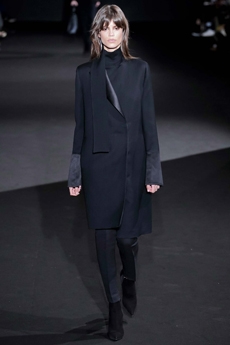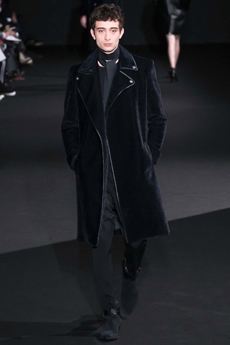 Ennio Capasa manages to bring New York to Milan. His minimalistic, black looks in leather and other luxurious materials like silk, seem to be made for young people in creative capitals. Hoodie-like jackets and details on dresses give the collection a sporty, even more urban look. Combine that with fur and ruffles, and you've got yourself some New York in Milan.
Fashion
Prada at Milan Fashion Week Fall/Winter 2015
Miuccia Prada presented us a quirky female villain from a cartoon, ready to take over the planet. Even though Miuccia herself has already taken over, we would like to discuss some of the things this antihero was wearing. Covered in pastels, bows and soft fur patches on her shoulders, this lady does not seem harmful at first sight. Cropped pants and groovy prints add to her innocence, while long leather gloves suggest otherwise. This girl is ready to do some dirty work.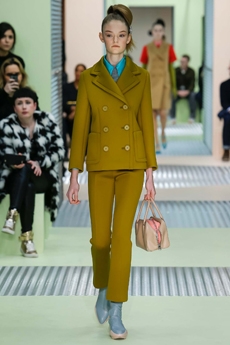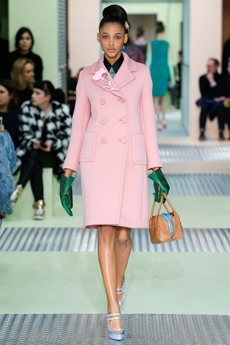 We saw brilliant tailoring, beautiful details and fascinating combinations of textures. Brooches and buttons were quite subtly added to every look, making sure that every ensemble was screaming Prada. Not that Miuccia needs a few brooches for that, because everything we saw during this show could not be created by anyone else.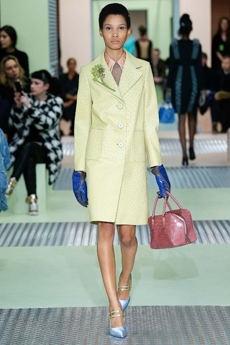 Fashion
PHILIPP PLEIN at Milan Fashion Week Fall/Winter 2015
Ever since he started his brand, PHILIPP PLEIN has been focused on taking streetwear to different level. We never know quite what to expect, even though he does not necessarily give us something extremely modernistic to chew on. There is something about his personal style that is familiar yet intriguing.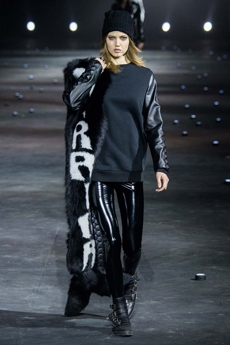 Plein's looks are anything but plain. Cut out leather and voluminous fur dominated his latest show. The combination with hardware and crystals makes every piece an eye-catching phenomenon, turning the collection into a celebration of luxury and boldness.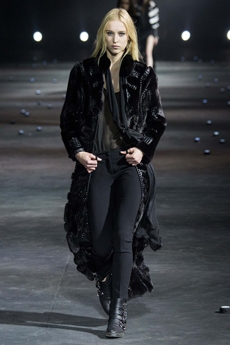 Next to the collection, Plein made sure he impressed us with the colossal rollercoaster he had installed. In his book, even the sky is not the limit.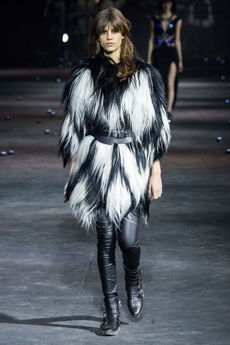 Fashion
Thomas Tait at London Fashion Week Fall/Winter 2015
Thomas Tait's latest collection was the first after he received last year's LVMH prize. This season, he showed a new kind of peacefulness with a hint of fetishism, which somehow worked out perfectly.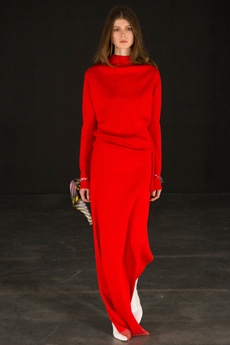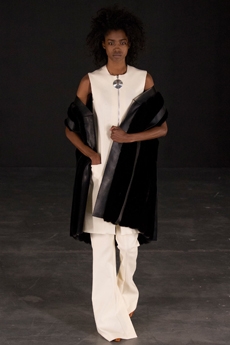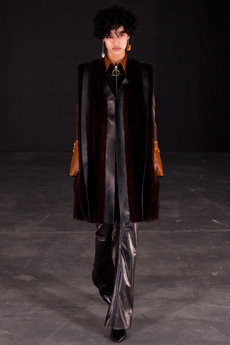 Oversized shirts with exaggerated collars, cuffs and pockets allowed Tait to create a distinctive silhouette that made us question femininity and the meaning of it. On the other hand, he effortlessly applied a glamorous, seventies sentiment, which made every look become sensual in a modest way. Futuristic details enhanced his slightly peculiar vision and showed that Tait is a man with a vision.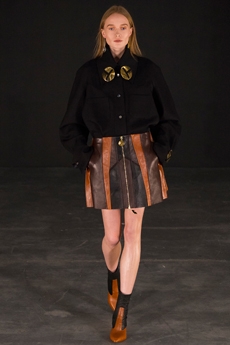 Fashion
Calvin Klein Collection at New York Fashion Week Fall/Winter 2015
Francisco Costa is not the first designer to get inspired by the sixties for this season, but he is definitely the one who managed to mold it into the minimalistic Calvin Klein aesthetic we all adore. For next fall, we saw many of the sleek dresses that we are used to seeing, but the other classics were all in there as well. Tight, over-the-knee boots, patchwork leather, wide collars and A-line coats. Metal details and large buttons gave the collection a playful twist, and referred to 1960s pop culture.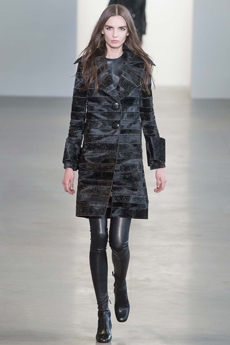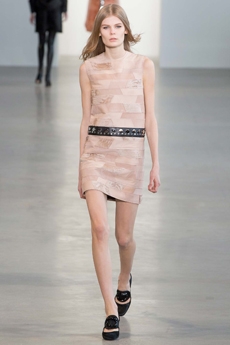 Cinema
ZURICH
ZURICH revolves around Nina (Wende Snijders), who roams the freeways of Germany, in search for the ability to forget her past. Along the way, she meets German truck driver Matthias (Sacha Alexander Gersak), with whom she develops a relationship. Her brokenness gives the film an atmosphere, which lures you in.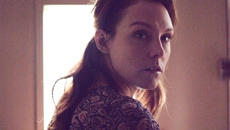 Director Sacha Polak chose multitalented Wende Snijders to play the lead and wrote the role for her, which makes ZURICH Snijders' film debut. Polak received the prestigious Berlinale Residency for her script, which was her second film. She got to work with film experts in Berlin, and premiered ZURICH at the Berlinale.
Fashion
Telfar at New York Fashion Week Fall/Winter 2015
Telfar Clemens is a man with an opinion. As a designer, he dares to question beauty, taste and gender. His latest collection does exactly that, and brings an effortless selection of garments that fit perfectly into an urban setting.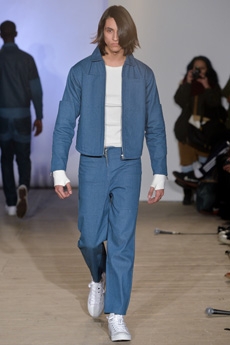 He combines tight, knitted tees with boxy, wide leg jeans, which make the models look like construction workers that just walked out of the fifties. By cutting out fabric around the knees and on the chest, Telfar shows a good amount of skin. Some knitted pieces are assembled in such a way, that they even seem to show as much skin as they cover. Whether you agree with Telfar's view on fashion or not, we all can agree on the fact that he has managed to bring something new to New York.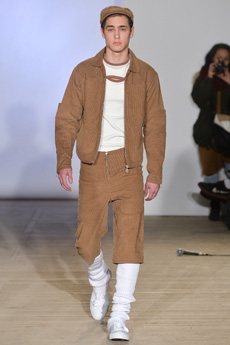 Fashion
Vivienne Westwood Spring/Summer 2015 Campaign
Vivienne Westwood and Juergen Teller have joined forces once again, this time together with American actress, Paz de la Huerta, star of Westwood's artful SS15 campaign.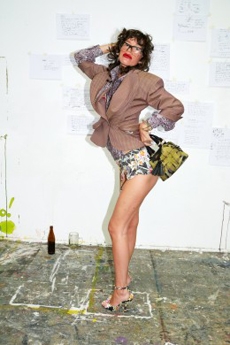 Against scrap-papered walls and paint-stippled floors, de la Huerta, Westwood and Andreas Kronthaler pose and play in the experimental environs of Nuremberg's Academy of Fine Arts, where the designer teaches. Westwood and Andreas fell in love with the architecture of the school, sensing it an inspiring setting to shoot. Seemly in the surrounds, it was Teller's suggestion to involve the students in the creation of the campaign – some even appearing in the pictures as subjects.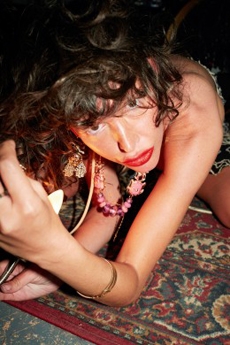 True to form, the images are unhinged, vivacious and unapologetically brazen, stark in the steely light of Teller's flash, frames seditious and skewed. A chaotic curation from the Gold Label, Red Label, MAN and accessories collections, clothes proved suitably subversive – and rightly so. It is Westwood, after all…
Fashion
Kenzo at Paris Fashion Week: Menswear Fall/Winter 2015
Kenzo's geek went intergalactic this season, all aliens and anoraks with a street sensibility.
Sonorous hues were muddied, thrust off-key to droning ochres and teals. Combat jackets were cuffed with ribbed thumbholes, while fingerless gloves slipped subversively under slim-fit boiler suits. Flight bomber jackets were pulled by plummy claret tones, topped by chubby fur collars, all the shades of a splendidly sickly rainbow.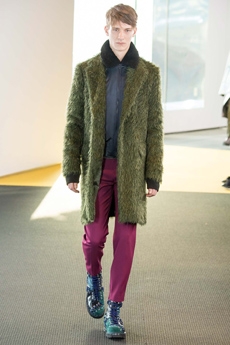 Drawstring bags were rustled from rigid vinyl leathers, plasticky and grooved like a twist-tie sack. Marled knits were basted together with blue bootlace wools, an orderly striped patchwork, profound with a plush grain – the letters 'UFO' emblazoned in a 'found' appliqué alphabet. Devoré velvets carried sunburst hues, puddling over pilot jackets that snatched above striped woollen flares, while hairy fur coats emerged in a monstrous green. Acrid orange denims were marbled by an acidic wash, while ski suits and sweaters were scrawled in batik insignia. Dense leather skins bore a steely silver grain, capes cloaking bodies like tailored reflective blankets or trickling to the floor in the form of baggy pants. Now we're more than ready to enter the space age.

www.kenzo.com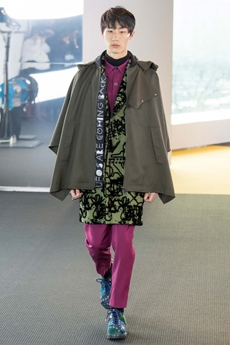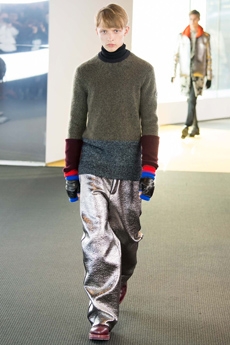 Fashion
KRISVANASSCHE at Paris Fashion Week: Menswear Fall/Winter 2015
The difficulty with skinny slim line tailoring is that is struggles to ward off the inevitable comparisons to Mod, its own merits forever eclipsed by those of its doppelganger. Kris van Assche's, on the other hand, delivered far more than mere pastiche.
The sheen of a silver-grey suit set a simple canvas, invigorated by a peppering of a forest-green polo neck, almost futuristic in cartoonish clean-cut jersey. Fluid geometrics played out across the surface of sweaters, rounded shapes puddling in inky off-hues. Shirts, too, obeyed a strict simplicity, an unsullied ice blue dotted with a plummy silk inset, while black wool coats were accosted by a splodges of grass green satin.
Pinstripes and parkas recalled the said Mod, but were vamped up with a slick sheen, their proportions inflated; fur-lined coats were cropped and bulbous, their characteristic combat greens traded in for a cheaper and flashier pea-green model – and all the fresher for it. Cigarette pants were swapped for flares, sweeping over sturdy leather sneakers for a modern mod uniform.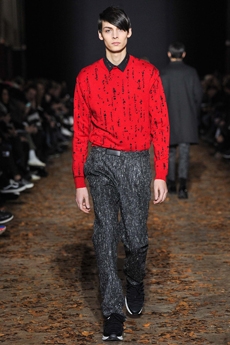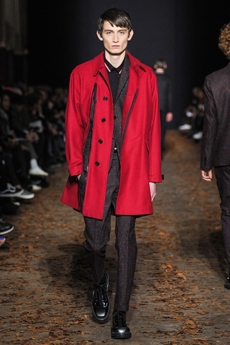 Fashion
Haider Ackermann at Paris Fashion Week: Menswear Fall/Winter 2015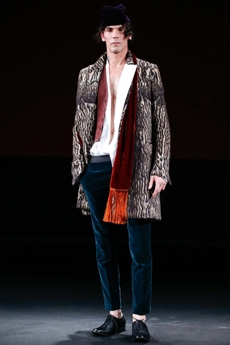 Anyone who doubts that plainness can be plush has not yet seen Haider Ackermann's offering for FW15. Silhouette was strictly stripped-back, any extras pared-down, leaving the remains of a very opulent sartorial skeleton.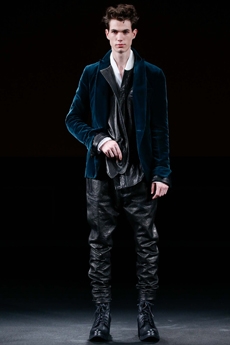 Peachy velvets gleamed in redolent hues – teals and burnt oranges against full-bodied Beaujolais; none was safe from its sumptuous pile, skinny pant suits and longline blazers, crew neck sweaters and opulent bombers. Supple leather pants rumpled at the ankles, cinched at the waist by a rubbery black biker jacket and topped by a chunky fisherman knit. Fringed scarves, meanwhile, tied the look to debonair decadence, draped over a leopard skin coat or satin-lined smoking jacket. All the while tattered tank tops and beanies saved the collection from timeworn pastiche – a contrast that was as resolutely modern as it was irresistibly charming.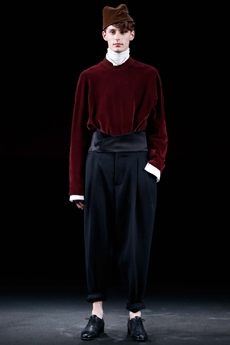 Fashion
Malaikaraiss at Berlin Fashion Week Fall/Winter 2015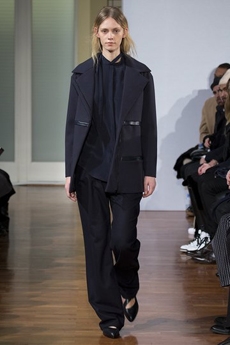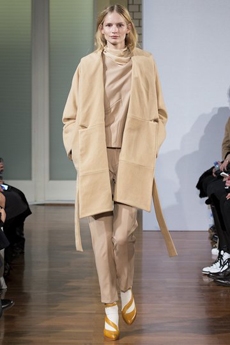 Boy meets girl this season at Malaikaraiss, and under the cult credibility of Reality Bites, the collection's core point of reference.
In-line with inspiration, the finished product was suitably cool, ruffled layers decked in passive buff tones, texture instrumental to the sense of brooding depth. Ribbed polo necks peeped from under sleeveless silk dresses, hues turned down to a mellow saturation, save for the unctuous burst of a mustard heel. Color was rationed, meaning when it emerged, it was all the more ripe and redolent for its restriction, in deep plummy wines, ochre and cerise. Mensy shirts and safari jackets were cloaked over broad-line culottes and partnered with bleach-white cowboy boots, their lack of elaboration almost sterile, yet effortlessly avant-garde. As the premise so specified, the collection was rife with contradictions; slim cuts appeared beguilingly baggy, high-necks seemed slack, all the while asymmetric hems tailed off from the formality normally dictated by silk – not least when paired with lightly-studded leggings. Double-denim brought a touch of the teen, but somewhat more erudite in its regulation wash, brilliantly bland in sparseness and symmetry. If reality bites, there's a delightful diversion to be found in Malaikaraiss.
Fashion
Sopopular at Berlin Fashion Week Fall/Winter 2015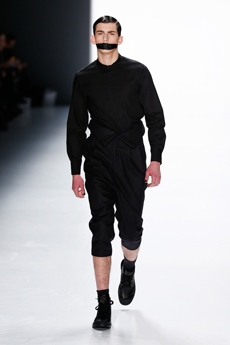 Sopopular had clearly been mixing with the wrong crowd this season, bearing all the markers of the tough tribe with the bullet-hole knits and bomber jackets in a plethora of panther-black leather.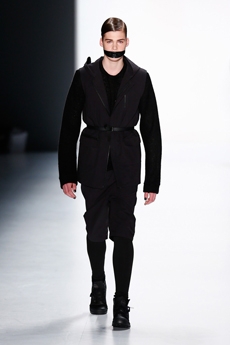 Three-quarter length pants in felted wool crumpled up at the midriff, waistbands folding over like neat paper bags. Crew neck sweaters were glossed in a sable sharkskin sheen or decked in chunky rope, each an understated elaboration, yet resounding in their effect.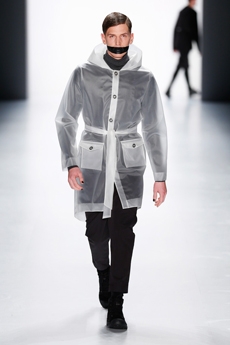 Winning friends through dominion? Sopopular will show you how.
Narrow collar shirts emerged in all-over ebony leather, while cropped tracksuit bottoms assumed similarly supple skins. Macintosh raincoats and capes were sapped of all pigment, their parchment-paper translucence layered over an ink-black uniform, making way for fuzzy plush dressing-gown coats, knotted nonchalantly at the middle.
Art
Scugnizzi by Brett Lloyd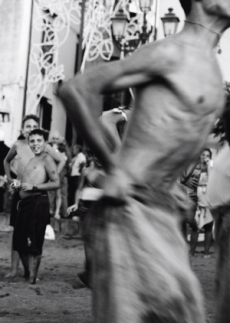 'Scugnizzi', the title of photographer Brett Lloyd's new book, refers to the local kids in Naples who spend their summers hanging out on the city's poorest beaches.

The Neapolitans are far from shy; they embrace themselves and their bodies, making for perfect photographic subjects. Over two summers, Lloyd captured these youths and their older peers, creating a catalogue of alluring, emotive and highly personal mementos.

'Scugnizzi', published by 'Dashwood Books NYC', will be launched on 10 December, 2014, at the 'Donlon Books' in London.

www.brett-lloyd.tumblr.com
www.dashwoodbooks.com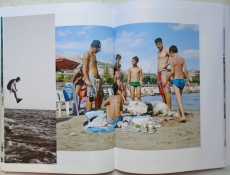 Art
Berlin Art Film Festival
'Nan Goldin - I Remember Your Face' (2014) Sabine Lidl, languages: English, German, subtitles: English
The first ever edition of the Berlin Art Film Festival will reveal a new side to the always-bustling metropolis. Privately funded and organised by the people behind the 'Stil in Berlin' blog, the four-day festival will show more than 30 films ("from poetry to porn"), all of which are either in English or with English subtitles. What's more, a number of filmmakers and actors will also be present for the screenings and the two panel discussions.

The highlights include 'An Interview With an Artist', a short film about an American artist (played by film professor and curator Marc Siegel), who would much rather talk about underwear than anything substantial, and 'Ich Will Mich Nicht Künstlich Aufregen / Asta Upset', which tells the story of a young and fairly secure art curator in Berlin, still trying to figure it out.

'I Remember Your Face', the Sabine Lidl-directed documentary about controversial photographer Nan Goldin, will close the festival. The film will also see its German premiere.

Berlin Art Film Festival: 4 – 7 December, 2014

www.berlinartfilmfestival.de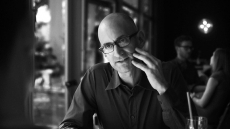 'An Interview With an Artist' (2011) Telémachos Alexiou, language: English, no subtitles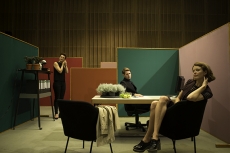 'Asta Upset' (2014) Max Linz, languages: German/ English, subtitles: English/German
Fashion
Raf Simons presents his Fall 2017 collection for Calvin Klein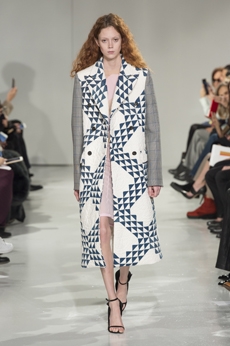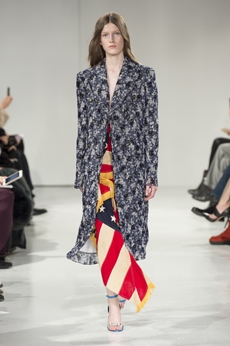 Raf Simons' debut collection for Calvin Klein was a hotly-anticipated event in this year's New York Fashion Week calendar.

Remaining true to his allegiances, Simons enlisted the help of friend and artist Sterling Ruby, giving him free reign to imagine artwork appropriate for the iconic brand's headquarters. Ruby imagine America.

Raf Simons and Calvin Klein Creative Director, Pieter Mulier created a collection that featured both women's and menswear for Fall 2017 and is in itself an homage to America. "It reflects the environment" said Mr. Simons. "All of these different people with different styles and dress codes. It's the future, the past, Art Deco, the city, the American West... all of these things and none of these things. Not one era, not one thing, not one look. It is the coming together of different characters and different individuals, just like America itself. It is the unique beauty of emotion in America."

This was a collection in which each piece communicated with the rest; one material impacted another and one style impacted the upcoming ones even in the same silhouettes making for a collection that echoes the essence of diversity.

Marching band uniforms, plastic coated protection, power broker tailoring and antique handcrafted quilting, workwear and westernwear made for this unique parade. The collection finds equal merit in folk and function, food court and courtroom in a romantic and filmic outsider's view of the uniqueness of America.

www.calvinklein.com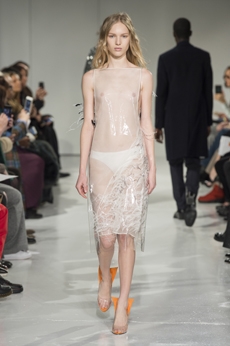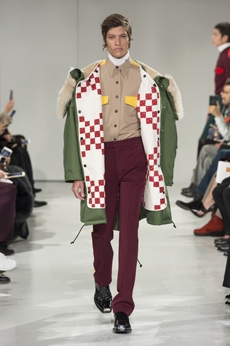 Art
Iris Schomaker – Come to the Edge
Berlin based artist Iris Schomaker, will display her first Benelux exhibition "Come to the Edge" at the Reflex Gallery in Amsterdam showing off her expressive large-scale watercolor and oil-works on paper featuring figures in various states of repose.

The show will consist purely of new works representing an arresting close-up of a single figure, lying reading, resting, sitting curled up, unaware of the viewer's gaze because "it's more like a sudden glimpse-something unexpected. These figures do not offer contact. Their faces are blank, vanishing." As the artist herself said.

Is exactly this blankness that took Iris to project on to the image looking at the very anonymity of those faces as an invitation to the viewers to bring something of their own being surrounded by powerfully immersive and contemplative figures. Moreover the figures in the newer works from the German artist are often accompanied by a symbolic animal that is more idea, atmosphere, and energy, more a sprit guide that brings a strange, irritating and inspiring energy rather than a flesh and bones companion.

In muted shades of black and grey, with only the thinnest veil of oil wash in faded aquamarine or yellow, the overall impression of the palette is decidedly monochrome. The figures are resolutely not portraits; the final creation is given by a work of research through images of unknown people like photos, sketches, ripped pages of magazines, combined with her drawing and creativity, in order to give birth to an incredible mix between classic paintings and current graphic novels.

The exhibition will run until April 26th 2017

www.irisschomaker.de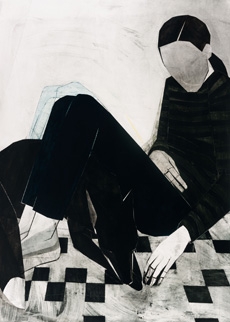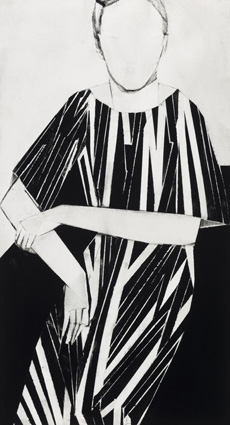 Fashion
Mode Suisse Edition 11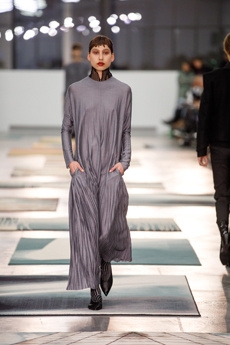 February 8th 2017 marked the showcase of Mode Suisse Edition 11 at the Migros Museum fur Gegenwartskunst in Zurich. Once again, a wealth of design talent was represented. Among them high-flying label Julia Seeman, Garnison's post-dandy menswear, LYN Lingerie's luxury handmande collection, Julian Zigerli's second appearance of womenswear and gender-fluid menswear that have made him a household name as well as Berlin-based experimentalist womenswear label studiowinkler. Additionally WUETHRICHFUERST made their much-anticipated debut.

The evening's highlights included the showcase of Masters' students Jeremy Gaillard, Flore Girard de Langlade and Vanessa Schindler, who is the winner of the Prix d'Excellene Hans Wildorf. Additonally Zurich favourites enSoie had the audience craving for its nonchalant style while Vivienne Rohner strutted the catwalk laid with previously unseen carpets by Schonstaub. Special guest designerDorothee Vogel's desirable duvet coats and floaty dresses ended the show.

Edition 12 of Mode Suisse will take place in Zurich in September 2017.

www.modesuisse.com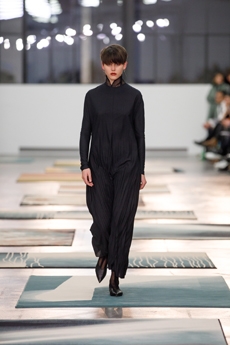 Fashion
Y/PROJECT Fall/Winter 2017
A mobius of forms, shaped in the seam lines, leading to dramatic volumes. Beautifully balanced but also true to his roots, Glenn Martens created a collection where Y/Project's identity is declined to a new sphere, all played through Martens' all-time favourite ironic approach to dualities.

The low and the high, the elites and the masses, deconstructed garments and slouchy fits. Between historical reinvention and street culture, Y/Project's Menswear collection for Fall/Winter 2017 continues to master that relaxed and youthful attitude that has characterized Martens' work from the start.

Doubled silk shirts, deconstructed faux fur, reinvented corduroy suits, slouchy oversized track suits straight from a rapper's videoclip, followed by the impressive sweatsuits with wired piping in a blobbing volume, reminiscent of that mantle draping we have seen on 1808 Jean-Auguste-Dominique Ingres's portrait of Napoleon.

As Napoleon and consort printed on scarves in football merch fashion - part of Martens' playful reference along with other royal couples such as Louis XVI and Marie Antoinette - steal the scene and we cannot choose. We can only root for this talented Belgian designer.

www.yproject.fr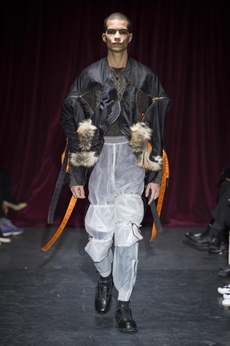 Fashion
SANKUANZ Fall/winter 2017: the chemistry collection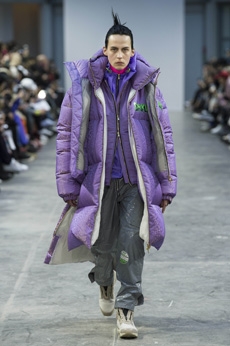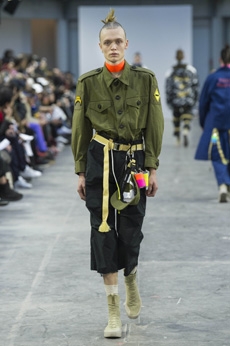 Standing for the reversal of an established system and breaking away from political correctness, that is what epitomises the Sankuanz Fall/Winter 2017 collection that explores space and chemistry.

Designer Shangguan Zhe's latest collection holds man's relationship with space and chemistry at its core, proposing garments that overlap with the idea of consuetude. Military uniforms with raw edges, primitive top-stitched suits and parkas, jumpsuits with industrial strap and bio-chemical protections, just a few examples of Zhe's research-based project. Zhe, indeed, created his own textiles mixing industrial materials and aramid fibers, usually used for spacesuits to give birth to his undoubtedly contemporary and updated vision.

Silhouettes are completed with accessories like visored bucket hats, pop military backpacks and high-top sock sneakers in a color palette that is everything but boring.

www.sankuanz.com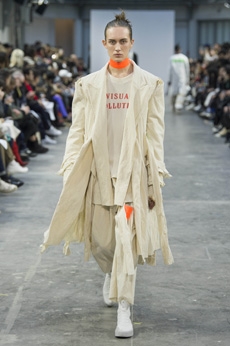 Fashion
Osservatorio Prada: the love story between cultural statements and fashion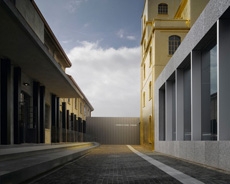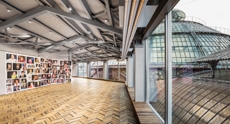 An invisible thread silently connects fashion with art, a thread that only a few can pick up and follow. A feat that when achieved unlocks the secret behind timeless designers like Miuccia Prada.

Famous not only for creating garments and accessories that are considered pieces of art, Miuccia, has never hidden her devotion to art. Therefore, dedicating the famous Fondazione Prada based in Milan to art, seemed only natural. Collecting the most interesting exhibitions and pieces from contemporary and modern artists, Fondazione has become one of the most coveted destination for art-o-holics. Last December saw the opening of a new venue of Fondazione Prada that pays homage to photography and celebrates visual languages: Ossevatorio Prada.

Based in the Galleria Vittorio Emanuele, the core of the Milanese fashion area, Osservatorio is a place of exploration and research of the latest tendencies and expressions of contemporary photography. Photography is, indeed, the contemporary epicenter of the global flux that digital communication is going through; that is why Osservatorio wants to unveil the cultural implications that it has on our society.

"Give Me Yesterday" by Francesco Zanot was the inaugural exhibition for Fondazione Prada's latest venue. A collection of more than fifty pieces of Italian and international artists that explores the usage of photography presented like a personal diary that travels from the 2000's to the present day.

Fondazione Prada's contribution to the Italian art scene will leave an indelible mark, just like a photograph does.

www.fondazioneprada.org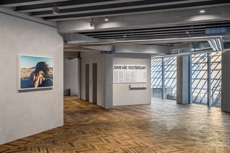 Fashion
BILLIONAIRE Fall/Winter 2017: Texas under spotlights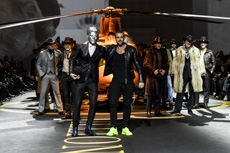 Once upon a time, soap opera characters served as primary sources of style inspiration and this season Billionnaire by Philipp Plein travelled back in time to pick up the trend. Remember Dallas?

Set in Texas, the show reached cult phenomenon status and was Philipp Plein's moodboard for Fall/Winter 2017. The Billionnaire man is a wealthy and stylish globetrotter: skiing in Aspen and gambling in Monte Carlo. The collection reflects the attitude of a character that isn't shy about showing off his personality.

Snakeskin jackets, chinchilla bombers and full-length overcoats feature alongside astrakhan and crocodile skins as the ultimate statements of elegance whether on the slopes or in the city. Trousers are high-waisted and denim takes centre stage in trousers and double-breasted jackets.

From knitwear to eveningwear the attention to detail is meticulous, fully conveying Plein's references: classic Texan hat included!

www.philipp-plein.com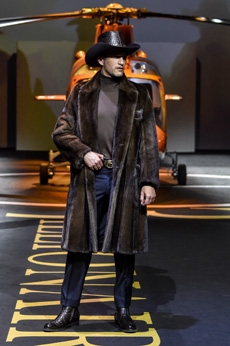 Fashion
Out Of The Blue comes Peuterey
Peuterey wraps its timeless designs into the most diverse shades of blue for its Spring/Summer 2017 collection.

In Out of the Blue, a name that perfectly encapsulates the collection's essence, Italian elegance meets functionality, conceiving a wide range of models that suit our everyday life perfectly, just like their key-color does.

Whether it's trench coats, leatherjackets or blazers – creative director Federico Curradi, has definitely set a new trend for this Spring/ Summer season.

www.peuterey.com
Fashion
A sporty-chic Z ZEGNA at PITTI 2017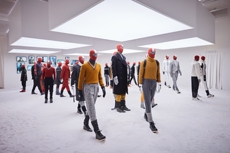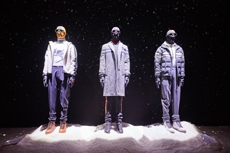 The latest Z Zegna collection takes you on a vintage ski trip for Pitti Uomo 2017, a sporty-chic mood that nobody expected but many welcomed.

It is no secret that the Florence fashion fair was created to bring innovation and prêt à porter all around the world and Zegna knows that well. For the first time the Italian brand presented a line that combines tailoring and performance evolution. For the slopes and the streets, the proposal is a Techmerino total look that takes a quintessential role in this season where layering is key. A foundation of matte black, optical woolen, asphalt grey mélange, light camel and pine leaf green in combination with sportswear graphics take us back to the late 70's ski seasons in Sankt Moritz where sport never strays too far from fashion and elegance.

The brand decided to converge comfort and excellence in a savvy colour palette that pays tribute to the textile innovation Z Zegna is known for.

www.zegna.com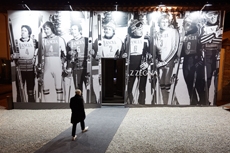 Fashion
Colette x UNDEFETEAD: the hypes' sneaker exchange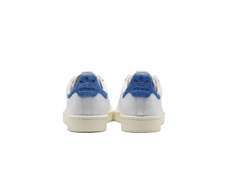 The hype around sneakers has never been so present. Parisian it store Colette, one of Europe's biggest go-to destinations for street-wear designer apparel has partnered with LA-based label UNDEFEATED for the much-anticipate "Sneaker Exchange". Included in the exchange are no less than 84 brands like Bodega, END, Kith and Slam Jam just to name a few.

Two limited edition and revamped Adidas sneakers to be launched during Paris Fashion Week will be part of this January's exchange. The redesigned editions of iconic models, the Campus 80 and EQT Support. The Campus 80 is bright, in white leather with a royal blue heel while the EQT Support's darker influences are manifested through its deep navy blue shades.

Both models are playing with the concept of opposites, pairing and simultaneously contrasting influences, ideas and cultural currencies, personifying perfectly the concept of the exchange.

www.colette.fr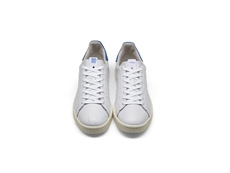 Fashion
The Givenchy Tribe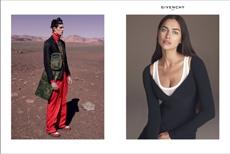 Givenchy's latest campaign has just been released and the abundance of the brand's signature codes do not go unnoticed. Shot by photographers Mert and Marcus and designed as a double page spread, the campaign plays on the concept of duality and features powerful men and women whose intrepid natures manage to withstand space and time.

A well-balanced blend of feminine and masculine elements that remain classic and chic are the focal points of the campaign. Two girls become twins by dressing identically and a boy plays fashion chameleon by rocking a formal and a streetwear look in a Mars-like landscape. Pair the adventurous nature of the above with the tightly cropped portraits of Givenchy's personality gang and you are given the impression that, although they appear different they do in fact to belong to the same style-savvy tribe.

Of course, Givenchy's now iconic Horizon and Cross Body bags could not be left out of the equation. Serving as a mark of recognition for the brand, their presence encapsulates the luxury label's long-standing fame while looking towards a future of duality.

www.givenchy.com
Fashion
K•Swiss Turns Camo for its 50th anniversary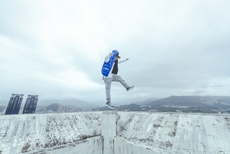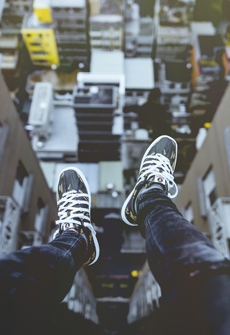 K•Swiss opted for a stylish celebration for its anniversary. The sportswear brand teamed up with Japanese street fashion label AAPE BY A BATHING APE to launch a limited edition collection.

For the occasion, the American tennis brand turns its classic '66 model into a fashionable camouflage sneaker featuring, its now famous, ape-inspired pattern. This makes for a fresh, new take on the brand's most iconic silhouette.

K•Swiss' signature five stripes, classic D-rings and the unique three-piece toe design along with an all-covering printed pattern fuse together to creates a blend that reflects the DNA of both K•Swiss and AAPE.

www.kswiss.com

Fashion
Coach and The Webster: between ready-to-wear and Baseman's designs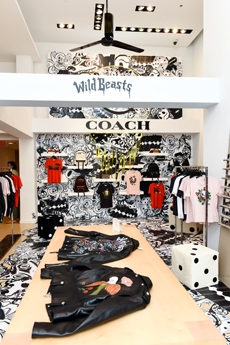 Many were the brands that presented their upcoming collections at Miami Art Basel, but it was Coach's collaboration with The Webster and artist Gary Baseman that transformed it in a special universe of fashion pieces and design sketches.

To celebrate the arrival of the Women's pre-spring collection and an exclusive preview of the Men's Spring 2017, the three joined forces to create customized objects based on Baseman characters and his signature "Wildbeast" print.

American iconography is reflected all over the collections through juxtaposing unexpected images and familiar, nostalgic themes. Moreover, at the heart of the project a tougher take on masculinity takes over, celebrating those who are brave and bold enough to subvert conventions and status quo.

During the event, Baseman, gave attendees a sneak peek of the collection's mood, hand-painting three one-of-a-kind motorcycle jackets.
Exclusive design for an exclusive experience.

www.coach.com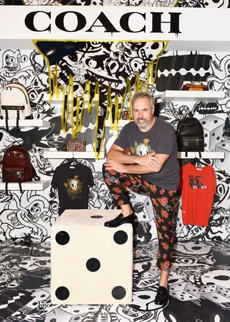 Fashion
Blind for Love book: the latest Gucci's treat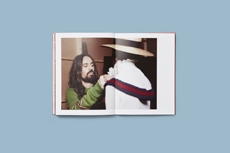 Nick Waplington and his unfiltered camera have been enlisted by Gucci to bring the brand's latest project, Blind For Love by Gucci, to life.

Alessandro Michele's Cruise 2017 collection, presented last June in London's Westminster Abbey, will be the star of the coffee table book for all the designer's affectionate disciples. Candid and behind-the-scene pictures, from one of the Michele's most memorable fashion shows, will capture the fresh touch of the young designer, who is expanding the Italian brand's horizons.

The British photographer Nick Waplington, who in past years signed the "Working Process" book with Alexander McQueen, is ready to surprise again with this fashion reportage dedicated to the English punk-rock culture.

Blind for Love tells the story of Waplington's visionary taste and Gucci's know-how, all in one book. It's the story of what's behind the glittering world of fashion, a story that will turn everyone…Blind for Gucci.

www.gucci.com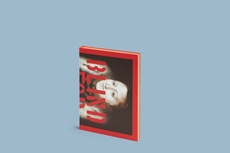 Fashion
Play Heart: the new emoji star by COMME des GARÇONS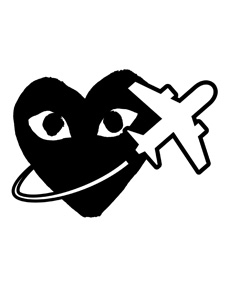 Following the trend launched by huge brands like Versace, Diptique, Karl Lagerfeld and many others, the Japanese fashion brand COMME des GARÇONS decided to dedicate a new emoji pack to one of the most recognizable icons in fashion.

We're talking about the brand's eyed-heart character, which was first used in 2002 as symbol of the iconic PLAY collection. The heart, which was designed by the polish artist Filip Pagowski, has now been transformed in a playful holiday's emoji that will make heads, or better Iphones, turn.

In perfect style with CdG attitude, 24 emoji will brighten our keyboards to communicate feelings and emotions moreover to wish the most fashionable "Happy Christmas" ever.

Born "all of a sudden from the first draft" like its designer announced, the COMME des GARÇONS' emoji pack is now available. Let's heart our Iphone!

www.comme-des-garcons.com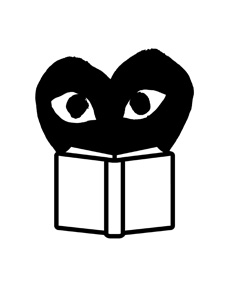 Fashion
The Pareo - Miu Miu's revolutionary skirt
Miu Miu's Resort 2016 collection features the "Pareo skirt". This journey-inspired design makes heads turn and conversations start making it one of the collection's stand-out pieces.

With patterns that evoke 90s rave culture, this skirt strives to be infinitely adaptable, audacious and representative of the Miu Miu girl's independent spirit. She travels the world, she rejects formality and she makes her own rules.

This light-hearted take on such a long-established garment is what gives it its democratic feel. Already well-loved in continents as diverse as Asia and Africa, it is seen worn by both men and women, further accentuating the beauty of gender fluidity.

"Pareo" is packaged in a special soft fabric envelope stamped with the iconic Miu Miu logo, as to leave the indelible mark of brand's revolutionary spirit in our wardrobe.

Uniqueness is this skirt's keyword: no two people need ever wear it in quite the same way.

www.miumiu.com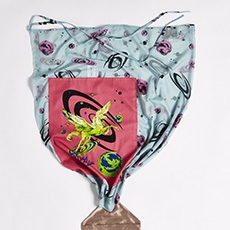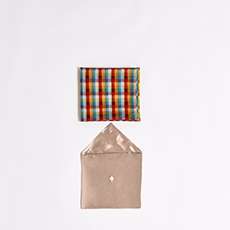 Fashion
Ermenegildo Zegna Mayfair store – A modern tribute to tradition
London's Bond Street has been the home of the Ermenegildo Zegna's flagship store since 1987 and yesterday, after a lengthy renovation project, it re-opened its doors to the public. An ode to the brand's use of quality materials, integrity and modern style, the new store is the product of a fruitful collaboration between Zegna and architect Peter Marino. 

Among classic modernist art pieces that convey the timelessness of Italian style and design, a specially-commissioned wall tapestry by William Kentridge, provides a snapshot of the company's centennial progress. The South-African artist used portraits of the founder and elements inspired by key moments in the brand's journey, successfully bridging the gap between tradition and modernity. 

Additionally, a nine piece bespoke men's shoes collection will be exclusively available at the London flagship store. Designed by artistic director Alessandro Sartori, models range from casual to biker boots – all of them inspired by nine personalities close to Sartori's heart. The Bespoke Shoe Collection represents the best in modern luxury while allowing the modern man to adopt an elevated approach to his individual style.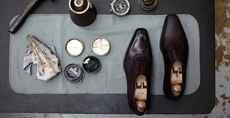 Fashion
Toni & Niklas Garrn announce EQL
#samesamenotdifferent, the hashtag for sibling design duo Toni and Niklas Garnn's EQL unisex collection in collaboration with Closed. Twelve exclusive pieces ranging from size x-small to x-large, offering sporty, chic and classic designs. Back in 2008 Toni Garnn started out modelling for Closed and sat behind the design table six years later. She has now joined forces with her brother Niklas to create the genderless collection, proposing contemporary, minimalistic and comfortable fashion. Following the current zeitgeist, with gender slowly fading, as well as always having swapped clothes, equality is an important topic for the Garnn siblings. "EQL stands for a particular attitude as well as for the lifestyle that we both live: sophisticated, uncomplicated, open and free," Niklas says.

www.closed.com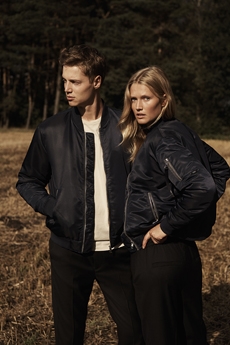 Fashion
CHANEL Spring 2017 Ready-to-Wear
For Chanel Spring Summer 2017 Karl Lagerfeld delivered a youthful collection. The models sported a baseball hat with side ponytails and candy glowing make up. A bad-ass attitude versus romantic echoes. Girlish yet elaborate with its high-tech masterful fabrics.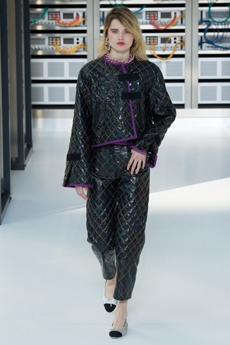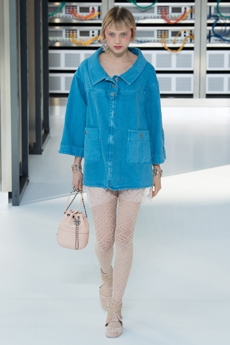 The show at Grand Palais was set again in a grandiose installation, this time emulating a data centre – one of those places where you would imagine Mr.Robot emerging.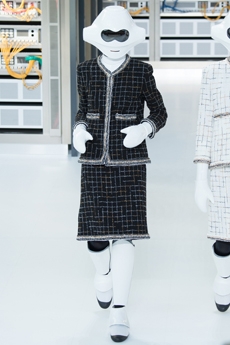 Along the exposed wires on server racks, floating dresses with a kaleidoscope of colours, mini skirts, white plissé silk garments with ruffles, all adorned with crystal jewellery and pixelated handbags. Although we feel continuously overwhelmed by the everyday technology and data flow, Karl Lagerfeld's cyberspace is a bright utopia. Robot headpieces included.

www.chanel.com
Fashion
Emporio Armani store and Caffé Paris redesigned
Spread across four floors, windows facing the boulevard of Rive Gauche; 149 Boulevard St. Germain welcomes the reopening of the Emporio Armani store and Emporio Armani Caffè. With white walls, black stone floors and radiant glass sculptures, the new vision for the airy boutique is inspired by flowing weightlessness, inviting customers to browse freely and uncover the world of Armani; it's clothing, EA7 sportswear and accessories. "I worked on a new concept, airy and flowing, that surrounds and guides visitors while enhancing the product. At the same time, I find it essential to refine every aspect of the brand's lifestyle," says Giorgio Armani. The Emporio Armani Caffè is just as welcoming, with a seating area and terrace open all year around on the ground floor. On the first floor sits the restaurant and lounge area, with walls dressed in metallic coated leather and clear glass boards separating the kitchen and the wine stock, adding to the open space effect.

www.armani.com

Fashion
Céline Spring 2017 Ready-to-Wear
"All artists are alike. They dream of doing something that's more social, more collaborative, and more real than art". The words of Dan Graham resonate across the vision of Phoebe Philo for Céline Spring Summer 2017. The American artist, writer and architect created a spatial installation for the show, a work along the series of his "Pavilions", where transparent partitions divide the space while enabling the view toward the world on the other side. Its sounds, the flaws. Céline collection for next Spring has a sophisticated urban vibe. It pictures a multitude of women as vast as the everyday city grain. The romantic overalls in mousseline peaking from pant suits. A practical cotton oversized shirt attached to a pleated skirt to form a midi dress. The unpredictable mismatched shoes. Different personalities. At a closer look the most incredible luxurious detailing emerge, as just we would expect from a fashion house like Céline: the perfectly balanced weight of a linen unstructured dress, the supple leather, the gentle unfinished look of raw hems. But they are clothes you can pick in a rush and wear with an effortless attitude. In some of the looks the styling is constructed to almost emulate that rush, with garments layered or tucked in each other as if there was no time to overthink. A smart woman who picks a timeless vintage bag preciously kept in the years. She walks through the harsh realm of everyday noise.

www.celine.com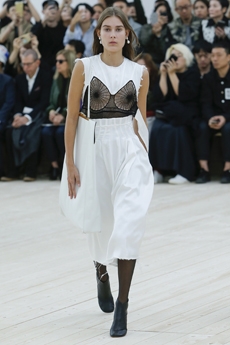 Fashion
Acne Studios Spring 2017 Ready-to-Wear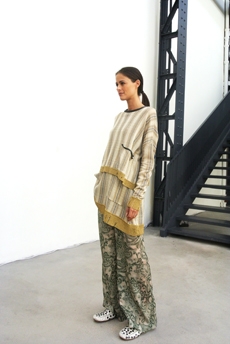 Layered scarves to form long dresses so light you could fly and the bond to that cool atmosphere that Acne built its history on.

Acne Studios Spring 2017 is experimenting once again away from the brand roots reflecting the aim of the house to grow on the luxury level. We saw oversized beautiful knitwear inspired by African blankets with unfinished look. Pulled threads and raw hems, with earth colours conferring that cool look to more tailored and minimalist pieces.

The Denim is one of the key items. Stone washed and then deep dyed offering a soft touch and beautiful colours as of pale gems. Denim dungarees and coats inspired by kimonos with paisley or flower embroidery ton sur ton combined with scarves hanging from the waist. But also the evergreen Acne look of beautiful and contemporary suits.

Fresh, relaxed and youthful. A summer spent in Amalfi coast, a sunset on a boat wearing just a long dress and a sun-kissed skin. Acne's creative director Jonny Johansson impressed us with his ability to bring new air keeping Acne's deep identity.

www.acnestudios.com
Fashion
WUNDERKIND Spring 2017 Ready-to-Wear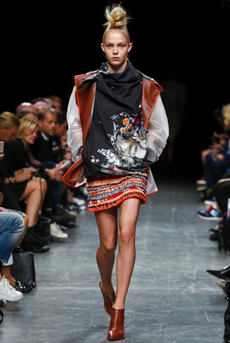 The Wunderkind woman has an elusive way about her, throwing her beat out of rhythm in such a way that she will never be caught. Credit to the off-center eye of Wolfgang Joop, who throws together the jagged references we see before us for SS17: prairie purged of all its hollow nostalgia, headed firmly for the future with foiled leather Western boots, op art silks and gauzy tulles so slight they trace the surface of the skin. Granted, the citations at play are erratic, but their ordering is anything but… Racer cuts quell their sporty sensibility by sheathing the body in ice white mesh, asserting its elegance with ruffled peplums and knife pleats, or romantic Victoriana smocks. Cold shoulder collared shirts gleamed in sparkly lurex, their billowing sleeves offset by the cinched waist of a peach swing skirt. Belts bolstered bodies with oversized buckles and austere cotton corsetry – a hard edge to the ruffled tiers that trapezed the torso, halterneck dresses neatly buttoned to the top while wraped layers unfurled from the hips. If the wild florals felt a little too predictable, Joop's alternative vie for femininity felt entirely futuristic, inflating shoulders and sharpening hips to file his army of extra-terrestrial bodies.

www.wunderkind.com
Fashion
Y/Project Spring 2017 Ready-to-Wear
Presented in the suggestive location of the Lycée Charlemagne, Y/Project Spring Summer 17 was full of youthful energy. Glenn Martens presented a collection played around the boundaries of oversized and tight, low and high, light and dark. From his signature denim to the opulent crashed velvet. There were oversized sleeves, cut out pants with a detachable gather, and a multitude of transformable garments: adjustable corsets worn as a ruffled decoration over knits, pants you can just button up at the leg side, peek-a-boo shirts and long dresses to be laced up. It is a collection built to the last detail and Martens proved to be a master constructing layers played around volumes, a fun cool-kid attitude and a feminine subtle sensual vibe.

www.yproject.fr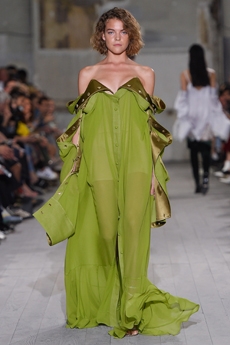 Fashion
Ermenegildo Zegna
The Kurfürstendam in Berlin has welcomed the opening of the latest Ermenegildo Zegna store Inspired by architect Peter Marino's creative vision for Zegna's international stores, the brand's in-house architects developed and created the new boutique. Its interior resembles a fuse of soft and structure, as its colour palette includes rosewood, mahogany as well as gun and bronze metal. Exclusively available in the Berlin store is the Su Misura service, offering the consumer the opportunity to select their preferred style, fabric and accessories.

www.zegna.us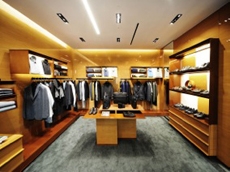 Fashion
NEU NOW Festival 2016
60 emerging talented artists from 18 different countries and a programme filled with design, architecture, performance, film, music and artist talks. The 8th edition of NEU NOW festival will open from 14th to the 18th September, located at the Westergasfabriek. The international art festival celebrates upcoming creatives and spawns career opportunities, providing support for imminent artists throughout the year. On the night of the 17th, in collaboration with Warteiner, the European League of Institutes of the Arts' initiative NEU NOW invites visitors to a late-night programme with drink and music, provided by deadHYPE and Jo Goes Hunting.

www.neunow.eu
Fashion
BALLY AW16 Campaign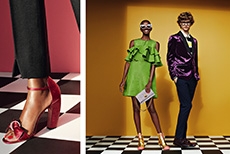 Emerging London based photographer Jack Davison captures youthful eccentricities in the BALLY AW16 campaign, featuring a dynamic cast of eight models, including the Guinevere Van Seenus, Finnlay Davis and Dutch model Ina Maribo Jensen. The images portray the nature of an artists' studio in the 70s. As Davison seizes the individual and different personalities, he is also able to unite them in their spirit, prominent in current and future BALLY collections. "What fascinates me about Jack's work is his ability to capture intimacy in his portraits; because it is about real emotions," Design Director Pablo Coppola says of the collaboration with the young photographer, while Davison reveals; "I trust in the moment, go into the situation and let myself be guided by my instincts."

www.bally.com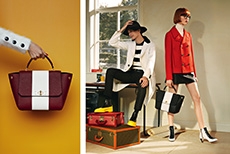 Fashion
Swarovski Member of Fashion Council Germany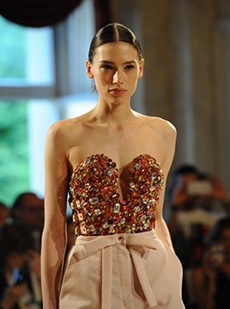 Swarovski is the newest member of The Fashion Council Germany, which was founded last year to be an advocate for and mentor to German fashion designers. One of these designers is Vienna-born Marina Hoermannseder, who has in three years gained fans like singer Lady Gaga with her orthopaedic corsets. Marina's latest collection included a corsage and skirt embellished with crystals, which was made through a collaboration with six other designers who created a special collection using Swarovski crystals. The Council's Chairman is Vogue Editor-In-Chief Christiane Arp, who said; "It is important to help design talent get more attention. We are delighted to have the support of Swarovski for our talent development initiative."

www.fashion-council-germany.org
Fashion
CHANEL Fall/Winter 2016/17 Campaign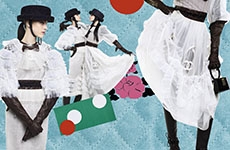 Karl Lagerfeld has created collages mixing up emoticons, pearls and coloured fabrics for the CHANEL Fall/Winter 2016/17 campaign. The impulsive images reflect a modern energy with models adorned in pearls, styled with riding boots and the BOY CHANEL bag. Sophistication is added through its knitwear, embellished with eyelets and badges. The brands classic attitude collides with a new, vibrant creative direction. On this decision Lagerfeld told WWD; "I was tired of girl holding a bag. – I wanted to do something else that we have never done before."

www.chanel.com
Fashion
Tim Coppens Spring/Summer 2017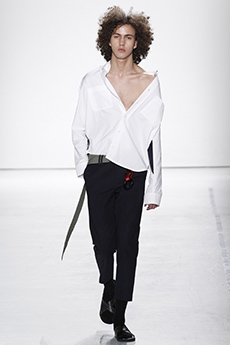 Spring/Summer 2017 is for Belgian designer Tim Coppens influenced by traditional Japanese dress, with references as the incorporated judo-style belts and kimono-inspired prints on bomber jackets. The collection also references Coppens' 90s upbringing and the skate scene with colour blocked sports gear, yet sticks to Coppens' signature tailoring and use of technical fabrics. Introduced in this collection is Tim Coppens original footwear, a line of structurally cut, leather sneakers. This will be available from next spring.

www.timcoppens.com
Fashion
Diesel Black Gold FW16 Campaign
Mica Arganaraz and Louie Johnson feature in the Diesel Black Gold Fall/Winter 2016 campaign, shot by Karim Sadli. Creative director Andreas Melbostad embraces Diesel Black Gold's urban approach in the images and reveals, "Mica and Louie, through the lens of Karim, convey a strong yet understated message of individuality and confidence." The duo is dressed in iconic outerwear pieces of the new collection, including the women's biker cape and the men's utility parka. Furthermore we see a mix of leather and quilted nylon.

www.diesel.com
Fashion
Dior Haute Couture Autumn/Winter 2016/17
Lucie Meier and Serge Ruffieux' Dior Haute Couture collection is predominantly in black and white, which is a reflection of their relationship; it represents history and modernity and while opposites, when together it creates something greater than apart. Dior's iconic Bar suit, tailored jacket and full skirt see the Autumn/Winter 2016/16 collection go back to its origins. The skirt was the starting point, after which Meier and Ruffieux started experimenting with the lining, draping and pleating of evening dresses and skirts.The only colour visible is gold as embroidery, which is inspired by raw art and the works of César and Claude Lalanne. 

www.dior.com

Fashion
Schiaparelli Haute Couture Fall/Winter 2016/17
Circus, the famous collection for summer 1938 inspired this season's new show, which almost felt magical. Sharp silhouettes and sparkling details defined the wardrobe for a strong, confident woman with Parisian charisma yet worldly imagination. The Schiaparelli's jacket is architecturally structured with striking shoulder lining, while keeping its femininity through the fluidity and sheerness of the dresses. This collection stays through to Schiaparelli's signature style of infusing art into fashion and plays with sensuality through added slits and shorts.

www.schiaparelli.com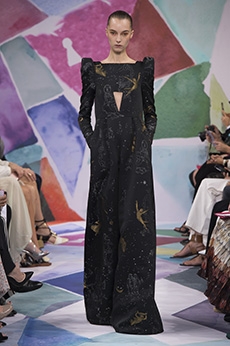 Fashion
WALTZ Autumn/Winter 2016
San Francisco based women's wear brand WALTZ' Autumn/Winter collection for 2016 is available now. Primarily hued in oxblood, rust and midnight blue, the choice in colour palette gives the collection its autumnal feel. The collection includes timeless pieces and wardrobe staples, garments that are versatile and essential. Founded by Danielle Colen, WALTZ is a brand embracing comfort and ease in its designs, with a prominence in quality fabrics and tailoring. WALTZ is influenced by menswear silhouettes and Colen's affection towards the East Coast, whilst also maintaining a feminine touch and blending California's mellow vibes.

www.waltzstudio.com
Fashion
Bottega Veneta Autumn/Winter 2016 Campaign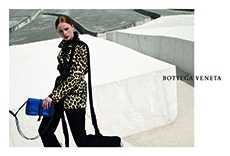 Models Simon Fitskie and Rianne Van Rompaey shine in the latest Bottega Veneta Autumn/Winter 2016 Campaign, shot by Dutch photographer Viviane Sassen in Sicily, Italy. The collections dark yet dynamic colour palette consisting of royal red, peacock blue and black bounces off beautifully of the paleness of the background, artistic landscape Grande Cretto Gibellina of Italian artist Alberto Burri, which is in glistening white cement. Burri created the Grande Cretto as a monument for the village Giberllina when an earthquake completely destroyed the town in 1968.

www.bottegaveneta.com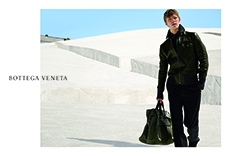 Fashion
MBFW: Augustin Teboul S/S 2017
Accompanied by mellow music of a rock band with slow drums, a lingering bass and drawn out vocals, the presentation of the Augustin Teboul S/S 2017 collection is re-imagining mermaids as punk rock princesses at the Berlin Fashion Week. The models' hair is slightly wet and swept back, as it would be after a swim in the ocean. Torn leggings and fish net tights remind of mermaids caught in fishermen's nets. Frilly applications on hats paired with round sunglasses look like bathing caps. Cut-outs, holes and slashed fabrics give the collection a certain edge, vibing off a careless attitude. A lot of exceptionally short mini skirts and dresses dominate the runway.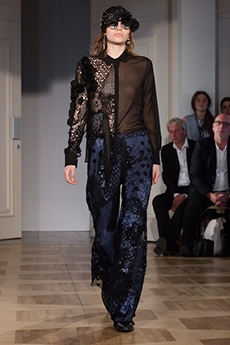 Sheer black shirts are worn over leather panties. Leather bodies with frills and mesh tutus remind of a punk rock princess style. A provocative touch is added by models wearing tiny crop tops or nothing at all underneath loose androgynous jackets. As always Augustin Teboul loves to display the dark and grungy side of fashion, and yet again does not stray from the label's favourite colour black, with only a bit of white, blue and red here and there. The black is paired with square patches and patterns of different kinds of sparkles, sequins and studs. There are sparkly scarves and sparkly socks in patent leather loafers – sparkles everywhere. The collection is the perfect androgynous combination of frazzle and dazzle, a glittering glory of grunge.

www.augustin-teboul.com
Fashion
MBFW: Hien Le Spring/Summer 2017
Showcased outdoors in a beautiful courtyard this Tuesday was the Hien Le Spring/Summer 2017 collection, at Berlin Fashion Week. The collection draws inspiration from the sculptural process, converted unto the garments through layering, cut-outs and various transparencies. Proposed is an elegant yet sporty alternative garments made from light cotton, different kinds of silk and Japanese tech textiles. The collection is elegant in its meticulous tailoring and includes sportswear elements. Hien Le has for this collection collaborated with Mini Cooper and created a limited sweater line with heart-shaped prints.

www.hien-le.com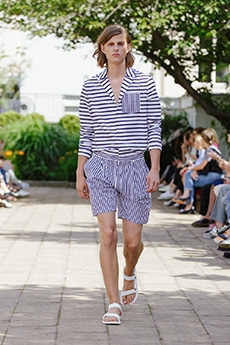 Art
Peter Lindbergh - A Different Vision On Fashion Photography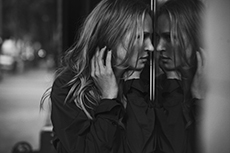 Uma Thurman, Los Angeles, USA, 2011 Vogue Italia © Peter Lindbergh (Courtesy of Peter Lindbergh, Paris / Gagosian Gallery)

An exhibition celebrating German photographer Peter Lindbergh's inspiring work will open September 10th 2016 in the Kunsthal, Rotterdam. One of fashions most influential photographers with the infamous image of the 90s Supermodels, or The Big Six, on his repertoire, will make this exhibition one for the books. The gallery will have his material divided in nine different sections, including Couturiers, Dance and Icons. Lindbergh initiated bringing a narrative to fashion photography and includes a sense of realism, which in an age of excessive photo retouching changed the norms of beauty. The photographer is often referred to as the 'Photographer of Truth', as he rejects the concept of social status in his work. Lindbergh: "This should be the responsibility of photographers today to free women, and finally everyone, from the terror of youth and perfection."
The exhibition will run until February 12th 2017.

www.kunsthal.nl
Fashion
PFW: Dior Homme Spring 2017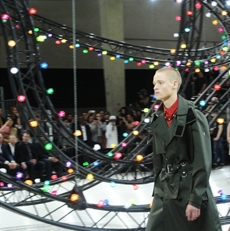 The 80s Punk together with the New Wave scene in a modern key. Kris Van Assche fun fair for Dior Homme proposed tailored pieces,  sportswear and strong punk elements interconnected in a balance of contrast. Van Assche worked his inspiration from its childhood in Antwerp and the rebellious world of those years. We see tailored jackets combined with relaxed oversized pants together with sleek slim trousers matched with bomber jackets. It's certainly a collection that plays around contradictions and opposites. Classic rigor is subverted by flashbacks of 80s subcultures with a multitude of details entirely made by the artisanal in-house team : pinstripe fray,  printed flower embroidery patches and the red thread hand-sew stitching through denim, suits, knitwear, almost as recalling of a statement scar stitching - beautiful and yet painful.
www.dior.com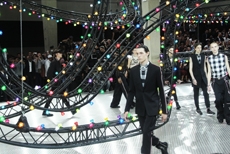 Fashion
Roberto Cavalli Fall/Winter 2016 Campaign
A focus on the new Cavalli tribe and the art of the garments is shown in the Roberto Cavalli Fall/Winter 2016 advertising campaign, show by Tim Walker. Dressed in the men's and womenswear pieces by the brands creative director Peter Dundas, a collection filled with embellished, embroidered and dazzlingly textured pieces. The images portray a sense of youthfulness and sensuality, as the models lay clothed in and nude covered by roses against a minimal background, giving the portraits a bohemian, yet glam rock feel.

www.robertocavalli.com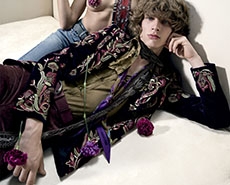 Fashion
PFW: COMME DES GARÇONS HOMME PLUS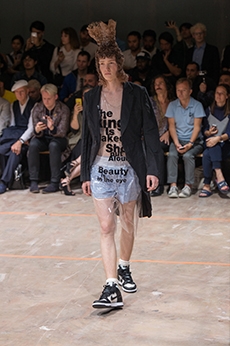 Rei Kawakubo wanted to tease with the idea of today's world receiving too much information. Themed after Hans Christian Andersen's Naked King' we see the Spring/Summer 2017 collection for Comme des Garçons Homme Plus, a show filled with transparent items, printed with designs made by Italian company Fornasetti and with messages such as 'beauty is in the eye'. Comme des Garçons Homme Plus collaborated with Nike Dunk style on it's footwear for the show, a line-up of trainers in different variations of colours.

www.comme-des-garcons.com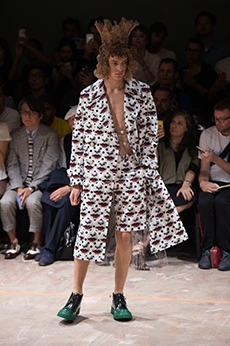 Fashion
BALLY Men's Spring/Summer & Women's Resort 2017 Collection
Bally presents a sense of nostalgia in the spring/summer and women's Resort 2017 collection. A retro sense and memories of disco platforms at the gym is what Karlheinz Weinberger's photographs have captured. The juxtaposed reality of the 80s "Teen Wolf" (1985), Francis Ford Coppola's "The Outsiders" looking to belong in this campaign. An edelweiss flower on a Western shirt and playful archive prints come to life. This is enriched with David Hicks bold colours on Japanese kimonos and leisure suits for everyday. Bally expresses the happy grunge and the MTV generation.

www.bally.eu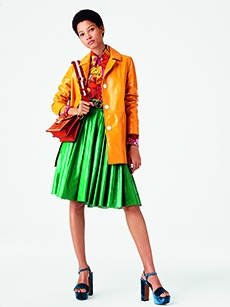 Fashion
PFW: BALENCIAGA SPRING 2017
Heeled boots and boxy jackets, Demna Gvasalia knows how to keep things interesting. The Balenciaga Spring 2017 collection, the brands first ever men's runway show, exhibited on the beautiful rooftop of the Lycée Saint-Louis-de-Gonzague in Paris, saw structured silhouettes and wide shoulders in coats, trousers accessorised with lengthy silver chains and cropped shirts with elastic bottom. Gvasalia said that he "wanted a feel of formality, of perfection, to everything."

www.balenciaga.com
Fashion
Blumarine Fall/Winter 2016/17
Nonchalant and seductive is the woman in the new Blumarine advertising campaign. She plays with the irony of her nature, effortlessly alternating strength and fragility, romanticism and carnality. Her personality is emphasized by the elegant and modern looks that simultaneously nod to the history of Blumarine.
The new Blumarine Fall/Winter 2016-17 advertising campaign describes a cinematic homecoming with Julia Hafstrom being a confident and eclectic woman shot by Inez & Vinoodh.The soft atmosphere of an atemporal and essential setting is the backdrop for the campaign that interprets the historic codes of the house with a new emphasis while contextualizing them into the present. The depth of the scene and the subtle color palette of the background bestow a vibrant and unexpected liveliness to the clothes.


Fashion
MFW: MISSONI SPRING 2017
The Missoni Spring 2017 collection is heavily inspired by Guatemala, a trip Angela Missoni remembers going on with her mother when she was just 15 years old. The collection commences with contrasting tribal prints in knits and a vibrant colour palette in suits and shorts. Infused are embroidered shirts, white hats and brown pointy shoes, giving off a western feel. Missoni refers to the collection and her models as the "Gautemalan cowboys".

www.missoni.com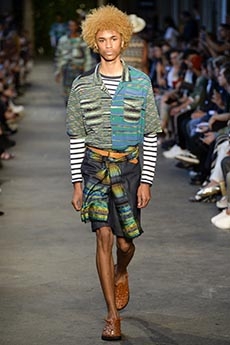 Fashion
MFW: SALVATORE FERRAGAMO SPRING 2017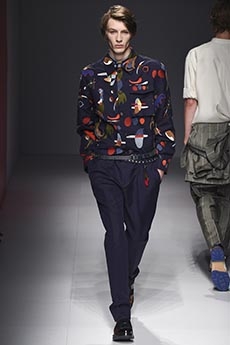 Salvatore Ferragamo's Spring 2017 collection is the first one since the departure of Creative Director Massimiliano Giornetti. The design team chose camping as its theme and was influenced by artist Jean Arp, as his colourful drawings were seen throughout the show as printed on ties and blouses. The collection is innovative but sensible, with suits that are contemporary yet classic. The camping theme came through with the use of stylized backpacks, but also hinted at through the use of some earthy colours.

www.ferragamo.com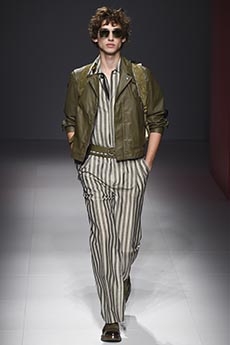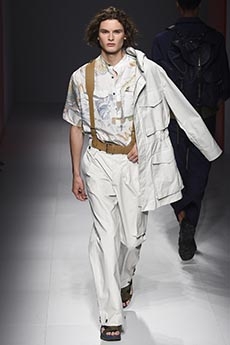 Fashion
MFW: ETRO SPRING 2017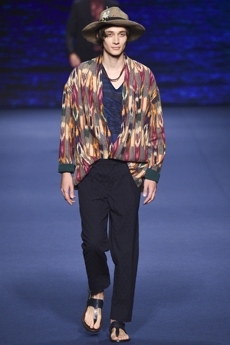 Instead of the usual pout, models for the Etro Spring 2017 collection walk down the runway with a smile. And a dog, which instantly makes this show a success. Creative Director Kean Etro scouted the predominately non-professional models walking the runway himself and gave them the opportunity to decide for themselves what they'd like to wear. The collection feels fresh but casual, with loose-fitting tops and trousers along with tribal prints and dark hues.

www.etro.com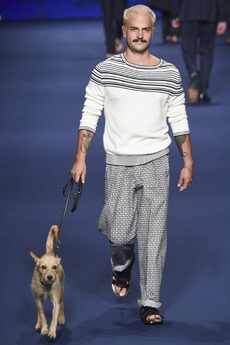 Fashion
MFW: DIESEL BLACK GOLD SPRING 2017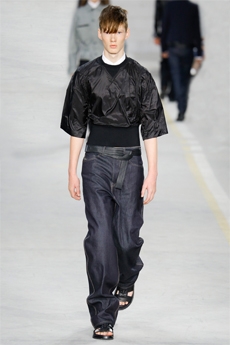 Creative Director Andreas Melbostad retreats to the root of denim for Spring 2017. Melbostad was influenced by late American photographer Irving Penn's images collected in his "Small Trades" book, which showed a diverse range of working class people. As Diesel Black Gold established aesthetic is utilitarian and functional, you can understand the connection. Denim pants are styled with a variety of shirts, including a new kimono style. Proposing a sophisticated sporty touch, nylon is used in the collection in jackets and trousers. The look is complete with utility sandals and canvas sneakers.

www.diesel.com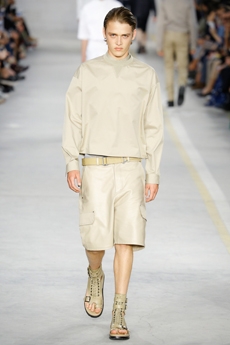 Fashion
Prada Menswear Fall/Winter 2016 Advertising Campaign
Eddie Redmayne takes centre stage in the new Prada Menswear Fall/Winter 2016 Advertising Campaign. Redmayne, who is one of the of contemporary cinema's most celebrated actors, is no stranger to immersing himself in historically significant characters. In the new menswear Prada campaign is presented the idea of the present moment itself being as a theatre of history. This idea is performed in a suite of striking portrait allusions. Redmayne, assumes a number of roles - hero, villain, revolutionary - either against a neutral grey background, or a rich red split by a romanticist view of idealized nature. Craig McDean's pictures invoke 19th century neo-classical paintings, which famously played with surface and depth, illusion and reality. These photographs continue the spirit of the Prada Fall/Winter 2016 Menswear show, which presented an excursus through times past as a reflection on time present. Overall, the result is a contemporary masculinity that aligns worldly travel with intrepid self-knowledge and oblique, original thinking.

www.prada.com
Art
THE ART OF BANKSY To Open In Amsterdam
THE ART OF BANKSY exhibition will open from the 18th June until the 30th September, marking as the biggest display celebrating the British graffiti artist's work and showing more than 85 of his creations. The curator is Steve Lazarides, Banksy's former agent and friend, who with a team of 80 has been collating his work for over a year. Although the man behind the art has still yet to be exposed, his work is globally recognized expressing funny, satirical and political messages. As his work is placed outdoors, the passer-by and spectator is left to appreciate and reflect. The infamous drawings 'Girl and Balloon' and 'Laugh Now' will also be situated at the exhibition, based at the Beurs van Berlage in Amsterdam.

www.banksy.co.uk
Fashion
LC:M Bobby Abley
A Disney-inspired runway. Theme of Bobby Abley's collection is fictional character Aladdin, making for a fun and exciting show to watch, whilst also reminiscing to your childhood. The collection sticks to Abley's signature sport style, with the magic carpet as pattern, jumpers and tees printed with enchanted lamps and slogans like 'put me the right way'. The designer launched his label in 2012 and had his first show two years later scheduled through fashion initiative MAN at London Collections Men. It's now grown into a well-established and acknowledged brand, which leaves us to say that Bobby Abley is here to stay.

www.bobbyabley.co.uk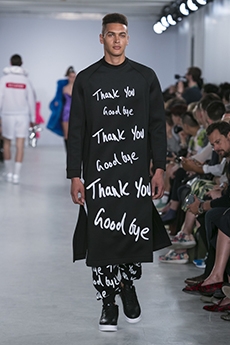 Fashion
LC:M Phoebe English
Presenting her men's collection for the first time at LCM goes in true English' fashion; models sat in a waiting room, sewing patterns on needle-point canvas to keep them busy, until it's their time to get up and get pictures taken. The collection of all-natural fabrics, shown in the 180 The Strand Presentation Space, is created using a minimal colour palette, mainly including blue, black and white. Phoebe English revealed she is influenced by her boyfriend and male friends, who generally wear stripes, something which is visible in what she describes this romantic-utilitarian collection.

www.phoebeenglish.com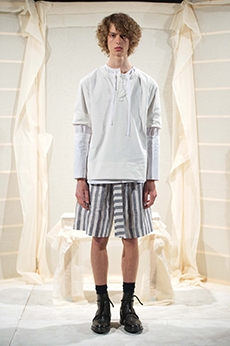 Music
Future, Present, Past, The Strokes Travel Back In Time
It has been pretty quiet from the American indie-rock band front in recent years, however the wait for new music has come to an end. The Strokes last studio album Comedown Machine was released back in 2013, but they decided to cut off from social media and not promote the album, with only a few performances here and there. The new EP Future, Present, Past is available now for you to enjoy. Lead singer Julian Casablancas debuted OBLIVIUS on his own radio show, Culture Void on Sirius XMU. The extended play consists of four tracks, three original new songs and a remix of OBLIVIUS, by Moretti. The band completely distinguish themselves from what's currently on the hit lists and sticks to what works for them, which results in a moody but balanced album soothing for the upcoming summer. It's a satisfying new addition to your vacation playlist.

www.thestrokes.com
Fashion
Anthony Vaccarello Fall/Winter 2016 Women's Ready-to-Wear Campaign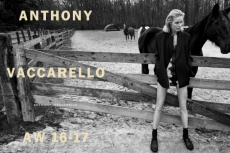 Anthony Vaccarello showed his natural seductive vibes in his ready-to-wear collection into black and white advertising featuring the Czech model Eva Herzigova. The designer has been inspired by architectural lines and lingerie hardware and the mood is reflective of the collection's natural femininity. The images, shot in black & white, feature iconic model Eva Herzigova walking in a stud farm, outside Paris. For the Fall/Winter 2016 ready-to-wear campaign, Anthony Vaccarello collaborates once again with the Dutch fashion photographer duo Inez Van Lamsweerde and Vinoodh Matadin. The styling is by Alastair McKimm and it is the third season the designer and the two men are collaborating.

www.anthonyvaccarello.com
Fashion
CHANEL Métiers d'Art 2015/16 "Paris à Rome" Campaign 
The Parisian elegance is perfectly combined with the Italian glamour in the Métiers d'Art "Paris in Rome" collection of the CHANEL House. The new collection is elegant and absolutely feminine, showing the unique savoir-faire of Métiers d'Art, in combination with the creativity of Karl Lagerfeld. The black and white silhouettes are playing with contrasts, combining the mules' tip with leather or the extravagance of XXL metal jewelry with the simplicity of a knitted pullover. The tights have a masterfully made lace patchwork and the mules are in two colors, black and white; the characteristic colors of CHANEL. Sensual under a coat or leather dress or reluctant with a tweed suit, which is lined with a "filmstrip", these tights bring a flowing silk crepe dress shine or can be simple worn with a warm wool sweater or an organza- made blouse. Karl Lagerfeld works once again with the American actress Kristen Stewart in the advertising campaign. In plush ambience of a Parisian apartment Kristen Stewart embodies with her smoky eyes and red lipstick, a hot-blooded heroine, like an Italian black and white film.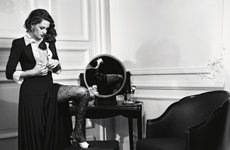 The Métiers d'Art "Paris in Rome" collection also shows a new version of 2:55 handbag that is now available in ultra-soft calfskin. It is an elegant understatement variation in this "house icon", with a very Parisian charm of minimalist chic. This is an innovation that continues this wonderful history of luxury in perfect harmony with the Air du Temps.

www.chanel.com
Fashion
Gucci Menswear Pre Spring/Summer Cruise 2017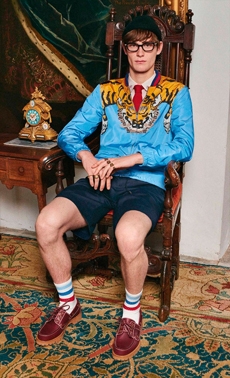 Gucci has a fresh and youthful approach on this Pre Spring/Summer Cruise 2017 collection.
Alessandro Michele reinvented the house by taking snippets of its past, mostly from its heydays in the 70s, and reworking them into something that feels both reverential of their origins but also distinctly neoteric.
 
The collection was unique, distinctive, and unforgettable. The clothes had the compulsorily trinity needed to satisfy the social media saturated consumers of today. The retro style remains on the Menswear collection and the colours are bright with red, burgundy, green and blue to conquer on this collection while the patterns have stripes, animal print, chequer and floral. 

www.gucci.com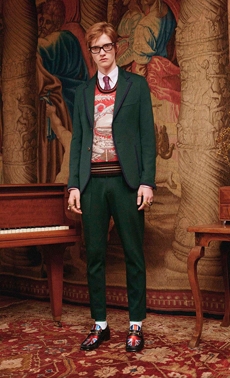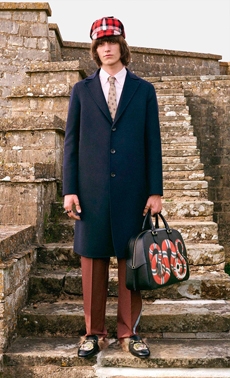 Fashion
Chanel Cruise Collection 2017 Presented in Cuba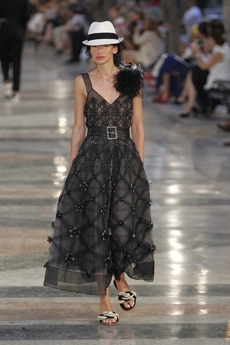 Hundreds of fashionistas in vintage convertible cars filled Paseo de Prado to watch Karl Lagerfeld making history with presenting his summer creations on the first ever fashion show on the island. Beach colours and souvenir T-shirts as well as optic white Broderie anglaise and summer tweed suits in lighter weight fabrics were some of the collection's pieces. Lagerfeld was inspired by the 'cultural richness and opening up of Cuba' showing on the collection cabanas patterns and Chanel's characteristic jackets in many colours while the Panama hats were the main accessorize of the show. Drummers, dancers and Karl Lagerfeld himself emerged to get the party started on the boulevard, as models jumped back into the convertible cars for the Insta-opportunity of a lifetime. Chanel gave every visitor a guide book and allowed them to get out and explore the country's rich culture.

www.chanel.com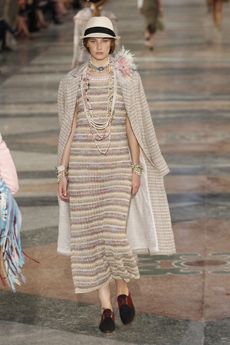 Art
Ulay at MOT International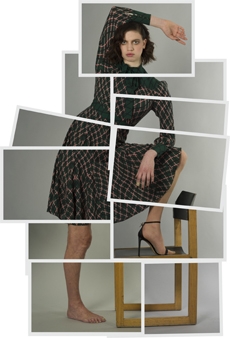 One year after the idea found footing in the pages of ZOO Issue 47, the life-size collages of Ulay will now take the form of a physical exhibition. Staged at the MOT International in Brussels, Anagrammatic Bodies presents a series of life-size collages: fragmented full-body compositions which merge the figures of models who make up a mix of gestures, genders and generations. In many ways, this new series can be regarded an extension of the founding values that rendered Ulay a luminary of 1970s photography, his idiosyncratic stare an inadvertent appraisal of identity, but an inevitable one, at that. Ulay's artistic awareness was ignited in early childhood, exposed in them most immediate sense to the atrocities of World War II. His 'anti-aesthetic' is one salvaged from the ruins of his environment; the loss of his father in early childhood, together with his mother's subsequent social withdrawal, imposed on Ulay the charge to tether his own upbringing, establishing an identity through his smoothing of the splinters. In a quite sinister instance of child's play, the dismemberment and consequent reassembly of a sparrow – innocently slain at the hands of he and his friends – would unwittingly divine a direction for Ulay's formative future output. His Anagrammatic Aphorisms of the mid-70s segmented and then pieced together the performative traits of his character, a visceral dissection of the social, sexual roles of individuals outlined as 'the other', finding subjects in the transvestite and transsexual subcultures of Amsterdam, and more often than not, himself. Ulay's evocative application of the human body as an articulation of identity holds as much meaning then as it does today – his reshuffled female figures immortalized in the pages of ZOO last year pointing to the collective tacit strength of character. Now installed at Brussels' MOT International gallery as part of Ulay's Come On exhibition, their life-size proportions prevail with an indomitable power.

Come On will be on show at the MOT International, Brussels, from 12th May – 16th July 2016.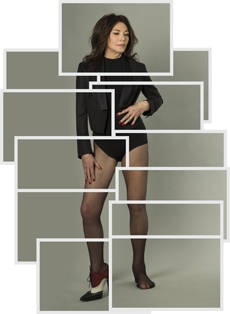 Art
Kour Pour's Onnagata in Berlin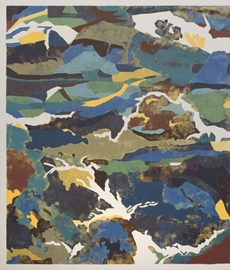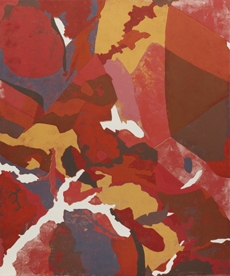 At Berlin's Gnyp Gallery, artist Kour Pour intersects Europe's fascination with Japanese culture with the art themes of fragility, instability and deconstruction. What at first sounds like a mismatched mixture inevitably makes sense in the artist's latest display "Onnagata", presented at the Berlin gallery from April 24th onwards. The title is taken from the Japanese word used to describe male kabuki actors playing female roles in Japanese theatre. It stands as a metaphor for the shifting of meaning inhabited by tectonic plates, which also play a significant role in the exhibition's DNA. Pour applied the laborious, physical and ritualistic process of making tectonic paintings, inspired by volcano maps used by the Japanese Geological survey. The result is a range of artworks that allude to Japanese Ukiyo-e prints, an art form that already fascinated the likes of Van Gogh, Degas and Toulouse-Lautrec. The works share a visual resemblance with contemporary abstraction embedded in an European and American tradition. With Onnagata, Kour Pour brilliantly links a Japenese manufacturing process with an aesthetic rooted in Western culture. It's a connection that sets a spark, like a volcano erupting. If we were Kour Pour, we would have been inspired, too.

www.martagnyp.com/gallery/kourpour/
Fashion
Kenzo Fall/Winter 2016
Ladies and gentlemen, please note: the Kenzo Fall 2016 collection includes the following: V-neck dresses (very formal), appealing outerwear in blue, flower pint on grey suit-fabric, tiger prints in red and gold and ruffled shoulders by the dozen. On Tuesday night in Paris, it might have been as hard for the fashion crowd as it was for you to remember these elements. Kenzo presented a rather various collection, that, despite its broad range of inspirations, still had continuous elements. One of them are the aforementioned ruffled shoulders, recalling the designs of both shirt blouses and garments from past decades. They circle the collection together with puffy shoulders, round or V-neck collars and at many times slim waists. With this collection, Kenzo showed how to unify a collection without convulsing into an assembly of more or less the same item. It's shape, silhouette and signature elements that keep the 54 looks under one roof. Make sure to note that, too.

www.kenzo.com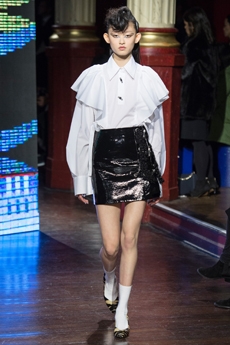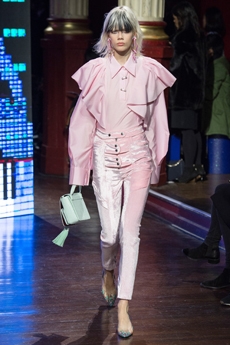 Fashion
Louis Vuitton Fall/Winter 2016
Louis Vuitton' collection for Fall 2016 was all about reflection. Quite literally, if one references the voluptuous mirror installation the designs were shown in. On a more theoretic note, Creative Director Nicolas Ghesquière also reflected on different facets of his employer as a brand and his own work as a designer. Starting off with silk print dresses that recall notorious scarf prints, the designer threw in a chunk of brand heritage. All the while, though, Ghesquière stayed focused on modern street fashion, slicing and assembling modern aspect in each garment. Shape wise, Fall/Winter Vuitton is all about the waist. Super-cropped, boxy jackets accentuate a remarkably slim waist, while printed sweaters and dresses imitate the shape through contrasting prints that resemble an optical illusion. Skirts, dresses and trousers end just above the ankle, giving way to laced combat boots that mark a harsh counterpart to the sometimes soft and light dresses. This more firm note is supported by dark lipstick used on all models, sometimes in combination with a rather strict hairstyle. Nevertheless, Ghesquière also leaves room for less harsh elements, such as batwing sleeves and a triple-print forming the penultimate look. With this collection, Louis Vuitton has perfectly applied he art of reflection: it has to cover multiple facets, for to be honest, the look in the mirror is never the same.

www.louisvuitton.com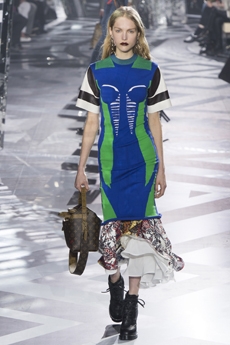 Fashion
Gucci's Second #GucciGram
Since Alessandro Michele has taken over the reigns at Gucci, nothing the brand puts on the market is monochrome, monotonous or dull. Take their eclectic, era-spawning collections, themes and innovations, or, for example, the collaborative digital #GucciGram project. Launched in its second installment, the project now dotes upon the new Gucci Tian pattern and invited artists and online illustrators to interpret and rework their own style of the pattern. What arose from that is imagery featuring everything from blurry cats to butterflies in a jar to a floral skyline building and cartoon figures crossing the street. The eclectic, multifaceted spirit to this campaign was created by only Asian-origined artists, referencing the cultural background of the pattern itself. At the same time, the artworks refer to Western orientalist fantasies and 18th-century Chinoiserie. The final results will not only be shown across the artists' social media accounts, but naturally also on Gucci's instagram account and on an extra micro website. Gram it or talk it, if there's one thing that Gucci gets going, it's participation.

www.gucci.com/guccigram-tian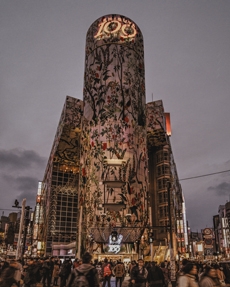 Fashion
Hermès Fall/Winter 2016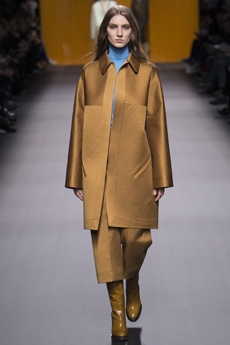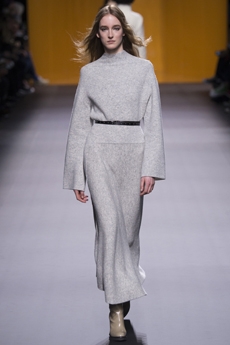 Keeping it clean and simple, reducing and seizing the detail sometimes pays off best for a fashion brand. At least, it does for Hermès. For the Fall/Winter 2016 collection, their garments were strained through the sieve of overdoing, leaving an assembly of designs that convinces in its simplicity. This season, the Hermès woman is the goddess of clear lines, of understatement and coolness. She is oozing confidence, she doesn't need much and has everything at hand to walk you over in the blink of an eye. Wonder what her wardrobe actually looks like? If not designed with an atypical pattern, there are hardly ever more than two or three colors to one look. Hermès went for monochrome combinations in shimmering gold, classic black or seductive oxblood. For lighter days, one can opt for smooth greys, cream whites and beiges, sometimes set together like paint color samples in a catalogue. Art-like assembly is another motif at Hermès in general; the items seem to be pieced, either in cut or color, with unique precision and strategy. It is out of question that the French brand applied fine, high-quality tailoring – their customers would never dare brushing off quality. Sometimes it pays off to take the quiet road, indeed. Remember Hermès.

www.hermes.com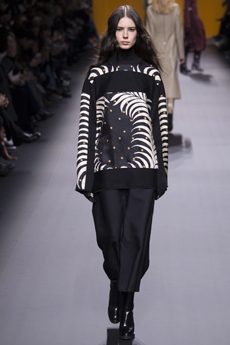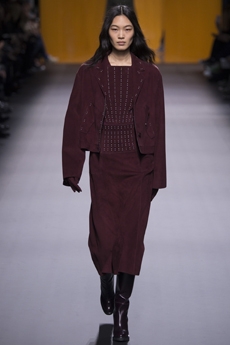 Fashion
Dior Fall/Winter 2016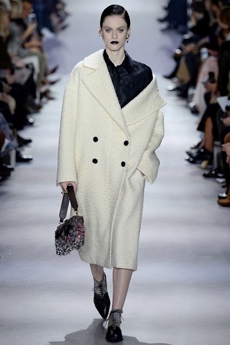 Dior's Fall/Winter 2016 presentation might be the last time it's appropriate to mention Raf Simon's departure. Yes, he is gone, and yes, everyone was both thrilled and excited to see what would come next for the traditional Parisian house. No need for discussion, cut to the chase: what was there? All-black-everything looks marked a dark and gloomy start to the presentation but were quickly followed by allover floral designs that were once again reminiscent of Simons' work. Other than that, Dior presented femininity, meaning tight waistlines and short skirts, flowing to the sides or sometimes stiffly sitting on the hips. Sharpness is the base to the collection's tailoring, which – and why wouldn't it - was as precise and detailed as ever. Asymmetry and V-Necks are Dior's thing this season and often incorporated together in the making of lascivious dresses or the final piece, an egg-shaped white coat, falling loosely over one shoulder in a relaxed attitude. In fact, this final look may stand for everything the future beholds for Dior: relaxation. Drop the shoulder, drop the fear. The future can be bright for Dior, and after Fall/Winter 16, we see no reason why it wouldn't turn out to be so. Good luck.

www.dior.com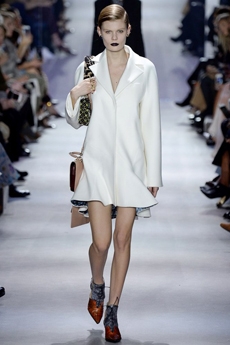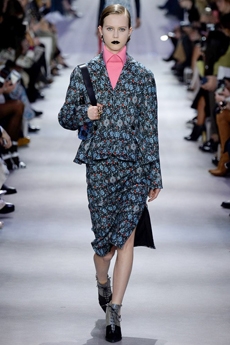 Fashion
Prada Women F/W 2016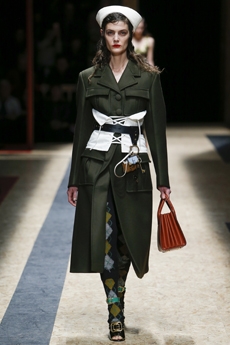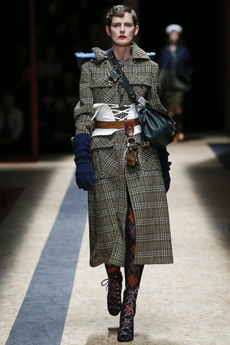 On February 25th in Milan, Prada's F/W 2016 womenswear collection had you reminisce immediately. Contrary to other collections, though, one does not think back to past decades or centuries, but just to one month ago, when Prada presented its menswear collection. It seems the leading theme this season that the menswear collections were somewhat a preparation to the womenswear designs. Or, for want of a better word, the womenswear designs are their continuation. However you'd like to put it, Prada's latest designs pick up elements from menswear, such as the unmistakable sailor hats and eclectic pattern mix. Especially the latter is striking, for the list to enumerate all patterns used by Prada would be far too long. Another key element to this collection is the waist-slimming belt that completes almost every look. Recalling medieval designs and lacing, the accessory enforces a hourglass silhouette, a contrast to the mainly loose silhouettes displayed by Miuccia Prada's colleagues this season. It is as if the laced design unites all 52 looks, whether they in themselves recall nautical elements, tribal art or graphic prints (yes, all in one collection). We wouldn't know how to describe it except for "very Prada". Take a look at the collection, and you'll surely understand. Grazie, Miuccia.

www.prada.com
Photos: Monica Feudi.
Fashion
Emporio Armani F/W 16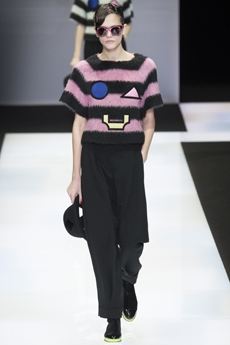 Emporio Armani's latest Fall/Winter collection consists of one thing: consistency. In days where coherent collections are long gone, Giorgio Armani presented a range that sees each item blend with the next like the graphic blocks in a tetris game. In fact, graphics such as the popular video game seem to have been an inspiration for maestro Armani. Triangles, circles, squares, featured in neon and pastel colors printed or sewed on black, remind of 90s tapestries and sticker embellishment. Armani transfers these into high-end ready-to-wear pieces that fit both the office and the dinner gala easily. For the Italian brand, it pays off working piece by piece, square by square, stripe by stripe. The result is next level. Whether at Tetris or at fashion, you decide.

www.armani.com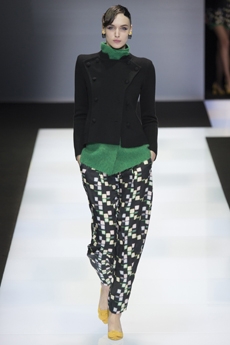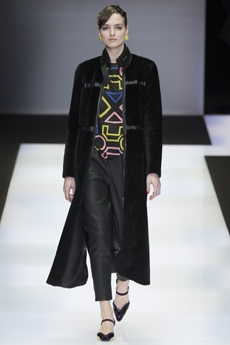 Pictures: Yannis Vlamos.
Fashion
FENDI Fall/Winter 2016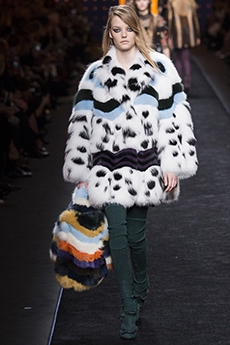 When Fendi announced that at their F/W 2016 show, two life-size furry FENDIRUMI monsters would greet viewers, little did one know that their fluffy fur would actually transfer itself onto the clothing. The FENDIRUMI are the brand's iconic bag charms that were introduced in two new versions alongside the collection at Milan Fashion Week. As mentioned, that particular collection also didn't hold back on fur. The fluffy material is the main player in this season's designs and used in the making of coats, vests and even handbags. For those who don't ride on the fuzzy train, Fendi presented exquisitely tailored garments, often tight at the waist in an overall loose silhouette and adorned with ruffles at top or bottom. Next to striped patterns and dark-on-dark looks, baby blue is sprinkled through the collection like colour splatters on a painting. Ruffled boots, bags, yes, even the furry coats were designed in the iridescent colour, making the perfect match to the pink fur coat that was presented at Gucci's show just one day earlier. The Italian's know how to do it, and even two life-size monsters can't distract us from it.

www.fendi.com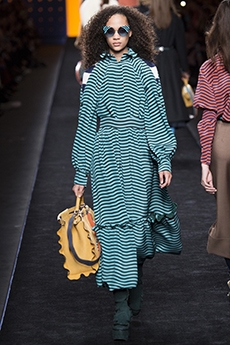 Photos: Yannis Vlamos
Fashion
Louis Vuitton Pre-Fall 2016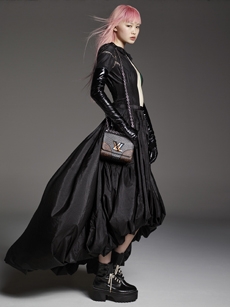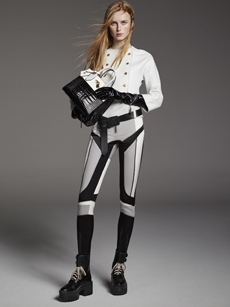 They say all good things come in threes, and with Louis Vuitton, three seems to be the lucky number. Their latest Pre-Fall collection stands on three major pillars that are core to the Maison's designs: neo-classic, elevated sportswear and the dream adventure. Beneath these summarizing definitions lays a collection that forms a complete wardrobe playing on androgyny and the fluidity of style. With Louis Vuitton, all things are fluid, such as the video shot by campaign photographer Karim Sadli, defined by energetic motion and movements. Such fluidity is supported by the actual designs that come across as confident monochrome looks. Color is not a theme in this collection, with only few sprinkled inserts highlighting shoulders or hips. Nevertheless, Vuitton plays with contrasts in tartan dresses, sporty legwear and a block-striped coat. According to the fashion house, this collection's interpretation depends upon the point of view and personal prism of its wearer. And that's the best thing about fashion: your wardrobe is your adventure. Welcome to Pre-Fall.

www.louisvuitton.com
Fashion
DKNY RTW Fall 2016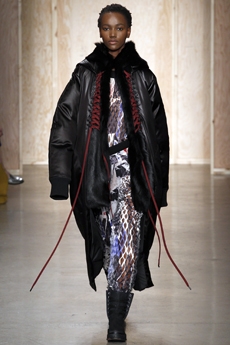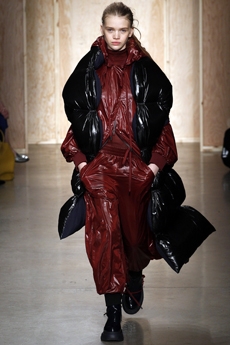 What clearly stayed in mind from DKNY's latest Fall/Winter collection were the oversized coats, made from shiny, synthetic materials and featuring a voluminous shape that seems to be very much on the rise this season. Their floor-length design, paired with evenly oversized lacing, expressed a ruling confidence that left the viewer in admiration for Maxwell Osborne and Dao-Yi Chow, the designer duo revolutionizing the DKNY brand from the core. However, even if the oversize shape is an undeniably strong force in this collection, not everything was out of proportion. Osborne and Chow made free assembly their friend and presented cut-out shirts with varying lengths, dresses not only with fabric but shape combinations and a contrasting material mix. Contrast could also be detected in the color palette, which saw heavy dark tones confronted with sparkling red and white. While this all may trick you into a very serious state of mind, the designers proved to have not forgotten about the splash of humor every fashion collection needs: whereas in the 90ies, DKNY was known for sprawling their logo across their items, the new designs simply read "Insert Logo Here". Confidence, charisma and humor – if this collection was a person, we'd sure like to be introduced.

www.dkny.com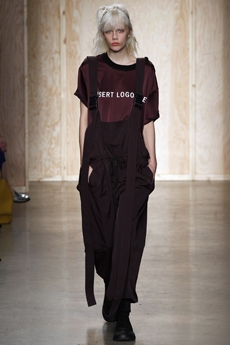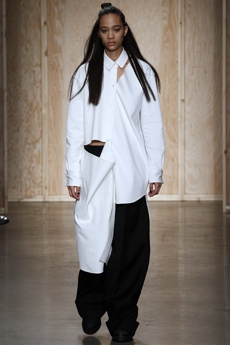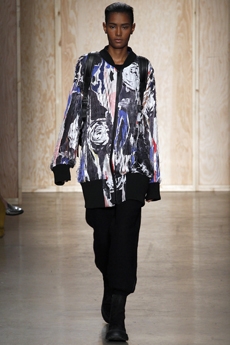 Fashion
Hood by Air RTW Fall 2016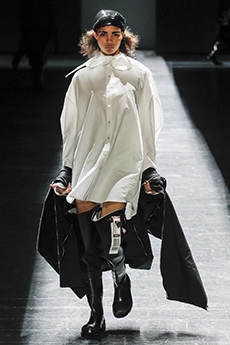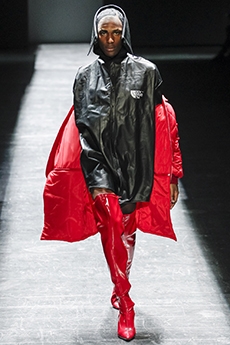 If you're looking to find Hood by Air's latest Fall/Winter designs, have a look at the baggage claim at your local airport. At New York Fashion Week, models found their runway turned into a baggage band when their garments were adorned with tags usually tied to suitcases at the drop-off. Another top featured the suitcase plastic wraps also formerly known from the departure area, only this time turned into a bold fashion statement. To be fair, these references were the only ones alluding to flight traffic. If not for the title, Hood by Air's collection is more a political art statement than Ready-to-wear fashion. Designer Shayne Oliver once again crossed gender borders, made shapes and classic cuts irrelevant and boots, either oversized or shiny and red, the center of footwear. Hood by Air's latest designs are refreshingly rebellious and creative in a surrounding where rebellion often means changing the direction of a seam. Needless to say, if we found the collection at the baggage claim, there's no way we would return it to the lost-and-found office.

www.hoodbyair.com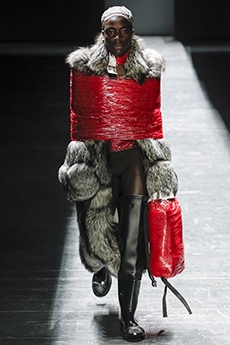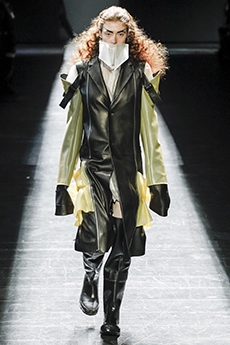 Fashion
Tommy Hilfiger RTW Fall 2016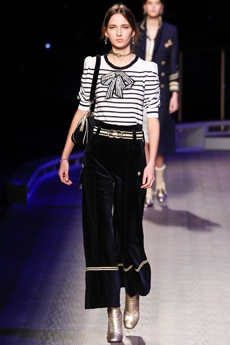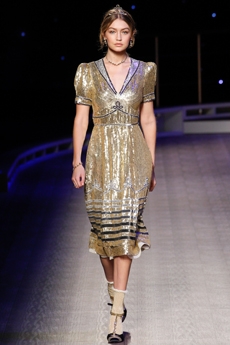 In Fall 2016, Tommy Hilfiger has the sails set. His latest collection, presented in an extravagant set at New York Fashion week, sets off to the sea with maritime inspirations in all their nautical beauty. Now, it would be too easy to just restyle sailor archives to appropriate their look for 2016. Hilfiger on the contrary made his nautical references visible, but still wearable on dry land. Stripes pop up on various garments and materials, from shiny tops to floating dresses, sometimes presented in the traditional sailor manner, sometimes only hinted with a few stripes at the bottom. Classic navy embellishments also made the cut and can be found on coats, blazers and even sheer dresses. For those who want to experience the ride on the sea in a more graphic way, the designer created repetitive patterns for all kinds of garments, showing small drawings of boats, anchors, dancing sailor, wales and more. On the runway, new brand ambassador Gigi Hadid, who opened the show in a shifty beige dress and closed it as the gold-glittering sea travel princess, fronted the show. Full speed ahead!

www.tommy.com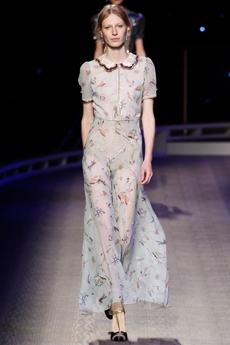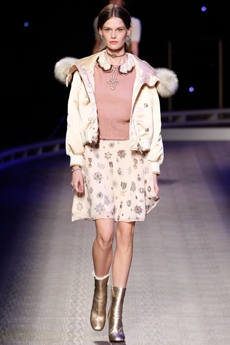 Fashion
Capital Ride: Berlinale 2016
Ladies and gentlemen, jump on the wagon; it's time to set off for Berlinale! From February 11, in a spread of 10 days, the German capital will once again be home to the finest in moving images. From international blockbusters to independent movies, the international film festival offers everything you'd want to watch. In fact, the programme is that various that even native Berliner's will find their head in a spin. Thus, jump on ZOO's film ride now and catch up with what is not to miss at this year's Berlinale:
Chi-Raq © Parrish Lewis
Stop 1: Chi-Raq "Chi-Raq" is a modern take on Aristophanes' play "Lysistrata" and stars a variety of high-profile celebrities such as Mariah Carey's ex-husband Nick Cannon, Angela Bassett, Jennifer Hudson and Samuel L. Jackson. The plot: in violence-driven Chicago, a female movement aims to shut down outbursts through a sex-strike. On display i.e. at the Berlinale Palast, Tue. 16.02., 10 PM
Hail, Caesar! © Universal Pictures
Stop 2: Hail, Caesar! Next stop: Rome! Well, in mind. More like Hollywood. With "Hail, Caesar!", cult-directors Jonathan & Ethan Coen peek behind the coulisses of 1950s Hollywood. George Clooney mimes the kidnapped Caesar-actor while Josh Brolin is the studio-boss that strives to keep everything under control. Need we say more? On display i.e. at the Friedrichstadt-Palast, Thur. 11.02., 8.30 PM
Midnight Special © Ben Rollstein/Warner Bros. Entertainment/Ratpac-Dune LLC.
Stop 3: Midnight Special Next up on the film ride is a movie that accumulates everything: father-and-son road trip, the exploration of sect-culture, religion and politics in one – not to forget the subcultures that come with the American province. "Midnight Special" stars former ZOO-coverstar Michael Shannon, Kirsten Dunst and Joel Edgerton. On display i.e. at Haus der Berliner Festspiele, Sat. 13.02., 11 AM.
Maggie's Plan © John Pack / Hall Monitor, Inc.
Stop 4: Maggie's Plan As part of their Panorama programme, the Berlinale presents a movie about 30-year old Maggie, who after invitro fertilization meets the love of her life. Naturally, the patchwork family life doesn't work as it's supposed to do. Starring Greta Gerwig, Ethan Hawke and Julianne Moore. On display i.e. at Zoo Palast 1, Sun., 21.02., 9.30 PM.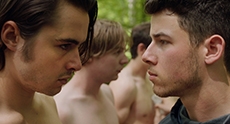 Goat
Stop 5: Goat How is extreme masculinity built these days? Andrew Neels' "Goat" explores the violent side. 19-year old Brad does not only experience violence after a robbery, but also when entering a student fraternity at university. Starring James Franco, Nick Jonas and Ben Schnetzer. On display i.e. at CinemaxX7, Fri. 12.02., 10 AM.

Final Stop: Culinary Cinema & Berlinale Goes Kiez Next to all artistic endeavors, the final stop on this film ride focuses on the Berlinale special projects. One of them is the culinary cinema, showcasing 11 film features about the relation between food, culture and politics. Additionally, since 2010, the Berlinale hosts the "Berlinale Goes Kiez" programme, which moves the flying red carpet to small cinemas around Berlin on seven evenings, each one having a renowned personality as its patron.

434 films, 10 days and numerous red carpets filled with celebrities – it is impossible to swish through the Berlinale in just one ride. Consider this festival a hop-on, hop-off travel. You can't fathom everything. Even if you just get a slight idea of it – we're sure it will strike you just as much. Everyone get off, please!
Fashion
Versace Shares Emoji App and T-Shirts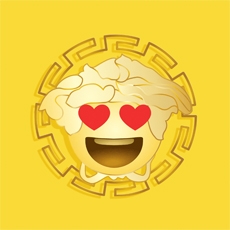 Valentine's Day is just around the corner and so is the big fear: what am I going to do? If you're one half of a happy couple but haven't found the right gift just yet, Versace will stand beside you. Released on the day of love, the brand shares its #VersaceSharesLove project that centers around the 21st century expression of emotions: emojis. Versace has launched its own emoji app with which users can embellish their photos with a range of backgrounds, filters, text colors and – of course- emojis. Now, these are not just your regular go-to emojis, but ones that Versace had customized: they come stylized as the iconic Versace Medusa head. Along with the free app download comes the perfect gift. Versace launches a new line of T-Shirts, embellished once again with the special smiley head. So if on the 14th, you're short for words in order to express your feelings, just send the hearty-eyed medusa. He or she will understand you, for sure.

www.versace.com
Fashion
SIKI IM F/W 2016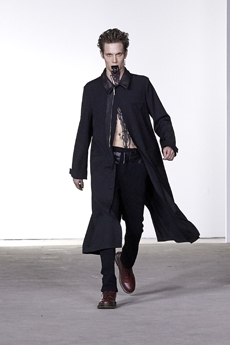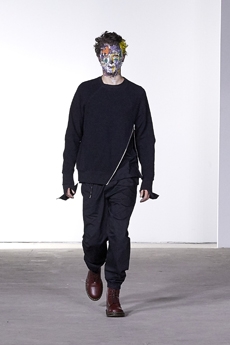 For their latest F/W collection, label SIKI IM dug deep. Very deep. Deep in thoughts, deep in spirits, deep into philosohpy. Numerous questions lie beneath their latest designs, such as the evaluation of monsters and vampires. Is death the end? According to SIKI IM, it is certainly not. Our fear of being alone, fear of rejection, yes, in the end, the fear of our very selves is also a part of the thought-out inspiration to the IM 2016/17 collection. Naturally, these objections transfer themselves onto the clothing. A color palette of black, oxblood and aubergine draws a very clear allusion to mythic, spiked-teeth creatures. Fabrics from Italy are textured and rich, meaning luxurious cashmere (this season's material No. 1) and pants, woolen car-coats and blazers are combined with architectural leather in a variety of shapes. Furry tops and bottoms are not only monstrous in a good way but also functional for a cold winter. Along with the new designs, SIKI IM also showcases its extension line DEN IM. The prints featured in this collection were inspired by the German art and architecture school Bauhaus and the eponymous post-punk band. Linking both collections, images from Im's favorite Vampire movies were also printed on various garments. In the end, who isn't fascinated by it? The mysterious, the mythical, the dangerous, the tragic? We all have it in us. Just a matter of time until the night will let it out.

www.sikiim.com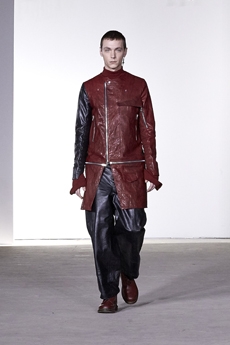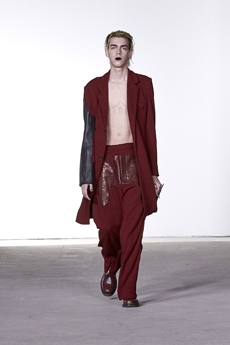 Music
CTM Festival in Berlin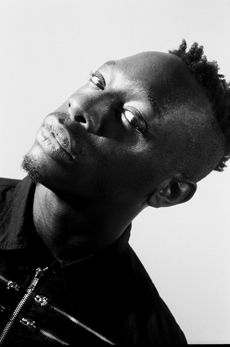 Le1f
This week sees the midpoint of Berlin's CTM festival, an international event for "Adventurous Music and Related Visual Arts". This extensive title works quite well as an all-round description of what the 8-day festival has in store. The programme will line up performances by artists such as rapper Le1f, performing Thursday night, next to exhibitions, concerts and a discourse programme. 2016 already presents the 17th edition of the festival, which carries a new theme with each edition. This year, "New Geographies" is set to explore the collapsing borders and changing topographies in our world. Blurring lines in worlds such as gender and ethnicity, globalization and physically bound cultural identities find examination through the works of artists, special projects, commissioned works, lecturers and contributors. Dance or discuss the night away in Berlin this week – always on the verge of change. Sounds exciting, doesn't it?

www.ctm-festival.de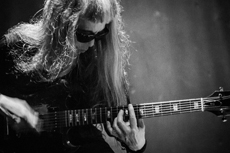 Keiji Haino
Fashion
Diesel Black Gold SS16 Ad Campaign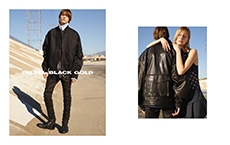 Diesel Black Gold has revealed their new SS16 advertising campaign, a call to he brand's irreverent and contemporary spirit. French photographer Karim Sadli shot models Lexi Boling and Timur Muharemovic in Downtown Los Angeles, a urban and metropolitan location that fits the collection like a glove. Conceived by Creative Director Andreas Melbostad, the campaign presents key pieces such as the Type 2614 extra-long jeans, a design that through its exaggerated length creates a crushed effect, worn by Muharemovic. Boling meanwhile sports the season's signature overalls and a leather jacket detailed with metal grommets and whipstitches. With this campaign, Diesel shows once again that it doesn't take much to impress. If only it would be so easy for everyone.

www.diesel.com
Fashion
Givenchy Men's F/W 16 & Couture S/S 16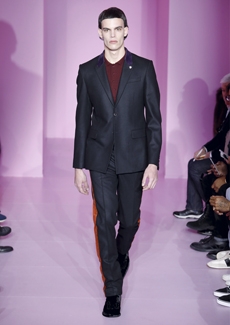 At the latest Givenchy presentation, viewers found themselves caught somewhere between a game of Tetris and the inside of a gum bubble. In Paris, the French fashion house chose to reveal both their menswear designs for F/W 16 and the couture designs for SS 16 in one captivating show. Ricardo Tisci's theme for this collection apparently was freedom, which he chose to express in a variety of designs that weren't at all as monochrome as the seating. For the menswear, Tisci alternated between sharp silhouettes with classic outerwear and more layered, colorful designs. Cobra-flagged knitwear was seen next to tribal inspirations and fringed coats; embellished collars on jackets and coats went along with college sweaters and pinstripe combinations. The couture marked a welcome contrast to all that. Sheer dresses had their parts as much as expressive dotted designs. Lace and other thin materials gave the collection a soft touch, whereas tight bandeaus in a wrapped style suggested a confident couture look. For his latest presentation, Ricardo Tisci's bubble might have been pink as gum, but we sure do enjoy it in there.

www.givenchy.com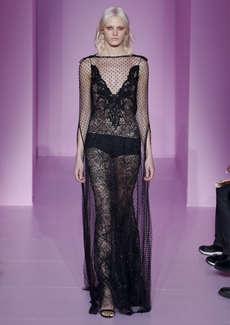 Fashion
Sandro F/W 16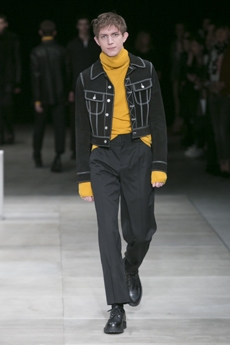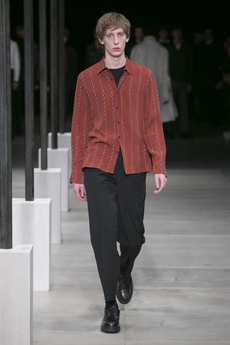 For a fashion designer, a collection can be like a play. Different actors, different looks, different parts of the play – in other words, acts. French fashion label Sandro took this as a chance to divide their latest collection, their play, if you will, into such different acts. The first one throws it way back to 1980s Berlin, where anarchical urban structures drained romance through the industrializing reality. This message translated into fabric calls for a denim jacket pattern realized with suede, combined with yellow rollneck jumpers. Act two introduces a series of silk shirts, emblazoned with a chain print, to be worn with tapered trousers that are cut off at the ankle and feature a generous hem. A theatrical play would maybe suggest a break by now, but Sandro dives right into the final act: suits with wider collars break on boots and are complemented with black-and-wide check motifs on mohair knits. As the curtain falls, the label presents the last look formed by leather trousers and long cashmere coats in a variety of colors. Applause!

www.sandro-paris.com
Fashion
Giorgio Armani Privé Couture SS16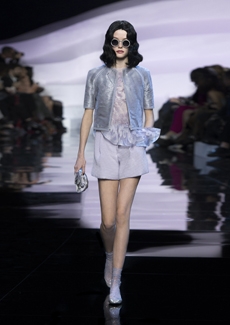 Giorgio Armani is defying gravity. With his latest couture collection for Armani Privé, the designer mounted on a cloud of silk and organza and casually flew away. Ruffles define the new designs along with flowing silhouettes, corresponding to the illusion of constant movement. They suggest waves, like the sea stirred by the wind, an expression that is even found in the fashion show's hairstyles. While the first part of the collection transfers these ideas into business-like ensembles, the finale is formed by a collection of ball gowns that illustrate the idea of a contemporary, high-class princess. Key colors in this collection are a variety of lilacs, supporting a young and soft attitude. Seems like Armani's cloud is a pretty nice place. And whatever it takes, we will get on there, too.

www.armani.com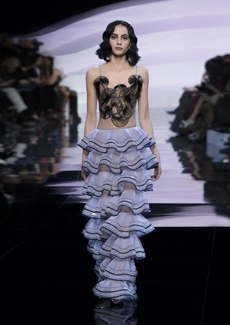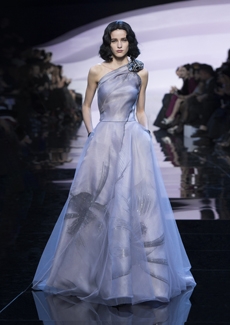 Fashion
Nobi Talai F/W 16/17
The third collection for designer Nobieh Talalei borrowed elements from nomad tribes, an obvious source of inspiration. What could have become stuck in a concept turned into wearable pieces, made from cozy fabrics coincidentally perfect for combating the harsh climate of Berlin's streets outside: Japanese leather and plush shearling, otherwise used most notably by heritage toy manufacturer Steiff. For FW 16/17 Talalei showcased capes abound, such as a woolen cape vest supposed to be tied around the body, draping asymmetrically around female form. The look invoked futuristic desert planet associations just as much as a nostalgic longing for freedom on the tramp. Layering and folklore vibes find balance in crafted designs in solid neutrals and jewel tones for a polished, modern collection with melancholy notes of orientalism.

www.nobitalai.com
Fashion
Fashion Designs presented by Shih Chien University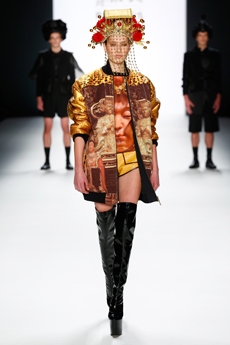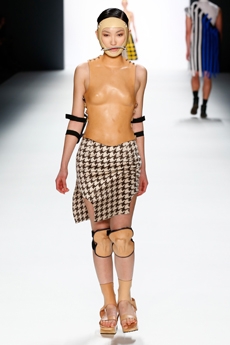 Traditionally, Mercedes-Benz Fashion Week Berlin trickles out over the course of its final day, when editors and buyers abandon Berlin and move on to the next shows. As the students of Shih Chien University proved with their FW 16/17 was that is without a question their loss. The Taiwanese University long holds the title of one of the world's best design schools. In walk two of Yu-Qi Zheng's models with winged shoulders and pompous headpieces. Far eastern design elements made an appearance on Yi Ma's designs in the shape of Buddha prints, others incorporated Asian letters or ritualistic accessories, gaping a divide between manga-esque looks and deities. These students by no means over conceptualize their work or cater to cosplayers rather than fashionistas. Each collection is more haute – couture than comic con, begging the question of what is next for this talented bunch.

www.fashion.usc.edu.tw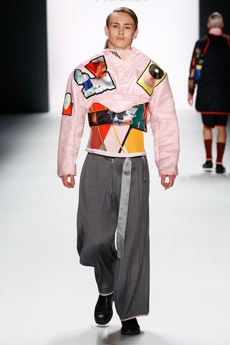 Fashion
Paul Smith F/W 16/17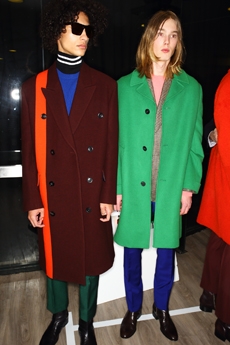 As a designer, Paul Smith is fond of the past. The days and decades that are long gone are an everlasting inspiration to him, and with each collection, Smith manages to transform the spirit of "back then" into a fashion statement applicable to today. For the Fall/Winter menswear collection, Smith once again embraced his past and wove it into new designs. Stripes recur in cashmere knitwear of tailored coats and find their sartorial climax in more-than-elegant lurex pinstripes. Paul Smith, though, never designs without a bit of cheekiness: Dinosaur prints reference his use of digital printing, while lip-shaped fastenings on belts and peace sign charms are a link to the free spirit of the late-60s and early-70s. Fun aside, this collection's centerpiece introduces itself in multiple ways: the Epscom coat comes with sheepskin and cashmere and both single and double-breasted. Combined with often flared trousers and heeled leather boots, the "throwback" is complete. Now that we think about it, saying that Paul Smith is just fond of the past might be quite the understatement. He adores it. And we do, too.

www.paulsmith.co.uk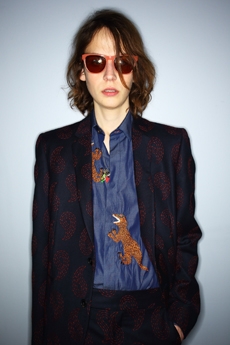 Fashion
Dorothee Schumacher FW 16/17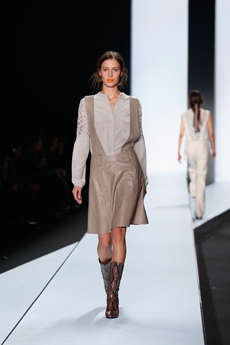 Schumacher's FW 16/17 collection is clearly inspired by Stacy Perlata and his Z-Boys and Bones Brigade, the laid-back and most of all free attitude of late subculture. The label has been around for years, rooted in commercial chic and has so far been renowned for business attire. In the latest offering juxtapositions of smart and casual, freedom and roots are painstakingly obvious. For Dorothee Schumacher skater gear element mixed in with romantic florals and classic cuts appear audacious at first. However, dissonance creates interest in the most positive of ways: Bermuda shorts with suspenders paired with delicate blouses, sporty stripes on mixed mille fleur, baggy pants and glitter shirts, stern woolen coats covering romantic dresses carry the Schumacher DNA over to 2016. Folklore-esque garter belts, cutouts and transparency add a youthful layer to the designs. The cherry atop this show was certainly the music by the late David Bowie that set the mood for the show.

www.dorothee-schumacher.com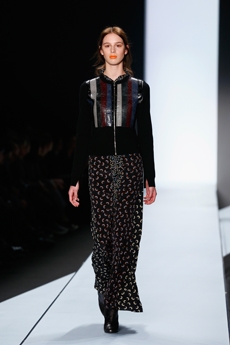 Fashion
Larusmiani F/W 16/17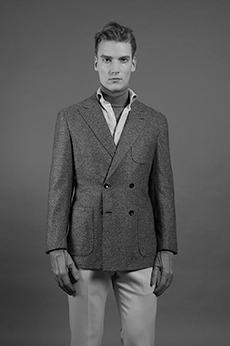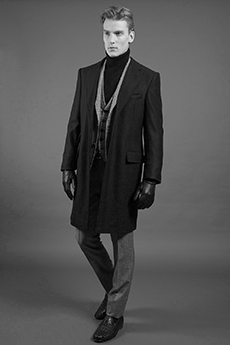 "The secret of a real man's style lies in knowing the rules as well as breaking them". Larusmiani thinks back to founder Gugliemo Miani's wise words as inspiration for their F/W 16/17 collection. In fact, it is not only inspiration, but key essence to the new Italian designs. Handmade suits are made from fine fabrics such as wool, cashmere and silk – with the twist of occasional blends. Impeccable shirts with embroidered initials are available in cotton flannel and cashmere or printed silk as recognition of the modern and the traditional. Ties with geometric patterns only take a few seconds to be chosen by their wearer. Shoes emphasize the mantra of knowing the rules as well as breaking them: the beaver fur-lined sneaker stands next to the Larusmiani Oxford shoe. Altogether, the collection composes a relaxed Dandy attitude for the Larusmiani man. And to him, we'd sure like to be introduced.

www.larusmiani.it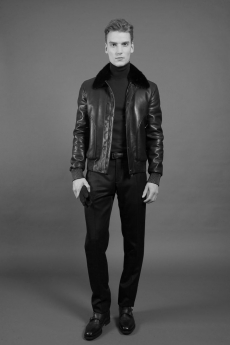 Fashion
Costume National Homme Fall Collection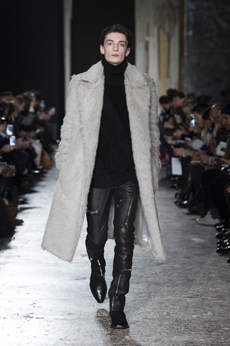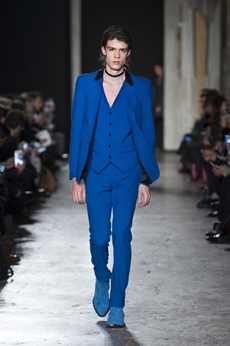 The world is under pressure. The fashion world is under pressure. At least according to Ennio Capasa. The lead designer of Costume National took the occurring dangers and threats of our world as an inspiration for his new Fall collection. The result is an assemblage of combat elements, couture bits and both uniform and freedom. With these designs, Capasa also wants to rekindle his connection to music. Quite literally referring to pressure, Capasa found muses in David Bowie and Freddie Mercury and their collaborative hit "Under Pressure". Now, what does one do to resist? Costume National delivers the perfect gear. Combat multi pocket trousers make for a well-equipped look, squared shoulder jackets and oversize coat create an invincible silhouette and fabrics from faux fur to glitter print show that "fear" is not in store for Costume National. Colors balance between tones from black and navy to shiny greens and neon turquoise. It's only the brand name that seems unfitting in this collection. This definitely isn't a costume. It's an armour.

www.costumenational.com
Fashion
FENDI F/W Collection 2016
With their latest menswear collection, Fendi went luxurious-but-soft. Or casual-but-elegant. Playful-but-stylish. However you define it, the new collection oozes a feeling of private luxury. The silhouette is soft and comfortable, which helps the wearer glide through the urban frenzy without bumping shoulders. In general, outerwear has found a new, welcoming roominess at Fendi. Knitwear makes us feel like home, with long and loose jumpers keeping warm and droopy scarves draped around the neck. With Fendi, it's not loneliness but "homeliness" that awaits us: the garments have a relaxed ease; comic strip elements add humor and character. Stolen plaid pieces add a visual rhythm when fused on knitted pieces and felted wool tailoring. Another key element is sheepskin, used in the making of bucket hats and shoppers. It might be "luxurious-but-soft" or "playful-but-stylish", but actually, with this collection, there are no "buts" needed.

www.fendi.com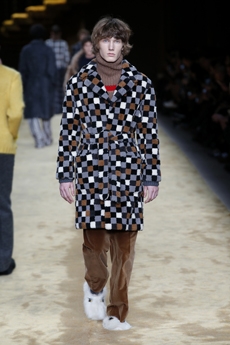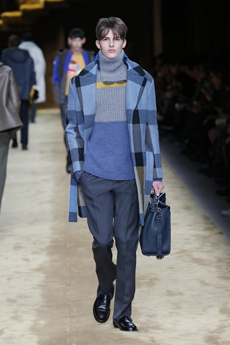 Fashion
Persian Queen goes Berlin: Lala Berlin at Fashion Week
Berlin Fashion Week whizzed by in a second, but Leyla Piedayesh was there to capture the moment. With her new "Persian Queen goes Berlin" collection, the designer established the connection of live experiences with online content. At Berlin's meCollectors room, surrounded by celebrities from the music, fashion and acting scene, Piedayesh presented a special video installation with strong visuals. Director Jonas Lindstroem filmed three characters, embodied by model Lina Berg, 12-year-old Louise Constein and Anna von Rueden. In support of the video, Piedayesh also went to search for inspiration in the realms of upcoming German music. Singer Jasper Munk supported the videos with his sounds and was present for a set of 3 acoustic songs at the event. To make the evening even more interactive, the label invented the InstaShoot, a creation to let fans from allover the world take part in the experience with the help of an exclusive mirror installation titled "Mirror Me". According to Piedayesh, instagram has revolutionized the fashion world and is an important source of inspiration and creativity to her. 3, 2, 1, smile!

www.lalaberlin.com
Fashion
Peuterey Studio Collection F/W 16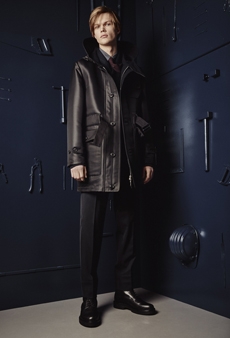 How to stand out from the crowd is an infinite question. It applies to almost every field of work, of entertainment, of culture. Nevertheless, with their latest collection, Peuterey took on exactly that question. In fact, they question a lot in the fashion business. Along with Federico Curradi's debut designs, the brand has released a movement of "realitytelling", as opposed to the ongoing frenzy that fashion can sometimes cause. The new Peuterey man is a thinker, a maker, a creator, who is not afraid to get his hands dirty to achieve his goals. Behind this lies a concept of truly deep thoughts – with the goal to highlight two main things: authenticity and purposefulness. Fashion, according to Peuterey, should not be fast, selfish and attention seeking, but should satisfy and be useful to the person wearing it, to let them be theirselves in the best possible way. Therefore, the new collection underlines a promising message of utility to its wearer: parkas and blousons are being rethought with new fabrics, overcoats and duffels have straps to be repurposed into rucksacks and blazers can be used in multiple ways. Patch pockets not only suggest real utility but work as accessories in more ways than one. Classic fabrics are intersected with double-faced, technical and diagonal wools, nylon and gabardine. The color palette comes across as somber, with 50ies inspired accents: charcoal, rust and military greens. If after all, this sounds way too utilitarian to you, don't despair. Purposefulness never meant going out of style. Authenticity never meant being unfashionable. For reference, have a look at Peuterey again.

www.peuterey.com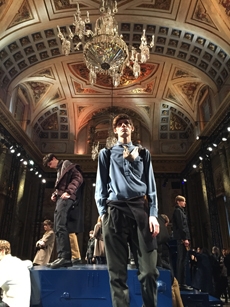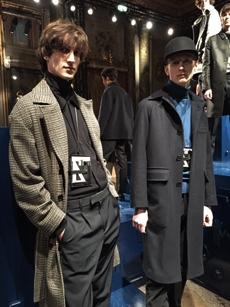 Fashion
JIL SANDER Men's Fall/Winter 2016
London Men's Fashion Week saw a lot of collections being devoted to the motives of protection, uniformity and military. In Milan, a few designers also presented their take on this theme, JIL SANDER being one of them. By itself, their F/W 16 collection is not a pure military reminiscence, but a metropolitan version of it. There are harnesses crossing the bust but also tailored jackets and capes. The protective effect is certainly shown with voluminous parkas edged in velvet, but bare arms under sleeveless vests also suggest vulnerability. There are ribbed jumpers with patched shoulders, but also city maps on silk shirts, blown into abstract proportion. For a both innovative and strict line like JIL SANDER, it would be too easy to go down the simple line of military inspiration. Even mixing it with urbanity would be insufficient. That's the twist of JIL SANDER: making simple clothing backed by complex inspiration. Nevertheless: if you wear it, you'll feel protected, but not shielded. You're still a metropolitan.

www.jilsander.com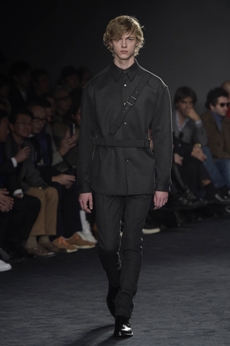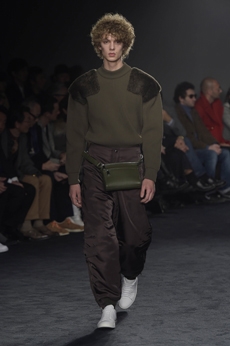 Fashion
Prada F/W 16 Show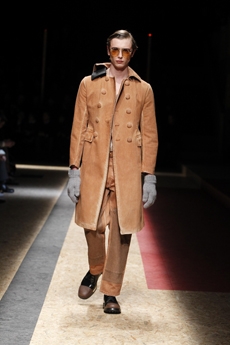 In Milan, the sails were set as Prada models left the backstage harbour and took to the catwalk clad in a broad variety of looks, which were almost all adorned with the nautical accessory of a sailor hat. For the rest of the collection though, Miuccia Prada and her team stayed onshore: a special dedication was made to the fabric prints, which were defined by a collaboration with Berlin-based artist Christophe Chemin. Chemin is a versatile artist and has devoted his work to multiple forms of art, ranging from installations, to novels, to pencil drawings. For Prada, he now exclusively created a selection of prints. Furthermore, the designs form a blend of remarkable outerwear and calmer garments created in earthy colors. Oval-shapes and enormous collars add complexity to this collection, with female models on the other hand also presenting bodyline designs that are teamed up with velvet heels for very feminine looks among the men's designs. Still, as the nautical reference fades within the looks, we can't help but notice that little head stealing the show. Sail, Prada!

www.prada.com
Fashion
Prada Women's Spring Summer 16 Campaign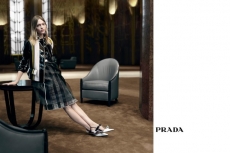 Just one week after the release of their latest menswear campaign, defined by vulnerability and relaxed attitudes, Prada has revealed the visuals for the matching womenswear campaign. Steven Meisel shot models Natalia Vodianova, Sasha Pivovarova and Yasmin Wijnaldum indoors in New York. With an equally relaxed attitude as their male counterparts, the three women define undone elegance and a toned-down femininity while still oozing sensuality. As far as that, the attitude is the only thing that comes across as relaxed in this campaign. For the garments, Prada experiments with layering decades of the past to refigure them into modernity. If all, one could define it as conservative eccentricity. The traditional mixed with the contemporary – a blend that has worked well for the Italian fashion house in the past. Nevertheless, they take on new steps with disoriented materials and subversive tailoring. One is uncertain if with Prada, we're in the past, the present or the future. Another look at the campaign will give you the answer: if anyone can transcend the measure of time, it's Prada.

www.prada.com
Fashion
Paul Smith LC:M 2016 Presentation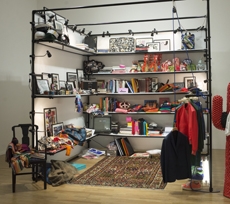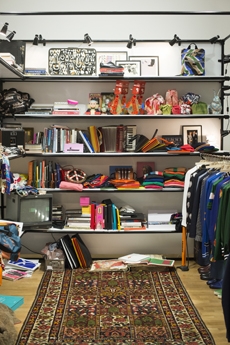 It appears as if these days, recollection is more present than the actual reality. A good handful of designers are going back to the roots, whether it's in time or geographically. Among these is British designer Paul Smith. After having just launched an exclusive T-Shirt collection with the late David Bowie, Smith released his F/W collection in surroundings that were reminiscent of the past. The designs were on display in a recreation of what was Smith's first shop, opened in 1970, measuring only nine square meters and being open only two days a week. From there, even though he is essentially British, Smith created his own form of what feels like the American dream: becoming a global fashion business. Fast forward to January 2016, visitors had to cram into nine square meters again to catch a glimpse at the new designs. Colorful bags, inspired by Argentine tango and leather goods inspired by a Mayfair façade recap the designer's roots in a tangible way. The little "shop" marked a fresh contrast to regular runway presentations and surely had not only Smith himself think of the old days. It's a shame that it was only a recreation – as we're sure these nine square meters would be quite successful today, too.

www.paulsmith.co.uk
Fashion
Craig Green Fall/Winter 2016 Collection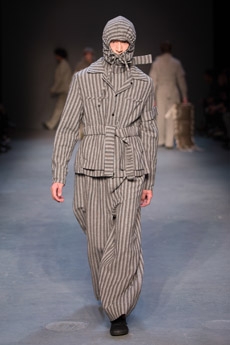 On the inside, we're different. Everyone hides dreams, belief or fears that they can't share with the world. It is a form of protection. With his latest Fall/Winter menswear collection, Craig Green takes care of exactly that. His latest designs characterize a gathering of introspective dreamers. The collection is also defined by the contrasting themes of restriction and release, for which Green has shown a continuous interest. As often, this also includes a contrast of both elegant and uncompromising. Green further investigates his love for uniform and the utilitarian, which can be seen in moss green looks and or striped combinations with both army and jail elements. With this collection, the designer also turns to long-lasting materials. A gentler quality is offered through careful aging and tarnishing techniques, providing the feel of long-serving garments. Memories are made, with clothes as both a shelter and armour. On the inside, we might be different, but with Craig Green on the outside, we are protected.

www.craig-green.com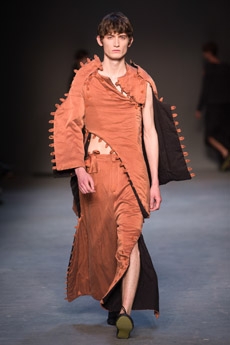 Fashion
COACH Men's Fall 2016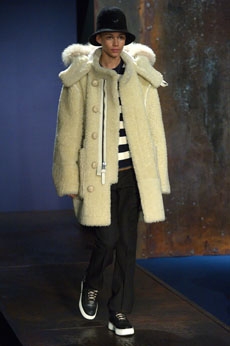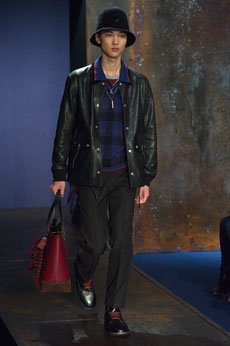 That's a wrap! The weekend has whizzed by and the presentations at London Collections: Men Fashion Week are already over. Once again, designers were ready to present their latest, exciting designs packed in a tight show schedule. Among these was New York brand COACH, who filled their catwalk with the impressive spirit of the American Dream – but also of everyday life. Finding the heroic in that - everyday life - was the collection's central intention. Thus the brand presented a curation of cult wardrobe pieces with details driven by the thought of utility. Nevertheless, Creative Director Stuart Vevers added a more fashionable twist by blowing up proportions to an almost cartoonish size. Furry coats, parkas and jackets come in an oversized shape to be paired with essential pleated trousers. The cherry on top comes in form of some ironic accessories: small dinosaurs front the bags, waving their claws at the admirer. COACH FW 16 is all about embracing the authenticity and character that comes from imperfection. Just like we experience everyday life. Well, maybe minus dinosaurs.

www.coach.com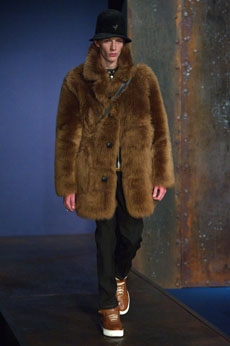 Fashion
Tiger Of Sweden Men's FW 16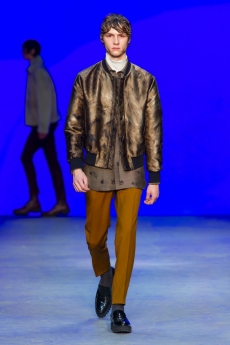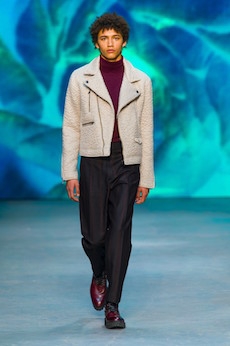 It's back to the roots for Tiger of Sweden. The brand has mentally retreated to their Swedish base for the FW 16 collection, presented last weekend at London Collections: Men. Supported by the sounds of Swedish band Wheeping Willows, Tiger of Sweden presented 35 multifaceted looks that were equally inspired by Swedish traditions and cold northern winters. The designers focused on the Dalarna region, which is equally as known for its botanic artwork which subsequently also became an inspiration for the collection. Continuing the process of adapting old traditions to modern looks, Swedish artist Jacob Krajcik exclusively reworked the colors of pressed flowers to create a modern folk design. Still, the collections color palette stays rather opaque. Black and grey dominate, with splashes of color coming in soft and seldom. However, the collection's heart piece is a pair of tuxedos: slim cut, single – and double-breasted and shimmering in a soft peach and apricot. Whether it's the unqiue culture, the special craftwork or just the warmth given in a cold winter – Tiger of Sweden has shown us that indeed, home is where the heart is.

www.tigerofsweden.com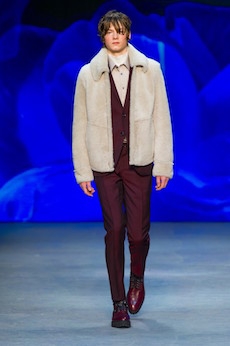 Fashion
Bottega Veneta: The Art of Collaboration SS16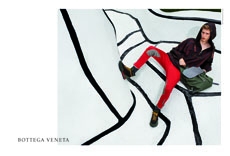 Bottega Veneta has taken us to quite the special exhibition space in their latest SS16 visuals. Consisting of a short film and photos, the campaign was shot by Dutch photographer Viviane Sassen in the sculpture gardens of the Kröller-Müller Museum in The Netherlands. Models Mica Arganaraz and Sven DeVries playfully wander about Jean Dubuffet's sculpture "Jardin d'émail", taking in the world around them. The showcased collection features colorful designs in both womens- and menswear. Shiny red tones and detailed prints define the designs for Her, while He stays casual with outdoor- and streetwear inspirations. These inspirations can also be traced in Sassen's photography. As a photographer, the artist prefers to shoot outside. For this campaign, she focused on contrast, color and texture. As a result, the models turn into performing sculptures, creating instant art in the sculpture garden. Sassen is not the first to shoot a campaign for Bottega's Art of Collaborations. It was instituted as a creative partnership between the brand's Creative Director Tomas Maier and renowned artists such as Nan Goldin, Peter Lindbergh and Juergen Teller. We'll be excited for the next one.

www.bottegaveneta.com
Fashion
Giorgio Armani Pre-Fall 2016 Collection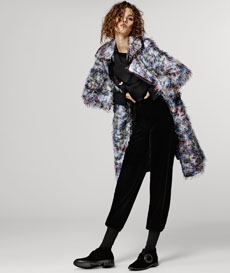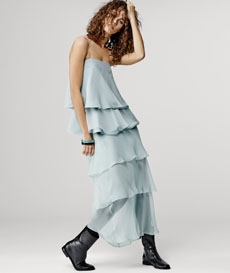 It's time for the next Pre-Fall revelation. Next in line is the Italian master of tailoring, Giorgio Armani. Titled "Bohemian Rhapsody", the new collection features everything from city chic to floral bohemian vibes. That's right, it's not all dreamy and mysterious: Armani stays right on track of time while referencing his own unique style with a cheeky wink. The Pre-Fall collection resembles the closet of a very stylish clique, with each member sporting her own, unique look. Very much the latest innovation comes in form of cut-just-above-the-ankle legwear, optionally also featured as cuffed pleated trousers. While certainly this supports a "city" vibe, floral dresses and fuzzy artistic coats bring the splash of bohemia. After all, variety is key. With this collection, Armani also keeps things quite casual – flowing valance dresses are combined with flat boots. If you opt for a more eye-catching look, check out the garments with shiny pinstripes. Finally, the collection is rounded up with the one fabric that should not be missing in a fall collection: elegant velvet. Now, without a doubt, we would love to have a look in that clique's closet, too.

www.armani.com/giorgioarmani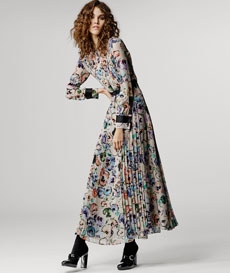 Photos: Courtesy of Giorgio Armani
Fashion
CHANEL'S City Western SS16 Campaign
To be honest, the fashion world is spinning so fast that sometimes, one has trouble to keep up. Think CHANEL. One minute, we're still reminiscing about their iconic airport show, the next we've already taken off! Destination: Wild West, but also the city. The latest SS16 campaign combines both: CHANEL's City Western. The French brand premiered the new RTW and accessories campaign with two mini feature films. In it, models Lineisy Montero and Mica Arganaraz take on the empty streets of Brooklyn, New York. Their favorite travel accessory: the "Coco case" cabin case. The main collection's visuals were shot by Karl Lagerfeld himself and feature ethereal and colorful silhouettes. Montero and Arganaraz wander about in eccentric print combinations, oozing sophistication and effortless coolness. Functional-but-chic accessories that range from the all-essential cabin case to floating silk scarves complete their look. The only thing missing? A stylish lasso, maybe. It's the Wild West, after all.

www.chanel.com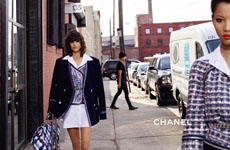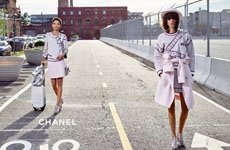 Copyright: CHANEL
Travel
Jaguar / Land Rover Opens New Boutique in Munich
Have you ever shopped a car like you shopped a pair of shoes? We didn't think so. The new Jaguar & Land Rover boutique in Munich, Germany, allows you to do so. Opening its doors just this week, the 250 square metre shop lets customers experience both boutiques and rides on a whole new level. Located on the Odeonsplatz in the pulsating Munich city centre, the location hosts varying vehicle exhibitions and provides the Jaguar and Land Rover merchandise. Customers are invited to dive further and further into the brand world of Jaguar & Land Rover. This world can also be experienced in a multimedia programme: like in a recipe, you can customize your car by picking the various equipment to your liking. All of this is completed by a vast program of events: Land Rover experience tours, the Jaguar Driving Academy as well as humanitary projects make the "car shopping" a lifestyle-plan on its own. And, if after all, you're not completely lost on the road, the Tea - & Coffe-Bar is there to invigorate an extensive shopping trip. Enjoy the ride!

www.jaguarlandrover.com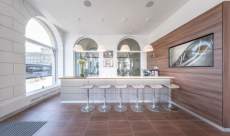 Fashion
Givenchy Launches SS 16 Campaign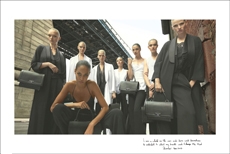 New York, I love you! This declaration has become the inspiration for Ricardo Tisci's latest Givenchy creation. The Spring/Summer 2016 campaign is his personal "Love card" to the city. Shot by Mert & Marcus in, of course, Manhattan, the campaign indeed focuses on love and our personal relationships. Following the three main messages Love, Gang and Family, the imagery features group photos of both new faces and Givenchy veterans. Clustered under the Manhattan sky, they present signature black & white looks with timeless elements such as lace and pinstripes. And, to reference love again, each picture is decorated with a handwritten quote by singer Anohni: "I am a child on the river and love waits downstream, a waterfall to steal my breath and change my mind". Ricardo, we love you, too.

www.givenchy.com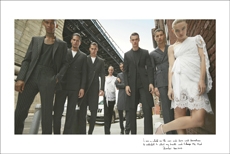 Fashion
Beth Ditto & Jean Paul Gaultier Introduce Fashion Line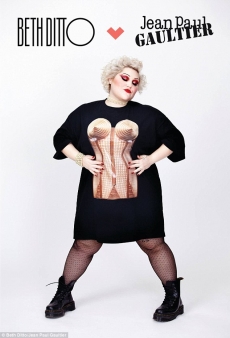 Courtesy of Beth Ditto/Jean Paul Gaultier
"I trust you", Gossip singer Beth Ditto yelled at us in the song "Heavy Cross" a few years back. Now, she has put her trust into the fashion scene. The American chanteuse and French fashion designer Jean Paul Gaultier have teamed up for the debut of Ditto's own plus size fashion line. The singer announced the collection on her instagram account, commenting that she was "psyched" to introduce the line with the designer collaboration. Alluding very much to an 80ies-Madonna-style, the first shirt to be released features a print of Gaultier's iconic corset on the front and back, adorned with actual laces to tie on the backside. With this step into the fashion world, the singer follows her path as a model in runway shows for Gaultier in 2011 and Marc Jacobs this year. It's safe to say that Beth, we trust you with this, too.

www.bethditto.com
Fashion
GUCCI Pre-Fall 2016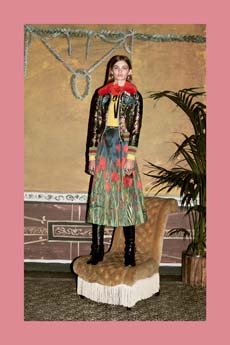 A dictionary is a pretty thick book, but there is only one word in it to describe GUCCI's latest Pre-Fall collection: eclectic. Under the lead of Creative Director Alessandro Michele, the brand presented a colorful, multifaceted collection that leaves almost no color, fabric or print untouched. Indeed, the list seems infinite: animals, flowers, landscapes, stripes, stars and even more– Michele has everything in store. Contrary to other fashion designers, who like to take their influences from just one decade or era, Michele adds everything to his boiling pot of inspiration. Just like in his last collections, vintage is claimed excessively– resulting in references from past centuries to the 1970s. This (again) eclectic mixture can only be adapted by few fashion brands - and GUCCI certainly is one of them. A dictionary might be a thick book, but with GUCCI, there's one word missing: boredom.

www.gucci.com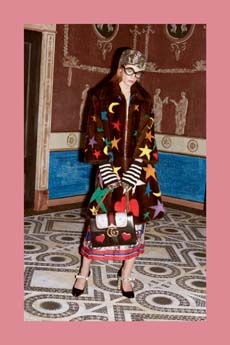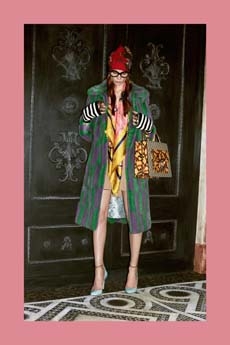 Fashion
Review: Fashion Film Festival in Paris
Last week marked the 8th edition of fashion icon Diane Pernet's festival "A Shaded View on Fashion Film". The diversified event, abridged "ASVOFF", was held for four days at Centre Pompidou in Paris and included a selection of 80 competitive short films. Guest of honor was fashion design legend Jean Paul Gaultier who was awarded a Carte Blanche and led the jury alongside Iris van Herpen, Colin McDowell and Nicolas Godin. Musical ensemble Chicks On Speed took the stage clad in colorful, sequined gowns for a powerful performance that sparked pleasure throughout the Centre. The festival featured again a variety of master class discussions, one focusing on film music with jury member Nicolas Godin and Nicolas Saada, who discussed their collaboration on the film "Taj Mahal." Another special session was dedicated to the history of the Woolmark label. With new talents, big names and a collection of exciting visuals, the festival once again deserves an everlasting round of applause. Can't wait for next year.

www.ashadedviewonfashionfilm.com
Art
Milan's Fondazione Prada Presents "Recto Verso" Exhibition
Organized by the Fondazione Prada Thought council, i.e. Shumon Basar, Elvira Dyangani Ose, Cédric Libert and Dieter Roelstraete, this exhibition involves the work from artists over two centuries. In an exploration opposing the Western art tradition of perceiving paintings as frontal ("recto") artifacts rather than back ("verso"), meaning that the front carries more cultural value, this collection of works reverse this system. For instance, Sarah Charlesworth uses double-exposure photography to emphasize the presented object's structural properties, whereas Pierre Toby uses glass as his canvas to reveal the back of the painting. Other works in the exhibition incorporate the "trompe-l'œil" technique, bringing focus to the frame rather than the image, whilst Pierre Buraglio and Daniel Dezeuze skip the entire picture plane and leave only support material. Other works in the gallery continue with these themes of reverse and reveal.

"Recto Verso" is on exhibition in the Fondazione Prada Nord Gallery, Milan, from December 3, 2015, to February 14, 2016.

fondazioneprada.org
Fashion
UNAIDS' ProTESTHIV Turns One Tomorrow with an Exclusive Collection of Tees
Since its launch last year, the UNAIDS campaigners behind ProTESTHIV, have pledged to raise awareness of HIV testing on a global scale, in the hope of ultimately eradicating the deadly virus by 2030.

In marking World AIDS Day tomorrow (December 1) and as part of this campaign, a collection of five unique T-shirts will be released on sale. The contemporary artists FUTURA, André, Dustin Yellin, Scott Campbell and Aersoyn-Lex have exclusively designed the tops, visually tackling an internationally unavoidable subject. 

ZOO has the exclusivity to give away a selection of tees. What to do? Be creative with one of our current covers and send your creation to info@zoomagazine.com, or easily purchase the extremely limited edition collection in the concept stores Goodhood (London), STORM (Copenhagen), Colette (Paris), 290 Square Meters (Amsterdam) and Soto (Berlin), with all proceeds going to UNAIDS…At 50€ per tee that must be the definition of money well spent. 

www.unaids.org
Fashion
All for a Good Cause
In support of the rainforest charity, Cool Earth, this winter sees Dame Vivienne Westwood and Andreas Kronthaler team up with British restaurant Aqua Shard to design and create a magnificent 18-foot Christmas Tree. Decorated with beautiful festive beading that has been crafted by a women's cooperative in the Awajún community, it will be adorned also with vibrant garlands of "tuju" and "huayruro" seeds to symbolise good fortune and abundance. Emphasizing the significance of protecting the rainforest, the sustainably sourced tree will then be covered in an ethereal cocoon of lace and stand in front of a beautiful London skyline backdrop.

Accompanying this extravagant creation, Aqua Shard will be selling limited edition, uniquely wrapped chocolate made from the cacao gathered by Peru's Asháninka communities, an extra-special chocolate desert and an exclusive Johnnie Walker Blue Label cocktail. This is all to raise money for Cool Earth, the charity whose award-winning model is so efficient, that in working with local indigenous communities they now have more rainforest under their protection than any other NGO or government.

To purchase a Vivienne Westwood x Cool Earth chocolate bar, please visit www.aquashardblog.co.uk/viviennewestwood
Art
Paris Photo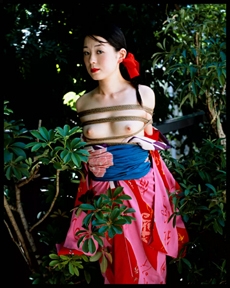 Beginning today is the 19th edition of the exceptional photography fair, Paris Photo. Held in the Grand Palais it brings together 147 prestigious, international galleries in a celebration of the photographic medium. Curated by the official partners of Paris Photo, several intriguing exhibitions will highlight the world's most impressive photography projects, from already established artists and exciting emerging talent. Alongside these will be the conversational "Platform", the "Private Collection" exhibition welcoming Italian collector Enea Righi, whilst the 4th edition of the Photobook Awards will acknowledge 3 projects out of 1000 submissions!
New to this year's fair is "PRISMES", an exhibition supported by Giorgio Armani, which promotes out of the ordinary series from photographers such as Daido Moryama, Paul Graham and Stephan Schenk. Not only this, but the novel "BOOK MACHINE" will run – an initiative bringing together the newest photographic talent with public participants through the creation of books…whether you are an expert, an enthusiast, a collector or just a passer by, Paris Photo is worth exploring.
The Paris Photo fair is held at the Grand Palais, Paris, from November 12-15, 2015.

www.parisphoto.com
Fashion
#GucciGram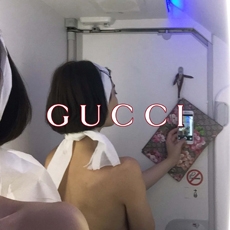 Today at Gucci sees creative director Alessandro Michele lead the way in celebrating the "short circuit" of cultural references, in particular the one regarding traditional heritage versus contemporary developments. Perfectly representative of this is the fashion house's new prints, Gucci Blooms and Gucci Caleido, as they feature a novel floral/geometric motif that is placed over the signature GG design.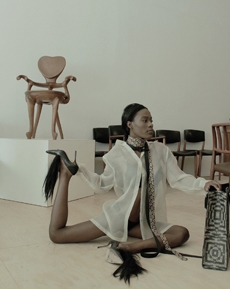 In further exploring the evolution of the iconic Gucci pattern, the label has launched #GucciGram, an online project inviting international image-makers and illustrators to contribute original artworks incoporating the Gucci Blooms and Gucci Caleido motifs. The result of this is a Pop-cultural explosion of different ideas, opinions, messages and mediums offered up by both established names, such as Kalen Hollomon and Noah Kalina, as well as freshly emerging talent such as Chris Rellas. These intriguing, and often amusing, artworks will feature on Gucci's social media channels and the site listed below. 

gucci.com/guccigram
Music
Grimes Releases New Video from forthcoming "Art Angels"
Blood drenched, purple wigged, Renaissance dressed Grimes has just let loose her self-directed video for "Flesh Without Blood"/ "Life in the Vivid Dream". This is taken from her forthcoming album, "Art Angels", which will be available digitally from November 4 on 4AD. A fully solo venture, as all of Grimes' previous albums, she plays piano, guitar and even violin throughout the album. Impressed? It gets better, as this record also contains the largest amount of live instrumentation than any of her earlier ones, as well as including collaborations with Janelle Monáe and fresh-faced newcomer, Taiwanese rapper Aristophanes. 
With her European headline tour kicking off next Spring in Brixton, London, you even have enough time to learn all the lyrics. Get excited!

www.grimesmusic.com
Art
Absolut Art
Since Absolut Vodka became active within the art world over thirty years ago, the liquor giant has collaborated with more than 600 artists and worked on around 900 commissioned works worldwide. 2014 saw the brand extend to create the currently Stockholm-based Absolut Art – an online platform dedicated to establishing the value of art in everyday life to be as important as music. In banishing the intimidating confines of museum walls, the site opens up the world of art collecting to the public and bridges the gap between artist and appreciator.
In perfect timing for Christmas, Absolut Art are launching Germany's own version of the site with expertly and locally curated artworks from over 40 selected German artists, such as Gregor Hildebrandt, Paul McDevitt and Stef Heidhues. With the site constantly updating, there are artworks of all types to be discovered on the coming website and added to your office or home.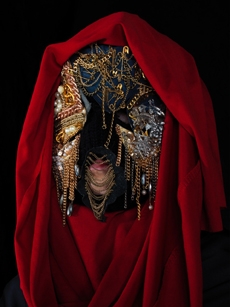 November, 2015, sees the launch of the Absolut Art German website along with the "Absolute Art Apartment popup Experience", a series of accompanying events held in Berlin, which are yet to be announced.

www.absolutart.com
Art
Official Paris Photo Partner, Giorgio Armani presents ACQUA#6
As part of this year's Paris Photo, to which Giorgio Armani became an official partner back in 2011, the designer will be presenting the sixth installment of his "ACQUA" exhibitions. It seems that the earthly element has provided him with a constant source of inspiration and not only for his fashion expedites but for his civic duty as well. Armani began the "Acqua for Life" project with the Green Cross International several years ago, which has since provided millions of liters of drinking water to communities in need, primarily in Ghana and Bolivia.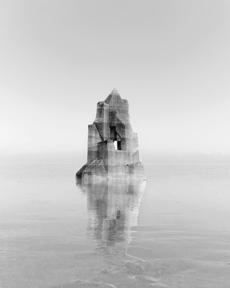 Now, amidst 140 exhibiting galleries hosted at the Grand Palais, all offering historical and contemporary photographic artworks, is ACQUA#6 "Reflecting on Water". The annual exhibition sees various photographic conceptualizations of "water" from young and emerging artists, as chosen by Armani. This year, Lucien Clergue and Lee Friedlander are among those participating, whilst Noémie Goudal's "Observatoire X" provides its official photo.
ACQUA#6 will be on display on the first floor of the Salon d'Honneur, at the Grand Palais, Paris, from 12 to 15 November, 2015.

www.parisphoto.com

www.armani.com
Fashion
Fred Perry x Stüssy 35
In commemoration of their 35th Anniversary, Stüssy are collaborating with a number of fellow lifestyle brands whose vision have inspired them along their journey. One of which, being the massively influential British heritage brand, who in the 1950s, pioneered sportswear as streetwear and thus created an entirely new youth culture. This brand is of course, Fred Perry.
This celebratory collection sees the union of two trademark giants, and with that, two iconic logos. Classic, retro sportswear looks from the Fred Perry Sports Authentic line are reimagined in rich Mahogany and French Navy, emblazoned with the Stüssy signature and Fred Perry wreath. Joining these in the collection are two, paneled pique shirts as well as three strap-back caps.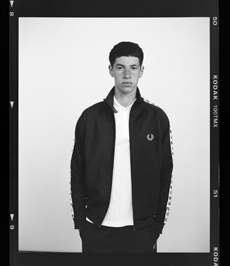 The Fred Perry x Stüssy Collection is now available to purchase online at www.fredperry.com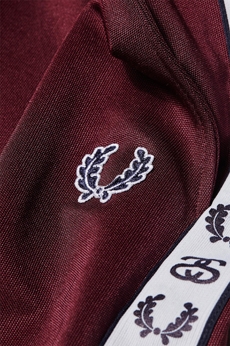 Art
Bryan Adams: Exposed
Musician, photographer and founder of ZOO Magazine, Bryan Adams is nothing if not a multitasker. Self-taught, Adams' photographic material has earned him several distinctions, including two of the German LeadAwards. Primarily focusing on fashion and portraits of celebrities, his work captures the energy and personality of each subject, who have included the likes of Amy Winehouse, Mick Jagger and even Queen Elizabeth II (which, for any collectors out there, actually made it's way onto Canadian stamps).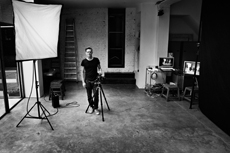 His first book of photos entitled "Exposed" is now celebrated in exhibition form, welcoming visitors to see first hand his most remarkable images, in a comprehensive retrospect. The exhibition will run until November 28, 2015, at the Young Gallery, Brussels.

www.younggalleryphoto.com
Fashion
Miu Miu Spring/Summer 2016 Collection at PFW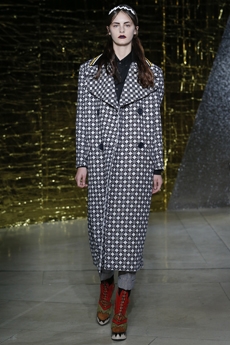 Prada's mischievous little sister has returned this season with a spring in her fabulously decorated step. Incredible zig zig patterned lace-up boots were executed in vivid hues whilst satin ballet pumps were a mish mash of hard and soft tones, adorned with harsh leather straps and delicate charms.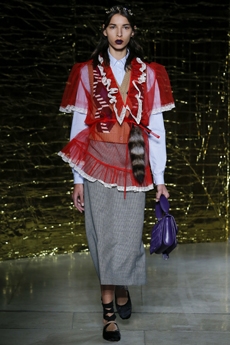 Solemn plaid checks and tweeds were layered under huge raccoon sashes and sheer shirts and frilled dresses. There were mismatched colors and patterns and jeweled feathered headbands carelessly slung around models necks…Miuccia Prada may have received a devastating loss in her personal life over the past few months, but the playful Miu Miu spirit was out in full force. Amazing.

www.miumiu.com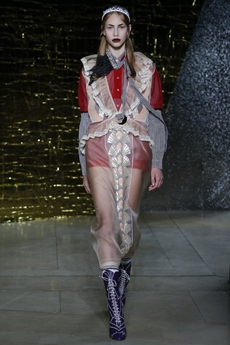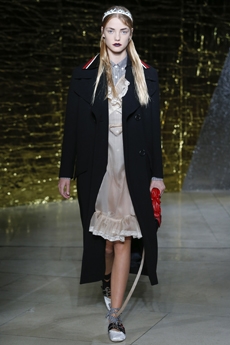 Fashion
Alexander McQueen Spring/Summer 2016 Collection at PFW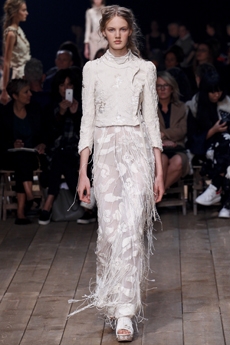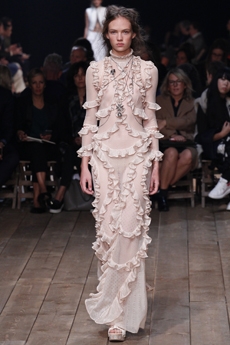 It seems as if Sarah Burton has relaxed somewhat in the current season at Alexander McQueen. The intimate collection showed Burton to get familiar with McQueen's ancestral roots, in drawing her inspiration from the 17th-century Spitalfields silk weavers, who settled in the East End of London after fleeing religious persecution in France.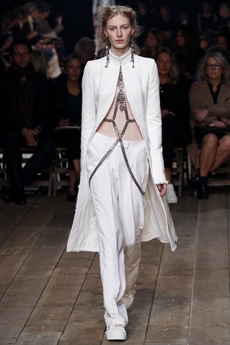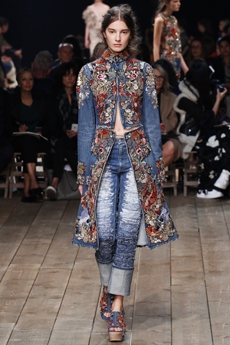 An elegant assortment of lace and ruffles formed a long, slim silhouette on models, who wore chandelier earrings with their hair loosely pinned back. Dramatic chained body jewelry added a stab of McQueen grit to the gracefully feminine collection.

www.alexandermcqueen.com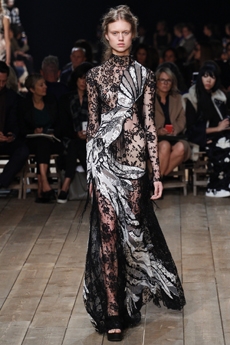 Fashion
Valentino Spring/Summer 2016 Collection at PFW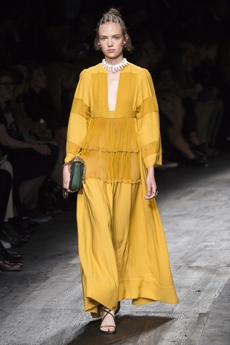 There is a powerful message behind the latest Valentino Collection from Maria Grazia Chiuri and Pierpaolo Piccioli. Their inarguably beautiful collection of bold prints and delicate patterns presents a fusion of cultures between Italy and Africa.
Braided hair, ethnic inspired jewelry and a palette of strong, vibrant colors appear in conjunction with ruched dresses, studded detailing and leather patchwork reminiscent of the Roman Empire.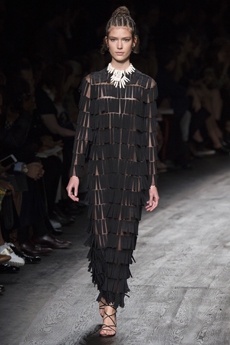 No doubt people will question the ethical appropriation of the show… However, with the ongoing refugee crisis we hope that people will take something positive away from it and see the beauty of cross-culture, as Chiuri and Piccioli intended.

www.valentino.com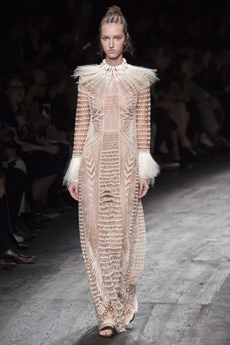 Fashion
Christian Dior Spring/Summer 2016 Collection at PFW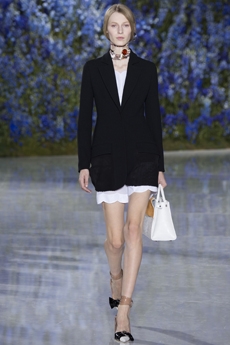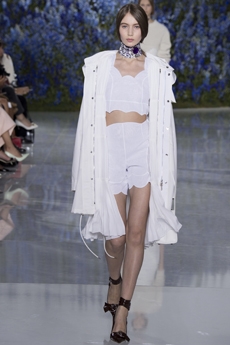 The film "Picnic at Hanging Rock" has provided Raf Simons with a great source of inspiration with this collection for Christian Dior. The ultra feminine line, pleasing to dedicated Dior fans everywhere, was packed with white Victorian-style ruffles, shapes and necklines.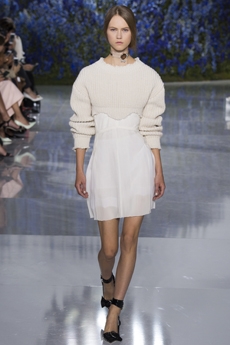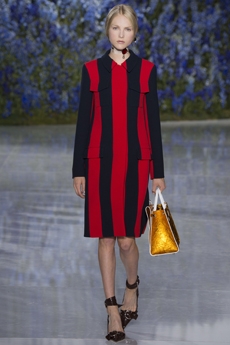 With neckscarves and brooches reading with "1947", Simons has once again got nostalgic for the monumental New Look collection of that year and incorporated relaxed interpretations of classic, rigid lines into this collection. Adding a splash of contemporary androgyny Simons throws in some chunky knitwear and tailored suits.

www.dior.com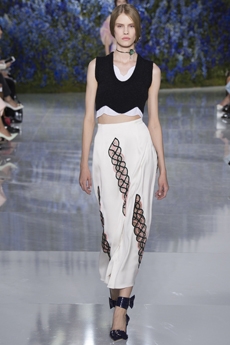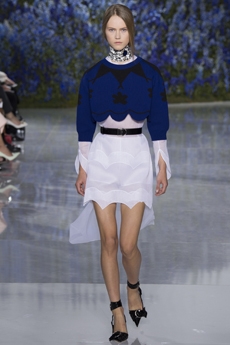 Fashion
Lanvin Spring/Summer 2016 Collection at PFW
Putting the pizzazz back in fashion, Alber Elbaz staged his latest collection for the label in front of a theatre setting. The show began with the Lanvin woman's day wear, or some sleek reworks of tailored suits, before suddenly turning to what really matters to Elbaz; cocktail dresses and evening wear.
On came a parade of asymmetric gowns amidst a sequined snowball effect with numerous ruffles and satin bows. Next was a dramatic progression to bold Lanvin prints, lace edging, corsages and raincoats.
Overall this collection oozes the eclectic, 1930s glamour we have seen traces of in Paris Fashion week so far. What makes this one stand out is the elaborate playfulness of Elbaz, who is clearly just out for an absolutely fabulous time.

www.lanvin.com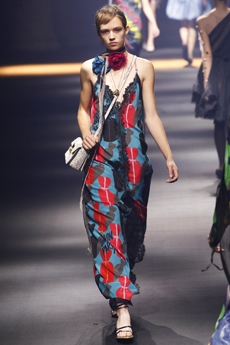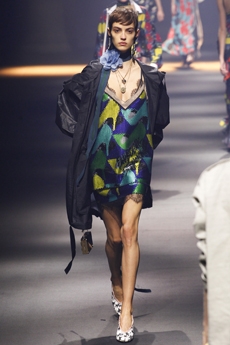 Travel
Studio Chérie, Berlin
One of the city's favorite shooting locations, the Chérie Studios are two professional rental studios for photography and events located in Berlin Neuköln, or the city's prime art district.
Formerly a confectionary factory, the two industrial lofts offer a unique charm and atmosphere to their 350msq of creative space, with studio 1 including a 6x6m double infinity curve (cyclorama). Chérie Studios also provide their clients with a full production service that involves photography, set styling and catering.

www.studiocherie.net
Art
Gagosian Gallery presents Urs Fischer: Fountains
Artist Urs Fischer (b.1973) is in constant search of sculptural solution, envisaging and producing objects undergoing psychic transformation in an extraordinary number of materials, whilst injecting his own, sardonic sense of humor into his works.
The current collection is based around functional fountains, or "active sculptures", transforms galleries into humid and animated places. After being built from hand-made clay models, lumpen fountains are cast in bronze, with one taking the formation of a flowing garden hose pipe draped over a human skeleton, which is arched across a chair… Needless to say, this is an example of Fischer's lexicon of darkly humorous "vanitas".
Obscure paintings surround the fountains inside the galleries, with a dramatically abstracted photographic image of Fischer's own face as each one's background. These images contrast representational systems with different cosmic orders.
Urs Fischer: Fountains will exhibit at the Gagosian Gallery, Los Angeles, until October 17, 2015.

www.gagosian.com
Fashion
Sergio Rossi Spring/Summer 2016 Collection
Consolidating the label's partnership with Bianca Brandolini d'Adda, Angelo Ruggeri has named her as a main source of inspiration for his current, Bohemian chic Sergio Rossi collection.
In having a vintage moment with the Italian footwear brand, classic 1970s clogs are reworked into wedges that display intricate patterns contrasting the rich appearances of wood and cork. Ruggeri contrasts these chunky shapes with delicate stilettos and flats, whilst also creating a stylistic juxtaposition between day and night; eccentricity and minimalism. The line, exuding Summer and optimism, is realized in a mainly neutral palette with a multicolor camouflage effect adding excitement. With the adoption of strings, embroidered thread and crochet patterns in the unique designs, we are left with a beautiful collection embodying creativity and femininity.

www.sergiorossi.com
Fashion
Versace Spring/Summer 2016 Collection at MFW
Refuting the retro looks we are seeing all over Milan at the moment, Donatella Versace is making a stand for her name and bringing back sexy into the world of fashion.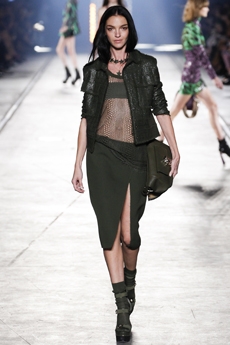 Her beautifully tailored army jackets and waistcoats that cinch into the waist with a Versace crested belt are teamed with chunky platform sandals and pulled up khaki socks to ooze sex appeal and her feeling of the moment; female empowerment.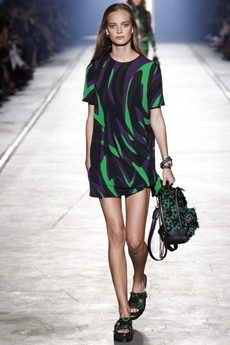 Then come the snakeskin effect fabrics, the camo-meets-animal print, the sheer shirts and slit skirts. Donatella is defiant in her vision of Versace… And it proves to be iconic.

www.versace.com
Fashion
Jil Sander Spring/Summer 2016 Collection at MFW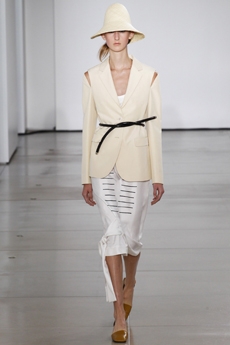 In his third season at the label, Rodolfo Paglialunga has reworked the classic Jil Sander principles. Blazers are slashed, a coat deconstructed to embody an overlaying dress with the signature shirt cut and twisted into a new contemporary idea.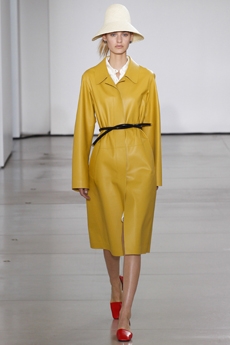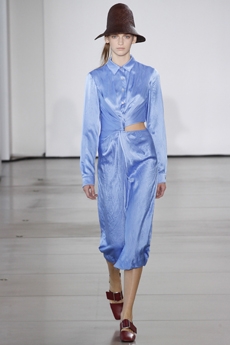 There is the odd flash of color, an asymmetric neckline and a vacant shoulder strap, with a buckle motif cropping up above the footwear and unexpectedly on silk dresses at the end of the show. The collection is undoubtedly minimalistic, as all Jil Sander should be.

www.jilsander.com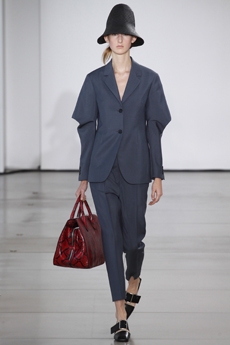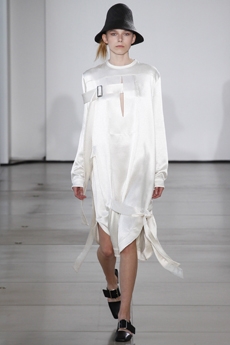 Fashion
Moschino Spring/Summer 2016 Collection at MFW
With a construction site as the backdrop, an actual car wash that sprayed bubbles and a road-runway, no prizes for guessing the whacky theme of the current season with Jeremy Scott, "carwash couture".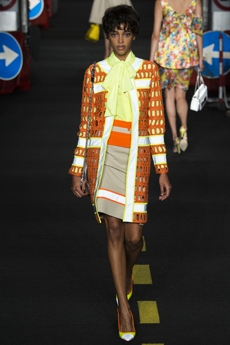 Models were walking puns in safety-cone colors and equally outlandish roadwork themed accessories. In referencing a Chanel skirt suit in neon safety tape, the collection proved to be undeniably smart thinking… And as the show went on the looks got bigger. One was literally a ball of feathers with a model somewhere beneath (this being the "carwash" part).
The only cautionary part to this tale however is the rampage of Scott-fans that will ensue when this collection hits the shops… It seems the hard-hats are necessary after all.

www.moschino.com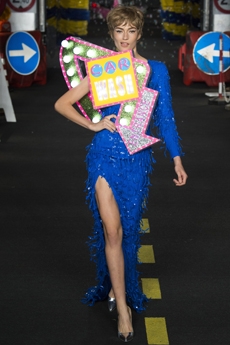 Fashion
N°21 Spring/Summer 2016 Collection at MFW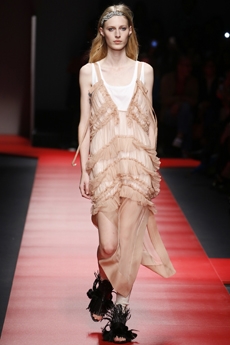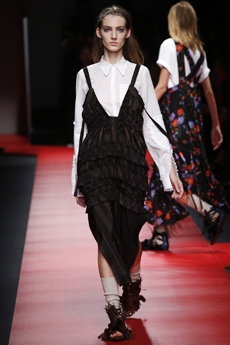 With this collection, Alessandro Dell'Acqua claims inspiration from 1920s Italian photographer/actress Tina Modotti and Corinne Day, a.k.a. the photographer responsible for some of the most iconic photos of the nineties.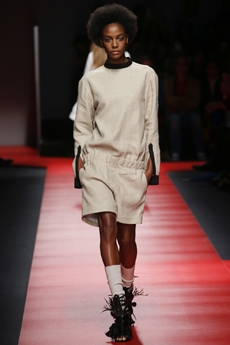 An eighty-year gap means that the current N°21 line sees an avid mix of glamour and grunge. Models wearing jeweled headbands and ruffled chiffon are also wearing plain vests or t-shirts. Feathered slippers are worn over pulled-up socks. Florals, lace and python leather appear amongst deconstructed garments, shirts and dungarees… Dell'Acqua has created a clever mix of old and new and masculine and feminine with the current line of N°21.

www.numeroventuno.com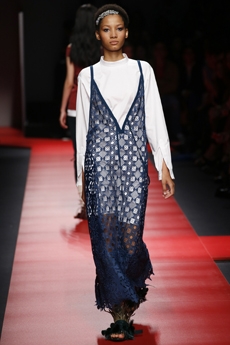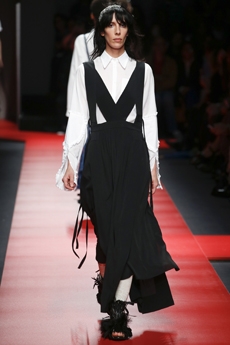 Fashion
Thomas Tait Spring/Summer 2016 Collection at LFW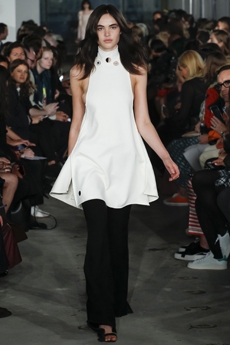 At a first glance, the label's latest collection seems somewhat odd. Look again and you cannot miss the relentless repetition of a spherical cutout motif, giving the collection many facets.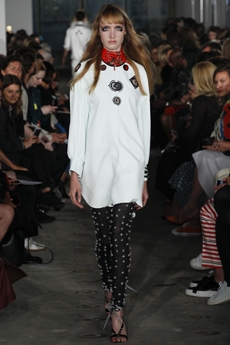 At times it is tribal, at other times, with the incorporation of A-Line dresses and flares, it is reminiscent of the retro sixties and seventies. In manipulating it into a geometrical pattern on jackets, it seems inspired by industrial design.
His choice of positioning the "peephole" motif in almost every location on the clothes creates a sense of what Tait deems "awkward intimacy". Put all of these different perspectives of influence together and you are left with one unstoppable force of contemporary design.

www.thomastait.com
Fashion
Vivienne Westwood Red Label Spring/Summer Collection 2016 at LFW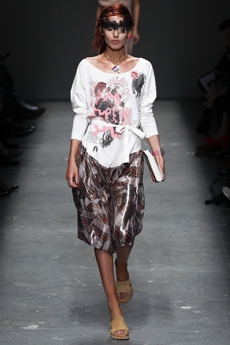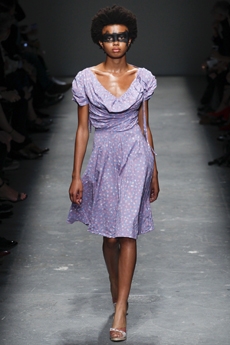 Florals, midi skirts and the ruched dresses we know so well, Dame Vivienne Westwood has once again taken the conservative and stamped her bold print all over it. With dramatically smudged make up and face paint, one model carries a book with her down her walk in translucent sliders. Others are in perfectly prim dresses whilst wearing a harness over the top.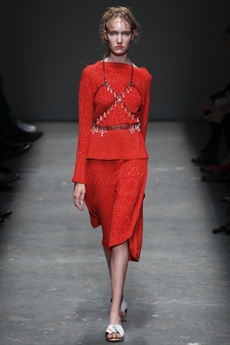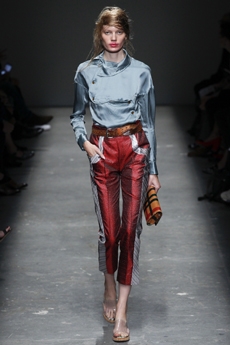 With a splash of tartan and the odd carbon-footprint-awareness top, Dame Vivienne Westwood sticks to her guns and creates another classic collection for the Red Label.

www.viviennewestwood.com
Fashion
MCQ Alexander McQueen Spring/Summer 2016 Collection at LFW
Rather than have a catwalk show this year at LFW, the label who pride themselves on supporting new creative talent have chosen to show a presentation of their current collection, through the eyes of three young emerging artists. Lea Colombo, Jack Davison and Sharna Osborne reimagined the line using character studies, detail shots and a sequence of short films.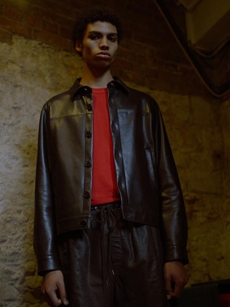 The collection itself takes inspiration from a Post-Punk "No Wave" New York scene during the late seventies and early eighties. Refuting the mainstream sound at that time, this movement reflected strength and rebellion – perfect for MCQ Alexander McQueen.
The presentation was shown digitally on social channels and mcq.com and was set in Spitalfield's Christ Church, the building that also provided the location for the legendary Alexander McQueen Fall/Winter 1996 Dante show.

www.mcq.com
Fashion
Loewe's Sneak Preview of Latest Campaign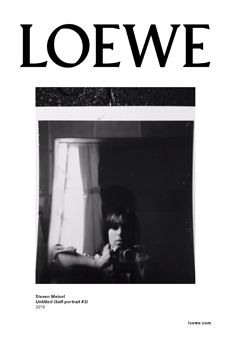 To the delight of East Londeners, last Thursday saw LOEWE reveal a preview to their upcoming campaign on a digital billboard in Shoreditch, London. Coinciding with London Fashion Week, the preview confirms an ongoing collaboration between photographer Rudi Meisel and the fashion label.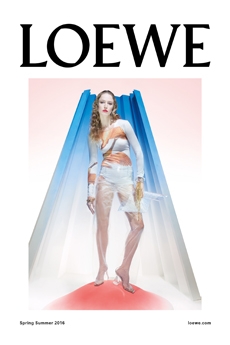 One image presents Raquel Zimmerman in a Mount-Fuji style shot. With Benjamin Bruno as stylist, the image shows her in a contemporary, transparent look. Other images involve Meisel's original self-portrait series and the brand's popular Puzzle bag.

www.loewe.com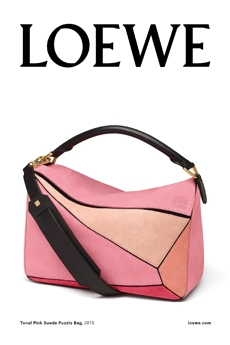 Fashion
Lacoste Spring/Summer 2016 Collection at NYFW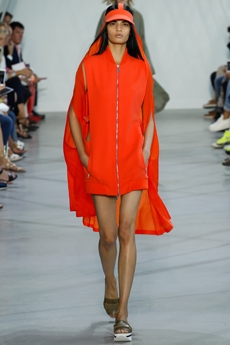 With not one croc logo in sight, Portugese designer Felipe Oliveira Baptista continues to shake things up at Lacoste.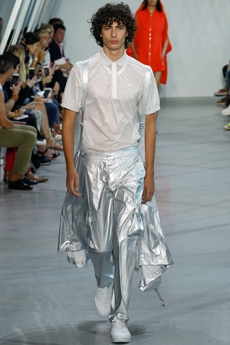 Beginning the show with a proud French palette of red, navy and white, Baptista goes on to include Olympian colored flags and refer to flags of other nations'. The message could not be clearer – Baptista is all about spreading the love; uniting the nations.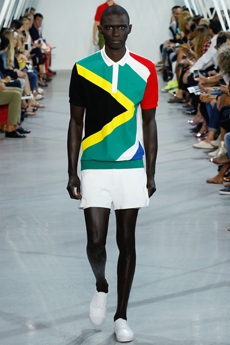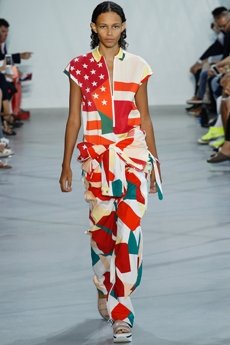 With founder René Lacoste as a tennis champ himself, Baptiste does not forget the origins of the label… Sliders, tracksuits and polo necks, Lacoste remains today as the ultimate sports-meet-leisure wear.

www.lacoste.com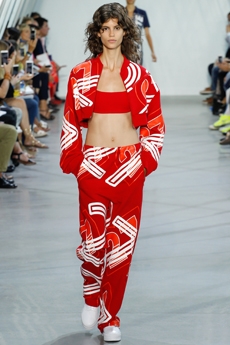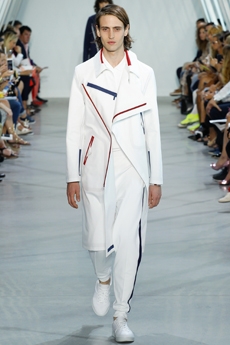 Fashion
Nicopanda Spring/Summer 2016 Collection at NYFW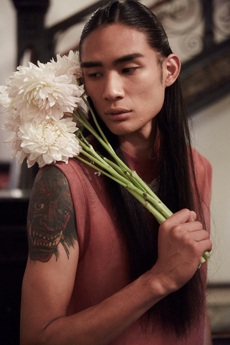 With so many different things going on, Nicola Formichetti has created his own world with the theatrical SS16 presentation of Nicopanda.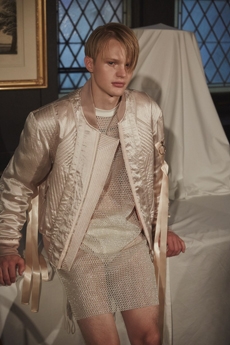 There are glitter-faced ballerinas from a childlike fantasy, underwear clad guys holding bouquets of flowers, not to mention the sheer amount of black PVC adding more than a splash of dominatrix…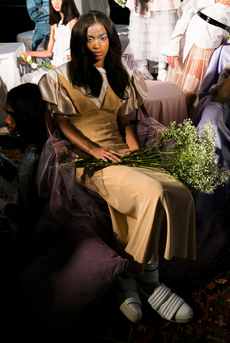 This wonderfully bizarre, sports-inspired collection sees the continued diffusion and interpretation of a harajuku influence we saw two seasons ago at Nicopanda, with contemporary, tubed sneakers and baroque style embellishments.

nicopanda.com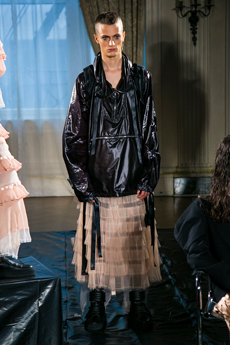 Fashion
Signature Scent
Madame Tussauds may as well give up now, as the candle replica of Karl Lagerfeld is quite brilliant. His iconic look of dark shades, signature white collar and black top button is perfectly captured in this amusing homeware delight… Perfect if you feel you need a little Karl in your life/cupboard.

Co-designed by John-Paul Welton, the scent itself is naturally inspired by all things Karl. Delicately spiced mandarin surrounds the top notes of cinnamon, whilst it's center includes soft jasmine and orange blossom fused with cardamom, nutmeg and tobacco. Cedar and teak wood, musk and amber finish up at the base of the luxuriously elegant scent, ultimately embodying his very character.

"Candle Karl" has found itself on shelves in limited edition at the Maison and Objet Paris and is available to preorder in store at Karl Lagerfeld.

www.karl.com
www.weltonlondon.com
Fashion
Acne Studios Embrace Change with Fall/Winter 2015 Campaign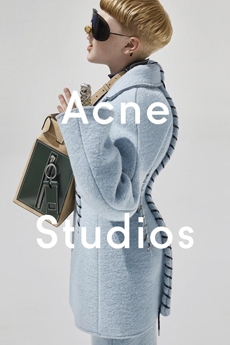 Adopting fashion's recent shift away from gender distinctive clothing toward current trends of gender blurring and androgyny, Acne Studios' Creative Director Jonny Johansson has featured his 11-year-old son Frasse in the label's Fall/Winter 2015 campaign. Shot by Viviane Sassen, the ad sees the preteen football fanatic tottering about in heels and a number of coats from the new womenswear collection – looking unnervingly cool whilst doing so.

In a recent statement, Jonny Johansson said "I've seen this new generation's attitude to fashion where the cut, the shape and the character of the garment is the crucial thing, rather than seeking approval from society or to follow set norms." The outdoor ad will appear in major cities New York, London, Paris and Hong Kong.

www.acnestudios.com
Music
Dez Mona's "Origin" gets in Touch with their Emotional Side
August 28, 2015, saw the bearded Belgian band Dez Mona release their long-awaited new album "Origin" with Caroline Benelux records. Steering away from the Rock tones of previous album, "A Gentleman's Agreement", Nicolas Rombouts' bass guides listeners back to the band's more traditional, musical roots of Jazz and gospel with Gregory Frateur's flawless voice and accompanying double bass, accordion drums and guitars all swiftly in tow. The raw emotion of lyrics is unescapable, whilst the pulsating bassline of first single and album opener "Does it make you, happy?" captivates and thrills. The band also go on tour with the album, starting in October.

Dez Mona "Origins" album is available to purchase from record stores in Belgium and the Netherlands and is also available online from their website.

www.dezmona.com
Fashion
PARIS XVIE: A Short Film for Dior Homme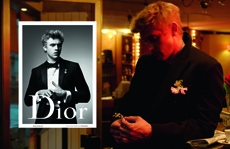 Yesterday saw Dior Homme unveil its latest collaboration between artistic director Kris Van Assche and photographer Willy Vanderperre. "PARIS XVIE" is a short film exploring what it means to be this season's Dior man, with actor Boyd Holbrook guiding us through a day in Paris.

Wearing a tuxedo whilst exploring the depth of Paris' urban landscape, Holbrook is charmingly confident. Playing a harmonica as he wanders through the streets and picking up flowers as small souvenirs, his pensive expression draws a certain curiosity about him. Toward the end of the film, as a nod to the stylized, cinematic screens of Hollywood, we see him dance around the room and walk under the lights of Paris at nightfall… A clever mix of old and new, this season's Dior man must be witty, romantic and self-deprecating. PARIS XVIE is online now and accompanied by a still image campaign.

www.dior.com/parisxvie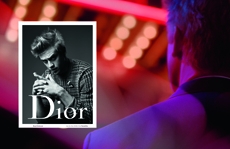 Fashion
Theory Unveil Latest Campaign with David Sims
Theory reunites with photographer David Sims in launching their AW 2015 campaign. Natalia Vodianova and Clement Chabernaud also return in promoting the brands' new collection in a variety of chunky knits and woolen suits.

The New York based label have once again avoided cluttering their minimalistic, modern image and opted out of following the current trends. Since being appointed as co-creative directors of the fashion brand last season, Lisa Kulson and Ben Stubbington have stripped back Theorys' image. Simplistic looks in luxurious, soft fabrics, the fashion brand has evolved to produce unique pieces that are simultaneously easy to wear, wardrobe staples. With their new image, Theory is all about transforming the ordinary into the unordinary. They have created a contemporary, urban uniform, with their reinvention of everyday, work attire.

www.theory.com
Art
MACE Announces Summer Collab with LOEWE for John Allen Collection
In collaboration with British artist John Allen, LOEWEs' creative director J.W. Anderson recently released a quirky line of bags for the brand, featuring the striking landscape prints that Allen is famous for.

This original collection of canvas bags, featuring the pieces "Falling Leaves", "Cornish Harbour" and Pink House in Cumbria", have proven to be hugely successful for LOEWE and showcase Allens' unique style of creating beautiful, abstract scenes using dramatic colours.

Continuing this celebration of fashion, art and culture, LOEWE have agreed to join with the Association of Friends of the Museum of Contemporary Arts in Ibiza (MACE) in opening a Summer Shop in the museum. This will be open from 28 July – 6 September at MACE, located in the Dalt Vila, or IBIZAs' historic region, and feature LOEWEs' extraordinary John Allen collection.

www.eivissa.es/mace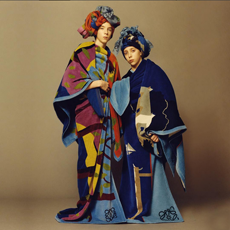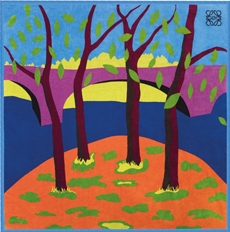 Fashion
Hogan Celebrates The Opening of Their New Boutique in Munich
The second Hogan Boutique in Germany follows their boutique in Dusseldorf as a unique two-storey flagship store, combining modern elegance and sophisticated creativity. Hogan was founded in 1986, and is part of the TOD's luxury goods group, and has been at the forefront of casual luxury ever since. The Hogan look is dominated by an urban effortlessness; simple, elegant and refined yet relaxed. Hand made from high quality materials, each Hogan garment is a timeless wardrobe staple. Hogan welcomes you to the new Munich boutique with their Fall/Winter 2015/16 collection. www.hogan.com
Fashion
Lily-Rose Depp for CHANEL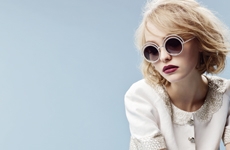 Following in the footsteps of her mother Vanessa Paradis, Lily-Rose Depp has been made the new CHANEL ambassador and the face of its Pearl eyewear collection. The embodiment of youth, modernity and femininity, the young actress plays a baby doll surrounded by a lofty world of sweetness and style. Her appearance at the Haute Couture show signalled the start of Ms. Depp's journey as CHANEL's fashion darling. Discover the Pear eyewear collection campaign shot by Karl Lagerfeld in September 2015.

www.chanel.com
Fashion
Rihanna x Stance: Murder Rih Wrote
Stance has announced that Rihanna is joining the unique sock brand as its contributing Creative Director and named a Punk & Poet brand ambassador. In celebration of this new venture, Stance has released two limited edition styles called Murder Rih Wrote, one in an over-the-knee style and one as a crew sock. Each set is a true collector's piece, with only 1500 sets produced. Rihanna's complete Stance sock collection will be unveiled this coming fall, a collaboration that epitomizes the rule-breaking, carefree and self-defined essence of both Rihanna and Stance.

www.stance.com
Fashion
Spring/Summer 2016 at Berlin Fashion Week
From season to season the German capital proves there's life in the old dog yet. Roughly 50 shows, an abundance of trade fairs, Microsoft's IT COTOURE, MasterCard's Priceless Berlin Launch, Zalando saving the Bread and Butter and opening its Fashion House, as well as the German Fashion Council's first installment of the Berliner Mode Salon: while this is neither Paris nor Milan, Berlin has sustained international appeal as a fashion metropolis. Coincidentally the premier collection on day one was titled 'The long march to victory'. Menswear label SOPOPULAR showcased a tone on tone, almost monochrome collection with mystically painted, muddy faces. Usually dark and gloomy with a hopeful flash of light colors towards the end, dangling starps and unusual cutouts, Daniel Blechmann's vision assembles into a continuous look throughout – all the way down to the boots, which are the result of a fruitful collaboration with Palladium Boots. The Pampa Hi SOPOPULAR will be available from January 2016.
Maverick Marcel Ostertag sought inspiration in the 'Desert'. His models were adorned in bright colored daily wears. Desert prints on flowing kaftans are standout pieces of the collection. Aside from many light and airy fabrics in shades of brown and yellow, Ostertag showcased delicate gowns crafted from tulle and embroidery in midnight blue and white.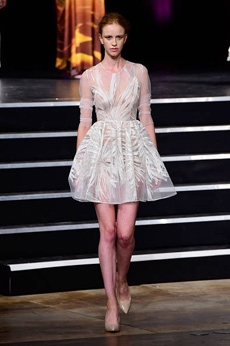 Perfectly timed for Wimbledon, bright white and grass green opened Hien Le's Spring/Summer 2016 show. Tennis attire of the 1960s and 70s was most obviously the inspiration for his collection and worked splendidly: sporty elegance and his ever so present carefree lightness shaped the season's designs. Pants, shorts, slightly flared mini skirts; pleats, button-down dresses made from summer wool, Swiss Cotton and coated linen in unadorned, masterly cuts are all part of Le's signature style. This time around prints were minimal and played right tot the collection's theme – in the form of tiny crossed tennis rackets.
PERRET SCHAAD once again offered light silk pieces, flowing in the wind at every turn. A perfectly composed color scheme from light shades of green to grey and pinks made for a diversified yet harmonious coloring. Their Spring/Summer 2016 collection embodies the freshness and intensity of a crisp seaside vacation, set off by urban asphalt hues. The mix of natural and artificial colors in this collection juxtaposes the existential severity and lightness PERRET SCHAAD's classical designs are renowned for. Linens, breezy silks and sheer voile cotton counter heavier fabrics and create volume and interesting lines, much as we have come to expect from the design duo. Long, flowing pants, silk dresses and coats from crinkled linen in midnight blue, black and earth tones make another appearance at Michael Sontag's show. The designer is another one of those veterans who sticks to his unmistakable signature with his Spring/Summer 2016 offerings – and the collection is better for it.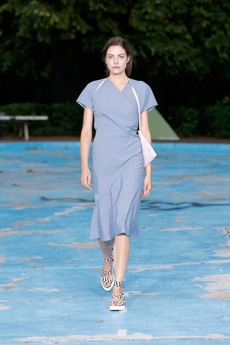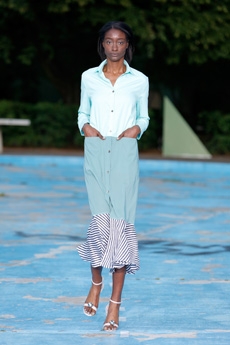 Malaikaraiss on the other hand strayed a little from her usual styles and envisaged surfer girls with a sleek look, soft dresses, transparent blouses and round straw hats, the very coherent, grown-up look is reminiscent of summer's fun in the sun.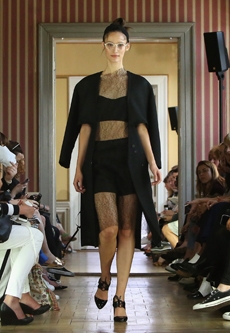 Lala Berlin's iconic prints are delicately dispersed on chiffon dresses as well as pant suits suitable for everyday life. Wide pants with pleats folded toward the middle, cut from a jacquard fabric with hobnail patterns will also work well commercially.
White dots are embroidered onto black chiffons; pecking birds on a camisole and a dress is adorned with embroidered pineapple upon the hips in Augustin Teboul's Spring/Summer 2016 collection. Both designers almost appropriate black denim jackets and pants to street wear – almost. They threaded rows of shimmery black pearls into frayed knees and shoulders - a beautiful finale for day three of Berlin Fashion Week.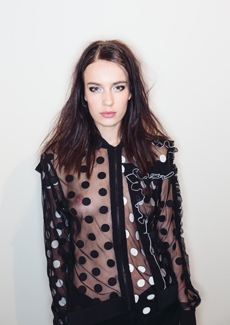 Marina Hoermanseder once again showcased her impeccable craftsmanship in molded leather - this time in globe-skirts with leather blossoms tight skirts made from leather straps and cast plastic corsages, added by a number of wearable dresses, blouses and wide-legged pants made from washable silk, suede, and white cotton with eyelet embroidery. During her quest for traditional craft producers, the designer found her Spring/Summer 2016 collection inspiration in elaborately embellished traditional costumes and garments from the Austro-Hungarian Empire and monarchy.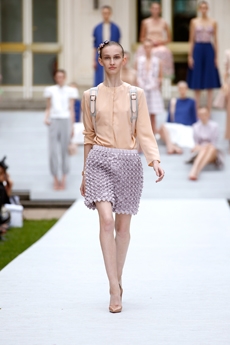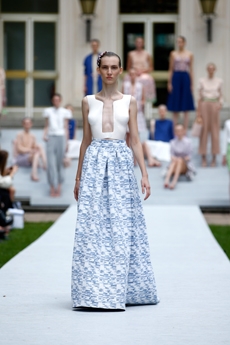 Dorothee Schumacher found inspiration for her Spring/Summer 2016 collection in a paradisiac jungle with florals, beige safari looks, furiously mixed prints. Like many other designers this past week, Dorothee Schumacher rediscovered the shoulder and thereby put a new twist on her ever present play with femininity.
Overall this installment of Fashion Week showcased many of the style tropes associated with the renowned New Objectivity – muted colors, flowing, understated cuts – all perfectly executed by Berlin's MVPs. However, there are interesting newbies making their mark, promising a future for Berlin's fashion circuit.

mbfashionweek.com/berlin
Fashion
Miu Miu Club and the 2016 Croisière collection during Paris Fashion Week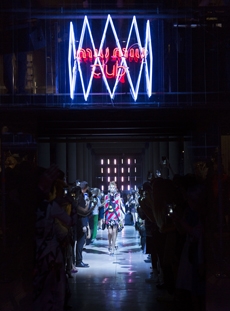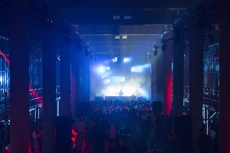 In celebration of the 2016 Croisière collection and the fashion house's first fragrance, Miu Miu set the AMO to create a one of a kind pop-up club in the French capital. Inspired by the cabarets of Les Folies Bergères and the jazz-filled streets of Montmartre, the space was a true feast for those longing for the seductive Paris nightlife. Alongside the collection showcase, the event was a full-bodied celebration of Parisian culture, including a cocktail gathering, exclusive dinner and musical performances by several DJs including Seth Troxler and Frederic Sanches who ensured the party was fit for its grand Paris venue. The resort collection echoed the carefree, dark side of the Miu Miu venue, with curiously shaped tops and punkish prints scattered throughout. The silhouette was a mashup of several decades it seems – from 60s minis to 20s drop-waist dresses. It was as if all of Paris' nightlife ghosts had come alive to celebrate again.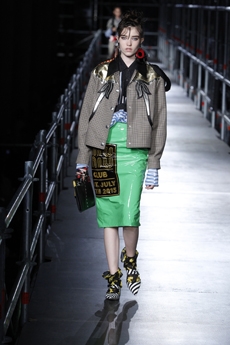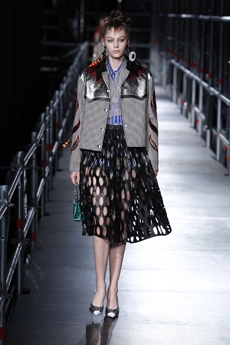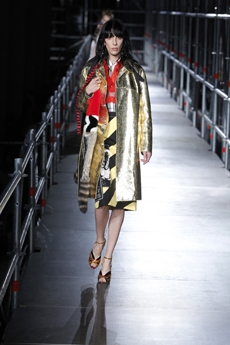 Fashion
CHANEL Couture Fall/Winter 2015 at Paris Fashion Week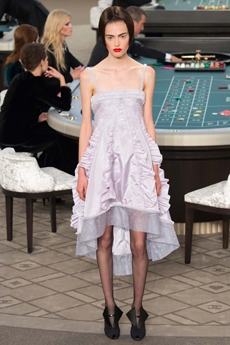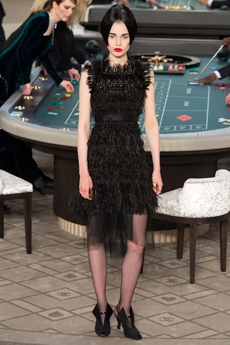 The revived flapper girl took centre stage at CHANEL's Haute Couture showcase. The drastically shortened bob and asymmetrical hemline were decidedly 1920's, yet all the while contemporary. Though it wasn't far removed from a Baz Luhrmann set, the trademark Grand Palais was decidedly CHANEL — abundant in theatrics and perhaps even more ostentatious than any Great Gatsby film set. CHANEL is after all the real deal. The Art Deco casino showcased stars gathered around casino tables, Oscar winner Julianne Moore and muse Kristen Stewart at ease in 'Le Cercle Privé'.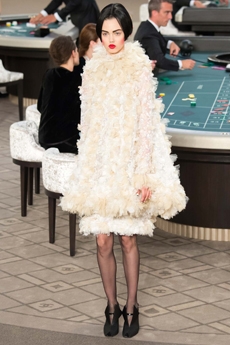 However, it was Karl Lagerfeld's bride Kendall Jenner that symbolised this seasons CHANEL Haute Couture collection – an unabashed celebration of the young it-crowd. A proper Daisy Buchanan to Karl's Gatsby. Indeed, the showcase of the 'high rollers' sat in the centre of the runway was perhaps less of a subtle hint, with guests such as Lily-Rose Depp and Lily Collins bidding for a chance at a win. Alas, this is Haute Couture. And conceptualism is as much a part of the picture as the garments themselves.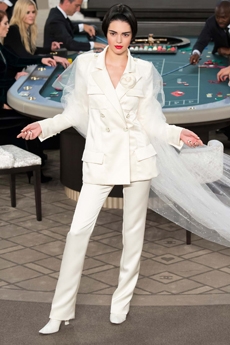 However, as with his recent collections, Karl triumphs again with his garment construction. This time with the introduction of his fully 3D printed suits, pushing the classic CHANEL look into the age of fashion technology. Though the silhouettes were classic in nature, their conception were as avant-garde as his presentation.


Cinema
KENZO's short film "Here and Now"
Bastion of the New Queer Cinema movement Gregg Araki has written and directed an original short film for KENZO, featuring their Fall/Winter 2015 collections. In an idea stemming from the creative directors of the fashion house Carol Lim and Humberto Leon, the movie is a quirky venture, somewhat startling and even a little obscene. Centering around a group that could have been taken straight out of his 1997 cult film 'Nowhere', the film is as curious as the KENZO collections: colorful, in-your-face aesthetics, abstract and a little disjointed, yet kind of cool.

Watch the clip here: www.kenzo.com/herenow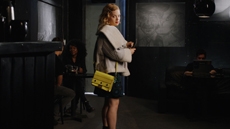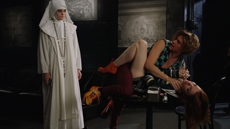 Fashion
Bottega Veneta Fall/Winter 2015-2016 Campaign: "The Art of Collaboration"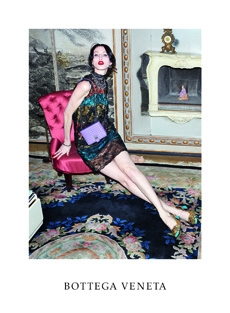 The latest sequel to the ongoing collaborative of Creative Director Tomas Maier and distinct artists, the FW 15/16 campaign is shot by photographer Juergen Teller. Taken in the Museum Casa Mollino in Turin, the campaign has the mark of an unfinished canvas – rough and raw around the edges. The former home of Carlo Mollino, one of the most influential Italian designers of the mid-20th century reflects the spirit of the Bottega Veneta season.

www.bottegaveneta.com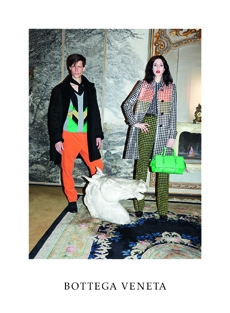 Fashion
Paul Smith Spring/Summer 2016 at Paris Fashion Week
Sir Paul Smith's SS 16 collection seemed tailor-made for the older rock star generation, retro yet perfectly cool. With hues ranging from subtle greys to eye-popping orange and yellows, the overall impression of the Paul Smith guy was of a man who knows which classics work best and when to inject that little something extra. And this is exactly what comprised the Paul Smith collection – classics, reworked in an exciting manner. From green metallic suits to turquoise and yellow unions – Smith certainly set the brief for the nonchalant rocker.

www.paulsmith.com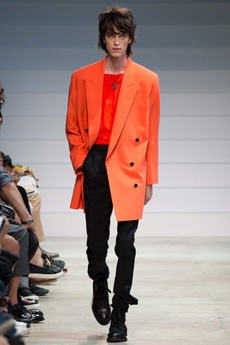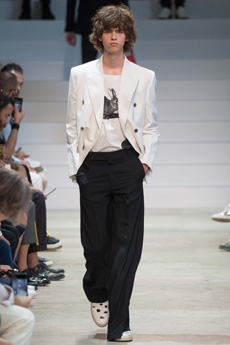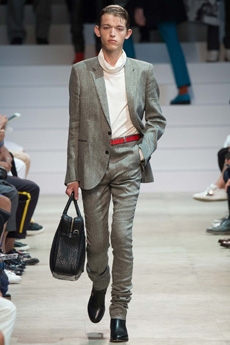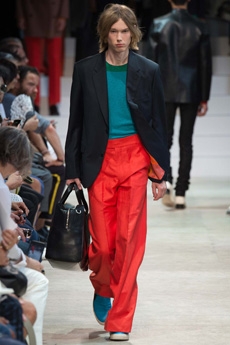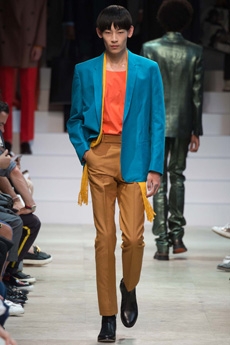 Fashion
Louis Vuitton Menswear Spring/Summer 2016 at Paris Fashion Week
Drawing from the animal-inspired imagery of Asian origin, Kim Jones presented a silky, aloof and quirky collection at Paris Fashion Week. As seemed to be the trend with the menswear collections recently, Jones drew inspiration from the intermingling of cultures and notions. Apparent in his garments were the sporty essences of the American variety: accessories resembled bowling bags, sweaters and letterman jackets were fashioned with a Louis Vuitton high-fashion tweak. Indeed following the spectacular womens' resort collection, Jones does not disappoint. There is something in this collection for anyone, and it is with this strong sensibility for wearable eccentricity that the 2016 Menswear collection shines.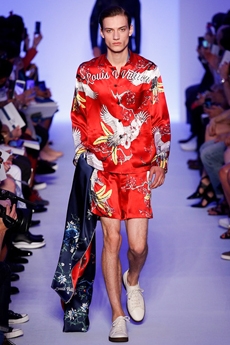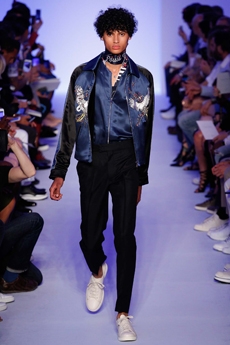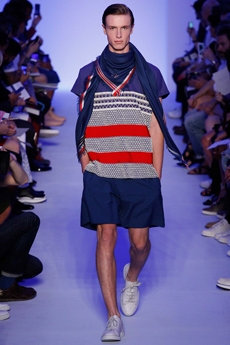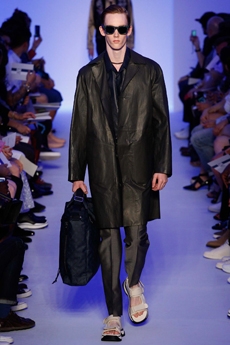 Fashion
G-Star RAW x Ellen von Unwerth: The Sequel
The iconic denim brand G-Star RAW teamed up with photographer Ellen von Unwerth for their second unique collaboration, this time in monochromatic splendor. The raw visuals of von Unwerth's imagery highlight the denim texture's distinct attitude. Playing with military poses, the campaign draws forth the denim's youthful and rebellious connotations. Formative of G-Star RAW's evolution has been the Elwood – the first ever pants constructed using 3D methods, which drew on biker pants for inspiration. The campaign showcases the wide range of G-Star RAW jeans from the Fall/Winter 2015 collection.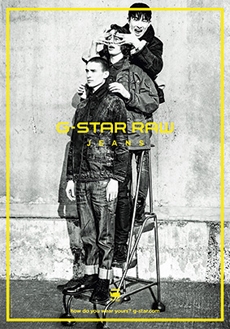 The FW 2015 collection is currently available online and in stores from August onwards.
Fashion
Filippa K Fall/Winter 2015
Inspired by the works of Henri Rousseau, the FW 2015 collection is steeped in the mystic ambiance of Rousseau's naturalistic paintings. Ingrained with French 70's references, the collection blends Filippa K's effortless simplicity with rich structure and decorative detailing. The women's collection is epitomized by the rich wool blazer of a distinctly masculine origin, paired with an A-line leather skirt and a mid calf leather bootee.

The menswear section of the FW 15 collection is marked by a decidedly urban approach to contemporary functionalism and modern tailoring. In this vein, the collection has taken on an air of the sport, street and military references of the revitalized Filippa K man. With voluminous outerwear and a classic color palette, the FW 15 collection is a step towards an urbanized Filippa K aesthetic.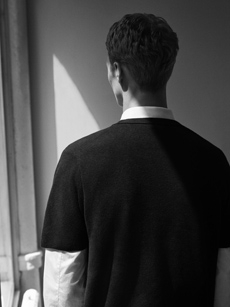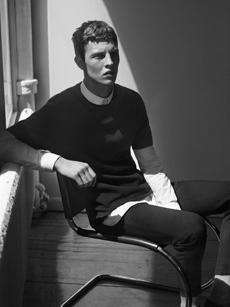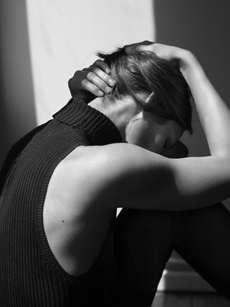 Travel
Hôtel Eugène en Ville Paris
Lying just a short distance from the Opera and the exquisite Galeries Lafayette, the Hôtel Eugène en Ville is a haven for those seeking a home base near the heart of Parisian culture. The surrounding area also boasts several shopping opportunities, restaurants and architecture.

The hotel offers rooms with a distinctively contemporary feel, making the Eugène en Ville a sophisticated yet comfortable space dressed in the guise of an edgy and stylized interior. For a memorable and perhaps quirky yet classy stay, the Hôtel Eugène en Ville is a splendid option for an easy and comfortable exploration of Paris.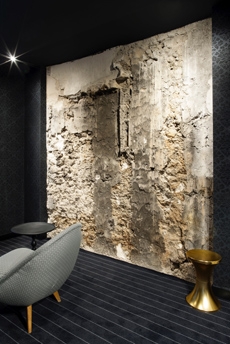 Fashion
Gucci Fall Winter 2016 Campaign
"Those who are truly contemporary are those who neither perfectly coincide with their time nor adapt to its demands."

Embracing the liminal quality of those who inhabit both past and present mentalities, the Gucci FW 2015-2016 campaign explores the disconnection of those not entirely at home in the present moment. The elegant mix of vintage elements and futuristic fabric combinations positions the collection within the elusive space between "no longer" and "not yet".

Creative director Alessandro Michele explains that the collection is the summation of his envisioning of today's urbanite attitude – blurring divisions of gender and time permeate every garment. In a campaign photographed by Glen Luchford, models Tessa Charlotte Bruinsma, Tobias Lundh, Lia Pavlova and Sven de Vries inhabit the bodies of the 'Gucci contemporaries'. There is no doubt that Michele has delivered a stunning collection - be it past, present, or other.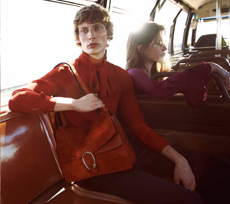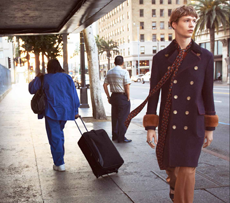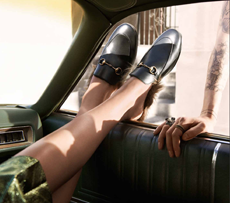 Art
Art Basel June 18 – 21
The premier international art show for Modern and Contemporary work, Art Basel brings together an impressive amalgam of leading galleries worldwide to the very heart of Europe. Every artistic medium is represented, from painting, sculpture, installations and videos to prints, photography and performance. Described as the 'Olympics of the Art World', around 300 galleries from across the globe will ascend upon the Swiss town to view more than 4000 artists. Galleries such as MOT International, Esther Schipper, Zeno X Gallery and Galerie Isabella Bortolozzi will be presenting wide arrays of artists including Wu Tsang, Anton Corbijn, Roman Ondák and Elisabeth Price.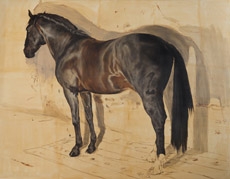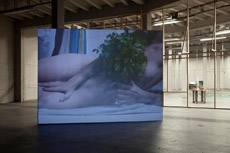 Ulay, Retouching Bruises, 1975. Stand J10
Phillippe Parreno, Speech Bubbles. Hall 2.1. Booth S1.
Michaël Borremans, The Horse, 2015. Hall 2.1, Booth P4
Wu Tsang, DAMELO TODO // ODOT OLEMAD, 2010-2011/14.
Laure Prouvost, It Heat Hit, 2010. Stadtkino Basel, Klostergasse 5, June 16.

In addition to the display of great masters and emerging talents, the show offers a program packed with informative and inspiring events, from symposiums, to films and artist talks. Talks on offer include artist talks presented by Danish artist Danh Vö and Curator Manuela Ammer, to conversations surrounding the public and private spheres of art globally. Among many others on this impressive rooster is Curator of the Serpentine Gallery Hans Ulrich Obrist, Solveig Øvstebø, executive Director and Chief Curator of The Renaissance Society and the artist Wael Shawky.

As one of the many artists present, founding father of performance art Ulay will exhibit parts of his new and previous works. Following his recent collaboration with ZOO, issues of ZOO No. 47 will also be present at his stand.

www.artbasel.com

Fashion
AGL Fall/Winter 2015 Campaign starring Dakota Fanning
The Giusti sisters welcome back the ethereal Dakota Fanning back into the fold with her renewed position as face of AGL for a fourth season. The Fall/Winter 2015-16 collection is laced with androgyny, combining boyish styles with a feminine taste through its minimal shapes and bold details.

Vera, Marianna and Sara Giusti chose Dakota for her embodiment of the refined AGL spirit of femininity and playfulness, her energy captured in the monochrome images of photographer Rankin.

www.agl.com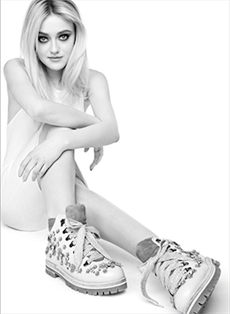 Fashion
Diesel Black Gold SS 2016 Pre-Spring
Creative director Andreas Melbostad found his inspiration in Venice Beach for the upcoming Diesel Black Gold SS 2016 Pre-Spring collection. Known for its authentic Californian way of life, the beach, the bustling city and all manners of street inspired art constitute the iconic location.

With its metropolitan DNA, Diesel injects a decidedly sporty take on the edgier Californian, enhanced by a simplified palette of black and white, accentuated by electric blues and grays. Beach sports galvanized this collections' structure, with chunky zippers, structured fabric choices and ergonomic tailoring details inspired by surfing and diving gear. The collection is diverse – from leather jackets to sports backpacks and jean styles. Minimalism is paired with an effortless and sporty-chic vibe.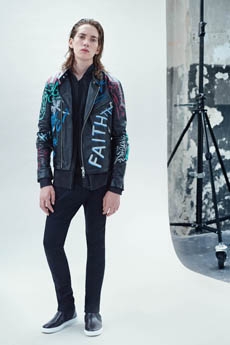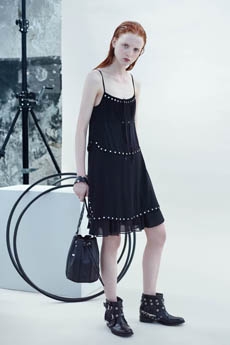 Travel
Hotel Daniel Paris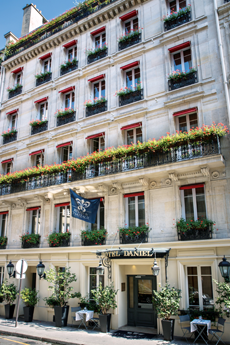 Located in the middle of the Parisian heart, the Hotel Daniel is a decidedly quirky amalgamation of east and west. Furnished by the talented designer Tarfa Salam, the hotel inspires dreams of fantastical getaways. With elegance and charm in troves, the hotel's signature exotic style remains an alternative respite in the face of contemporary minimalism, where sumptuous décor ignite thoughts of far away lands in inner-city surroundings.

With a slight wander out the door, you will find yourself in a vibrant part of the city, the cultural veins of the city's heart sprouting in all directions in the form of art galleries, fashion houses, restaurants and nightclubs. Its own restauranteur, Chef Jérôme Bonnet, raised in Languedoc Roussillon, promises a sophisticated menu composed of traditional and self-made recipes. Barely aged past the year of seven, the Daniel is a connoisseur's choice.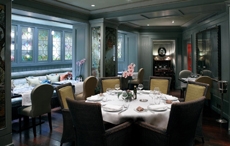 Travel
Villa Kubu Boutique Hotel & Spa
Located in the fantastical Seminyak region of Bali, Indonesia, the Villa Kubu offers an oasis of luxury leisure. Merely 1km away you will stumble onto the famous Seminyak beach, however with a range of romantic and private sanctuaries stocked with cozy furnishings and private-pool Villa's, it just might be a little too hard to leave the premises.

To make things even more irresistible, full entertainment packages are set up in each Villa along with fully equipped kitchens. If you find yourself longing for a soul-nourishing escape, the chic Villa Kubu will cater to your holiday needs.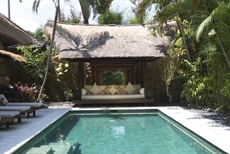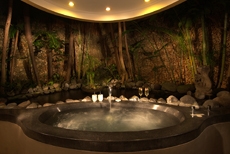 For offers, rates and more information, go to
www.villakubu.com
Art
Nordic Contemporary: "Too Much Of A Good Thing"
A temporary space at the Republique in Paris is set to house a formative group exhibition of artists from Denmark, Norway, Sweden and Finland. The Nordic gathering of ten Scandinavian artists, will exhibit paintings, sculptures, drawings and videos, presented through the artists' unique interpretations. Beyond the mere geographical commonality of the artists, they are connected by their interest in the intersection of high and low culture, the polished and raw and the natural and clinical.

Founded, directed and curated by artist Andreas Emenius and cultural entrepreneur Jacob Valdemar, the series of changing exhibitions intend to showcase contemporary Scandinavian art in this satellite extension of the Copenhagen and Stockholm origins through diverse media. Mapping links between traditional and newer movements, the exhibition aims at delving into art that exists somewhere between self-reflection and self-expression.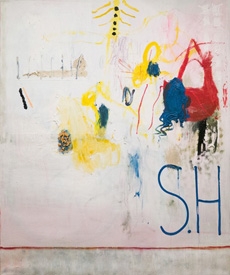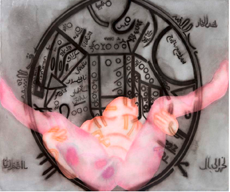 Sebastian Helling, UNTITLED (AFFECTION), 2015
Jenni Hiltunen, Filmstill from "Grind", 2012
Rolf Nowotny, Bumbling Through the Night II, 2014
Erik Jeor, Icône VI, 2015
If you are a fan of Scandinavian art and contemporary culture then save the date for the Nordic Contemporary Paris Art Exhibition!

Nordic Contemporary opens Thursday May 28th till June 7th 2015 on rue du Château d'Eau 14 in Paris.

www.nordiccontemporary.com
Fashion
Replay Spring/Summer 2016 in Mykonos
Ringing in the summer season on the Greek island of Mykonos, Replay hosted about 700 guests for the launch of their 2016 SS collection. Treated to a sun-filled show with models such as Alessandra Ambrosio, Bar Rafaeli and Sara Sampaio, the Nammos Beach Club set the stage for Replay's theme 'Destroyed Denim'.

Inspired by the idyllic surroundings of the Mediterranean, the collection is wholly emblematic of the laid-back, relaxed lifestyle of island trendsetters. The theme effortlessly pairs the rugged styles of Replay's classic denim wear with billowing, bright fabrics.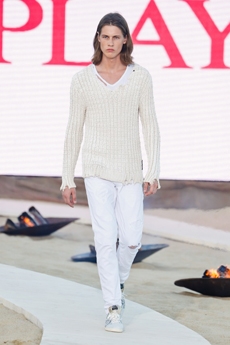 Inspired by the idyllic surroundings of the Mediterranean, the collection is wholly emblematic of the laid-back, relaxed lifestyle of island trendsetters. The theme effortlessly pairs the rugged styles of Replay's classic denim wear with billowing, bright fabrics.

www.replay.com
Travel
Hotel Chateau de Varenne
Built as a private residence, the Chateau de Varenne castle hotel is newly renovated in keeping with local heritage. With a rich history steeped in romanticism, the XVIIIth century building looks onto the Rhone Valley and the village Sauveterre in the heart of Provence.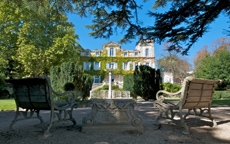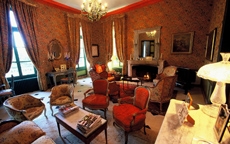 With a decidedly personal touch, the village farmer makes the fruit juices, the jams are hand-made, croissants freshly delivered by the local baker, and the honey is produced by a local Roquemaure beekeeper.

Member of the prestigious Cercle Prestige du Comité du Tourisme Languedoc Rousillon, the hotel is of true quality. With three hectares of garden, the Chateu is an oasis in itself, yet a mere minutes drive away from Avignon.

www.chateaudevarenne.com
Fashion
CHANEL Seoul 2015/2016 Cruise Collection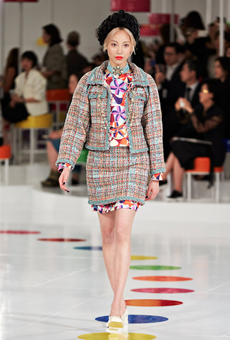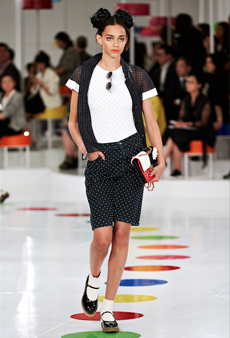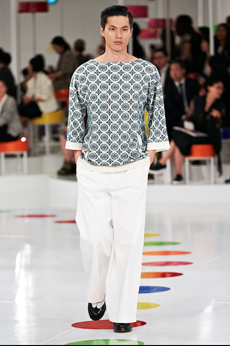 Colored by Lagerfeld's elegant crayon-inspired toolkit, the 2015/2016 Seoul cruise collection is inspired by the whimsically refined hanbok, the Korean peninsula's traditional dress. The May 4th setting framed the angular patterns of the pieces. The Zaha Hadid designed room in the style of neoplasticism, was reminiscent of a sort of Mondrian playground. Nestled between the avant-gardist explosion of color and geometric silhouettes, CHANEL's trademark appreciation of silks, linens, tulles and lace provided a subtle, yet firm nod towards Mademoiselle Chanel herself.

A contemporary reinterpretation of Asian sophistication, the show was as bold as it was effectual, producing images of a world injected by haute couture playfulness. Closely following the equally as fantastical Paris-Salzburg Métiers d'Art campaign, CHANEL certainly has not fallen short in inspiring reinventions of classics worldwide. The mastery with which Lagerfeld has consummately revitalized cultural classics in the past few years is resolutely underpinned by yet another formidable collection.


To see the show in its entirety, go to
Fashion
CHANEL, Pharrell & Lederhosen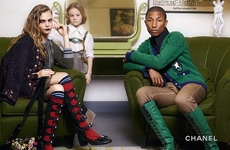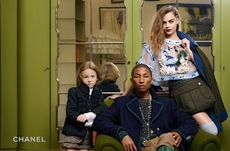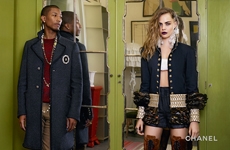 The Paris-Salzburg Métiers d'Art campaign stars CHANEL veteran Cara Delevingne, tour-de-force musician Pharrell Williams and the now seasoned runway walker Hudson Kroenig. Taken by Lagerfeld himself, the campaign features the collection's trademark knits, knee-high lace-up boots and lederhosen.

Pharrell Williams, who will be awarded the CFDA Fashion Icon Award at this year's ceremony, looked suitably at ease in the pieces inspired by the Hamburg-raised Lagerfeld's roots. By combining the traditions of the region with a touch of Haute Couture, the collection evokes in the viewer connotations of a contemporary von Trapp family.

The collection will be available in boutiques and on chanel.com in June.

www.chanel.com
Art
Tim Richmond's Last Best Hiding Place
The personal and contemporary odyssey through a landscape of filmic references – Tim Richmond's Last Best Hiding Place reveals stories true or imagined, photographed over seven years throughout the American West.

A Montanan expression for "living under the radar", the book's title references the often haunting and melancholic atmosphere over a breadth of western states. Including images from the states of Wyoming, Montana, Utah and South Dakota, his subjects range from tattooed waitresses to the vast expanses of iconic railway.

Internationally acclaimed and widely published, the British Richmond's prints have made their way into many a private collection. His departure towards a near ethnographic exploration of the American social and natural landscape encapsulates the cultural complexities and fascinations of stereotype.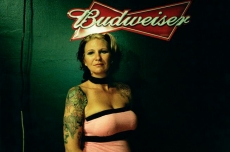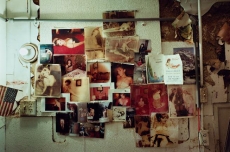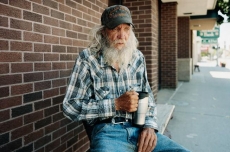 The book will be available in a special edition of 100 copies, and a collector's edition of 10, both signed and with a numbered certificate.

Book launch: Grimaldi Gavin, London, 23. June 2015
Available Europe: May / UK: June / USA: November 2015

www.timrichmond.co.uk


Fashion
Prouvé RAW Office Edition launches during International Design Week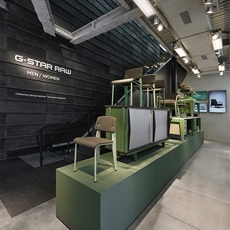 The collaborators G-Star RAW, Vitra and the Prouvé family are launching the second series of the Prouvé RAW furniture collaboration: the office edition.
Meeting the demands of the modern-day office, the ten-piece series refashions the designs through the use of heavy-duty fabric materials in industrial shades of green, reflecting the re-use of factory floors and workshops for creative agencies. The Office Furniture project was initiated through a variety of custom workstations, conference tables, office chairs and other pieces of furniture made to furnish G-Star's Amsterdam offices.
Catherine Prouvé explains the collection's contemporary renewal: "I like the fact that this edition honors my father's original design, while complementing it with contemporary details. This follows his understanding of design, which he regarded as a dynamic process. To him design was a never-ending evolution, constantly striving to respond to changing needs."
Orders for Prouvé RAW Office Edition may be placed as of May 2015.

www.g-star.com
www.vitra.com
Travel
Valentino opens new flagship store in Rome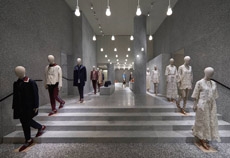 As of now, you can find the largest flagship store by Valentino in the heart of Rome. The creative masterminds behind the brand, Maria Grazia Chiuri and Pierpaolo Picciolo, have collaborated with architect David Chipperfield to create an environment that captures Valentino exactly as it is. They combine traditional values with modern design, allowing the atmosphere of the store to be welcoming and artistic at the same time. Since the store is situated in Piazza di Spagna, the only thing you can do is to get lost in Italian tradition and craftsmanship while visiting.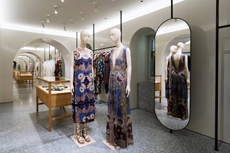 Travel
The Stage by Replay
To complete the Replay lifestyle, the brand has opened a restaurant at the multi-experience store in Porta Nuova, Milan. In the heart of this district, you'll find a dining experience that combines fashion with cinema and sound. Award winning design firm Roman and Williams Buildings and Interiors has managed to create an environment that feels like a Hollywood film set. It is luxurious, yet familiar.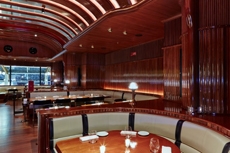 Fashion
Diesel reintroduces Jogg Jeans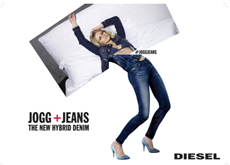 Back in 2011, Diesel launched Jogg Jeans for the first time. By using a special fabric, they made it possible to create jeans that were just as soft as a pair of sweatpants, but durable as denim at the same time. This year, Diesel is reintroducing Jogg Jeans with a campaign shot by artist Doug Abraham. It captures exactly what Jogg Jeans are about, along with the identity of Diesel.
Fashion
Calvin Klein Jeans #mycalvins Denim Series
Calvin Klein Jeans brings us a new denim collection inspired by urban streetwear. The collection exists out of logo-driven garments that are comfortable and iconic. For the advertising campaign, the brand has asked fashion photographer Alasdair McLellan to shoot Kendall Jenner and model Simon Nessman in a way that is fresh and typically Calvin Klein.
The line will be sold exclusively at Calvin Klein boutiques and on the brand's website.
Fashion
BORIS BIDJAN SABERI X MAD et LEN
Designer Boris Bidjan Saberi and blacksmiths MAD et LEN have worked together to create a new line of candles that are both unique and utterly sublime. In style of both brands, the candles are hand poured and made into burned steel jars, which gives them a dark and mysterious design.
Fashion
Stella McCartney at Paris Fashion Week Fall/Winter 2015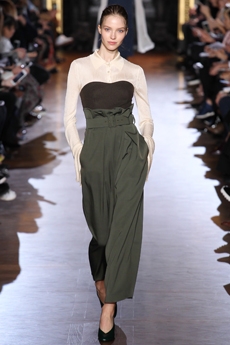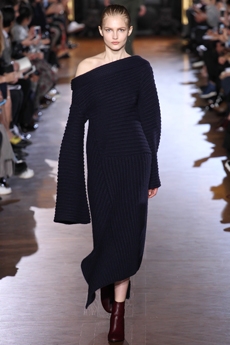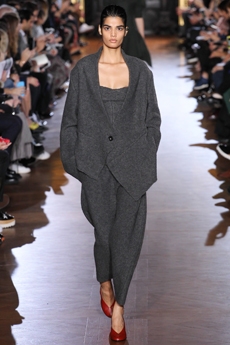 We can always count on Stella McCartney to bring us effortless elegance. She understands the city woman like no other, and knows exactly how to design comfort. Her latest collection for Fall/Winter 2015 was filled with chunky, knitted sweaters and pajama-like ensembles.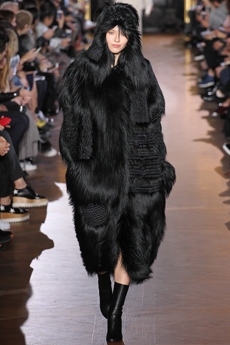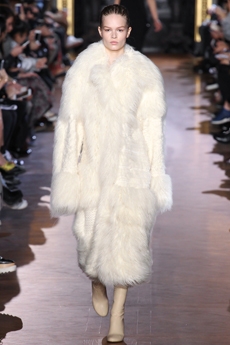 On the other hand, Stella proves that she is anything but lazy. All garments are well tailored, especially her dresses and high waisted pants.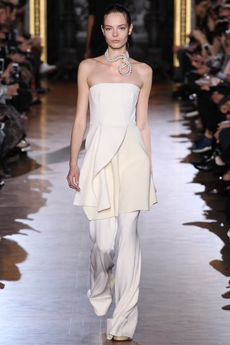 Fashion
Valentino at Paris Fashion Week Fall/Winter 2015
Valentino's collection for Fall/Winter 2015 was just as perfect as any of the previous ones. The cuts are brilliant, the details magnificent and fabrics are by far the best they can get their hands on.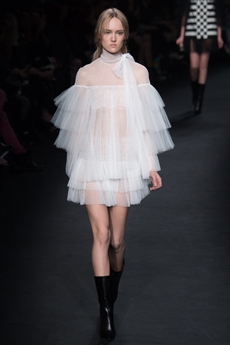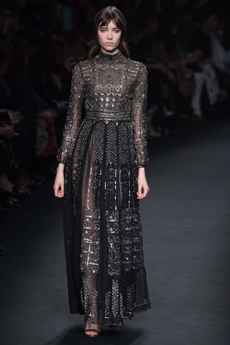 Since their takeover, Maria Grazia Chiuri and Pierpaolo Piccioli have lifted Valentino to new heights. Every show has been a spectacle in its own way, but none of them could compare to the closing looks we saw this time. Ben Stiller and Owen Wilson walked on stage in the roles of Derek Zoolander and Hansel, characters from the film Zoolander that came out in 2001. They were wearing Chiuri and Piccoili's signature suits for Valentino, and had all eyes on them.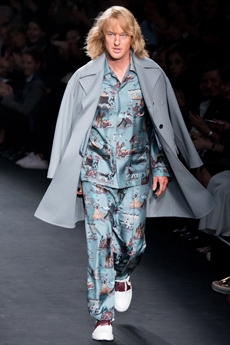 Commercially, Chiuri and Piccoili have been brilliant from the beginning on, but this stunt just proved their never ending creativity and their feel for what people want. Or maybe even need.
Fashion
Christian Dior at Paris Fashion Week Fall/Winter 2015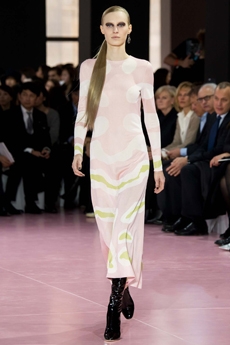 Golden boy Raf Simons tags along with the others and jumps back to the sixties. Subtle but groovy prints, latex boots and garments made out of an innovative, mesh fabric gave the entire collection more sexiness then we have seen at Dior before. The looks are much more wearable then at previous collections, especially considering that these clothes will be worn in big cities.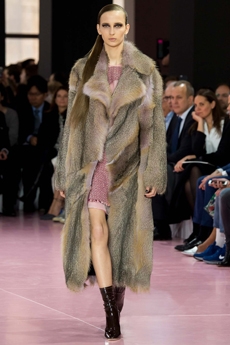 Simons showed us that Dior can be something for everyone. For next fall, he created perfectly finished suits with cropped, wide pants. There were a few painted furs, and what we saw most were long, warm coats. If the classics weren't good enough, you could enjoy thigh high latex boots and fluid mesh garments.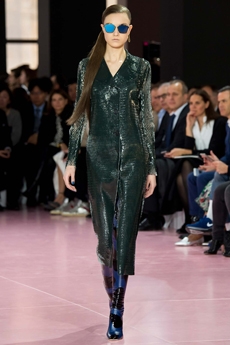 Fashion
Balenciaga at Paris Fashion Week Fall/Winter 2015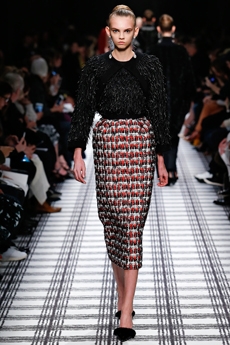 Alexander Wang has understood the essence of Balenciaga from the beginning on. Seeing his development with the brand is not only satisfying, but makes us want to get out of our chairs and give him a standing ovation.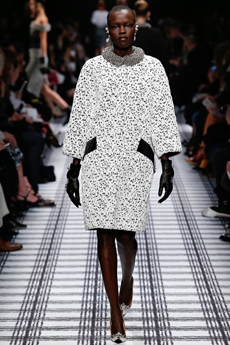 The way the clothing is constructed refers to the work of Christóbal Balenciaga; showing a new way of looking at tailoring. Wang manages to embrace the shapes of the female body and work with that, rather than simply creating clothes and putting them on.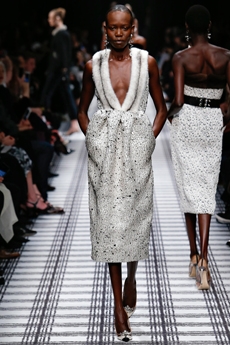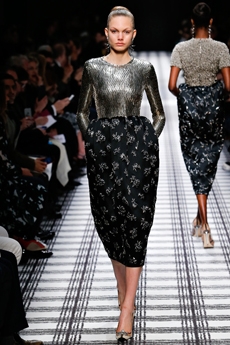 Tweed and wool dominated the show for next season, making sure that the collection is more of a classic one. Just like Christóbal himself, Wang is making garments that will last a lifetime. Or maybe even longer.
Fashion
John Galliano at Paris Fashion Week Fall/Winter 2015
While John Galliano himself was focusing on a different house, his right hand, Bill Gaytten, took care of the latest collection. The result definitely did not scream Galliano's drama as before, but it definitely showed the core of the brand. Extremely elegant femininity could be found in every look, together with craftsmanship and detail. The collection told a beautiful story of subtlety and beauty, something that Gaytten has done well.
www.johngalliano.com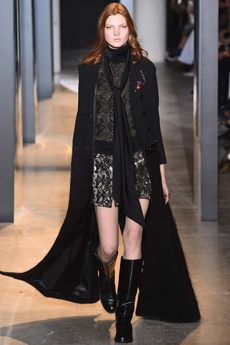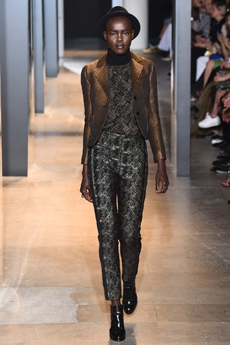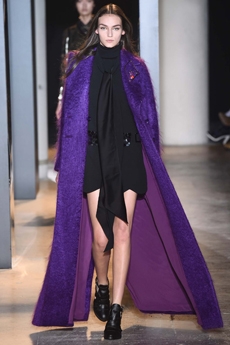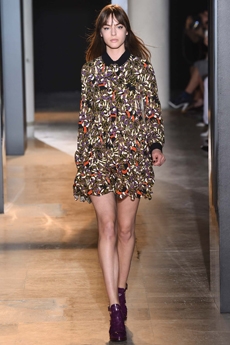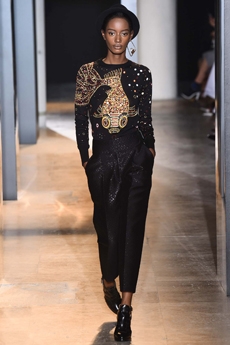 Fashion
Balmain at Paris Fashion Week Fall/Winter 2015
Fringes, extremely wide flared pants, stripes and large belts around the waist all referred to this specific luxury from the seventies. Oliver Rousteing showed his vision for Balmain in a way that was clear and spot on. It is that confident girl, which likes to be looked at. An intimidating woman, that doesn't dress down.
The overall feel of the collection was very Parisian; something that Balmain has always had in its essence. Every look seems to be perfect for a night out in Paris, but only if you fit the previous description.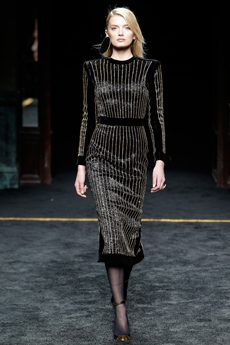 Fashion
Akris at Paris Fashion Week Fall/Winter 2015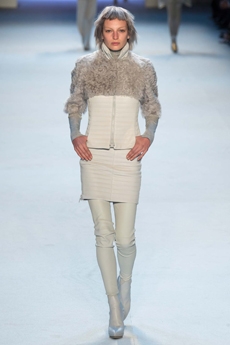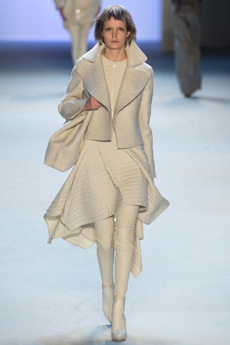 Albert Kriemler knows his clientele well. During his latest show for Akris, he presented a collection that consisted out of highly wearable garments, which were simple, elegant and well made. The overall collection was modest, where warm tones of white dominated most looks.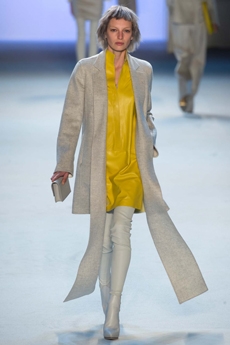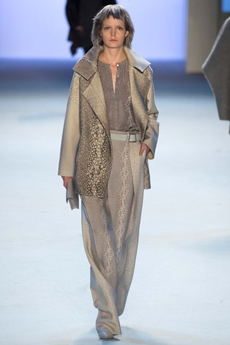 For next season, Kriemler experimented with textures on fabrics that managed to lift up the sober collection. For some of the looks, this meant that the fabrics seemed to be made out of reptile-like skin. The large use of grey and soft materials like jersey, gave the collection a feel of comfort, without being too lazy.
Fashion
Marni at Milan Fashion Week Fall/Winter 2015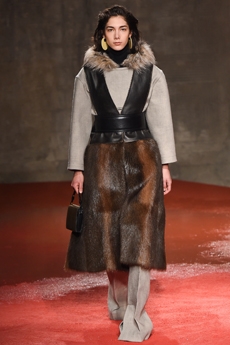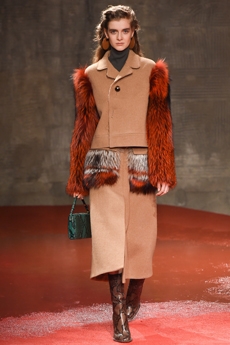 For next fall, Consuelo Castiglioni took a different look at femininity. The collection seemed to be inspired by the costumes of a Siberian tribe, with the long, wide skirts and dresses. Felt-like wool was embroidered with black florals and showed a modern look on ancient tradition.
Fashion
Giorgio Armani at Milan Fashion Week Fall/Winter 2015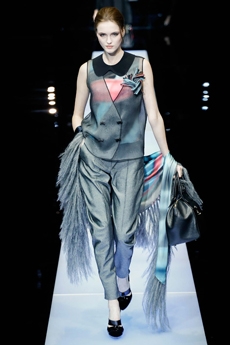 Metallics and brushstrokes dominated the latest show by Giorgio Armani. The collection consisted mostly out of jackets and pants, which made overall strong impression. Straight silhouettes and subtle layering made gave the collection a somewhat minimalist feel. Just like in the Emporio Armani show we saw last week, icy blues were everywhere to be found.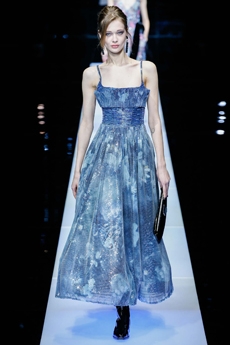 Fashion
Fendi at Milan Fashion Week Fall/Winter 2015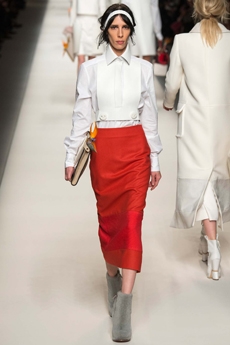 The F in fur is for Fendi, so naturally the Fall/Winter collection for 2015 had lots of it. The focus within the show was on animal materials, with different kinds of fur, leather and shearling.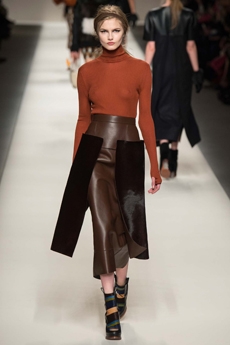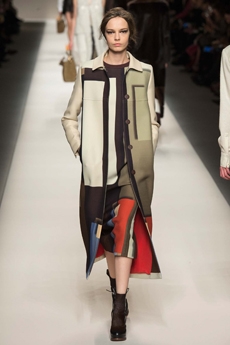 Lately, the brand has been in a specific late sixties mood with A-line dresses, large buttons, and graphically assembled patchwork. We saw architectural creations in perfectly matched colors. The silhouettes were fresh and intriguing, embracing Lagerfeld's look on luxury.
Details were – like always – of high importance. Cut off fur on the cuffs of blouses and on gloves were nicely and elegantly placed. Graphical prints turned looks into paintings and left us in awe.
Fashion
Max Mara at Milan Fashion Week Fall/Winter 2015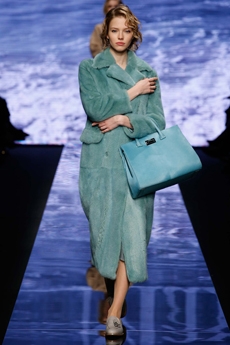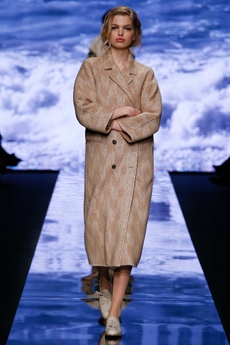 The focus of Max Mara's Fall/Winter 2015 collection wasn't a highly unexpected choice. Coats were in the center of attention as models were protecting their bodies with the Max Mara classic: the one and only camel coat.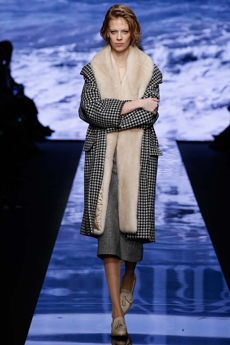 The rest of the collection contained smart business attire, made for the woman who juggles so many balls at once that we can't even count them. She runs a company, has a loving family, keeps up with all her friends and continues to finish these side projects we don't even remember she ever started. She's a modern woman with a classic taste, one that Max Mara has figured out completely.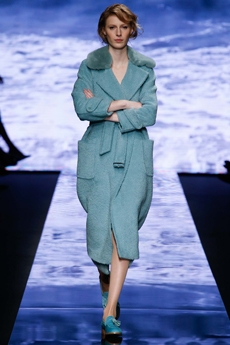 A new surprise was seeing the bomber-like jackets and jumpers in quilted satin at the end of the show. Combined with long pencil skirts and fine wool this contemporary look became another timeless ensemble.
Fashion
Vivienne Westwood Red Label at London Fashion Week Fall/Winter 2015
There is always something particularly dramatic about Dame Vivienne Westwood. For the first look of her new collection, she started off with a quite quiet, grey oversized coat. Immediately after that, we saw her true nature come out with various asymmetric designs in bold color combinations. There was a lot of Westwood's classic tailoring going on, combined with perfect draping that showed impeccable fluidity. By using velvet and silk, she made sure that this would only be complimented.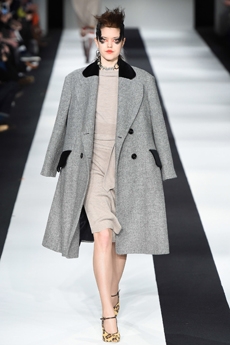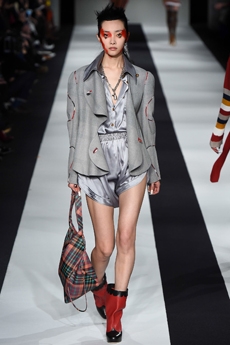 The show existed out of both quirky items and highly wearable, slightly discreet jackets and pants. Altogether, Westwood –once again- managed to meet our expectations.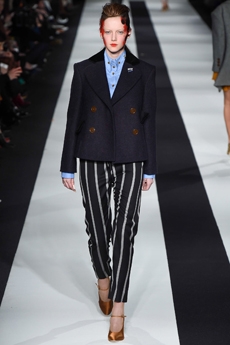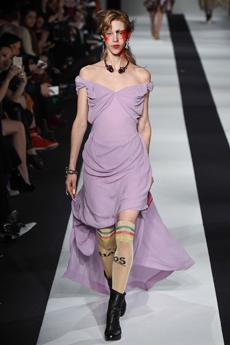 Travel
Tokyo in Berlin
Nine years have passed since the opening of Zenkichi in Brooklyn. This year, owners Motoko Watanabe and Shaul Margulies have chosen to open a second branch in Berlin. They recently moved to Germany to open their café 'House of Small Wonder' in Mitte, and decided it was time to introduce authentic Japanese dining.
To mimic a true Japanese dining experience, Watanabe has chosen for a private and closed interior. The restaurant is divided into 35 private booths, where you can even pull down bamboo blinds if needed. Watanabe and Margulies stay away from Japanese clichés and get to the essence of the culture with their menu, interior and overall atmosphere.
Music
Minailo's Medúlla
Sjaron Minailo is a child of the nineties, and of postmodernism. Throughout the years, he has always found inspiration in the works of musician and artist Björk. He has now directed a new piece based on her album Medúlla, where several generations meet to celebrate the art of the opera.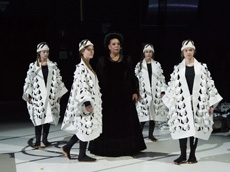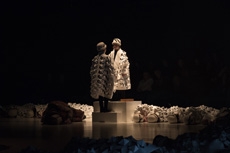 The spectacular costumes and intriguing set have been designed by Henrik Vibskov, who has managed to create a visual style that fits Medúlla perfectly.
www.studiominailo.com www.henrikvibskov.com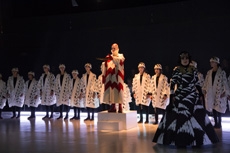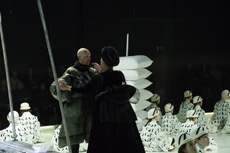 Fashion
Diesel Black Gold at New York Fashion Week Fall/Winter 2015
Andreas Melbostad is not the only designer who chose black as the main subject for his fall 2015 collection, but he sure is the one who managed to make black seem so colorful. High contrasts in masculinity and extreme femininity make each and every single garment in this collection effortlessly sexy, while being slightly intimidating at the same time. Short, flappy skirts are combined with oversized men's jackets made out of wool. Lace details make the items seem softer and daintier, while belts and metal buckles hint at bondage.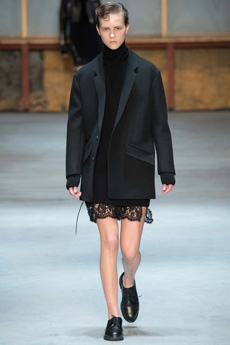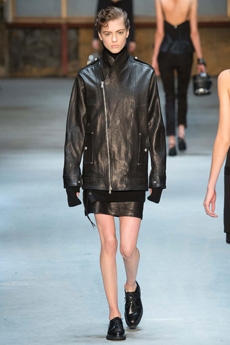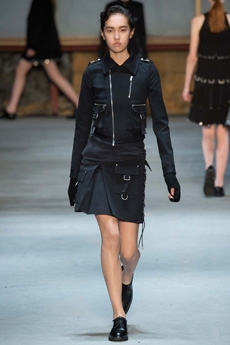 Fashion
Diesel launches Spring/Summer 2015 Campaign with #DieselHigh
Since he took to the helm nearly two years ago, Nicola Formichetti has commanded quite a change in the tides for Diesel, leading with the radical #DieselReboot, and arriving now at #DieselHigh.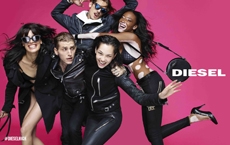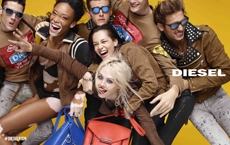 Launching with the SS15 campaign, #DieselHigh celebrates optimism, love and a soul set on living life to the full. Dependably breaking barriers, Formichetti's gleeful vision is surprisingly subversive, as smiling faces were shot by the lens of a typically insouciant Nick Knight.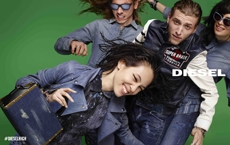 Spontaneous and spirited, models such as Winne Harlow and Charlotte Free vault out of frame, jumping and laughing in a dizzying patchwork of Diesel denim. Photographic evidence, if ever it was needed: Diesel is most certainly destined for higher things.
Fashion
Dior Homme at Paris Fashion Week: Menswear Fall/Winter 2015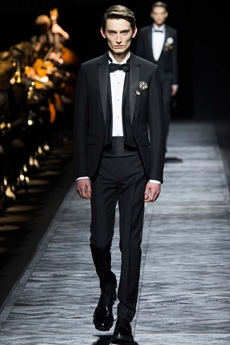 Dior Homme may well have fetishized the standard suit this season, but little about the collection was average. For a start, van Assche's blending of black tie and baseball cap, each emblazoned by a flagrant floral badge corsage. Arid leather parkas were thrown on top of spotless suits, taking the starch out of pristine tailoring, while long coats were drawn-out to the ankles, teetering above vaulted virgin trainers.
Chambray denim jackets – so clean and efficient – slipped under the waistbands of rubbery leather sweatpants, slender in cut, yet long enough to buckle at the ankles. Navy chalk stripe suits bagged around slight bodies, single breasted and boxy – the apple of the eighties' businessman's eye – topped off by the tallying of a stubby round-edged briefcase. Palette maintained a monochrome uniform, save the electric blue flash of a thermo-finished zip cardigan, or the inverted watercolour prints playing out across felted wools in a woozy hit of lead grey and banana yellow. Tailored as it so seemed, van Assche's excellence was all in the undoing – destructing all meaning, yet not a thread out of place.

www.dior.com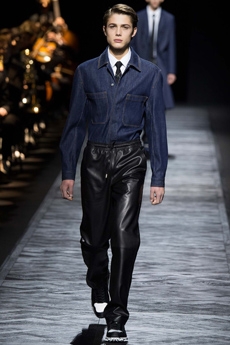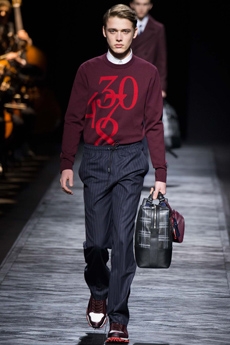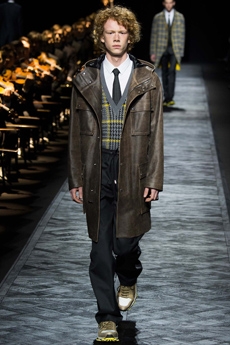 Fashion
Maison Margiela at Paris Fashion Week: Menswear Fall/Winter 2015
It was a trippy hit of tinsely lurex, pimp coats and puddled psych prints this season at Maison Margiela – an exercise in ritzy decadence for lanky outsiders.
Waxy leathers took on redolent hues, cloaking shearling and trench coats in murky plums and teals, trimmed with delightfully dated salmon-pink teddy bear wool collars. When they weren't garish and glossy, painted leathers were put to use as patchwork, their tattered patinas stitched to hessian toiles and engineered into blazers and flared pants.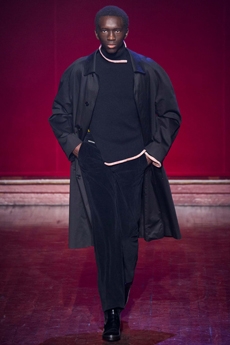 Mauve marbled with olive green to craft slender cashmere crew-necks, tucked into swaying oxford bags and finished with a gentler interpretation of the Chelsea boot. Drainpipes took on the sheen of supple skins, paired with chunky Nordic knits for a mawkish insouciance. Meanwhile, cardigans and skin-tight sweaters were striped in frizzy lurex, unashamedly ostentatious with their sweet-wrapper sensibility.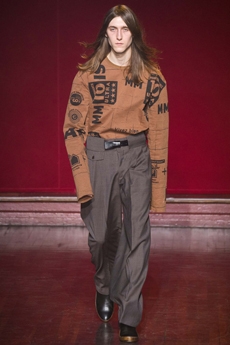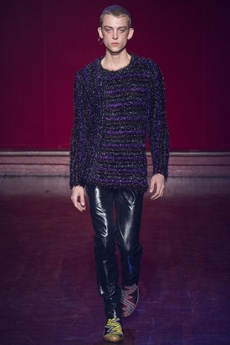 Fashion
Kaviar Gauche at Berlin Fashion Week Fall/Winter 2015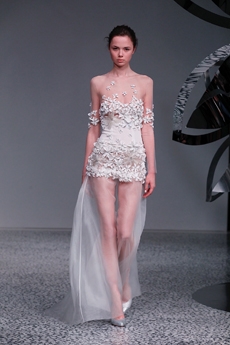 Swollen swathes of snow white tulle and all-over applique lilies drive heads to the clouds under the distinctly dreamy vision of Kaviar Gauche this season.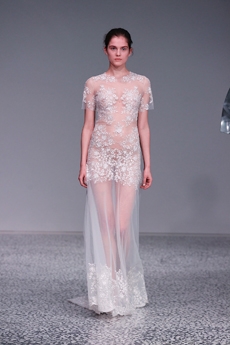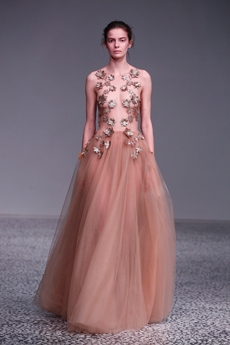 A fine art to master, Kaviar Gauche here managed to strike the perfect balance between verbose elaboration and artful absence in negative space; porcelain-pure gowns were encrusted with a plush, pure white bed of blossom, flowering from the bodice and giving way to soft and unsullied sheaths of a silk chiffon skirt. Against long-sleeved tee-dresses, the bouquet sprawled to the hem, petering out in its climb to the neckline. The effect was that of a balancing act – give and take at its most resplendent.
When ornamentation ceased to bud from the cloth, it inverted, almost dissolving into a frosted layer of lace. Whispering over the body, nude tulles bore just a suggestion of Belgian lace, its intricacies only discernible if they happened to catch the light – a tailored mirage. An ivory illusion, dreamed up by Kaviar Gauche.
Fashion
Raf Simons at Paris Fashion Week: Menswear Fall/Winter 2015
The sentiment behind Simons' collection was "youth on a pedestal", which accounts much for its soul-baring, Dadaist print, raw-hemmed DIY aesthetic.
Graffiti-scrawled lab coats drew-out the length of the body, punctuated by a preppy poloneck peeping from a scholarly sweater. Knitted tank tops were mawkish in model but not in practice, as fluro freeform checks bedazzled in peachy pink and green.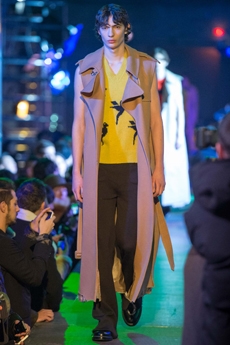 Plum slim-fit pants were poised with pockets at the hips, slender to the knee before eeking out to a gentle flare, traipsing over shoes and under soles. Footwear flipped between sneakers and brogues, just the glimpse of toe cap to testify which was in post.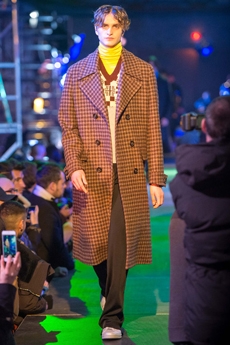 Cartoonish-collared coats were thatched in a russet gridded weave, paired with mustard scallop sweaters ripe from a seventies' sofa – that is, of course, unless they were being lacquered in urgent licks of crimson and jet, rotund, waxy and warped to the knee. Simons may well have set out to put youth on a pedestal, yet they soon knocked themselves back down, self-deprecating as his teens did seem – but then again, angst is in the nature of the beast.
Music
'Elastic Heart' by Sia Starring Shia Labeouf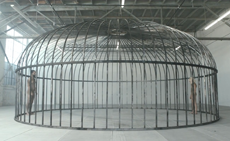 Few music videos bear the hallmarks of exceptional iconography these days – rarely do they execute it twice – but the rulebook goes out the window with Sia's latest release, rendered all the more surreal for its casting of Shia LaBeouf.
An extension of the narrative behind her unforgettable Grammy-nominated promo for 'Chandelier' released in May last year, the video for 'Elastic Heart' proves an equally unforgettable sequel, again featuring platinum-haired protagonist Maddie Ziegler, this time dancing alongside LaBeouf. Under the confines of a giant iron cage set in a steely vacant warehouse, Ziegler and LaBeouf present a poignant performance, the same iconic nude leotards ravaged by dirt, carving the contour of second round of awe-inspiring choreography, crafted under the artful eye of film-maker Daniel Askill. To brand the film a mere music video would be an injustice; here we have the second of two extraordinary works of art.

siamusic.net
Art
Alles Maskerade at Museum Villa Rot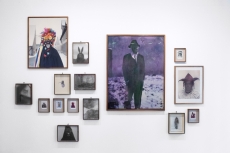 'Alles Maskerade', a collective exhibit presented by the Museum Villa Rot (Burgrieden, Germany), explores the concepts of masquerade and carnival within the framework of contemporary art. The act of dressing up can be interpreted in many different ways, and can have just as many meanings. But how do masquerades hold up to their cultural value in the postmodern media age? And what impact do they have on contemporary art?

The showcase is part of a larger exhibition project, created in collaboration with the MEWO Kunsthalle and curated by Stefanie Dathe (Museum Villa Rot) and Axel Lapp (MEWO Kunsthalle).

The exhibit will feature the works of the following artists: Axel Hoedt, Phyllis Galembo, Kristof Georgen, Fergus Greer, Imme van der Haak, Thomas Hörl, Klaus Pichler, Yinka Shonibare MBE, Jacqui Stockdale, Jean Tinguely, Urban Camouflage and Miguel Walch.

Alles Maskerade: 16 November, 2014 – 22 February, 2015. Burgrieden, Germany.

All images via Axel Hoedt's www.exhibitionviews.co.uk

www.villa-rot.de
Travel
House of Small Wonder Berlin
Four years ago, Motoko Watanabe and Shaul Margulies opened the House of Small Wonder in Williamsburg, New York. It didn't take long for the greenhouse-like café, specialising in delicious comfort foods with a Japanese twist, to become a cherished place for breakfast and brunch.

The newly-opened Johannisstrasse branch, designed by Prop House's Jonathan Margulies, shares the same energising atmosphere and mouth-watering cuisine. Here, specialist dishes like the Okinawan Taco Rice and the Tsukune Don (a Japanese chicken meatball with sweet soy sauce) are served alongside New York favourites (poached eggs with wasabi hollandaise sauce, fluffy ginger and sesame pancakes and bacon shiso infused waffles, to name a few) and freshly-baked homemade bread, croissants and gluten-free cookies, bound to be appreciated by Berliners.
Fashion
Pal Zileri Spring/Summer 2017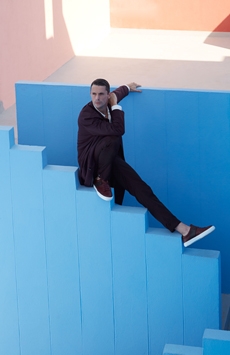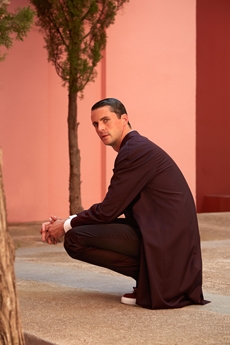 British actor Matthew Goode fronts the new Pal Zileri Spring/Summer 2017 ad campaign perfectly embodying the mix of elegance and contemporary tradition that defines the brand's aesthetic.

Shot by German photographer Dylan Don outdoors in the ground-breaking Muralla Roja compound is Calpe, Spain, designed by Spanish architect Ricardo Bofil, Goode displays a unique and controlled attitude against the sun-soaked hues of the buildings.

Color, light and the graphic lines of both the location and the clothes play a key role in expressing the essence of the collection and its distinctive mismatch of 3D textures, volumes and shiny/matte effects, all awash in terracotta red, turquoise, plum, sky blue and burnt orange. The striking architecture of the Muralla Roja building, characterized by interlocking strairs, platforms and bridges, exalts a lifestyle appeal that Goode elevates with his effortless and dynamic sprit, melding time-honored savoir-faire with a fashion-forward twist.

www.palzileri.com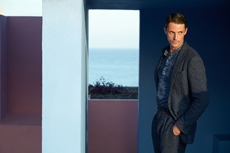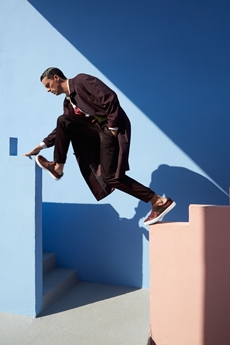 Fashion
Ermenegildo Zegna's Defining Moments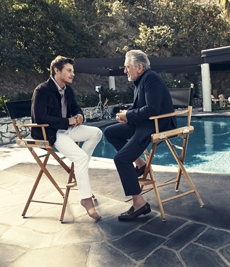 Every story worth being recounted begins with a defining moment. Ermenegildo Zegna's latest campaign focuses on just that: precious interactions, settings and conversations that trigger potentially life-changing reactions for its participants.

Robert De Niro, an actor known and revered the world over requires no introduction but it is safe to say he is no fashion ad regular. Alongside him, American Honey break-out star McCaul Lombardi whose performance generated Hollywood buzz at the end of last year. Actors of different generations, with wildly different experience levels but with an affinity that transcends age.

The campaign, shot by film-maker Francesco Carrozzi sees the actors interacting both with each other and the Zegna garments they have chose to wear and recalling their Defining Moments. De Niro's mentors, his philosophy of risk-taking and what draws him to a role are all put to the table. Lombardi appears genuinely awe-struck and profoundly respectful of his older, more experienced counterpart as he shares his experiences.

A free, real and passionate exchange that bridges a generational gap and lies at the heart of Ermenegildo Zegna's philosophy. A merging of the intensely artisanal and industrial elements that form the brand's DNA and expresses its values.

www.zegna.com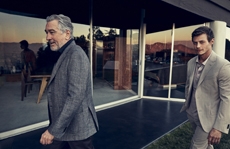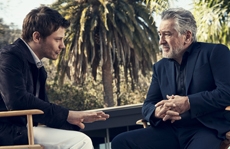 Fashion
The adventurous gentlemen of BOSS Fall/Winter 2017
Gentlemen who voyage across the world without ever losing their style, inspired Hugo Boss for its latest collection, dedicated to those ready to take on the world.

Adventurers and explorers' outfits that combine performance and functionality with Boss' key foundations: precise cuts and construction. The modern traveller wardrobe will be composed of wider 80s silhouettes mixed with slimmer, modern cuts and long and short designs. Love for details is never forgotten by the brand that for this collection added a touch of maritime influence in pea coats and duffels secured with buckled straps and chunky fastenings in the style of nautical equipment.

Fabric research is just an added value to a proposal that puts quality first. Boiled wool, bonded leather and cotton to provide protection and create incredibly à la mode oversized shapes. Fisherman-style knitwear is crafted in chunky constructions and zipped closed with ring pulls to be functional and masculine at the same time. The color palette varies from off-white to burgundy and olive green passing through navy shades.

Modern travellers can sleep soundly: their luggage will always be fashionable.

www.hugoboss.com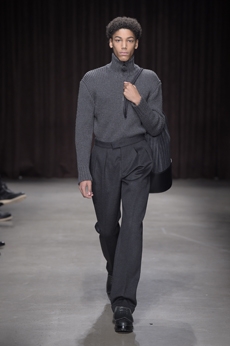 Fashion
JUUN.J Fall/Winter 2017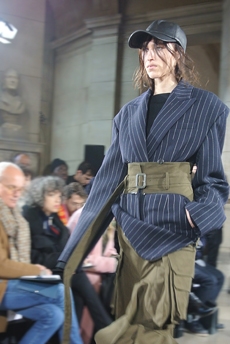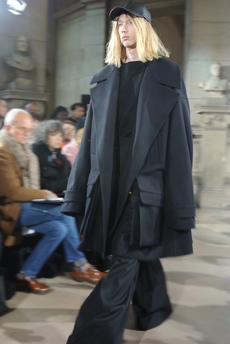 As the models stormed inside Universite Rene Decartes's suggestive neoclassic space, and the fluid body of Juun J's work floated around, we caught the power of history. The history of this brand evolved within the last ten years into an acclaimed fashion forward entity. for this celebratory collection Juun J - in name of a decade spent imagining the future of his eponymous label - choose the emblematic subtitle: "Archive".

Oversized long sweaters, heavy, massive, almost suffocating in all their fierce presence. The architectural outwear, the brand's signature trench coat and the MA1 bomber jacket. All the iconic pieces of Juun J's past collections, in a splendid parade, as an ode to this Korean designer who has influenced the wardrobe of boys and girls in recent years. The girl who has been wearing Juun J forever and who got a special place in the future course: the new Juun J will have from now on feature a Womenswear collection.

And so the oversized cargo pants transformed into high waist long skirts with maxi pockets on the hips and slits on both sides which will be a hot piece for next season. Khaki, military green, black, white and pin-striped blue: the palette focused on the brand's favoured colours. The large parachute hooded outwear with a myriad of swinging straps were certainly the protagonists, underlined in the closing act when all the possible declinations marched in, as if to suggest the impetuous movement and space of Juun J in the upcoming decade.

www.juunj.com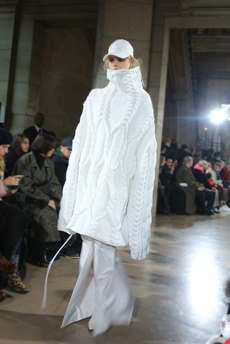 Fashion
NEW TENDENCY x Meiré und Meiré
New Tendency showed its 2017 product innovations at the Meiré und Meiré Factory.

The Bauhaus tradition has influenced the development process of everyday contemporary objects for New Tendency. Their furnishings serve to compose an ideal setting for modern working environments. With the emergence of co-working spaces, New Tendency have picked up on the need of flexible and functional configurations and strive to inspire those who are surrounded by their creations in their daily lives and their professional environments.

Showcasing their work in one of the leading creative agencies in Germany was therefore a natural progression.

Among other objects, New Tendency presented its December Edition at the Meiré und Meiré factory, a line that was the result of a fruitful collaboration with the agency, furthering their devotion to creative partnerships. The Artist's Edition of the lamp served as the inspirational springboard for the creation of New Tendency's premium line, Black Label that will soon be expanded to include more exclusive pieces with clear geometrical components.

Raw structures, industrial materials and natural elements formed the perfect hybrid framework for New Tendency's minimalist yet progressive designs. The presentation at the Meiré und Meiré factory didn't treat New Tendency's furnishings as conventional exhibits; they were instead integrated in the agency's daily goings-on serving as both a working space and a meeting point.

For New Tendency's exhibition at the Meiré und Meiré Factory, Mike Meire grouped the December edition pieces with side tables from the META line to create an island in the middle of the space. The installation was staged on raw concrete and stone slabs between dry plants, paint buckets and cardboard boxes. Fluorescent lights floated above it, different colours and textures of plastic foil sheets hanging over the top. The industrial ensemble was characterised by deliberately rudimentary fragmented elements that served as a beautiful contrast to the high-end claim of the products on display.

In the age of digitalisation, where products are becoming increasingly perfect Mike Meiré  felt the need to infuse the products with textural and tactile elements proposing 'Brutalism x Redefining Nature' and paying tribute to Le Corbusier's New Brutalism.

www.newtendency.com
www.meireundmeire.com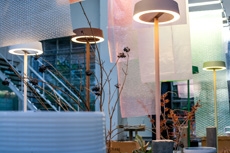 Fashion
Plein Sport Fall/Winter 2017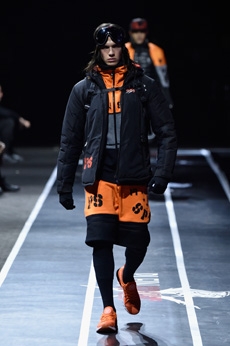 Sport and fitness are the latest addiction of modern society and that's a fact. It's not all about keeping fit anymore, it's a lifestyle. Designers have also caught the athleisure bug and among them is Phillip Plein who delivered a Fall/Winter 2017 collection dedicated to sportswear during this year's Milan Fashion Week.

On a runway made over to resemble a racetrack, models, boxers and workout fanatics presented the first ever Plein Sport line. The collection features sweatshirts, puffer gilets and bombers, among many other fitness apparel favourites, fusing cutting-edge technology with luxurious materials.

Innovation is Philipp Plein's mantra and a key word for his collection that also offered sleeve pockets for iPhones and pioneered lightweight footwear and anti-sweat fabrics.

www.philipp-plein.com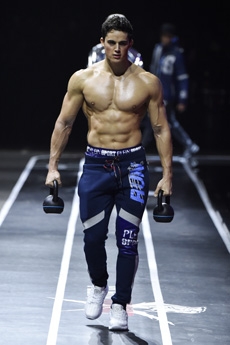 Fashion
Take a walk on the wild side with Christian Dada's "Blue" collection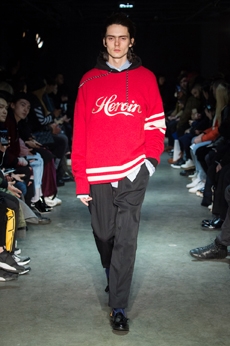 In the name of "Blue", Christian Dada's latest collection is a hymn to Japanese color traditions. Blue evokes feelings of rebellion, frustration, incomprehension that surround troubled youth.

Reaching out to our inner adolescent, the collection revolves around the concept of deconstruction that is obtained with sophisticated methods of shaping and layering. Mixing Eastern and Dadaist aesthetics, designer Masanori Morikawa plays with classic tailored jackets worn like kimonos wrapped around T-shirts and striped pajamas. Trench coats morph into tunics and army bombers and denim jackets are ripped into and skinned to expose their bone structure.

Tartan motifs and schoolboy sheepskin jackets collectively pay homage to College fashion. With slogans like "I Don't Like Drugs but Drugs Like Me" or "Too Fast to Live Too Young to Die" making appearances throughout the line, Morikawa's collection echoes messages from modern society.

Playing with double entendres is a trademark of the Dadaist mood board that definitely urges one to take a walk on the wild side.

www.christiandada.jp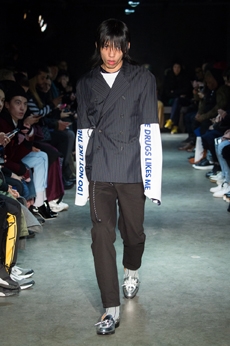 Fashion
Jil Sander Fall/Winter 2017: Between High Fashion and Mother Nature
The uneven fight between humans against a powerful and merciless nature is the chore of Jil Sander's latest collection that brings us an incredible taste of glacial novelty for the upcoming Fall/Winter season.

Inspired by 'Independent People' by Nobel Prize winning author Halldor Laxness, the collection plays with the colors of Icelandic landscapes ranging from chalk grey to yellow. Shades of ice, brown and lava are chosen to give life to coats, parkas, heavy felts and comfortable shapes designed to face the harsh temperatures of Nordic winter in style. Military cotton and heat-sealed waterproof wool make coats and blousons, put together by big Velcro stripes.The collection's prints are a new take on glitch art that plays with disintegrated images.

"Rather keep your mind free and your path your own"said Laxness, and Jil Sander looks to have learned the lesson perfectly.

www.jilsander.com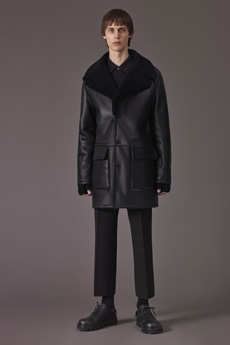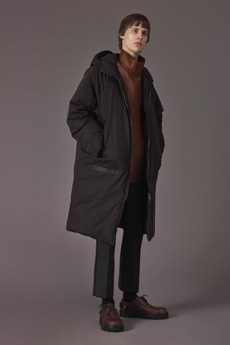 Art
Bottega Veneta and SCoP: when fashion supports art
Tomas Maier, Bottega Veneta's creative director, has never hid his passion for art, making it a proper flagship of the Venetian brand's attitude. Bottega Veneta showed for the first time its strong commitment to art and culture in 2001, when Maier introduced the "Art of Collaboration": an ongoing project which invites photographers and visual artists in order to reflect brand's aesthetic inside its campaigns.

This year the brand confirms its ever-lasting addiction to art, partnering with the Shanghai Centre of Photography in order to support four key international exhibitions hold at the most prestigious photography institute in China. SCoP is indeed considered worldwide the city's very first place entirely dedicated to photography showcasing its best and diverse genres.

"Made in Germany: German photography from the 19th century to today" will be the first exhibition supported by Bottega Veneta. The projects will comprises an unparalleled selection of iconic masterpieces that together with contemporary examples will give an up-to-date and fresh touch to the entire exhibition.

The exhibition will run until April 2nd 2017
www.bottegaveneta.com

Fashion
Louis Vuitton's "Series 6": between French theatricality and aesthetics
Paris with its romantic promenades sur la Seine it's the star of "Series 6", the new Spring/Summer 2017 advertising campaign by Louis Vuitton.

Like a flâneur, Bruce Weber, captured the allure of Nicolas Ghesquiere's favourite heroines bringing back to life the atmosphere of artistic enthusiasm that typify the city of lights. Michelle Williams, Jennifer Connelly, Adèle Exarchpoulos and Sasha Lane become the modern inspirations for a reimagined Paris. The result portrays powerful silhouettes that comprise a collection of strongly cultural referred Parisian moments. The season's handbags, the long jersey dresses and the tailored suit become characters in their own right, the perfect companions for these pictorial personalities.

"It is to this cultivated, intellectual, original and free-spirited Parisienne that I wanted to pay tribute" said Nicolas Ghesquière, the creative epicenter of nowadays French elegance.

www.louisvuitton.com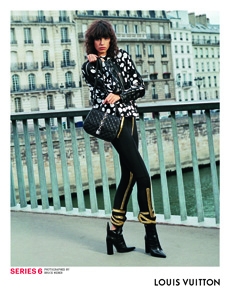 Fashion
VERSACE Spring/Summer 2017: enjoy the ride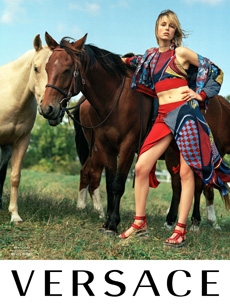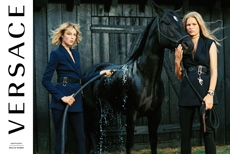 Savagery and freedom have always been messages carried by Versace that since its birth thanks to its innovative ways of conceiving fashion has endlessly imposed its creative dynamism among the highest fashion brands.

From attitudes to backgrounds, the Spring/Summer 2017 campaign shot by Bruce Weber is the proper representation of what Versace has always meant in the haute couture. Conceived by artistic director Donatella Versace, the freedom and dynamism of summer and the active mood are perfectly encapsulated in these shoots. Models Edie Campbell, Anna Ewers, Mitchell Slaggert and Jake Lahrman, found themselves in the Kentucky countryside surrounded by horses, perfect symbols of this "freedom" collection.

Freedom of choice, freedom of expression and freedom of speech, These are the messages carried by this collection and Versace in general, because as Bruce Weber said: "it's always interesting that fashion can carry messages in a subtle way and make people think about their own lives and how they can make it better."

www.versace.com
Fashion
Acne Studios Resort 2017 collection's film is now out, and it's all about Hype Fever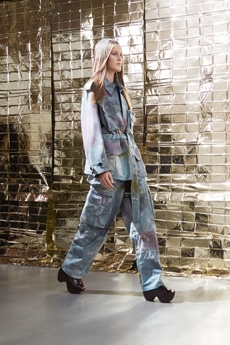 Highlighted shades, slow motion pictures and pop vibes merge together to give birth to the new Resort 2017 collections film by Acne Studios.

Inspired by musical counter culture, free and fluid silhouettes mixed and matched with generous draping, patterned knitwear and elongated evening wear. Sneak peeks from the runway are given together with backstage scenes to present a collection that is nothing but common.

Resort 2017 is all about shapes and prints that are achieved through a variety of dyeing techniques from tie-dyeing to oil-dyeing, in order to create a look that is both soft and romantic without ever forgetting a taste of sane hippie-rock attitude.

www.acnestudios.com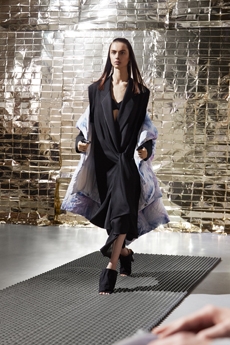 Fashion
Levi's and JUGEND GEGEN AIDS: T-shirts with a good cause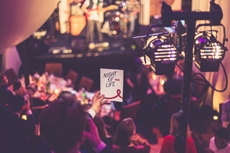 On world's AIDS day Levi's decided not to stay in the corner, taking part together with the JUGEND GEGEN AIDS association to a special night that merged fashion, music and sexual education.

In order to make a difference and let young people feel close to the cause, the denim brand organized the "Night of Life" in association with DJs and starred chefs in order to turn a pool party at the Hamburg East Hotel into something unforgettable.

The 'STOP AIDS' sign was shown on black and white limited edition Levi's T-shirts during the party, whose proceeds will go to the benefit association JGA that since years fight to create awareness around AIDS.

"Do what you want. Do it with love, respect and condoms"

www.levi.com
Fashion
Dior Homme presents the Black Carpet collection
Dior Homme launches today its Black Carpet menswear collection: a capsule of evening ready-to-wear pieces designed by the creative mind of Kris Van Assche.

Spring 2017 will see a perfect merge between the designer's untamed-energetic style and Dior's traditional codes. The atelier's meticulous craftsmanship and attention to details will fuse creating rebellious, unexpected pieces from Dior's signature slim-cut suits.

Prince of Wales or Houndstooth check will be interrupted by paint splashes woven into jacquard, velvet flocking and satin scars to give a complete new taste to fine wool tuxedos and t-shirts.

With innovative and unconventional techniques, Black Carpet, pairs the attitude of the runway with house's know-how in order to push classical precision in to more extreme interpretations.

www.dior.com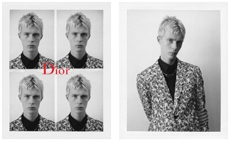 Fashion
The TOUCH revolution by Replay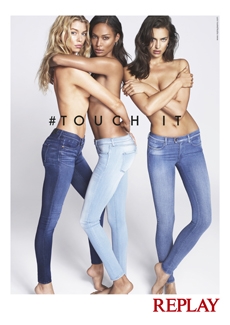 Rich and inviting fabrics, smoothness and stretch materials: the focal points of Replay's new disruptive jeans: TOUCH

The brand's revolutionary jeans promise to fulfill the needs of modern women by allowing them to feel comfortable, sexy and elegant in jeans that don't crease and are available in a selection of colors, washes and cuts.

The advertising campaign will feature supermodels Irina Shayk, Joan Smalls and Stella Maxwell personifying women going about their daily routines in order to highlight the practicality of Replay's TOUCH jeans range.

www.replayjeans.com
Fashion
Palazzo Versace opens in Dubai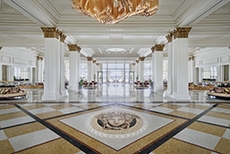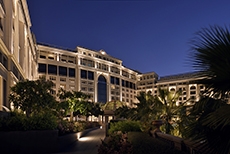 Italian luxury made a step forward with the grand opening of Palazzo Versace Hotel & Resort in the heart of Dubai Cultural Village, introducing the Milanese brand's experience to the emirates.

After sixteen years, Versace has decided to give birth to its second resort property celebrating it with a grand opening event on November that was hosted by Donatella Versace herself. Donatella has exclusively designed the furniture and interiors for all 215 rooms, creating the ultimate luxury experience in the brand's history.

Located on the foreshore of the Dubai Creek, this five-star property evokes the architecture of a 16th century Italian palace with traces of Arabian taste, featuring wonderful suites furnished with Versace Home Collection products, first-class spa and restaurants combining brand's extravagant taste with the highest quality of service.

Straight from the Parisian runways, models like Alessandra Ambrosio, Helena Christensen and Natasha Poly among with Versace's couturiers, personally presented their couture collection to the Emirates clientele. For this exclusive occasion, a portion of the orders has been donated from the brand to the Dubai Cares Organization to help improving primary education for children in developing countries.

Versace's founder Donatella found herself amazed by the final result defining Palazzo Versace as a "truly luxury destination second to none in the world".
www.palazzoversace.ae
Fashion
Aitor Throup appointed Executive Creative Director for G-Star Raw
Following three successful years as creative consultant to the brand, G-Star Raw announces Aitor Throup as its Executive Creative Director. Since 2013 the Argentinian-born British designer has worked closely with the brand developing new approaches to 3D denim design and was also involved in the development and concept of the denim superstar's flagship store in London's Oxford Street. Throup directed the recent 'What is RAW?' global advertising campaign and launched RAW Research, his first collection for G-Star during Paris Men's Fashion Week. The transition from consultant to Creative Director was an organic one for both the brand and artist who shares G-Star Raw's design ethos that holds innovation as one of its core values.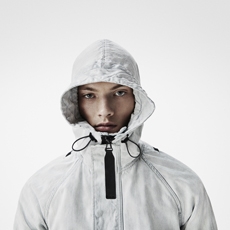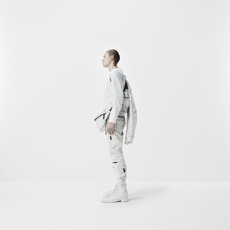 Fashion
Comme des Garçons Spring 2017 Ready-to-Wear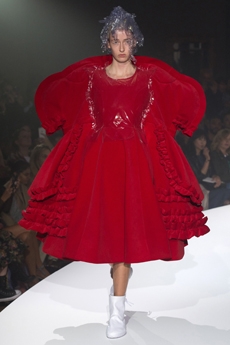 There is a certain challenge overflowing when taking a look at Rei Kawakubo's work. The naked message that actually she continues to profound through her clothes every season is pointing at only one direction: creativity avulse from compromising. Comme des Garçons Spring 2017 is exploring again the sense of human being itself. "Invisible clothes", as Kawakubo stated in the show note. Clothes inside huge armoires, gargantuan silhouettes that allowed to pick what it looked like a pregnant belly, or just the eyes of the model. Like a cocoon where the hidden self resides. The sculptural garments sometimes fascinated with early renaissance had the power of overwhelming austerity. A black parade with moments of Kawakubo leitmotif: the crimson red, the ruffles, the polka dots.

www.comme-des-garcons.com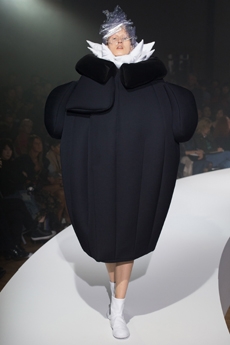 Fashion
Hermès Spring 2017 Ready-to-Wear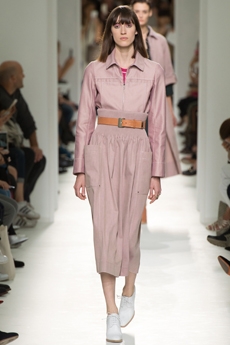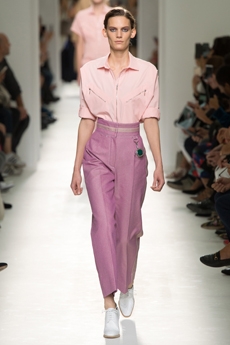 In the few past seasons since her arrival at Hermès, Nadège Vanhee-Cybulski has been balancing elegant understatement and her continuous research of chromatic nuances alongside clean cuts, in search of that perfect balance true to one of the most classic French luxury maisons.

A relaxed, simple atmosphere — far from any decorative fuss. With no display of the iconic bags nor the famous carrés, Vanhee-Cybulski's intention to put a strong focus to the clothes and her very own redefinition of the brand's Ready-to-Wear was clear since the last collection in March.

For Spring 2017 we see again calf and floor length and splendid knitwear. The first looks in denim with faded pink tones feature a dress tapered at the waist, a silhouette also declined in fuchsia leather. This luxurious material, trademark of the house, is certainly one of the protagonist of the collection together with subtle reference to male wardrobe: relaxed high waist wide pants matched with blouses with ajour details or in silk cigaline, a calfskin coat made of assembled panels. All perfectly balanced.

The final bias cut long dresses make a fresh romantic entrance into the composed atmosphere. The new Hermès is taking shape.

www.hermes.com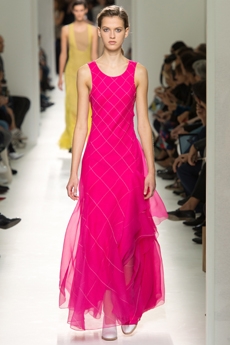 Fashion
Louis Vuitton Spring 2017 Ready-to-Wear
Women. Or like Nicolas Ghesquière likes to call them: Heroines. Powerful characters who conquer the scenes. Indisputable free and unique. Like Louis Vuitton's ambassadresses – from Léa Seydoux to Alicia Vikander and Catherine Deneuve, Doona Bae, Michelle Williams – all present, attending the Spring Summer 2017 show. Nicolas Ghesquière delivered a collection of poignant femininity. An interest that he already expressed in the last Louis Vuitton book, the forth of the serie: "I like to see women walking, moving. To see how fabric falling in a certain way can enhance the body; the femininity that interests me is about energy and vitality". Ghesquière woman is strong yet sinuous. Fluent dresses with midriff cutouts in jersey channelling that sensuous look, power boots as out of a manga heroine, or sheer gowns with padded shoulders hinting military epaulettes – fitting the Place Vendome scenic heritage, where the show took place. Generaless of conquest, witty, travelling – as rooted in Louis Vuitton's spirit. "6 GIRLS 6 MINUTES", the short film directed by M/M PARIS for Louis Vuitton just released to present the new collection gives a glimpse of that modern "Parisienne" attitude. A portrait of six different girls around the world in love with the French capital.

www.louisvuitton.com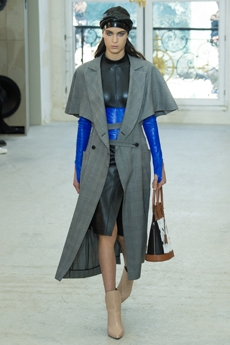 Fashion
Versace Spring 2017 Ready-to-Wear
If you were expecting overt ostentation from Versace this season, SS17 will have you back on your heels. Sensuality was served in bounds, but it wasn't offered up on a plate. There were nuggets nestling in the ruching of wrinkled parachute gowns, silks slashed at the neck and snatched at thighs to wrap the body with its impermeable sheen. Asymmetry set the sexiness askew, with bodycon co-ords carved of second-skin jersey silks and mapped with curling bars of sea green and grape. Satin shirts sported their collars splayed, sleeves rolled to the elbows as hems tumbled from waistbands, accordion pleat skirts slipping to the lower hip. As if in a bid to curb the unkempt, fastenings were fastidiously apparent, but even they were trying to escape; side-squeeze buckles slipped from razor-sharp suiting while bulky zips made their way erratically across color-block coats with scarce regard for symmetry, and buttons betrayed their orthodox lines in favor of boomerang bends.

Ribbed wools ran chevron stripes down sweaters, cool hues quelling their urgency, though the quiet didn't last long. Waxy red leathers bore a more brazen brand of sensuality, a commanding contrast calling upon cropped jackets and silken kilts, sullied by the occasional slubby knit. The only ode to order made a masterwork of the skin, sculpting the strength of naked features, chiselled to par the power cuts which were ironed flat and clipped to a brusque edge.

www.versace.com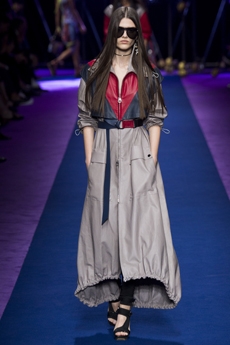 Fashion
Maison Margiela Spring 2017 Ready-to-Wear
When you pair a fashion house that has been the symbol of breaking the rules of conventional fashion and an irreverent genius mind, the result is just powerful. Maison Margiela Spring Summer 2017 collection designed by John Galliano is certainly the proof that the one between the English designer and the French fashion house is a match made in heaven.

Galliano produced a collection of contrasts, un-matching references, and a rebellious spirit that only few designers like Galliano can pull off these days. Just like Martin Margiela did in his glorious years.
Maison Margiela Spring Summer 2017 is a spectacular parade of superheroes out of a futuristic manga. A skirt adorned with broken CDs to create flower-like appliqués matched with a Scottish check blazer, a wet suit pulled down to form a dress, trench coats turned inside out where the lining forms a dress but that can be magically worn back as coat. Lace matched with see trough plastic lining, ruffled corsets and puffy Victorian sleeves.

The head pieces often like modern wet caps matched with hearings like a sort of Star Trek's Spock brought a further look into Galliano's game of double, of ambiguous, and surely of the intricate creative process that this incredible designer went through to reinterpret Maison Margiela's identity. That's just what we were all waiting for. Bravo John.

www.maisonmargiela.com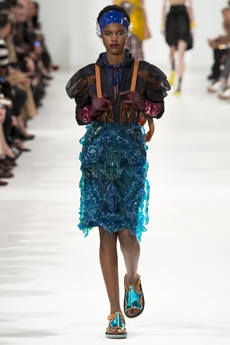 Fashion
Bottega Veneta Spring 2017 Ready-to-Wear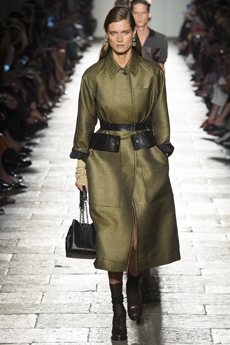 Muddy hues made their mark at Bottega Veneta but the overall effect was anything but beige. Rather, it primed a canvas of classics from which showpieces would pop. And there was good reason to call upon the party clothes; 2016 marks a special year for the brand, not only the 50th anniversary of the fashion house, but also its 15th year under the Creative Direction of Tomas Maier. In spirit of occasion, Maier's forward-thinking retrospective featured more than a few familiar faces, from Eva Herzigova and Lauren Hutton to Bella and Gigi Hadid. As a performance piece it pleased crowds, but as a practice of the practicality of Bottega Veneta, it blew minds – it confirmed that which we had always supposed but never truly knew: Bottega makes clothes we can all wear – nuanced, transitional clothes which seem to shapeshift according to the spirit of the woman who wears them. SS17 sculpted supple shells of coffee-colored crocodile, swinging to calves as mackintosh coats or cropped as curt little bikers. Separates clung to the torso in flimsy wools, button-up blouses making a second skin of macramé as A-line skirts sheathed legs in shaggy sable lace. Color was rationed, but when it bled through the cracks, it blazed. Lurid contrasts courted hot pink yarns against waxy red leather skirts, cinched like paper bags at the waist, while ditsy florals found their way onto faded reams of lemon yellow cotton, bound and belted around the body as refreshingly modest wrap dresses. This tack's been on the table for fifty years, but it's a sensibility that hasn't gone stale. Here's to another half century…

www.bottegaveneta.com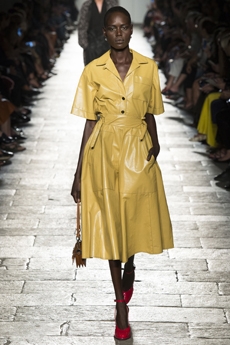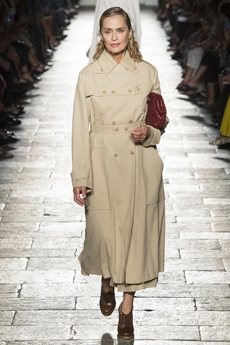 Fashion
Dries Van Noten Spring 2017 Ready-to-Wear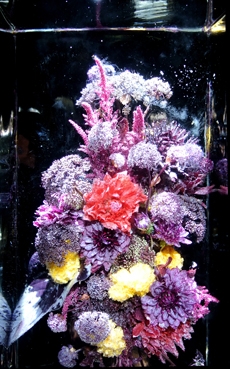 The ecstatic, almost suffocating, atmosphere of pure beauty. Dries Van Noten once again staged a show of intricate play of contrasts. Fragments of beautiful Japanese flowers prints collages almost like randomly splashed on white and neutral coloured garments were followed by Victorian-like beaded collars and mourning veils. A bright warm yellow together with deep black. As the models started to walk in, silently, with just the click clack of their heels in the background, the magic of daring, like only the Belgian designer can undoubtedly master, gradually unveiled: there were clean and raw linen looks followed by their counterparts in beautiful printed silk. Sporty shorts and tee in white matched with a black patents leather long coat. A long denim skirt paired with a bomber jacket in the most opulent silk. Embroidered black tulle together with a caramel sweatshirt.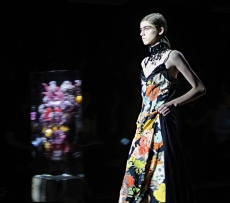 Dries Van Noten created a collection were a complex sense of time and place played along with a fragile beauty. The fragility of fresh flowers that artist Makoto Azuma arranged in 23 beautiful ikebana sets, merged for 2 weeks in subzero water just before the show and forming beautiful ice sculptures that adorned the catwalk. As the show arrived to an end and the glittery ice blocks started to melt forming random water patches on the floor, we couldn't be other than overwhelmed by the mesmerising sense of such a dramatic message: all beautiful things come to an end. But not certainly the magic of Dries Van Noten.

www.driesvannoten.be
Fashion
Swarovski for Peter Lindbergh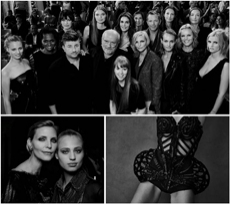 The exhibition Peter Lindbergh – A different Vision on Fashion Photography has announced Swarovski as their Golden Partner as they tour internationally. Curated in the Kunsthal in Rotterdam, the exhibition highlights the photographer's influence on the fashion industry and him challenging the preconceived notion of beauty, spread across nine sections in the gallery including Dance, Supermodels and Icons. Four of Lindbergh's fine art prints put on display are embellished with Swarovski Crystals, as well as a Swarovski Crystal Rocks platform including the photographer's famous alien costume. "Lindbergh's democratic vision is expressed in partnership with Swarovski, who have generously supported this project and share the same humanist values as Lindbergh," says curator Thierry-Maxime Loriot.

www.swarovski.com 
www.kunsthal.nl
Fashion
Burberry Preview Straight-To-Consumer Collection Campaign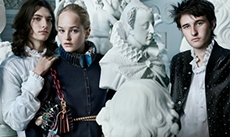 Shot by Mario Testino, Burberry reveals a preview of the latest advertising campaign, which will launch after the Burberry show at London Fashion Week on 19th September and will run until February 2017. The collection inspired by Virginia Woolf's Orlando, contrasting with masculine and feminine styles, will be the brands first straight-to-consumer collection. Burberry Chief Creative and CEO Christopher Bailey says: "The changes we are making will allow us to build a closer connection between the experience that we create with our runway shows and the moment when people can physically explore the collections for themselves." The campaign featuring British models Jean Campbell, Alex Dragulele and Swim Deep bass guitarist Cavan McCarthy is shot at the Walker Art Gallery in Liverpool, a historic scenery for the upcoming collection.

www.burberry.com
Fashion
Kobe Bryant at Nike Amsterdam Headquarters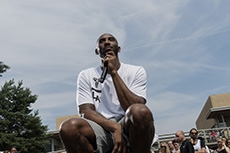 "Mamba is back", Mr Bryant says as he walks up on stage at the Nike Headquarters in Amsterdam. The recently retired NBA-player performed his last game on April 13th at the Staples Centre and ended his basketball career with an amazing 60 points, which he said was to bring excitement to the game and make people, including himself, forget it was his last. At a young age, he decided to start playing for the NBA, as he wanted to learn from the best, and it worked out brilliantly. Only 19 years old, he played against basketball legend Michael Jordan.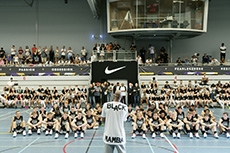 Being opposite Jordan didn't scare him, but made him realize how good he had to practice to get to his level. During the half-hour Q&A Bryant talks more about growing up in Italy, coach Phil Jackson being the person he learned the most from and of course his on-going collaboration with Nike. As Bryant is very much involved in the process and design of the shoes, he will continue to innovate, find new and better materials, which should result in the best performance for athletes. There won't be an acting career in the near future, but Kobe Bryant has a desire to inspire millions, by telling his story.

www.nike.com
Fashion
Aitor Throup's 10th anniversary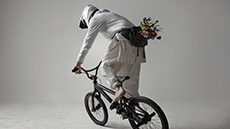 Artist, designer and creative director Aitor Throup celebrates 10 years in the fashion and design industry by unveiling a redesigned aitorthroup.com website, which features a complete insight of Throup's creative archive from the last decade. The compilation of his work shows unseen projects as well as work from the early days of his career and current jobs, from design, film and photography to his work as creative director. The most recent New Object Research collection will be shown, as well as archived projects like the collaboration with Norwegian fashion photographer Sølve Sundsbø, among many others. The Royal College of Art alumni and his 'A.T. Studio' challenge traditional systems and propose authentic ideas and new ways of storytelling.

www.aitorthroup.com
Fashion
Diesel Black Gold Resort 2017
Creative Director Andreas Melbostad has mixed an early nineties mood with Diesel Black Gold's known utilitarian style, creating Resort 2017. Styled with gladiator boots and black pointy biker shoes to keep a clean cut and metropolitan spirit, the collection adapts new proportions that allow masculine shapes to appeal more feminine. Layering of skirts over long shirts, off-the-shoulder biker jackets and poplin dresses are this seasons' statement look. For its men's collection, Melbostad experiments with parachute trousers made from trench fabric, but keeps a utilitarian feel with bomber and denim jackets and sweatshirts, a sportswear essential.

www.diesel.com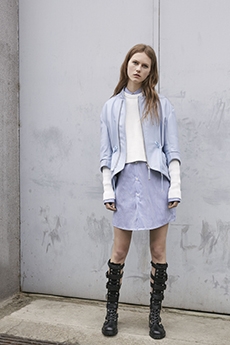 Fashion
A Surrealist Fantasy - Moncler FW16/17 by Annie Leibovitz
Surrounded by snow, inspired by the Nordic climate. Moncler's ongoing collaboration with iconic photographer Annie Leibovitz produces a whimsical series of images for its Fall/Winter 2016 campaign, "A Surrealist Fantasy." Leibovitz relationship with the French brand is founded on a shared view on creative experimentation, made visible in their latest partnership. Moncler's FW16 Campaign is a collision of an imaginary and the natural word, which translates a surrealist vision.

www.moncler.com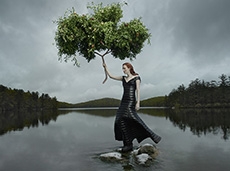 Fashion
Marni Fall/Winter 2016 Campaign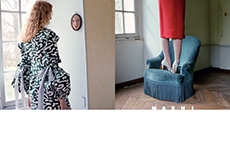 The multiple facets of the Marni woman is portrayed by five lively characters in the Marni Fall 2016 campaign, shot in an abandoned, ancient mansion by Hellen van Meene. Giovanni Bianco & GB65 have through their art direction accomplished to create a delicate atmosphere in the deserted estate with hints to the surreal. The images, styled in Marni Fall 2016/17 by Lucinda Chambers, shows the collections new translation of romanticism.

www.marni.com
Fashion
Maison Margiela Artisanal Fall 2016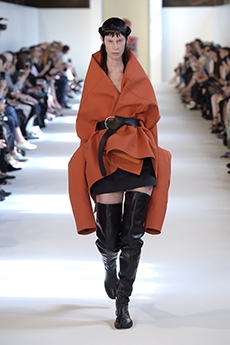 John Galliano has a much more personal understanding of Maison Margiela for its Artisanal Fall 2016, in which he experiments with a different take on haute couture. "A sense of the incredible and the impossible spins throughout the Artisanal collection, where fantasy is tempered by the jarring authenticity of today's reality." A satin orangza dress is draped around the models body, printed with Nick Knight's British Birds (2008) styled with a cycling top, arctic blue gloves and dark brown clogs, her headpiece resembling a string of seashells. Another model is dressed in an upside down orange coat, worn over a navy shift dressed, paired with rubber-soled thigh-high black 'Tabi' boots.

www.maisonmargiela.com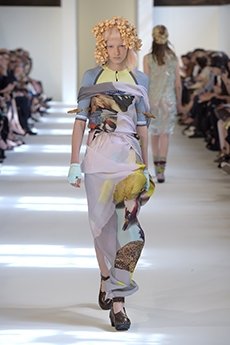 Fashion
MBFW: l'VR Isabel Vollrath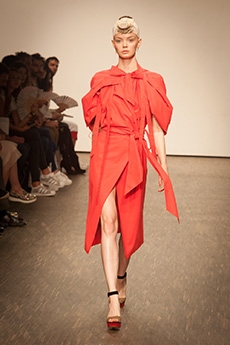 Inspired by the Russian "Les Ballets Russes", on the third day of Berlin Fashion Week we see l'VR Isabel Vollrath's runway show. Isabel Vollrath is a Berlin Weissensee School of Art graduate, with as main focus showing that fashion is more than just gear. It's an art form, portrays a culture, visualises a way of thinking. The collection is called "Sacre du Printemps", which loosely translates as the Ceremony of Spring. Forest sounds start the show, with birds peacefully singing in the background, which is followed by a beat and the first looks layered with tulle. Its colour palette began with pastels and developed into coral and deep navy, while including white and black. It all sits together nicely through the use of oriental prints.

www.isabelvollrath.com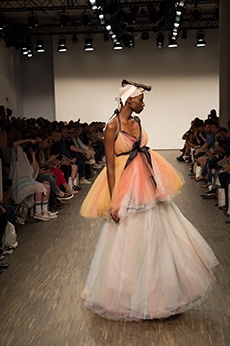 Art
Fondation Louis Vuitton To Exhibit ICONS OF MODERN ART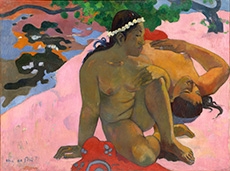 ICONS OF MODERN ART – The Shchukin Collection will be exposed at the Fondation Louis Vuitton later this year, paying tribute to Russian art collection Sergei Shchukin. Moscow-born Shchukin was an industrialist before getting involved with Parisian art evolutions, like the impressionist, post-impressionist and modern movements, which resulted in becoming one of the most radical art collection of the 20th century. Thanks to contribution of the Hermitage Museum and Pushkin Museum, this exhibition will be able to showcase 130 art pieces from Shchukin's archive, including works of Monet, Picasso and Van Gogh, along many more. The exhibition, generally curated by Anne Baldassari with help from Shckukin's grandson André-Marc Delocque Fourcaud, has a culture programme encircling, focussing on dance and music and the artistic relationship between France and Russia commencing early last century, which is still relevant today.

The exhibition will run from October 22nd until February 20th 2017.
www.fondationlouis.vuitton.fr
Fashion
Atelier Versace Fall 2016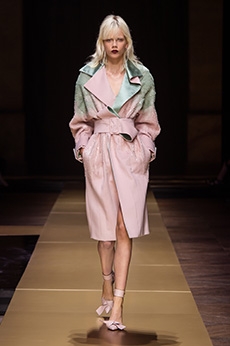 The Fall 2016 Couture shows are happening in Paris right now, where Versace showed its Atelier Fall 2016 collection. "I love the elegance, sophistication and drama of today's woman. This is a collection that reveals a woman's power, and her allure", Donatella Versace reveals of her latest show. The collection portrays elegance and it experiments, with volume and new ways of draping. Evening gowns are paired with tailored trousers and has a certain fluidity to them, as the pleats create a strong silhouette against the body. Jackets graciously fall off the shoulder, the cashmere evening coat is freely embellished with Swarovski crystals and styled on the feet are high heels, detailed with knotted bows of leather falling over the toes.

www.versace.com
Fashion
MBFW: Laurél S/S 2017
The mix between the chic and the casual is key to the Laurél S/S 2017 collection, which was first shown at the Berlin Fashion Week these days, bringing summer to the city. Above anything the collection is stunningly summery. It is all about monochrome colours. A lush blue, yellow and red allow for primal colours to contrast different black-and-white combinations. Cleanly cut garments of flowing fabrics include light blazers, flared trousers, dresses with V-necklines and jumpsuits. There is the touch of a slightly ethnic feel to the collection, pronounced in off-shoulder tops and dresses as well as tassel earrings and pom pom necklaces. Highlights are a striped black-and-white beach ensemble with flared pants and a crop top or the filigree knitted floor-length dress with slits at each side revealing the model's long legs. While the collection makes use of stripes and symmetric patterns, it finishes with a girlish white dress, incorporating a pattern of white flowers on a sheer fabric. This is how city girls celebrate the summer.

www.laurel.de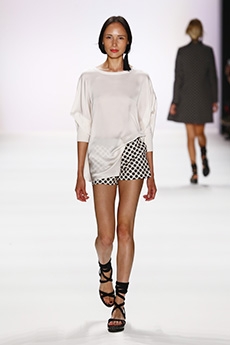 Fashion
GOETZE SS17 Collection
Boyish youth, styled manhood, and reworked casualwear - GOETZE's SS17 collection conveys all of these sensibilities.  The collection adapts the forms and silhouettes taken from athletic apparel, while placing emphasis on the functionality that materials like mesh and poplin bring to the clothing.  The tone of the pieces reinforce the light and active nature of the apparel, with palettes of sea blue, sky blue, navy and anthracite that note the light, active touch specified for this collection. Founded by Sissi Goetze following her completion of her studies at Central St. Martins in London in 2011, and shortened to GOETZE in 2016, GOETZE was formed around an ongoing exploration of unique formal and casual sensibilities within essential menswear items. Restraining her output to variations of men's shirts, pants and jackets, each collection considers the creative potential within limitation, utilizing material in a gestural nod towards both functional aesthetics and minimalist design. GOETZE fuses historical precedents of menswear with everyday aspects of contemporary masculinity, taking inspiration from both athletic apparel and casual wear.
Fashion
BERLIN FASHION: IVANMAN SPRING 2017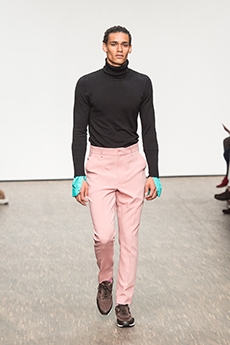 Designer Ivan Mandzukic started his brand in 2010 and is definitely a force to be reckoned with. Main inspiration for IVANMAN Spring/Summer 2017, shown at Mercedes-Benz Fashion Week Berlin, is the 80s German film Baghdad Café. The latest IVANMAN collection provides, just as in the film, a collision of modernity, tradition and clashing world views. The garments are styled in layers, with long shirtsleeves poking out of jacket sleeves. The collection has structured jackets, classic cuts in trousers and tops and is contemporary in its choice of colours, as the blush, turquoise and white colour palette give a real sense of spring.

www.ivanman.com
Fashion
PFW: Kenzo Spring/Summer 2017
Cool kids squads. Humberto Leon and Carol Lim presented a collection once again inspired by their youth, growing up in LA and its West coast disco scene. The models arrived in packs. There was a lot of that grungy and rave look of the 90s. Departing from the Japanese tune of last season we see an explosion of youthful energy. In a badass attitude the model's walked the runway with high waist pants and shorts in nylon look a like textiles matching tops and shirt and often underwear pulled up above the waist with prints recalling the flyers promoting the artists of the time. Relaxed oversized coats and short jacket but also rain capes with hoodies underneath. Black and white but also lemon and cerulean blue. The collection shouted a multitude of personalities and styles, the freedom of youth.
www.kenzo.com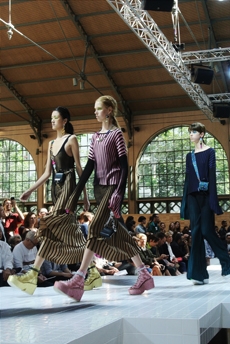 Fashion
PFW: VALENTINO SPRING 2017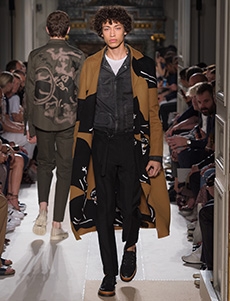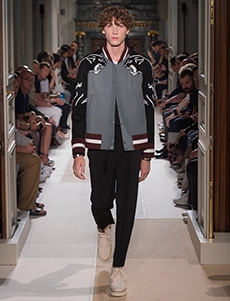 Maria Grazia Chiuri and Pierpaolo Piccioli revealed that for the Valentino Spring 2017 collection they were inspired by the "Unfinished: Thoughts Left Visible" exhibition at the Met Breuer in New York, as it allows to see the artists' development and creative process. This translated into the collection with some of the garments not being finished too, as thread hung from printed knits and stitches were loose. Nevertheless, this made for a selection of structured, luxurious appare. Military and camouflage colours as well as silhouettes start off the show which develops into denim and blue ensembles.

www.valentino.com
Fashion
PFW: HERMES SPRING 2017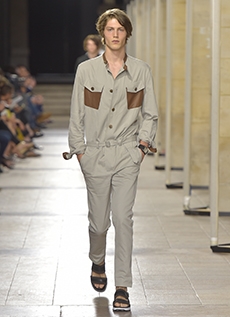 On the chart of fashion where every party tries to dictate the "extraordinary " and the "new", Hermès 's Mens director Véronique Nichanian focus on the essential and its unlimited power. Slim, simple, effortless are the key words for a collection entirely focused on a multitude of subtle details like only the house of Hermès knows how to. Sleek trousers combined with acid lemon t-shirt , hazelnut leather bomber jackets or architectural minimal coats in faint grey. Beautiful silk shirts and knits with tie - dye motifs together with relaxed sporty sandals indulge the atmosphere. Hermès's man once again plays a cool and elegant attitude.

www.hermes.com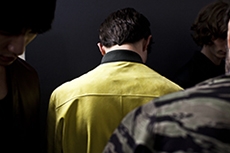 Fashion
Our Interview with Ancient Greek Sandal
Keep your eyes peeled for this sandal brand inspired by ancient Greek mythology and architecture, hence the name Ancient Greek Sandal. We met up with the Co-founder and designer of AGS, Christina Martini who started up the business with CEO and Co-Founder Nikolas Minoglou.
What is the philosophy of your brand?
Handmade sandals made from good quality leather in Greece inspired by Ancient Greece. Sandals have a raw yet feminine aesthetic, which would age well with time and wear.

What are the trends for this season that AGS suggest?
Bohemian and embellished lace up sandals with semi precious stones, glass beads, turquoise and corals. In addition to this, we have collaborated with the Mexican brand CARAVANA designing the 'Tulum Collection' which are iconic AGS sandals decorated with hand-painted feathers. Our collaboration with LALAoUNIS is also out, a precious collection of six bejeweled styles inspired by the powerful symbol of snake.

Why did you choose the ancient Greek civilization and what is attractive about that?
Because it's in my blood! At school all Greek students get taught Mythology and Ancient Greek history and I was always fascinated by the visits in museums or archaeological sites. When I was young I wanted to become an archaeologist. Ancient Greek Sandals are inspired by the Ancient Greek mythology, art, architecture, jewelry and everything that is connected with that era. The inspiration is unlimited.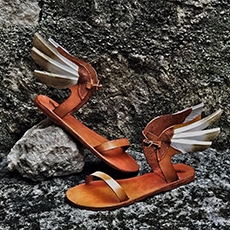 What are the materials you use?
Although the construction is made in Greece, all our raw materials come from Italy. For the uppers we mostly use vegetable tan leather whereas for the insoles and soles we use a thicker skin. For each collection we try to introduce new exciting materials such as the sunbeam snake or pony skin, stamped crocodile but also synthetic materials such as the glitter, fabrics such as the denim for S/S16.

Who are the celebrities that love AGS and what they love about them?
Michelle Williams was the first to wear the sandals in 2012 and since then a lot of actresses have followed, such as Naomi Watts, Anne Hathaway, Diana Kruger, models Gigi Hadid and Gisele Bundchen and singers like Rihanna and Beyoncé. I think like every other woman who wears AGS sandals; they value the simplicity of design, femininity, quality and comfort.

You designed shoes for Balenciaga and Louis Vuitton before setting up your own brand.
What did working for those big fashion houses teach you?
I don't think that I would have set up my own brand if I didn't work for these two huge fashion houses. First of all the technical knowledge, a big part of my job was to be at the factories in Italy and follow the making of the prototypes so I got to witness how the most luxurious shoes in the world were made, I learnt the different leather qualities and the shoe constructions. I also learnt a lot from the marketing team how to form a complete shoe collection that makes sense to the customer on the shop floor.

What is the ideal outfit matched with ancient Greek sandals?
Anything really, from a wedding dress to jeans shorts and from a long bohemian kaftan to a little black dress.

In which place in the world do you think AGS fit ideally?
Anywhere the sun shines!

www.ancient-greek-sandals.com
Fashion
G-Star RAW Research X Aitor Throup
During Paris Men's Fashion week, G-Star RAW has revealed it's newest, most leading capsule-collection yet; G-Star RAW Research, in collaboration with artist Aitor Throup. When speaking about the collaboration, Throup explains he began collaborating after realizing the brands success comes from taking risks and questioning traditions of denim. After a few years of working together, naturally the brand and Throup came up with the idea to open a lab and explore new possibilities for all things denim.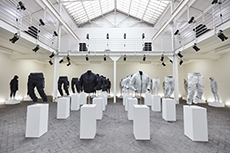 Thus creating G-Star RAW Research. Aitor Throup has been working with G-Star on various projects and collections, since becoming its creative consultant back in 2014. This collection explores two points of development in the process of denim, one untreated, RAW denim, one bleached white with nearly no indigo left. The first G-Star RAW Research-capsule collection will be available in limited stores mid-November this year.

www.g-star.com
Fashion
WOOLRICH SPRING/SUMMER 2017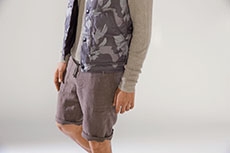 Woolrich John Rich & Bros have for the Spring/Summer 2017 collection created a line-up with casual, organic apparel, blending two worlds together – The outdoors, a fishermen look with matching hat and wellies, and a city look with hints of sport and utility wear. The collection envisions garments which can shift through seasons, instead of being tied to one period. Its jackets are light, water-resistant and breathable, something every man needs. The collection is inspiration for the Woolrich E-bike, a bicycle developed in collaboration with Australian brand Deus.

www.woolrich.eu
Fashion
MFW: GUCCI SPRING 2017
"We shall not cease from exploration, and the end of all our exploring will be to arrive where we started and know the place for the first time." T.S. Eliot
Alessandro Michele. Bravo. The Gucci Spring/Summer 2017 is as close someone can portray a dream as it gets. The collection portrays travelling, exploring the world, gaining knowledge and coming back to a different 'home'. The soundtrack feels dreamlike, the runway floor is painted green with snake print, the collection a kaleidoscopic affair. The collection sees Donald Duck embroidered on fitted blazers and floral patterned suits, a merge of modernity and nostalgia.

www.gucci.com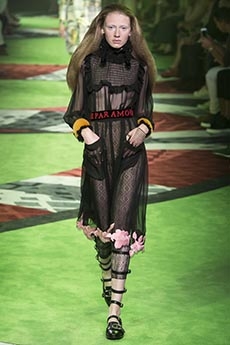 Fashion
MFW: MARNI SPRING 2017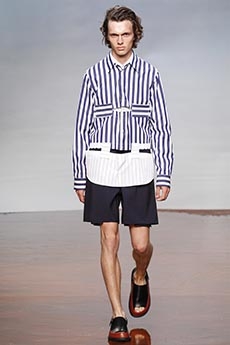 Consuelo Castiglioni is often praised for her progressive and refined designs; Marni's Menswear Spring 2017 is no different. The collection perfectly suits a quirky, businessman aesthetic, making for a show full of modern and dynamic designs. Rich red leathers are introduced in the form of trench coats, camel suits are included for the sophisticated Marni man, while the blue striped prints keep the collection young. Accessorized with both backpacks, briefcases and stylized sunglasses, Consuelo Castiglioni did good, Marni Spring 2017 is a winner.

www.marni.com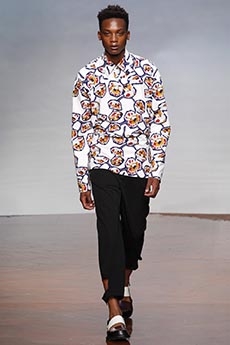 Fashion
MFW: FENDI SPRING 2017
"Sun and fun", Silvia Venturini said of the collection post-show. Rebuild is a Mediterranean villa, which results in an airy and fresh feel to the Fendi Spring 2017 collection. The garments' details are whimsical and dynamic, the colours pleasant and lively. Pequin stripes are incorporated in a new way and the models are styled with travel bags and backpacks which indicated to the fun summer theme. Fendi has introduced its first men's eyewear collection for this show in collaboration with Safilo.


www.fendi.com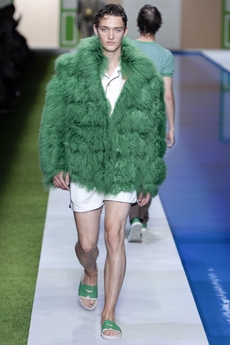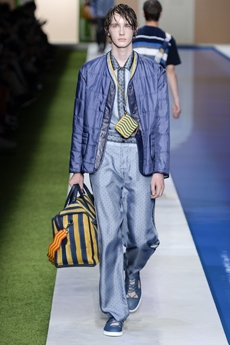 Fashion
Hugo 'Your Suit, Your Way'
HUGO's 'Your Suit, Your Way' campaign breaks the boundaries of convention and reveals the dynamic attitude of the Superblack suit. Set on the edge of Malta's dramatic coastline and the impressive sea arch, it provides the ultimate setting for cliff diver David Colturi to push himself, both physically and mentally, to demonstrate the Superblack suit's power. The video finds Colturi standing determinedly in the suit on the cliff face, before breaking into a run, then leaping into the unknown, turning in the air and plunging into the sea.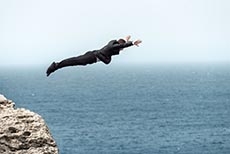 The campaign delivers an unexpected perspective and shows how the HUGO Superblack suit, with its innovative tailoring and modern slim-fit style, inspires men to wear a suit in new, individual ways that defy convention. The message is clear: the Superblack suit, made using double-dyed yarn for a deep black color and iconic HUGO style, can be worn anytime, anywhere.

www.hugoboss.com
Fashion
Givenchy By Riccardo Tisci Spring 2017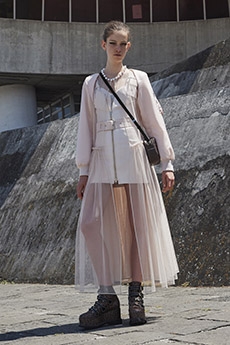 The new Givenchy collection delves into three integrative styles. Introducing and exploring new phrase Skinhead Romantic, influenced by the 90s, the brand mixes pleated tulles and heavy boots. For the traditional Givenchy woman, the brand sticks to their signature style, including tied blouses and monochrome colours. In the urban, metropolitan women's lineup we see exploration of new volumes and silhouettes, blending couture and street style. Women's Denim has a small colour palette, limited to black, white and baby blue. Proposed is a new boyfriend's cut, as well as the brands' signature stars.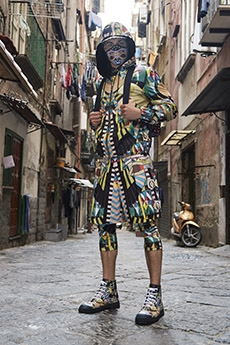 The menswear collection is based on the same styles. Men's denim suggests striped jersey layers and small gaps in its jeans and jackets, creating new textures. For the classic man, Riccardo Tisci kept his suits and jackets navy and black, with red accents. The urban side of the collection includes oversized parkas and nylon tracksuits looks. Bomber jackets, sweaters and coats are found in the Skinhead Romantic style, concluding the Givenchy Spring 2017 Pre-Collection. The photography for this campaign is executed by Max von Gumppenberg and Patrick Bienert.

www.givenchy.com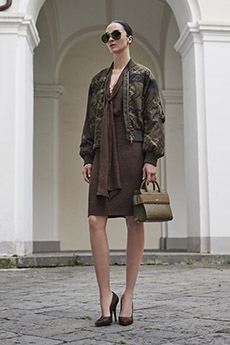 Fashion
Acne Studios Pre-Fall 2016 Collection Available Now
Acne Studios' Pre-Fall 2016 is available now. Satin slip dresses, plaids in contrasting colours and textures as well as the reaction of fire created in a print of torn paper makes for a vibrant and electric collection. The collection varies from camel pinstripe trousers to orange denim jackets, which gives the opportunity to explore trends and infuse new key pieces to your existing wardrobe. "I'm interested in how groups of kids mirror each other's look and wear certain items for a sense of belonging. When we put these looks together, I wanted to explore that short period where there's that tension between individuality and the group dynamic", says Creative Director Jonny Johansson, the brands Creative Director.

www.acnestudios.com
Fashion
LC:M Lou Dalton
White socks and sandals. The ultimate fashion faux pass made acceptable during Lou Dalton's show at London Collections: Men. Dalton found inspiration from her personal life for this collection, as she revealed she was influenced by the walks her brother and she used to have up the Yorkshire Moors when she was young. This collection includes nylons jackets and airy cottons, suitable for said walks. A couple of models wear a back-to-front bag on their chests, which is also handy whilst on a hike. The colour story is also appealing, going from dark navy and blacks to rich reds, yellows and stripes. It's a practical collection, but beautiful none the less. Dalton collaborated with knitwear company John Smedley with a line of jumpers, featured in the line-up, immediately available after the show.

www.loudalton.com
Fashion
LC:M Topman Design
London Collections Men kicked off last week with launch parties introducing the four-day event on Thursday. Friday, Topman Design was the first to present their Spring/Summer 2017 collection. The line-up was a mixture of trends and styles, lead by pastel colours. Models appeared with wet hair and sun burnt cheeks, jumpers and shorts were embellished with ice creams, dolphins and palm trees, hinting to a tropical aesthetic and the idea of unwinding by the pool.

www.topman.com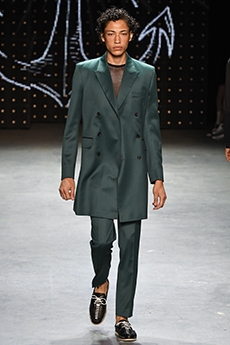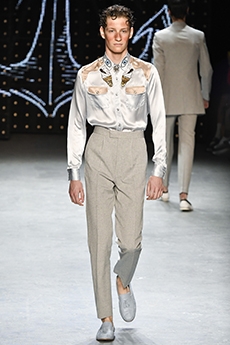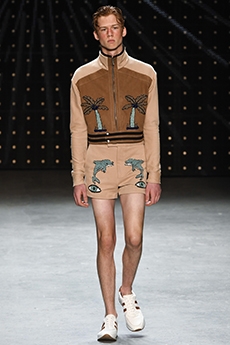 Fashion
New Collection The Vampire's Wife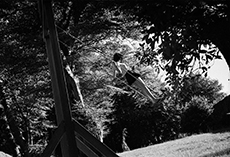 Strongly influenced by her husband, Nick Cave's lyrics and with a desire to create the feminine and delicate clothing she was missing, Susie Cave created her own fashion brand. Having had more than 20 years experience in the fashion industry prior to starting up the business, she knows what looks and feels good on women and what doesn't work. The former model worked closely together with her friend Alex Ademson and founded the new brand The Vampire's Wife when she couldn't find anything she'd like to wear. As she told Vogue the garments are, amongst other things, inspired by Russian Ballet and raw nature. The new collection has just been launched and is available on matchesfashion.com
Art
Fifth Edition Unseen Photo Fair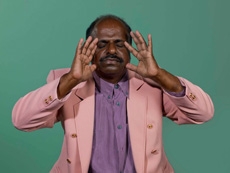 The fifth edition of Unseen Photo Fair is coming to Amsterdam this September. Unseen Photo Fair will display never before seen artworks of new and established photographers, such as Isaac Julien, Anton Corbijn and Antoine d'Agata, in Westergasfabriek, Amsterdam. 53 galleries and more than 150 artists from across the globe will be exhibiting during the fair. As well as this, there's a on-site programme filled with debates, readings and various activities. A week before the fair, Unseen Festival will kick off for its second edition and is located in Spaarndammerbuurt. Unseen is proud to announce it's curators for their campaign this year as being art-duo Christto Sanz & Andrew Weir. While from completely different backgrounds [Puorto Rico & South Africa] their work compliments each other, they two both have a stylised and colourful approach to creating their art in which they question the identity of today's society. The Unseen Photo Festival will be running from 16th - 25th September, the Photo Fair from 23rd - 25th of September.

www.unseenamsterdam.com
Fashion
Palladium Champions Pack
Inspired by the Paris Fashion Week and at the same time from the eclectic style of football stars, Palladium Boots have prepared a very special edition of their beloved classic Pampa Hi: the Champions Pack. For the Palladium Boots Champions Pack the materials that were used can be seen for the first time on Palladium boats. The iconic logo patch on the side of the shaft was plated with 24 carat gold, just like the eyelets of the boat. Noble, waxed laces add an additional high fashion appeal.
Palladium Boots Champions Pack consists of the Pampa Hi in black and a matching, specially designed backpack. This special collection was produced as a tribute to our Champions in very limited quantities.

Palladium Boots is a brand made in France and inspired by this beautiful country.

http://www.palladiumboots.com
Fashion
New Acne Studios store reflects the individuality of Munich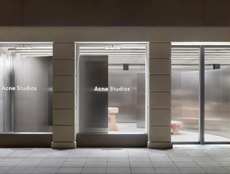 The contemporary Munich today is mixing innovation with tradition and this is reflected to the new Acnes Studios store in Maximilianspllatz, Munich.  

The store follows the codes of the new Acne Studios store concept, using signatures such as stainless steel walls and bespoke fittings and furniture to create an individual destination.

The large, light filled location is viewed through a series of windows, the store itself acting as if a window display.
As with each new Acne Studios store, the décor feels as if it has been placed in the location. The original ceiling can be seen through the bespoke LED light fixtures, which run in straight lines to emphasize the breadth of the space. Contrasting textures are key, with both stainless steel walls and concrete reflected in a mirrored corner box that houses the fitting rooms. Bespoke furniture has been created for the store by long term collaborator Max Lamb. A large mirror leaning against a wall and stainless steel rails on wheels contribute to the purposefully improvised feel.  This is the fourth Acne Studios store in Germany, following its Potsdamer Straße location in Berlin which opened in October 2015. 

www.acnestudios.com
Fashion
John Varvatos Opening of First Moscow Store
John Varvatos celebrated the opening of the John Varvatos Moscow store, making it the brand's 25th retail store globally. The party that took place in Crocus City Mall included a star-studded, black carpet arrival and rock star-worthy VIP party, featuring a special live performance by the legendary Russian rock band, Bi-2. The guests had the chance to experience an authentic rock concert that celebrated Russian and American culture, music and fashion.

Many Russian celebrities and personalities came out to celebrate the store's opening. Among the A-list guests were the Russian singer-songwriter and businessman Emin Agalarov, and his father, billionaire entrepreneur, Aras Agalorov. Also, actor Pavel Tabakov, singer Ani Lorak, singer/television entertainer Inna Malikova, singer Anna Sedokova and other VIP personalities from Russian entertainment, show business, cinema, theater and fashion. Immediately after the live music performance, the celebration continued with an after party at the exclusive Rose Bar, where guests were treated to a special and thrilling fire performance including juggling, baton twirling, poi spinning, fire breathing and eating, and fireworks display.

The new store is meticulously curated with an emphasis on delivering the full John Varvatos offering, highlighting distinctively sophisticated yet versatile wardrobe selections that are ideal for dressier outings, and fit seamlessly into the lifestyle of stylish men everywhere.

The new store hosts the full spectrum of the brand's offerings, including John Varvatos Collection, John Varvatos Star U.S.A. and Converse by John Varvatos.

www.johnvarvatos.com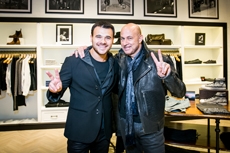 Fashion
AGL at König Gallery
Attilio Giusti Leombruni teamed with König Galerie and it seems that the Berlin got an Italian boost to its art and fashion events. The König Galerie and AGL hosted an exclusive Gallery Weekend opening dinner for their famous guests on Thursday night. Two hundred international well-known guests were gathered to the dinner and among them there were the publisher Angelika Taschen, Peter Bläuer, the director of "The Liste", the art collector and Media entrepreneur Christian Boros and the stage and costume designer Aino Labarenz. Jan Ole Joensson, the singer from B.O.X.E.R and the Peaches singers attended the dinner, too. Artists couldn't be excluded from that fashion-art event and among the guests were the artists Michael Sailstorfer, Christian Jankowski, Jeremy Shaw, Claudia Comte and Kira Lillie.
AGL, which is run by the three sisters, Vera, Sara and Mariana is the only shoe company in Italy managed by women. AGL went online in Europe two years ago and is planning to launch online in the U.S. in 2017.
König Gallery showcases young and rising talents, as well as numerous well-established artists from a younger generation. The gallery focuses on cross-media, concept-oriented and spatial approach work.

www.agl.com
Fashion
Lady Dior: As Seen By...Travels the World
Exhibitions all over the world are beyond captivating, but at some point, those who see one piece interpreted by a range of artists are actually the most fun to attend. There is something intriguing about the speculation what an artist might make of something, along with a refreshing twist given in each art piece. Dior jumped on this train of excitement by hosting their traveling exhibition "Lady Dior: As Seen By", with its last stop to date made at the Langen Foundation in Düsseldorf. The display sees different artists, from Olympia Scarry to Katharina Sieverding, display their vision of the notorious Lady Dior bag. Glass creations stand next to wall art set in space; some artist focus on the bag handle, some melt the whole piece down. As Seen By initially kicked off in Shanghai in 2011 and has been traveling the world since. Until it moves to the next city, maybe consider what your take on the famous bag would be...we'd already have a list with ideas at the ready.

www.dior.com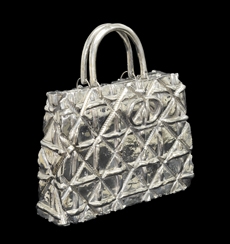 Fashion
Valentino Fall/Winter 2016
Even though there were eclectic patterns, bright colors and even a glossy, red coat in it, the latest Valentino Fall collection is still a soft one. There just was a certain tender vibe to it that let the models shine in a calm light, presenting a collection that lends a hand to those run over by the fast pace of see now-buy now fashion. Even though there were these drop-out pieces, the collection is still defined by pastel tones, earthy and soothing colors and feminine, romantic silhouettes. There are poufy ballet skirts cut up into layers, floating dresses that hug the body like a comforting friend, and big collared coats that are very in line with this season's trend, but also a shield from its hasting characteristics. On its beginning, the collection nevertheless voices some harsh tones, with black looks and loose outlines creating a mysterious atmosphere. Luckily, the calm tone keeps the lead for the rest of the collection. Face it, we all need some down-time from fashion's headspin once in a while. How good to know that Valentino is here for us.

www.valentino.com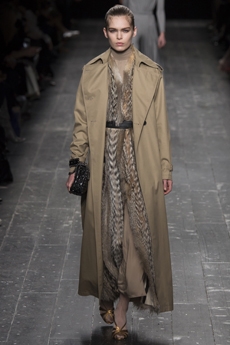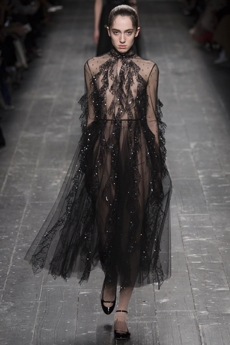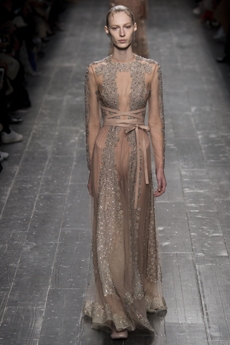 Travel
Be Mad.
Breathe in some real alternative Berlin spirit. Get into 900m2 raw and industrial concept store LNFA which offers extraordinary shopping experience with a spice of exceptional style and mess. It presents carefully selected 90 young fashion designers from Germany, France, Italy, Turkey, Russia, Japan and Mexico. Combination of fashion, art, design, advertising, music and film industries brings the individual style to the aesthetics.

Among the bestsellers, daily inspiration comes from Studio Gampe, Siyah, Marcell Von Berlin, Thomas Hanisch, Preach, Esther Perbandt and Marcel Ostertag. Their creativity is implemented by Berlin streetstyle fashion and ever changing trends. 

Get lost in a chaos and find yourself in the harmonious place which is the whole ever changing Berlin city collected into one location. Live through networking, fashion and arts.

www.lnfa-shop.de
Fashion
John Galliano Fall/Winter 2016/17
The expression of "mix and match" usually recalls bright colors, eccentric patterns and wild fabric combinations. This might well be the case with many brands, but not with John Galliano.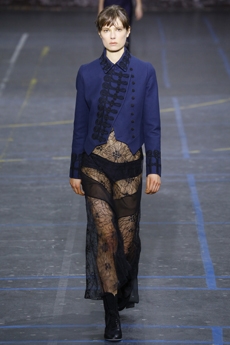 For their latest Fall/Winter collection, the brand applied the "mix and match" theme, but with strict limitation to expression (one thing the Galliano name usually is not known for).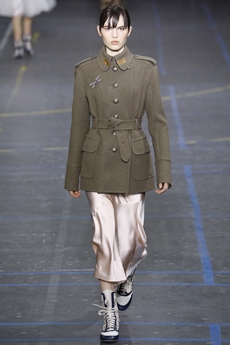 On the runway, viewers saw subtly stunning looks, created from a mixture of femininity and its counterpart, with dresses playing as big as a part as masculine shirts and blazers. It is the thought-out combination of pieces that gives this collection it's identity - it's the Galliano form of mix and match.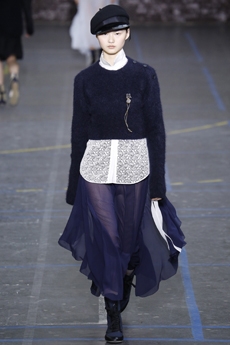 This season, Galliano is where the satin dress meets high-top sneakers, where the regalia-embellished jacket is teamed with see-through skirts, where Sporty Spice meets Jane Austen. Regarding the color palette, the search for bold and flashing tones will yield no results. The fabric selection is equally as toned-down and patterns are rather sprinkled than plattered. With John Galliano, it's a mixture - and it matches.

www.johngalliano.com
Fashion
Fred Perry x Raf Simons SS16
For all those that wondered what Raf Simons might turn to after his Dior departure, Fred Perry has just delivered an exquisite answer. After rekindling their cooperation in 2013, the brand and Belgian designer have since featured more capsule collections, the latest one dressing the season of Spring/Summer 2016. Shot in a blurry aesthetic, the new campaign pictures show a sporty, contemporary collection that focuses on the look of stripes and v-lines. Perry's and Simons' collaborative work is a modernist approach to Striped Pique Shirts, Zip Front Chevron Pique Shirts, Insert T-shirts and Sweaters. Combining classic colors with flashing inserts, the collection is a mix and match of a modern attitude and yet another spin on the past. The wearer is seen a man in motion and stand out styles like wider cut Chevron Insert T-shirt adjust to that effortlessly. Go for the red-inserted pieces on a bright day or take the more classic route with beige-blue combinations. Not only the wearer seems to be on the move, but so is the designer. Raf Simons leaves the world in excitement for his next projects - and we've got the feeling that this one was just the start.

www.fredperry.com
Fashion
Attilo Giusti Leombruni Fall/Winter 2016/17, Maggie Gyllenhaal by Bryan Adams
For Italian shoe brand Attilio Giusti Leombruni, the recipe to a high-quality campaign is quite short. All it takes are three ingredients: a stunning actress as testimonial, a high-profile photographer and – of course – the perfect pair of shoes. For their new Fall/Winter 2016 visuals, the brand tapped actress Maggie Gyllenhaal to present the latest designs, shot by no other than ZOO's Bryan Adams. Black-and-white snaps see Gyllenhaal dressed in nothing but the footwear and a plain black sweater, adding to the minimalistic touch of this particular campaign. The two models presented, a mid-heeled bootie featuring an eclectic flower print and a pair of shiny, black over-knee boots also hint at the collection's diversity. With this campaign, AGL's Creative Director Vera Giusti is more than glad to reveal "a new image of the brand expressing elegance and refined luxury through the aesthetic sensibility of Bryan Adams and the intense femininity of Maggie Gyllenhaal". We're glad that AGL's recipe to a good campaign is so short – as it is defnitely one to take note from. The campaign is a creation between AGL, Bryan Adams and ZOO Studio.

www.agl.com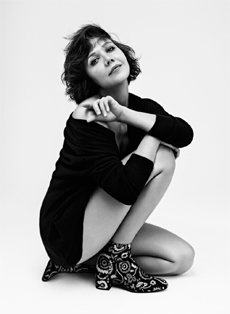 Fashion
Moschino Fall/Winter 2016
It seems like after seasons of blazing colours, logo prints fast food and toy designs, Jeremy Scott has found another way to express himself. His latest Moschino Fall/Winter collection is no shy one, but definitely a retreat from the bold and buzzing statements made in the last seasons. This collections is more of an outlook back on Pop culture: it's a little Madonna, in the 80s, a little of the 2000s, a bit of Kate-Moss-street style from 2010. That speaks for the first half of the collection, at least. After half of the looks have vanished from the runway, eccentric Scott is back on track. Burning ball gowns alluding to the 15th century find their climax in a design that sports a larger-than-life chandelier that surprisingly is not the show finale. That, in fact, is maybe more Scott himself, as he struts down the runway trough the gold-framed show scenery. One thing's for sure: with Moschino, boredom is eradicated from the dictionary. He is the one to open doors to his own underground club, where Madonna, Kate Moss and all the other faces party until dawn. Or until their dresses burn. That is, if they haven't before.

www.moschino.com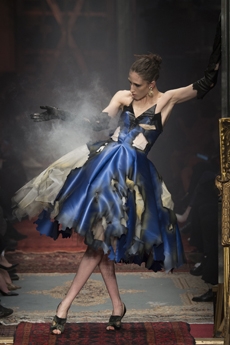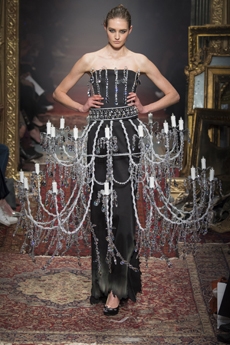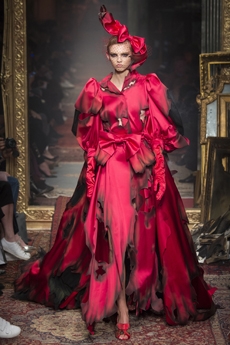 Fashion
Fay Fall/Winter 2016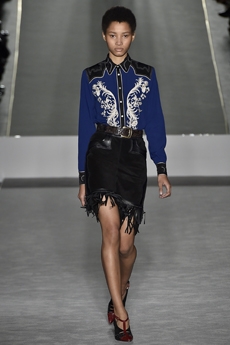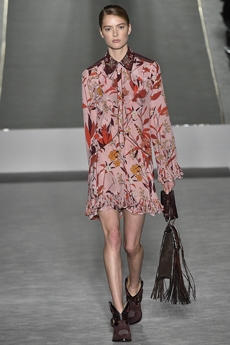 When we think of cowgirls, the outdated cliché that most likely pops to mind is pink fringes, hot pants and knotted check blouses. Fay's Fall/Winter collection has none of that. At Milan Fashion Week, the outerwear label presented a collection that was designed for the cool cowgirl, the one that rocks a hoedown with understatement instead of on a mechanic bull. With a color palette very much sticking to blacks, dark blues, greys and browns, the collection is ready to be worn not only in the desert but on the city sidewalk. However, it's not all gloomy western with Fay-designers Tommaso Aquilano and Roberto Rimondi. Shifty floral dresses that end mid-thigh release the collection of its seriousness and add a light and very, say, "western chic". Between that, the designs also feature allusions to other cultures, with vaguely aztec patterns reminding of even more southern inspirations. The finishing touch comes in form of glittering, fringed and embroidered party dresses, taking the selection from the saloon to the salon. Slip into one of Fay's new designs and we'll bet you, you'll never get that odd cowgirl cliché again.

www.fay.com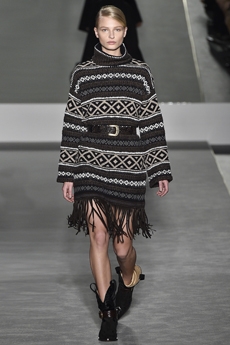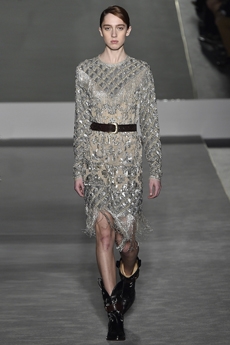 Fashion
Emilio Pucci F/W 16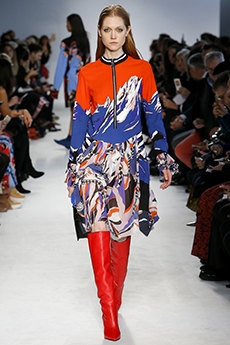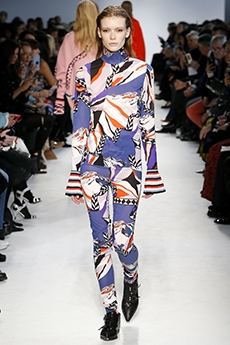 With a green coat and a striped jacket, Emilio Pucci started its Milan Fashion Week show quite subtle. One look later though, the Italian brand went in for the big bang - and that speaks for the rest of the show. This season, no piece at Pucci goes without pattern, without fluorescent colours or newly assembled stripes. Starting with patterns that in their design recall mountaintops, the collection then went to full-on patterned looks, from chevron stripes meeting modern-art-inspired colour blocking to a mixture of camouflage and flower power creating a whole new look. Shiny tops blazing the brand name in its classic writing break up this potpourri of patterns, while plain coloured coats also give the eye a break. Emilio Pucci went in for the big bang, but we don't mind, since that mountaintop pattern looked so good, we're definitely fancying a ski trip now.

www.emiliopucci.com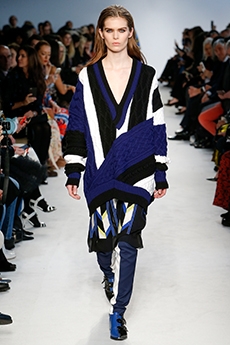 Photos: Monica Feudi
Fashion
Mulberry F/W 16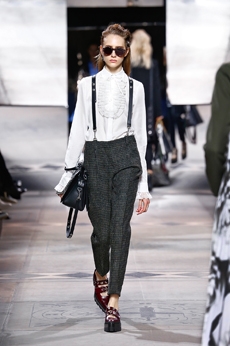 She is a bright student, broody in her own melancholy, surrounded by heavenly pearl shimmer, a dark romantic at heart. Poetic words define the latest collection by British label Mulberry. This by no means is capriciousness, but lies in the inspiration of the brand's new creative director Johnny Coca. For his first Mulberry F/W creations, the designer was inspired by no other than William Shakespeare. It's his ability to capture every stream of society, from royalty to nobody that Coca admires and therefore translated into his new collection, along with inspiration from the contrast of London streets. The result is a clothing range defined by contradictions. Sharp tailoring meets pure femininity; soft pleats are fused with bold cuff details. Johnny Coca is testing his limits, but always holds onto the British soul. Majestic, big-collared capes go along soft tulle dresses and luxury knitwear. Details such as an overload of rings allude to royal influences, while on the other hand variously sized buttons suggest functionality. May the poetic inspirations to this collection be recited often, as for Mulberry, to be or not to be is out of question.

www.mulberry.com
Fashion
CHANEL SS16 Eyewear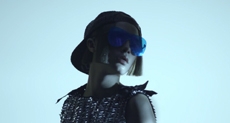 It's doesn't even last a minute, but the new CHANEL eyewear campaign literally flashes you. The mini moving image is defined by flashing blue lights, creating an iridescent atmosphere that recalls both ambulance sirens and dance club nights. Amidst this lightshow sits no one other than CHANEL's favorite associate Cara Delevingne, sporting a simple hat and, of course, the prominent sunglasses. While the glasses themselves allude to the look of a mirror mask, their special trait is the "quilted" border, created by laser cut fabrication. It is those lines that breathe more CHANEL into the sunglasses than into any pair ever before. Wear them to the club or on the high-street - these glasses will have the attention flashed at you just like the lights flash at Cara.

www.chanel.com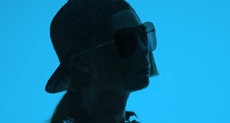 Fashion
BOSS Fall/Winter 2016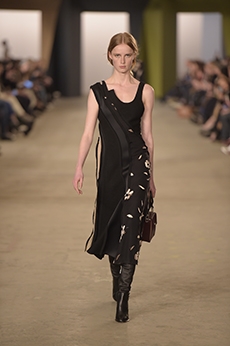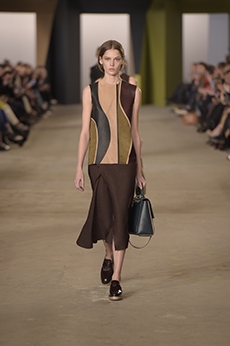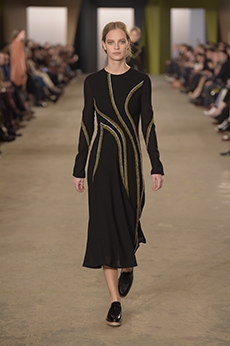 She's a lady, her style is feminine. She's a lady, her style is high-end. She's a lady, she wears BOSS. For the latest Fall/Winter designs, BOSS' art director Jason Wu put the spot on supreme femininity. Don't think girlish, playful themes – Wu picks up his path with curvy lines that enhance the female silhouette and effortlessly create an immaculate look. Manufactured by dedicated craftsman hands, the collection lines up an impressive assortment of high-quality materials such as felt, satin, mesh and bouclé. It is Wu's strength to combine these clashing fabrics into elaborate designs. He takes on that by finding surprising inspiration in modern architecture, which equips the softer designs with still precise hems and edges. The colors float upon another wave, ranging from hot pink to cinnamon tones, natural green, beiges while simultaneously covering a large scale of female tastes. It is precision with fragility that BOSS presented at New York Fashion Week, for the woman that is fierce with just a little bit of floral. She's a lady, and she doesn't only wear BOSS. She is boss.

www.hugoboss.com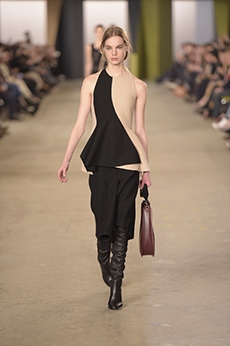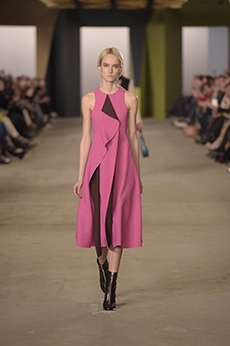 Fashion
Rodarte RTW Fall 16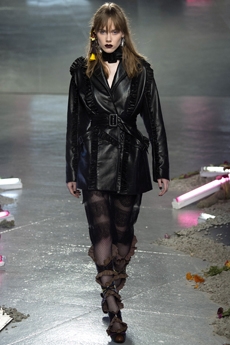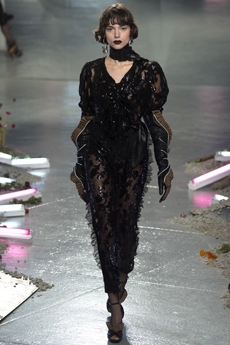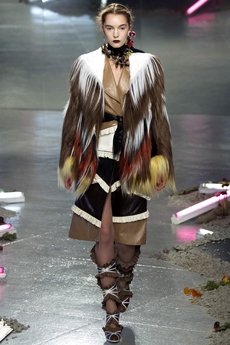 Even though there was no birthday song (at least not on the catwalk) in New York City, it is time to congratulate Rodarte on 10 years of success in the fashion business. The sister duo celebrated their first decade of design with their latest Fall/Winter 2016 collection at New York Fashion Week. For Kate and Laura Mulleavy, though, celebration doesn't come in form of cakes and birthday songs. Their personal birthday cake were the garments presented on the runway. And if there is one theme to be picked, it's ruffles, ruffles and…ruffles. Applied vertically or horizontal, diagonal, with a straight edge or in shaped waves: the ruffles embody the fantasy element in Rodarte's designs. Those elements, to be noted, don't drift away into dreaminess, though. The secret ingredient to this birthday cake is the casual sincerity, the mix-up of fantasy elements and street-ready pieces. For that, all the Mulleavy sister need are their usual rich palette of materials, this season completed by some fur, used in their balanced level of experimentalism and stylish design. Happy Birthday Rodarte, let's hope your creators get some time to enjoy some actual birthday cake.

www.rodarte.net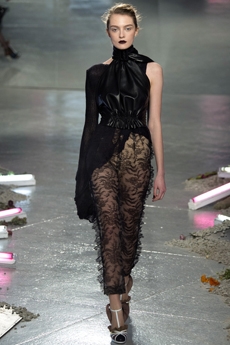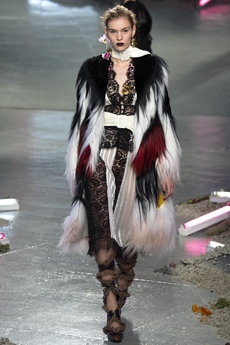 Fashion
McQ F/W 16/17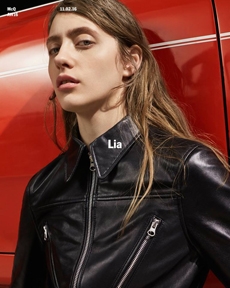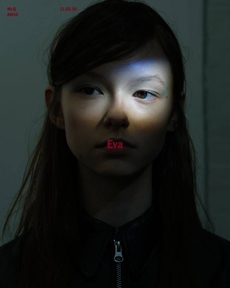 While the world was buzzing with talk about fashion shows and the upcoming award ceremonies, Thursday, February 11th, 2016, saw the revelation of McQ's new F/W 16 Digital Presentation. The date of the reveal lined up with Alexander McQueen's sixth death anniversary, to which the brand had paid tribute before in a post on their instagram. It is also on their social media and website that McQ chose to release the campaign in an all-round digital presentation. Consisting of documentary photography by Caroline Södergren, character studies by Jack Davison and short films by Shorna Osborne, the campaign aims to highlight the collection at every angle. The designs themselves combine the brand's rebellious attitude with ready-to-wear style that lets each item unfold in its own measure. Womenswear is influenced by Japanese culture, in particular the dance and strip clubs of Shinjuku, Tokyo, in the 1970s and 80s. Leather is a central player in motorcycle jackets and capes. Another reference to Tokyo is made in floral prints that were mainly inspired by Japanese kimonos. The go-to accessoire for the McQ Misses is the overknee boot, available in various colors and materials. Surprisingly, this is where the collection interlocks with the menswear designs: Mister McQ also sports overknee footwear, only for him laced up and thick-soled as in 90s culture. The menswear designs furthermore reference Phyllis Galembo's book MASKE which revolves around African tribe culture. In honor of fusing new and old worlds, McQ takes this to intertwine African patterns with its heritage Scottish Fairisle tartan. The McQ man is both the grown-up realist and the adolescent free spirit. The world might be buzzing about many things, but from Thursday on, McQ is up on the agenda.

www.mcq.com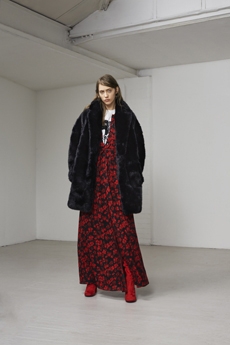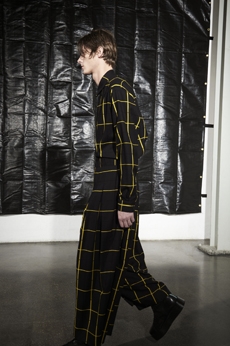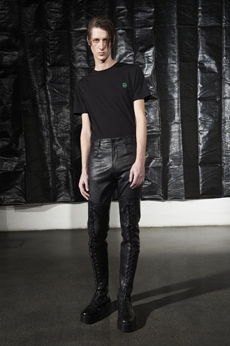 Fashion
RedValentino Spring/Summer Campaign feat. Birdy
She's the girl with the angel voice, the delicate songstress that made hits at an age where others were concerned with anything but landing record deals: Birdy. Now, the 19-year old British singer has been tapped for a fashion campaign. Valentino sublabel REDValentino cast the singer as their new testimonial. The scenery takes her to London's Edwardian theater Bush Hall. In the dimly-lit setting, Birdy moves like the grande dame, or as Valentino puts it, a modern-day Marie Antoinette. Never dropping her ethereal and dreamy attitude, she poses on a piano in shiny black gear or takes the stage dressed in a floral see-through dress. "I love the enchanted world of REDValentino and the romantic dresses that have always been associated with the brand, so I was delighted to be part of this collaboration and to have my music in the campaign" Birdy gushed over the campaign. By her music she means her song Winter playing in the background, supporting the both romantic and magical atmosphere. Least to say, we're enchanted, too.

The campaign is launched exclusively on www.redvalentino.com.
Fashion
Eastpak X Tim Coppens
Over time, high fashion has encountered many unusual and unexpected collaborators. At New York Men's Fashion Week, it was once again met with another surprising category: backpacks. For his F/W collection, designer Tim Coppens teamed up with no other brand than classic backpack manufacturer Eastpak. The American brand, which has defined the backs of many on their way to school and university and the designer have previously collaborated for Eastpaks Artist Studio line. The 2016 rucksack line is the first collection of the collaborators after the work on the studio. Presented during Coppens' show at NYMFW, the collection consists of bags that are constructed from a lot of influences. Just like Eastpak, Coppens finds his inspiration in international youth cultures. The new designs carry everything (metaphorically and literally) : traits of Japanese street wear, technical materials, unexpected color combinations met with western influences and finest craftsmanship. Available only as a limited edition, the collection presents backpacks in four colors, made from high-quality leather and adorned with contrasting lacing. Mesh inserts give the necessary sporty touch while an easy-to-handle top flap makes space for all belongings. Eastpak is no longer seen on the way to school, but on the way to rule the cat – and sidewalk.

www.eastpak.com
www.timcoppens.com
Fashion
Tommy Hilfiger Men's F/W 16 "Hilfiger Edition"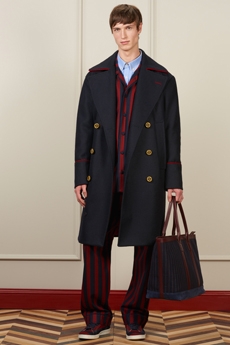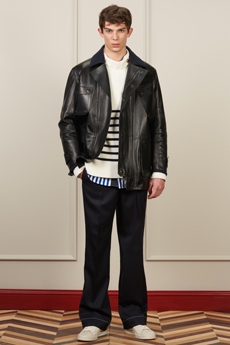 If you're a very classic brand, the ability to reinvent yourself over and over is key. Luckily, reinvention is the sub line in pretty much everything that Tommy Hilfiger does. It thus comes as no surprise that for his latest F/W 16 Menswear collection, titled "Hilfiger Edition", the designer again tackled both heritage and haute style. At New York Men's Fashion Week, Hilfiger presented a collective of indispensable menswear classics that once more embody the brand DNA. Covetable coats and thickly cabled fishermen sweaters make for warming outerwear, whereas slouchy trousers and selvedge denim create a relaxed look that is supported by the easy silhouette. Another part of Hilfiger's reinvention is also taking the promotion of this collection to the next level. Managed by instagram curator Jordan Watson, Hilfiger collaborated with fine artist Austyn Weiner. Using her explosive color palette, she reimagined three original works that feature the Hilfiger Edition collection. Tommy Hilfiger always makes an effort to reinvent – and the victory is his.

www.tommy.com
Fashion
Santoni's "My Santoni Colours"



Sure thing, we all have our personal style, but what if we could express it even more through our footwear? While the personalisation of sneakers may seem a bit outdated, such a service hardly ever has been seen in the luxury shoe segment. Italian shoe brand Santoni jumped at the opportunity and now offers their digital clientele the "My Santoni Colours" service. The customisation technique is based around the brand's beloved "Carter" model with its unique buckle and handmade production. Customers will have the chance to personalise their footwear choosing from a range of 16 colors with 500 possible combinations (you do the math!). If that is not enough, the owner's initials can be carved into the sole of the shoe as well. Talk about hidden secrets! Once the choice has been made in 3 easy steps, the shoe is ready to order and delivered within four weeks. Now, there is only one step to overcome: telling all your friends that this model is not available on the high street.

www.santonishoes.com
Fashion
Icosae F/W 16
Take the cash and run – a thought than some of us might encounter more than once in life. For Icosae, it's the title to their latest F/W 16 designs, shown at Paris Fashion Week. They took the cash and ran, ran through time in particular. The designers drew inspiration from a vast pool of media and youth cultures. From groups like London suede heads to the techno music generation, they extracted inspiration from music, photography, drawing, sculpting and mostly paintings. The result is a balance between realism and just enough abstraction that ends up in a deconstruction of tailoring proportions. Asymetrical shapes mark this collection just as much as the dark colors that underline the urban atmosphere. Take the cash and run – but only dressed in Icosae.

www.icosaeofficial.com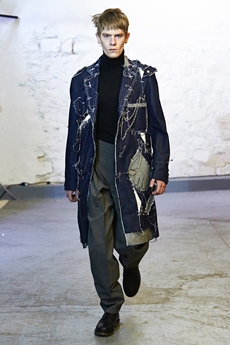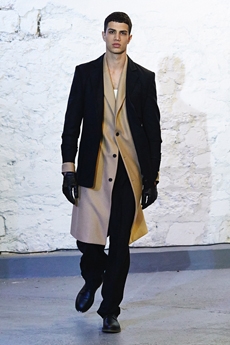 Fashion
Dior Homme Show & Dinner F/W 16/17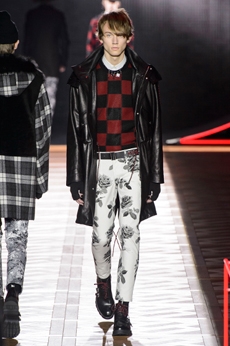 At the Dior Homme Show, the atmosphere was one to be taken in slowly. Red lights met skate parks and let the models waltz through the venue surrounded by larger-than-life video installations. The collection itself took on the "very rouge" vibe of the scenography, working several red tones either in small or large-scale checks combined with dark colors and eccentric black-and-white prints. Monochrome flower prints went along with detailed knitwear patterns and smaller millefleur print. To finish off the special occasion, Dior continued the show with a celebrity-attended exclusive dinner at the Paris Museum of Modern Art. Fascinating clothes followed up by fancy food? What a night!

www.dior.com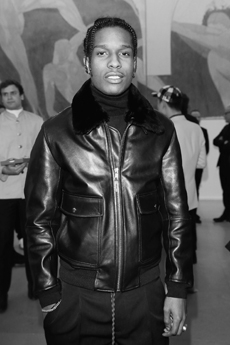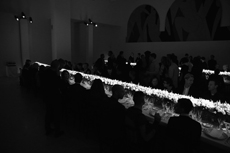 Fashion
Lemaire Fall/Winter 16/17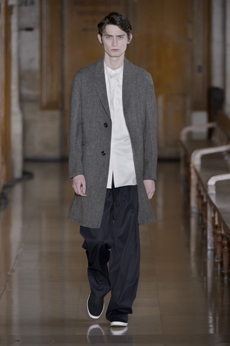 At Lemaire's menswear presentation, dark colors and very classic cuts were in store. The label presented a menswear wardrobe perfectly suitable for its wearers daily business. Classic single and double -breasted coats were featured next to simple jackets with oversized pockets and slim-cut blazers. Paired with a sophisticated black cape and baggy pleated trousers, the outerwear makes for a contemporary look that the Lemaire man can take on a business meeting, a date, or just pop out for a drink in. It's versatility that makes good clothing, and we thank Lemaire for delivering just that.

www.lemaire.fr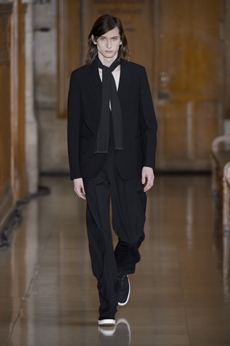 Fashion
ODEUR F/W 16/17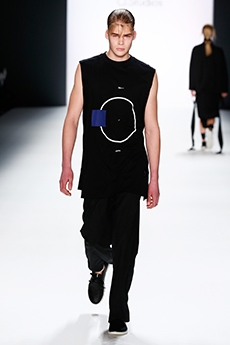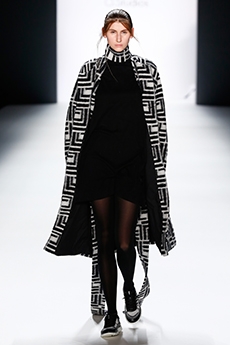 ODEUR's designers Petter Hollström and Gorjan Lauseger once again showcased a dramatic yet relaxed collection. Exactly just how they pull it off is their trade secret, but for FW 16/17 they have once again struck proverbial gold in black and white. Hints of Yves Klein blue and boxy black an white patterns livened up the epic battle of night and day, good vs. evil. ODEUR's pieces are inherently Nordic cool; each one ready for an impromptu street style photograph without trying to hard. Crisp, layered shirts paired with cropped bottoms and oversized sweaters sound overwhelming. Here they just work. Men in tunics and dresses? Sounds costume-y, but oh boy does it work. The sporty unisex designs live off of their restraint, and work on both the male and female form, never overpowering the model or being vulgar. For FW16/17 ODEUR once again managed to add to the timeless cool kid uniform.

www.odeur.se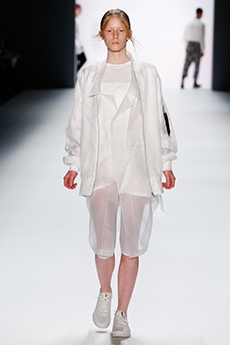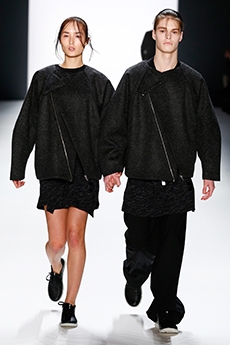 Fashion
Philomena Zanetti F/W 16/17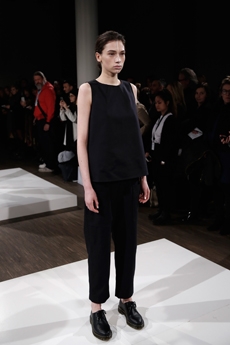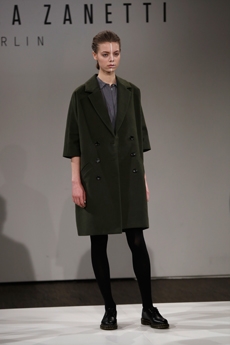 There are a lot of places to escape our busy everyday life. Sunny beaches or abandoned southern islands, for example. Julia Seifert, lead designer of Philomena Zanetti, opted for an alternative. Her latest designs, presented at Berlin Fashion Week, are inspired by the coastal landscapes of Ireland. Naturally, the collection thus fuses shades of grey, green and brown. Soft silhouettes and cocoon-like cuts shield the wearer from the increasing pace of everyday life and suggest comfort by reflecting on the serenity of nature. Now, whenever booking the next weekend escape, you might consider the Green Island instead of a southern one. It could be just as comforting.

www.philomenazanetti.com
Fashion
KENZO Fall 16/17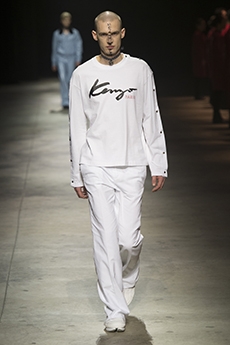 To find inspiration for their latest collection, KENZO designers Carol Lim and Humberto Leon lived the jet set life. Multiple journeys to japan and numerous concerts are base to their F/W 16/17 designs. Therefore, Japanese culture in its entirety, but especially music and concerts play a distinctively important part: the new KENZO collection is an ode in itself, an ode to music, an ode to fans, and to positivity. Leon and Lim were fascinated by the unique connection between musicians and their fanbase and wanted to emphasize the feeling of positivity that is harbored by a concert crowd. But how does one translate such a feeling into clothing? KENZO does by creating a relaxed look with a nevertheless slim silhouette. Comfortable wool pants combined with faux crocodile leather jackets melt the cool and the eccentric, the latter supported by a mix of psychedelic prints. Attention to detail is key, with peace-symbol buttons and the KENZO founder signature used as embellishment completing a vast collection. What to do now? Check for plane tickets to Japan. Or at least for a concert ticket. Or both. Jet set is on!

www.kenzo.com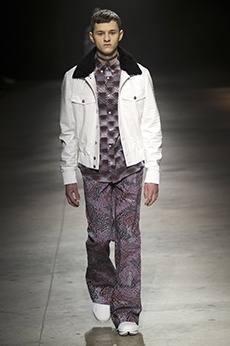 Fashion
Xavi Reyes FW 16/17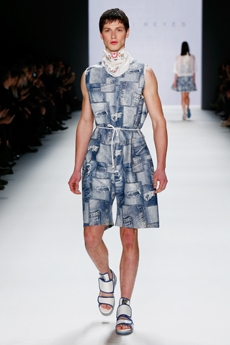 The Spaniard followed the call of Berlin's capital to present his FW 16/17 collection during MBFWB, while the key players of this season's official campaign, Natasha Poly, Atsuko Kudo and Jeff Barks had flocked to the front row from their previous Fashion Talk to take in the unisex designs. Combining the masculine and the feminine, futurism and tradition in edgy cuts, asymmetry, muted hues and free silhouettes. Inspired by his home, the Extremadura, he breaks melancholy severity with romantic elements such as white embroidered lace, flounces and oriental patterns oh so typical for the southern Spanish region.

www.xavireyes.com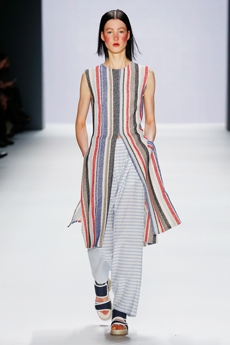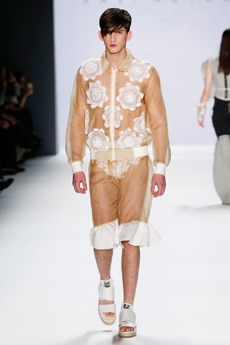 Fashion
Dries Van Noten: Peacock and Psychedelic F/W 16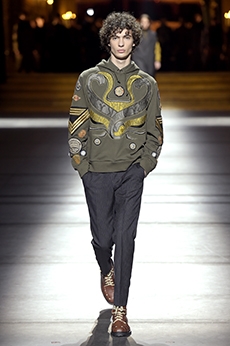 Dries Van Noten's latest collection is quite well defined by its own accessories. Listen up, and create your own image of it: Army style marching boots, classic city and dress shoes, faux fur coat collars worn as shawls and, last but not least, golf shoe tassles worn separately. Such a summary of deconstructed, estranged characteristics applies to the whole collection. This season, the Dries Van Noten man is a modern day peacock that displays his feathers with pride. Besides that, there is some psychedelic jugendstil displayed. The Van Noten wearer is an iconoclast that carries his very own uniform. Still, uniforms have also soaked into this collection. Insignia of regalia are ripped off and embellished onto the wardrobe of an iconic man. Bullions are worn as badges of ornament – restraint is not on the menu for Van Noten these days. Far more, he is all about deconstruction: clothing construction is subverted and the silhouettes, materials and colors mix in an open-minded assembly. Forms of formality of the sartorial are met with the oversized, robust uniform wools go along with silk jacquards, fine cashmere and velvet. The colors also spill broadly, from classic, to military, to outright flamboyant. Today, with Dries Van Noten, we're not just us. We're like a peacock. Only with this collection, each of our feathers looks different.

www.driesvannoten.be
Fashion
Marina Hoermanseder Lifts Off for F/W 2016
Amelia Earheart without a doubt was one of the most impressive women in this world. Flying across the Atlantic Ocean as the first woman to do so, she has established a legend-status that has been mentioned across various media for years. What stands out in all of this coverage is her imperturbable passion and bravery. Marina Hoermanseder takes that as an inspiration for her F/W 16/17 collection. Inevitably, the garments mirror Earhart's looks in form of flight jackets, pleat-fronted trousers and hooded coats. Female self-determination meets subtle, masculine notes. Hoermanseder's woman is independent and displays her femininity in a charming way. Embroidered embellishments and shiny buckles add both a functional and fashionable touch. These details support the use of premium leather and make the looks a high-end "avion" style. Without a doubt, Amelia Earheart was one of the most impressive women in this world. And we're quite sure she would have felt pretty good in this gear.

www.marinahoermanseder.com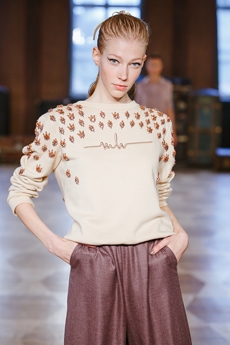 Fashion
G-Star RAW Celebrates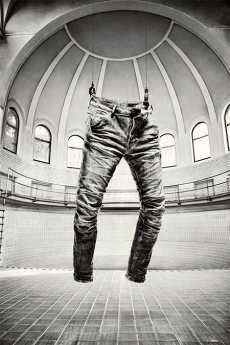 For G-Star, the 20th anniversary of their most famous denim design must feel like the growing up of the first-born child. Elwood 5620, the brand's most revolutionary and cult piece, turns 20 this year. Thus, in celebration spirits, G-Star has decided to do what maybe separates this celebration from a normal child's birthday: they're throwing an all-year party. At the end of every month, a new Limited Edition design of the Elwood 5620 will be revealed. Among these editions will be collaborations with artists and former G-Star cooperators. And it has already kicked off: for January, the G-Star Elwood Moto was released, homage to the Enduro races that took place until the late 1960s. The original Elwood 5620 model was released back in 1996, as the first denim pants to feature 3D-denim technology and a design unique to its name. Until now, the Elwood has stayed relevant to G-Star and has become a brand DNA of sorts. As the cherry on top of the birthday celebrations, Ellen Von Unwerth shot a special SS16 campaign only dedicated to the pants. Any birthday wishes left? We don't think so.

www.gstar.com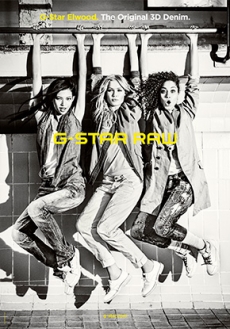 Art
Leaves of Stone: Guiseppe Penone at Gagosian Hong Kong
January 21st, 2016 marks the start of the first ever Hong Kong exhibition of Italian artist Guiseppe Penone. "Foglie di Pietra/Leaves of Stone" displays key works from the past decade. The exhibition's title was inspired by the eponymous art piece from 2013: a series of sculptures made of bronze tree branches and found fragments of eighteenth century ornamental stonework that on the other hand were also inspired by vegetal forms. This interdependence is no rare occurrence in Penone's work: especially the tree and its relationship to man seem to be an inexhaustible source of inspiration. In a work phase of over 40 years, Penone has assembled a splendid collection of art works on his CV. His pieces mark the persistence of biological life while reimagining nature in the artificial way. "Leaves of Stone" is set to run until March 21, 2016. The opening reception will be held on the opening date from 6-8 pm.

www.gagosian.com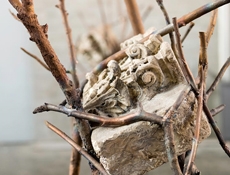 Fashion
GUCCI's Poetic Reactivation: Men's F/W 16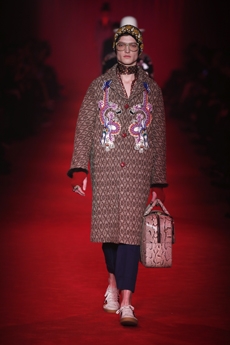 Every time Alessandro Michele takes a step, the fashion world vibrates. His every move is a burst of creativity, a glittering bomb exploding with past, present and future inside. Alessandro Michele is the fashion epitome of Alice in Wonderland's hat maker, not crazy, but creative, his work always immensely layered but unique in it's own ways. For GUCCI, he presents one multifaceted collection after the other. With the latest GUCCI menswear designs Michele followed his own path while establishing a new interpretation of time. The collection, titled "Poetic Reactivation", refers to our system of past and memory as incorrect. Michele wants to explore memory as an interpretative and poetic field, while destroying pieces of the past at the same time. The idea of an inexorably finished past is eradicated, but the collection still is an "assemblage" of fragments from preceding decades and centuries. It's complex, but so is GUCCI, and so is the collection. You never have enough space to go through it. GUCCI itself describes it as an "excess of sense". How true, we couldn't have put it better.

www.gucci.com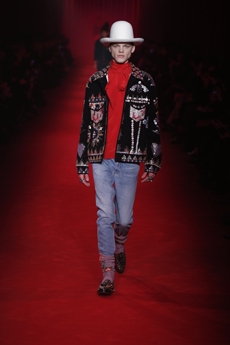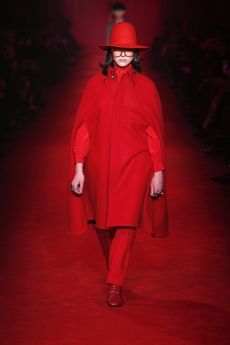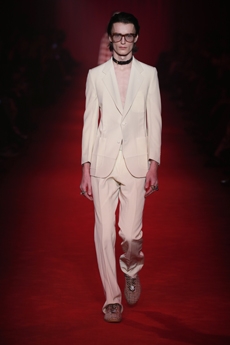 Fashion
Ermenegildo Zegna Couture F/W 2016
Ermenigildo Zegna Couture steps up to its name at Milan Men's Fashion Week, making a proud statement of cutting-edge couture tailoring with the leading motif of "embellishment". Now, embellishment doesn't primarily refer to the clothing, but to the idea behind it. For this collection, Stefano Pilati focused on the current zeitgeist of self-advertising and the need to distinguish. In other words: embellishment. He transfers this into a sophisticated, rather fearless wardrobe defined by the exhibition of patterns. Masculine motifs are fused with the lushness of the fabrics, which emphasizes once again the "couture" attitude. Nevertheless, embellishment DOES also refer to the fabrics. They are adorned with three dimensional hand embroideries, ornamental motifs and woven patchwork of jacquard patterns. The result is a collection with elegance, unregulated in its formality, embodying the classic Zegna attitude. Embellished, and established!

www.zegna.com/en/ermenegildo-zegna/couture.html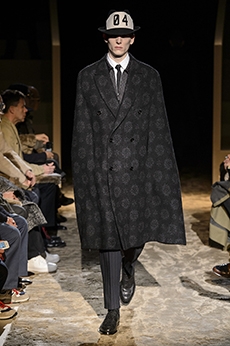 Fashion
New DKNY Spring/Summer 2016 Campaign
The new year is only two weeks old, but most of us have probably forgotten about our New Year's resolutions already. DKNY certainly has not, as it must have been one of their resolutions to introduce the new year with their SS16 advertising campaign. Captured by Lachlan Bailey, in it Adrienne Juliger poses as the embodiment of the new DKNY woman: powerful, nuanced and complex. This year, her actions speak louder than her clothes, which let her be herself in every way, every day. Thus, the clothes are a collection of simple, minimalist designs featuring the key colors black and white. Straight cutting goes along with high-end, clean accessories and gives the DKNY woman the space to bounce through everyday life with strength. The campaign is the first to be released under the lead of new Creative Directors Maxwell Osborne and Dao-Yi Chow. Along with new designs, the brand also presents a new graphic logo, which is layered in big, bold letters over the pictures. The new year may only be two weeks old, but for DKNY, this resolution can already be crossed off the list.

www.dkny.com
Fashion
Emporio Armani Spring/Summer 2016 Campaign
Emporio Armani gets it moving: the images for their latest SS16 campaign are in, and they are anything but static. Captured by Lachlan Bailey in the buzzing streets of Barcelona, models Luna Bijl and Filip Hrivnak are shown in physically demanding poses, posing as the fierce, self-confident woman or the ever-charismatic gentleman. Bailey used a telephoto lens, usually known from nature photography, to capture the spontaneity and dynamism even more. The visuals convey a message of utter coolness and suggest that for Emporio Armani, the most thrilling summer lies ahead. The general look is a classic take on minimalist coolness, but some garments with graphic elements stir up the sophistication with a little irony. And for those who adore the Emporio Armani accessories, the campaign also has watches and eyewear in store. Now, if January makes you feel drained and moody right now, just look ahead to a dynamic summer – Emporio Armani will show you how.

www.armani.com/emporioarmani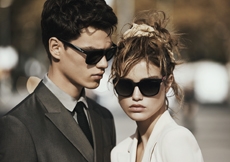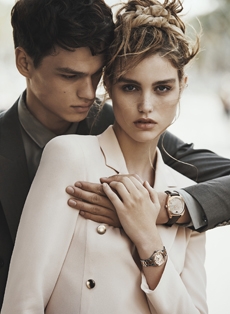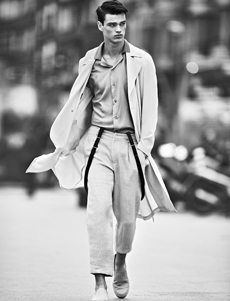 Fashion
Joseph F/W 2016 Collection
You might think urbanity and aristocracy wouldn't go together all too well. Joseph is here to prove you wrong. The British fashion label presented its bedazzling F/W collection at last weekend's London Collections: Men with the pursuit of establishing everyday classics modernized by individuality and personality. That's why the creative minds behind Joseph mixed seventies silhouettes with elements of 90s indie style and heritage colors with shocking tangerine. Naturally, this was not enough. The sky is the limit for the Joseph vision: inside out knitted tracksuits are worn with loafers whereas a camel chesterfield coat finds its partner in a slouchy flare. The Joseph man loops heritage with urban vibes and takes the stage in a nonchalant and precise, instinctive and considered attitude. To achieve that, English fabrics are key. You are what you wear, and if you're the Joseph man, you're wearing tweed and cashmere, poplin shirting and velvet. Welcome to the aristocracy, Sir. The urban one, of course.

www.joseph.co.uk
Fashion
Louis Vuitton and Al Dente: "LV & Me"
Louis Vuitton is here to teach us the alphabet again. Only this time, it's the Louis Vuitton alphabet. For their new jewellery collection, the fashion house teamed up with Paris creative agency Al Dente to create a campaign that explores all the letters – from A to Z, quite literally. Designed by Camille Micheli, "LV & Me" encapsulates bold silver and gold jewellery, focusing on letters to be assembled freely. An interactive digital capsule, supported by a 1970's song by Amanda Lear, leads the campaign. As she intonates in her unique style nonchalant confessions as "G stands for getting divorced", Lear takes the viewer through both alphabet and collection. The movie has also been duplicated in 7 videos and can be viewed below and on the Louis Vuitton website. There, jewellery fans can take on their own spelling bee as they create their personalised video featuring Lear's explanations. Users are encouraged to share their experience across Social Media, where teasers and photos will also be spread. Getting to the final letter, Lear's voice tells us: "Z is for the zero you will get, if you don't learn my alphabet." We're on it, we are.

www.louisvuitton.com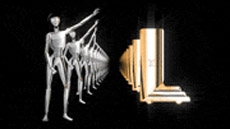 Fashion
Valentino Takes To The Desert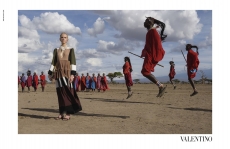 Savanna. Vast landscapes. A sprinkle of trees, some wood branches scattered around. Amidst that: Valentino models. The brand broke out on a journey to the desert in their latest SS16 campaign. Shot by award-winning photographer Steve McCurry, the pictures show models pose arranged statically in the desert breeze, presenting the latest Valentino designs with the straight approach of reality. The images are set to be sincere and depict the exact moment they were taken. McCurry, who is renown for his reportages published in National Geographic, was chosen by Maria Grazia Chiuri and Pierpaolo Piccioli for his exceptional ability to create stories through his images. With this collection, the two also want to stress the fact that fashion carries the ability to express the necessity and creation of new aesthetic and ethical perceptions.. "We strongly believe that garments have the ability to be a vehicle in affirming concepts and that fashion has the task of expressing new demands. That is why we wanted to carry the essence of this collection in the place where the idea was born." That birthplace is Amboseli Park in Kenya, inhabited by the Masai people, who are also featured in some of the campaign's shots.

www.valentino.com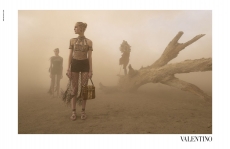 Fashion
Miu Miu Spring/Summer 2016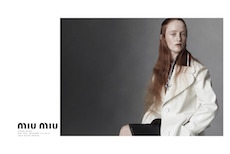 This year, acting and fashion seem to go together better than ever. While Prada has appointed three young actors as their new testimonials, sister brand Miu Miu also once again enlists upcoming actresses as their new campaign faces. For the Spring/Summer 2016 campaign, international screen newcomers Millie Brady, Julia Garner, Matilda Lutz and India Salvor Menuez pose as the new Miu Miu woman. The visuals have a straightforward, uncoded message and were shot by no other than the brand's long-time creative partner Steven Meisel. The collection itself features a diversity of colors and materials. Greys and taupes intercut with maroon, gold and blue while materials like tweed, satin and leather are also used simultaneously. It is with no difficulty that one can sketch an image of this new Miu Miu woman: the risk-taker, the iconoclast, creatively intelligent with a rebellious sense of fashion. Looking to define that in one word? We'd say impeccable.

www.miumiu.com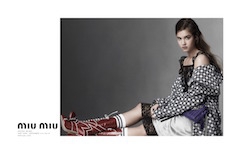 Fashion
Givenchy Pre-Fall 16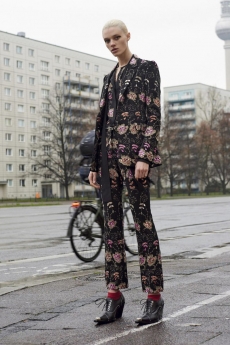 Ricardo Tisci is at it again: he's introducing his second decade at French fashion house Givenchy with the Pre-Fall 16 collection. For the look book, the models were shot in the studio, but also on the sidewalks of Berlin. The collection's designs enfold a potpourri of fabrics, ranging from lace, leather and denim to florally embroidered designs. Not only the fabrics are various but so is the inspiration: Tisci created designs equally inspired by everything, from building sites to bedrooms. The latter even provide two different interpretations: fetish silhouettes are presented next to streetwear pajamas. This also transfers to the very present use of lace: dress hems, collars and applications perform a subtle but sublime kind of sexy. Since all of this is destined for a FALL season, Tisci throws in some warm pieces we all might need – brown fur and pinstripe coats included. How does one chose here? Simple: not at all. More is more, isn't it?

www.givenchy.com
Fashion
Woolrich News & FW 16 Collection
The new year sparks big changes at traditional label Woolrich. Not only is the brand launching and revolutionizing its own products, but has some ambitious plans and changes in store. Regarding fashion, the two main themes for the FW 16 season are Technology and NoFur. For the latter, Woolrich underwent a nearly monumental change: the iconic Arctic Parka is released without the use of fur. The garment stays functional, but is revamped with a new hood design and color. Functionality is also highlighted in Woolrich's cooperation with GORE-TEX, an icon in weatherproof clothing. The cooperation culminated in the relaunch of the "Mountain" parka and jacket. All of this happens in the realm of Woolrich label "Teton", which features the brands Outdoor Technical Capsule Collection. And as if that wouldn't suffice, Woolrich as a brand is headed for a worldwide market: the brand's mother company "WP Lavori in Corso" presented an ambitious five-year plan that includes Woolrich Europe as an influencer for European and Asian markets as well as an expansion to 68 European stores until 2020. Now, that's a motivated start to a new year!

www.woolrich.com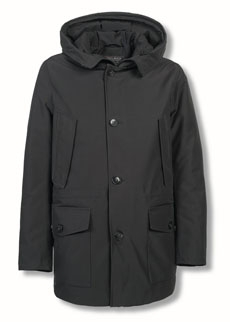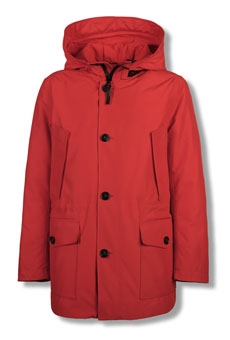 Art
Este Arte – International Contemporary Art Fair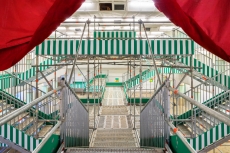 Kicking off on January 5th, Punta del Este in Uruguay will once again host the "Este Arte" Fair, an international event dedicated to both historical avant-gardes and contemporary artists. Following the success of the fair's last edition, it will once again feature a varied palette of events and exhibitions. Art lovers will find nearly any form of art displayed, ranging from paintings and sculptures to photographs and videos. In addition, Este Arte will present a cultural agenda that enables a dialogue among artists, collectors, critics and curators. Set to run every year, the event was installed to be a cultural landmark in the South American art system and to empower both institutional and private collections. The fair opens it's doors with a VIP preview on January 5th and will be open to the public from 6pm to 11pm on the remaining days. Well, why not start the new year with a trip to Uruguay?

www.estearte.com/en/


Music
A VERY MERRY SPECIAL TUNE – MERRY CHRISTMAS FROM ZOO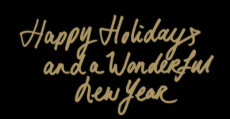 Christmas is nothing without a good soundtrack. Therefore, we at ZOO created a unique YouTube playlist for you to listen to – wherever you are in the world. It includes everything from kitsch classics to unexpected renditions from HipHop and Rock artists. Enjoy!
Art
The Art of Deception: Heart Transplants Restyled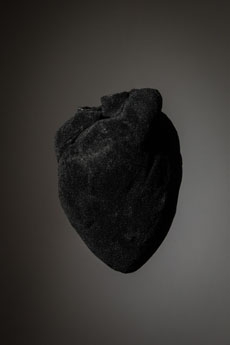 To this day, many, many things have been manipulated for aesthetic purposes. In fact, we're running out of the things that haven't. Still, organ transplants come in quite unexpected on this list. For their latest project, "The Art of Deception", designer Isaac Monté and university professor Toby Kiers have teamed up to discover how we can manipulate our bodies in the future – aesthetically and medically. As a part of the "Body of Matter" exhibit in MU Eindhoven, 21 manipulated organ transplants are on display. The transplants were made from discarded animal hearts and have been resurrected through the process of "decellularization". After being stripped of its cellular contents, during this process the heart becomes a "blank page" to be repopulated by new human cells. The team around Monté and Kiers did not hold back: fluorescent colors, tattoos and even brand logos are now more "in our hearts" than ever. With this project, the duo seeks to explore how humans use deception to reach perfection in society, science and art. The hearts are on display until February 7.

www.ateliermonte.com/pages/the-art-of-deception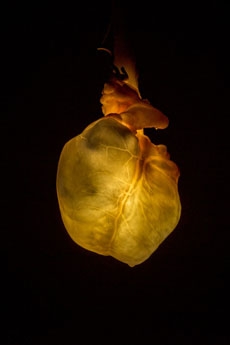 Copzright Atelier Monté 2015
Fashion
Burberry Unveils New SS16 Campaign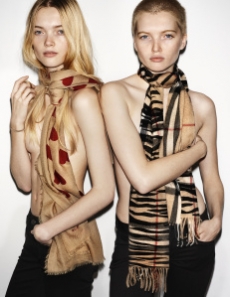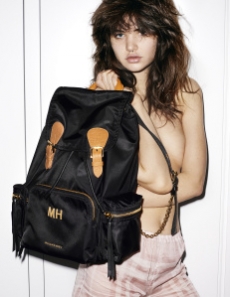 Since Burberry premiered its festive campaign with emerging British talents earlier this year, it seems like time has flown by. The next campaign, Spring Summer 2016, is out and again features the promising talents of tomorrow. This time, only, they originate from the fashion scene. The latest designs are being premiered by future faces such as models Hayett Belarbi McCarthy, Misha Hart, May & Ruth Bell and many more. Shot by Mario Testino in London, the "cast" of this new campaign reflects the attitude of the new collection – energetic and vibrant. Featured in their first ever Snapchat campaign in October, the ready-to-wear pieces center around one new key item: the Burberry rucksack. For this new accessory, Christopher Bailey and his team dug deep into the archives and found inspiration the military section from the early 20th century. The new product is a lightweight carryall with a soft structure and multi-zip pocket added for functionality. Functionality is also the theme behind the new womenswear designs: "Functionregalia" links regalia elements with function clothing. The menswear collection follows a similar path: sartorial clothing is mixed with unconventional elements. All of this does not neglect the key Burberry items: trench coats, scarves, ponchos – it's all there and frankly, it wouldn't be Burberry without them. With each collection, the British brand proves once more that tradition in no way equals boredom: whether it's materials, shapes or colors – Burberry's reinvention is endless. If only time wouldn't fly by so fast.

www.burberry.com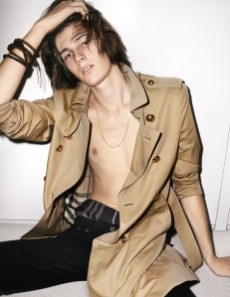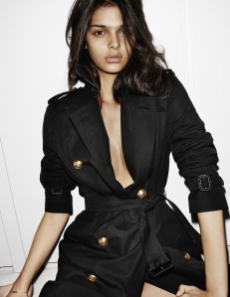 © Copyright Burberry/Testino
Art
LOEWE FOUNDATION x Miami Beach Art Basel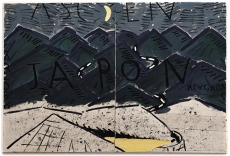 What do a black cup, an oil painting and a chair made of legs have in common? They're historical and contemporary art pieces, displayed in the exhibition "Chance Encounter", hosted by the LOEWE FOUNDATION within the context of this year's Miami Beach Art Basel. Curated by LOEWE's very own creative director Jonathan Anderson, the exhibition evaluates the disruptive beauty of the chance encounter by creating unexpected conversations between the works of four British artists: Lucie Rie, Rose Wylie, Anthea Hamilton and Paul Nash. This set up will create new images, connect ideas and act as a convergence of past, present and future. A main point among these movements also is to give this art exchange time, as the exhibition is set to "slow things down". "Chance Encounter" can be visited until January 17th at the LOEWE store in Miami's Design District.

www.loewe.com/eu_en/art-basel/art-basel-expo.html
Music
Björk Premieres Music Video for Mouth Mantra
Icelandic singer Björk takes viewers inside her own mouth in her latest music video. "Mouth Mantra" is taken from her album "Vulnicura" and reportedly focuses on a vocal surgery Björk had to face. "I was not heard", she exclaims in the lyrics, to later conclude: "I am not hurt". The accompanying visuals to "Mouth Mantra" now give fans an insight into Björk's throat. Starting off with a zoom-in on a pink tongue, the video then moves to distorted images inside the whole mouth. Further on, the artist herself is seen dancing in a bodysuit, decorated with white straps. Dark backgrounds and dimmed light create the mysterious atmosphere that has defined the singer's work for years. Safe to say that with this one, Björk, you will be heard.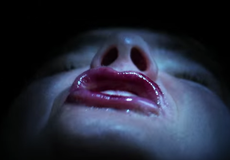 Fashion
CHANEL 2016 Métiers d'Art Collection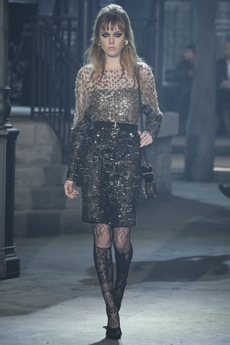 Karl Lagerfeld united his favourite cities when he took took Paris to Rome to present the latest CHANEL Métiers d'Art Collection on Tuesday at the Cinecittà film studio No. 5. The Parisian setting oozed romance with thematic décor including nymphs, statues and café terraces, all referencing the work of the legendary Alexandre Trauner…altogether it seemed quite poignant in light of recent events though Lagerfeld's vision for this show preceded the November attacks. Sooty eyes and unfussy Bardot bouffants added a sultry undertone to the slouchy layered looks of knits, leather and black lace – all topped off with classic CHANEL pointed courts. Magical.

www.chanel.com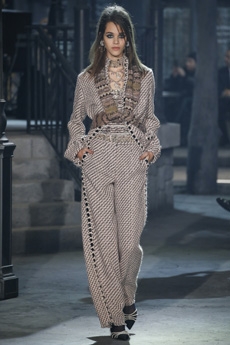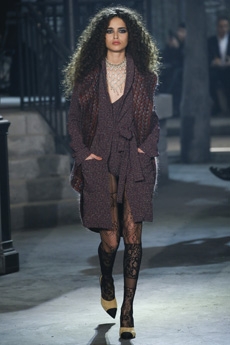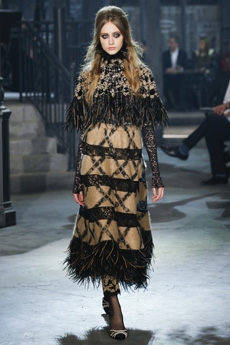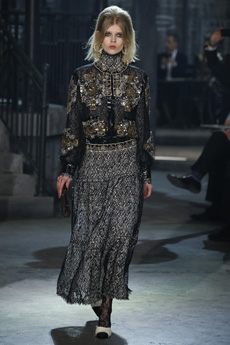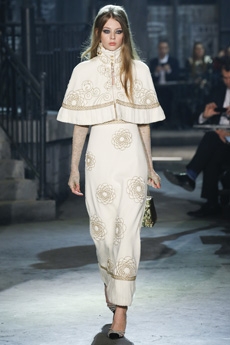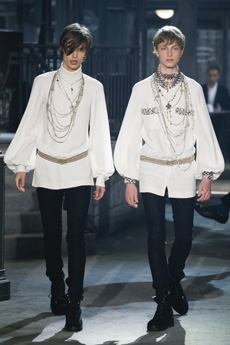 Art
The HUGO BOSS ASIA ART Award 2015 Winner is Announced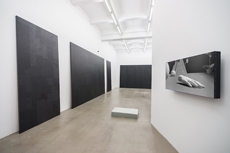 Maria Taniguchi has been crowned winner of the 2015 HUGO BOSS ASIA ART Award for Emerging Artists with a tidy ¥300,000 award. Narrowly missing out were the five other nominated artists, Guan Xiao, Huang Po-­?Chih, Moe Satt, Vandy Rattana and Yang Xinguang, who are exhibited their works alongside Taniguchi at the Rockbund Art Museum (RAM) until January 3, 2016. Marc Le Mat, the Managing Director of HUGO BOSS CHINA RETAIL CO. LTD, and Larys Frogier, RAM Director, announced the Philippines artist as the winner in light of her extraordinary paintings, sculptures and videos investigating time and space with social and historical contexts.

hugoboss.com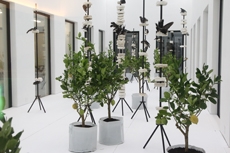 Fashion
BOSS, Bauhaus, Bespoke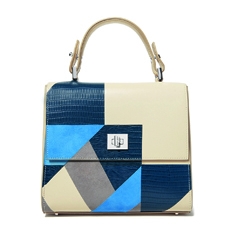 The last director of the Bauhaus movement once said, "The Bauhaus was no an institution. It was an idea. An idea as readily applied to clothing as to buildings – architecture for the body".

It's no surprise that BOSS Creative Director Jason Wu has had a long-standing admiration of the Bauhaus movement. Its rigorous geometric lines form the basis of many a post-2014 BOSS collection, after Wu has combined such Bauhaus principles with the BOSS DNA of exceptional precise menswear tailoring to create a new look for the modern woman.

 Now Wu looks to this artistic movement again, and draws inspiration from the Bauhaus artwork of Josef Albers and Wassily Kandinsky in his new interpretation of the classic BOSS Bespoke handbag. With a dramatic yet simplistic aesthetic, the vibrant palette of the Modernist "intarsia" bag is patterned in various luxurious materials, such as suede, box-calf and embossed lizard and crocodile prints…if Wu's time at BOSS could be summed up in one item, it would have to be this one. 

www.hugoboss.com
Fashion
Public School Pre-Fall 2016
In their international debut, Public School's Maxwell Osborne and Dao-Yi Chow have taken a break from NYC and flocked to Dubai, courtesy of iconic motor company Cadillac XT5, to show their Pre-Fall Collection. It seems quite fitting then that the designer's inspiration for this line, which they are presenting in a desert's built up city, are the disparate themes of technology versus nature. Osborne and Chow's signature long silhouette of tunics for either gender take on a definite ethnic feeling in these surroundings, heightened by their accompanying kimono inspired jackets and reinterpretations of Japanese Shibori prints. Injecting the urban undertone that these designers have made their name on are layered loose knits and a lot of mesh.

publicschoolnyc.com
Fashion
Good Gils Gone Bad
With Steven Meisel behind the camera, Prada unveil their Resort 2016 advertising campaign. Informal portraits of Lexi Boling, Meghan Collison, Ina Jensen, Lineisy Montero, Julia Nobis and Greta Varlese show the muses in front of a minimal, industrial backdrop, accentuating their "bad girl" edge with their intense gazes and cool body language.

The clothes themselves echo post-pop art with decorative oversized earrings, printed multi-coloured bags and layered leather shifts, clingy printed sweaters and striped sleeves. High impact pieces are based on the simple T-shirt with soft silhouettes in an exploration of post-modesty and luxury…the Prada woman should expect the unexpected if planning to fall down this rabbit hole. 

www.prada.com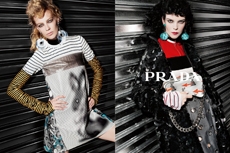 Fashion
Say Goodbye to Blood Diamonds
"All human beings are born free and equal in dignity". It was December 10, 1948 when the U.N. proclaimed in Paris the "Universal Declaration of Human Rights" (UDHR). However, there are countless places in the world where basic, personal rights are not respected in any way.
Gilardy Jewels aim to tackle this head on and produce beautiful jewelry that does not come with the usual price tag of someone else's integrity. In celebration of the UDHR, they create timeless pieces to be worn by everyone, from anywhere on any occasion, whilst supporting various organizations that fight for human rights, such as Amnesty International and Human Rights Watch. The Gilardy Human Rights collection consists of rings, charms, wristbands and bracelets, all made in a robust stainless steel. Free of nickel, this jewelry is extremely dermatologically friendly and its rings and engravings are manufactured by fairly employing disabled workers. Furthermore, for every ring or chain sold from the collection, Gilardy Jewels donate 5€ to the "Human Rights Watch" Organisation, for every bracelet they donate 3€. All in all, this unique label is giving their wearers something to be proud about, fine handcrafted jewelry that is complete with a conscious.

www.human-rights-collection.com
Music
Funky Fresh
October 21, 2015, saw Terranova and Brixton's finest Stereo MC's team up to launch "Connected" – a label primarily for contemporary electronic music. In joining the venture, the Cologne-based electro music label Kompakt act as distributors. With a focus on quality, vinyl records accompany digital releases, artworks are fresh and original, whilst a platform is provided for music artists to bounce ideas of each other and cultivate something really special in their sound.
To mark this occasion and as a symbol of a long, productive working relationship between Terranova and Stereo MC's, they've created "connected 001", a limited edition product package, available axclusively at No.74 or www.connected.co.com. Included in this is a logo-printed sweatshirt complete with lettering by Berlin-based artist Carsten Fock. There is also a USB stick, with Terranova's dubversion of "connected" by the Stereo MC's and an hour long DJ mix…Could you ask for more?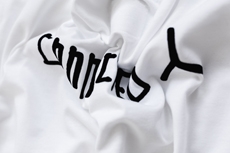 On December 4, 2015, the label will release their first record by the two founders, before an album of the same nature and a number of songs from likeminded artists…Exciting stuff!

connected.co.com

no74-berlin.com
Art
BMW Tate Live 2015 Talks: Staging Situations: Art and Theatre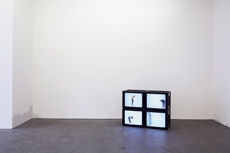 In an exploration between the relationship of art and theatre, Tate Modern presents a varied program of events as part of this year's BMW Tate Live 2015 Talks. An ongoing partnership for four years now, the BMW Tate Live brings focus to innovative performances with interdisciplinary art, digitalized spaces, seminars and workshops.
Inspired by the performance "BMW Tate Live: Paulina Olowska The Mother An Unsavoury Play in Two Acts and an Epilogue", artists, curators, actors, theatre directors and writers come together to offer the public a chance to engage in the day's events. Events in this year's series include "Absence and Hope", led by theatre maker Rachel Mars, whilst the visual artist Kate Tiernan and theatre director Katie Mitchell lead "Rehearsal: Words and Gestures", a workshop exploring body language as communication. Using the gallery as a stage for live performances, speeches, choreography and dramatizations, this really is a unique way to get involved.
The "BMW Tate Live 2015 Talks: Staging Situations: Art and Theatre" events occur on 31 October, 2015, from 11.00-22.00 at the Tate Modern, London.

www.tate.org.uk
Fashion
Dior Homme Unveils New Parisian Store
Following their romanticized "Paris XVIE" campaign featuring Boyd Holbrook, Dior Homme have opened a brand new boutique for their menswear line at 24 Rue François 1er.
Across two floors, its beautiful interior design blends ideologies of modernism and elegance with tradition with pioneering innovation. Executed in a minimal palette of black leather and wood, Dior grey and white, the store provides a tranquil setting with impressive light reflective resin structures that bridge the gap between outside and in. Available in store will be all collections designed by Kris Van Assche as well as a space for custom orders.
The boutique even offers an exclusive made-to-measure, home-visit service by the label's tailoring atelier…The Dior Homme's shopping experience couldn't get more enjoyable than this.

www.dior.com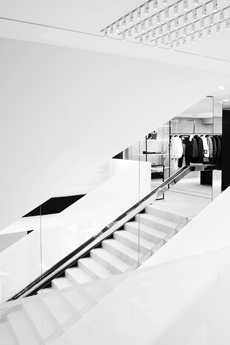 Art
Espace Louis Vuitton München Presents "Predestined Colour Waves" - Sheila Hicks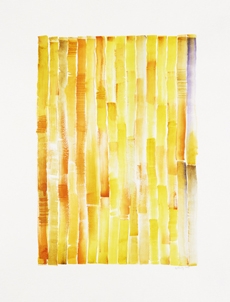 In Germany's first monographic exhibition of Paris-based, American artist Sheila Hicks since 1970, the Espace Louis Vuitton München is pleased to host "Predestined Colour Waves". With colour, texture and structure providing her primary interests, Hicks' work consists of hand-woven miniatures, mid-size bas-relief panels, soft sculptures and monumental installations. With a background of Modernism and knowledge of historical textiles, Hicks pushes to investigate new cultures by means of painting, photography and especially architecture.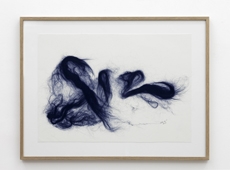 The current exhibition documents Hicks' long-standing conversation with architecture and presents the impressive large-scale installations "Alterrissage" (2014) and "La Femma Principale Bluma" (2015). Not only this, but the collection of works also involve Sydney Biennale Sketches (2015), part of her contribution to the 2016 event, and prototype models of her 1967 Ford Foundation silk bas-relief tapestries, which were recreated in 2013-14, among other artworks.
Espace Louis Vuitton München exhibits "Predestined Colour Waves" from artist Sheila Hicks from October 8, 2015, until January 23, 2016.

www.louisvuitton-espaceculturel.com
Fashion
Louis Vuitton Spring/Summer 2016 Collection at PFW
The virtual age is taking over and Louis Vuitton is yet another label this season choosing to comment. Unlike his contemporaries however, Nicolas Ghesquière's opinion is not one of doom or disaster but ferocity and strength.
Absorbed in a cyberspace setting, the look was digital and fierce. Military inspired leather jackets worn with metal textured mini skirts and chained platform sandals introduced a new wave of punks. Patchwork trousers with silver zippers reappeared throughout the show in various forms, whilst beaded knitwear provided a kind of protective armour.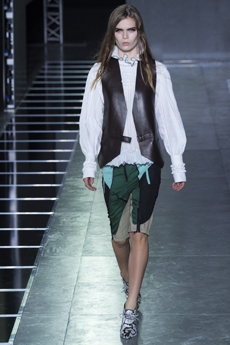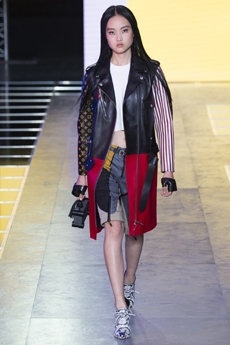 The classic Louis Vuitton print was splashed sparingly on jacket sleeves whilst the ruched drawstring bag in look 45 proved a real stand out in the accessories and no doubt a must have this season.

www.louisvuitton.com
Fashion
Hermès Spring/Summer 2016 Collection at PFW
It's clean lines, geometric shapes and sleek silhouettes at Hermès this season.
Nadège Vanhee-Cybulski recovered the label's heritage in bringing back leather once again this season in various midi length skirts, coats and dresses. Trainers appearing in white, blue, ochre yellow and red will surely prove to be a hit in store, not to mention the tailored longline coats.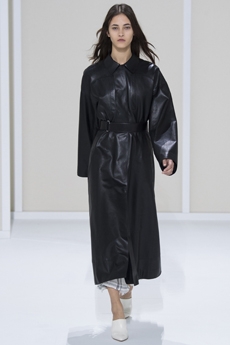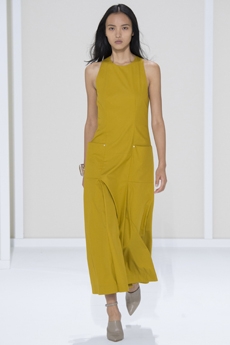 Oversized stone jewelry adds drama to the understated collection, whilst Vanhee-Cybulski's beautiful palette of colors elevates this understated collection to the height of Spring/Summer elegance.

www.hermes.com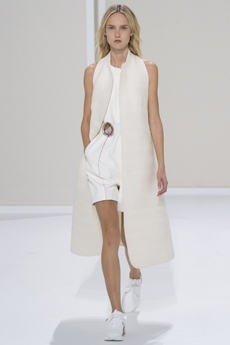 Fashion
Céline Spring/Summer 2016 Collection at PFW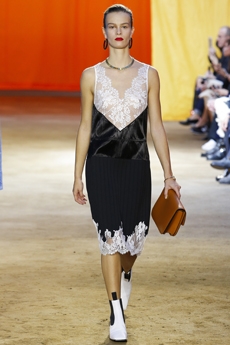 It was back to the Tennis Club de Paris for Céline this season. Bringing us a world of contrasts, Phoebe Philo reworks some of her favorite shapes and silhouettes in a travelling inspired collection.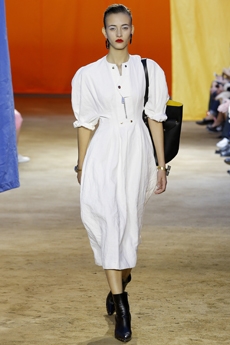 Opening with the ultimate interpretation of a nineties slip, Philo walks her models through a range of looks, mixing masculine tones with feminine pleats and cinched waists amongst oversized shoulders reminiscent of the eighties.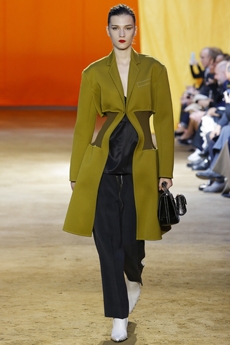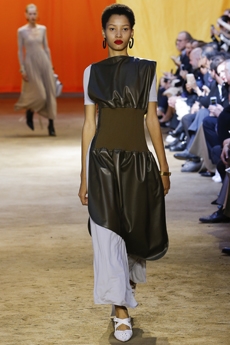 If there is one thing Philo has taught us from this show, it is that no venture is worth doing without some sultry red lipstick and a pair of hoop earrings.

www.celine.com
Fashion
Comme Des Garçons Spring/Summer 2016 Collection at PFW
"Ready-to-wear" is not a phrase that means much to Rei Kawakubo. The enchanting "witch" collection from the most anti-commercial label in fashion wass both baffling and exciting.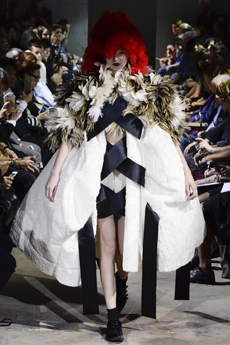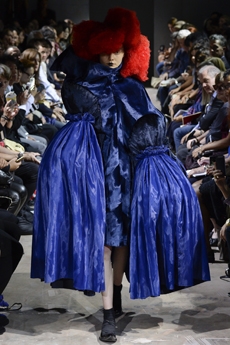 Silhouettes were magnificent, with ruffles and feathers galore. Shoes were stereotypically "witchy" pointed boots whilst deranged hair was coloured vivid red to offset the dramatic looks.
Luckily, Adrian Joffe was on hand to explain more, with the idea of witches referencing "Powerful women who are misunderstood, but do good in the world" – potentially also referring to Kawakubo herself.

www.comme-des-garcons.com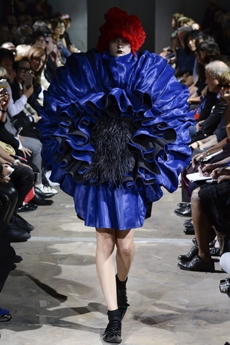 Fashion
Maison Margiela Spring/Summer 2016 Collection at PFW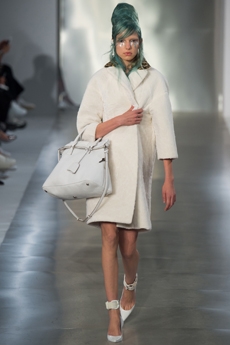 "Lo-fi, sci-fi" is John Galliano's latest collection for Maison Margiela. An eclectic assortment of references, the designer's otherworldly show saw the union of the vintage 50s, a futuristic space age and traditional Japan.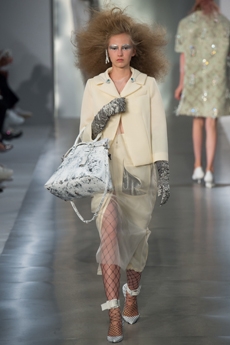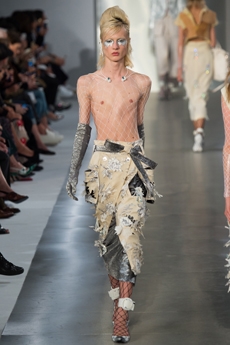 A turquoise beehive, leopard print collar 50s style coat and silver make up à la Pat McGrath; it began with a psychedelic bang. Next came fishnet limbs, appliqued glass fragments with an over layer of mesh. All oddly ready to wear for Galliano, we were later introduced to his reinterpretation of kimonos. Liquid-look skirts dripping in applique grazed the ankles and appeared among beautiful prints and obis in creating kimono-style silhouettes… This enthralling collection has the Galliano stamp all over it and it is spectacular.

www.maisonmargiela.com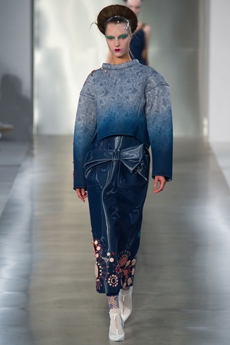 Fashion
Boris Bidjan Saberi Announce New Womenswear Campaign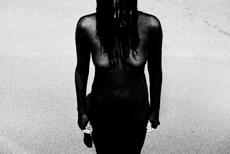 The values of Boris Bidjan Saberi's label explore functionality within the urban context of street wear. Primarily concerned in protecting the curvatures and geometric angles of the human body, Saberi adopts innovative techniques when experimenting with fabrics, reimagining and rearranging in a destructured style. Previously only creating menswear lines, this campaign presents the growing prominence of the women's collection for the brand in an exclusive preview on our ZOO Magazine site.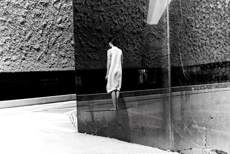 The Spring/Summer 2016 Collections combine aspects of two fundamentally different worlds, work wear versus deep-sea diving suits. Inspired by the construction of neoprene suits, Saberi reimagines some of the label's most signature looks using organic materials in a wholly novel light. The sheer inquisitive nature of the luxury fashion brand, along with high quality tailoring and handcrafted passion, means for an inspiring collection composed of forward-thinking creativity.

www.borisbidjansaberi.com
Fashion
Jacquemus Spring/Summer 2016 Collection at PFW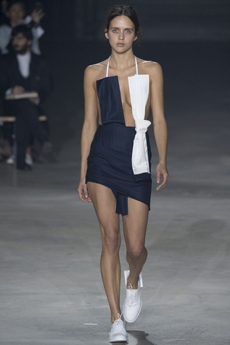 In a surreal Parisian show, "Le Nez Rouge" came complete with ginormous balls of fabric, a barefooted child in a man's shirt and the designer himself leading a horse down the runway.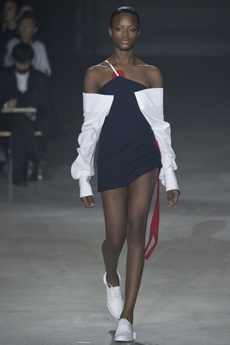 The collection itself was outstanding. Heavily deconstructed suits resulted in asymmetric lines and contemporary shapes in the label's signature style. Crisp shirts and tailored trousers appeared in the designer's trusted palette of navy, white, grey and red.

jacquemus.com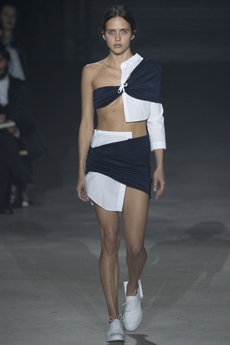 Fashion
Emporio Armani Spring/Summer 2016 Collection at MFW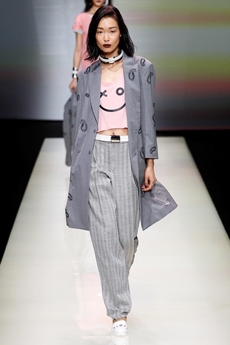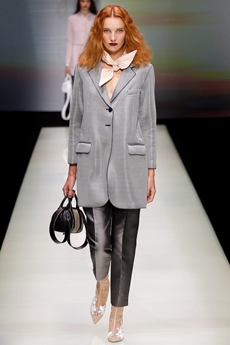 If it was blue last season then it was orange this one at Emporio Armani. Well with a majority neutral palette throughout, he ended the show with a vibrant orange, evocative of a summer sunset.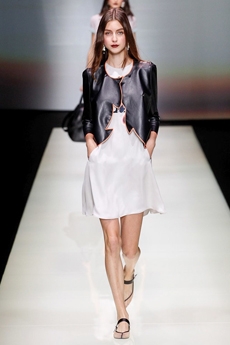 Continuing with a casual trend to his clothes, this line sees a fluid transition from androgynous looks to decidedly feminine ones, from eighties inspired power dressing to nineties sports-inspired leisure wear. With the adoption of a number of shapes, a stand out are the ruffled suit trousers that cinch in with a belt buckle.

www.armani.com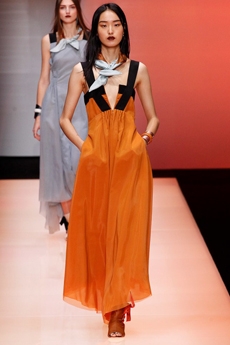 Fashion
Blumarine Spring/Summer 2016 Collection at MFW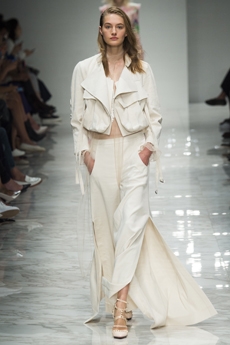 A jewel encrusted, court-studded, floral print explosion of sheer netting, draped fabrics and relaxed jackets is occurring at Blumarine this season. Anna Molinari has let her imagination run wild and created a collection in which two worlds collide, those of surrealism and reality.
Take billowing satins or sheer printed skirts against simplistic ribbed jumpers and oversized coats. This fusion of ornate decoration and modern minimalism creates a look of ethereal elegance finding its feet in an urban world.

www.blumarine.com
Fashion
Trussardi Spring/Summer 2016 Collection at MFW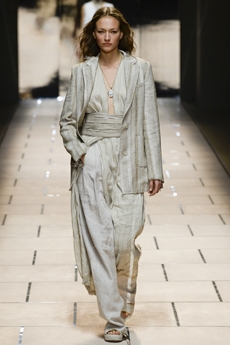 Seemingly having had sourced inspiration from a documentary depicting one man's travel through Western Australia, the undertone to Gaia Trussardi's latest collection is of exploration and survival.
Longline jackets and shirts sail over matching linen trousers, all with distressed raw edges, appear as though they have withstood the harshest of elements of a desert. There is patchwork, layering and leather all realized in a warm, earthy palette and slouchy silhouettes.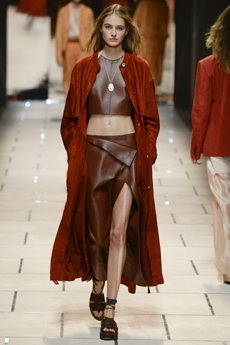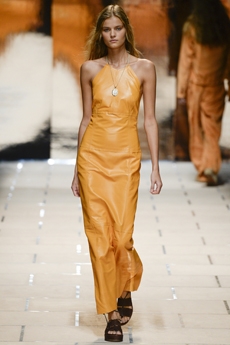 Amidst all of this, Trussardi is having a somewhat vintage moment, with beaded dresses and waistbands and a nostalgic pendant necklace featuring in every look. The culmination of which is a collection fusing roughness with luxury, a novel interpretation of shabby-chic.

www.trussardi.com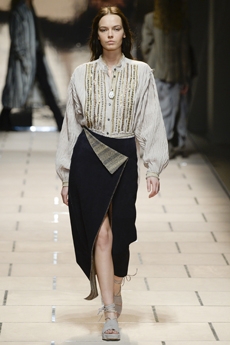 Fashion
Fendi Spring/Summer 2016 Collection at MFW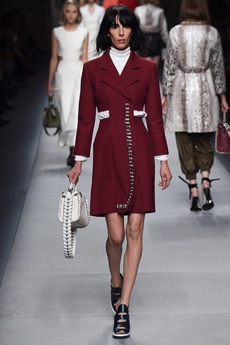 Opposing retro at all costs, Karl Lagerfeld implies that there are no references in his latest Fendi collection. The puffed up sleeves, the high neck collars and the repeated latticing are puzzling... With coral, oversized leather sleeves and a pleated maroon skirt that flows to the ankles, I can't decide if we're in the eighties or the Renaissance, with look 16.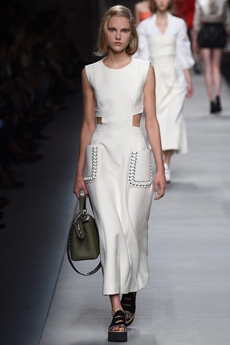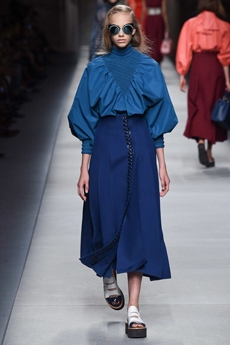 Lagerfeld incorporates a diverse number of silhouettes, fabrics and colors into the collection and more often than not with this one it really seems as though they shouldn't work together… Somehow though, they definitely do.

www.fendi.com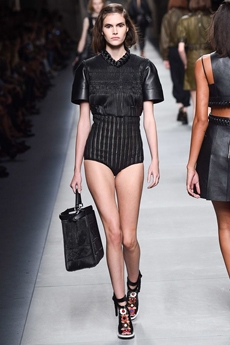 Fashion
Gucci Spring/Summer 2016 Collection at MFW
With a scrupulous eye for the details, Alessandro Michele has created a world of intricacies with his latest Gucci collection. A continuation of his vintage-inspired vision from last season, the quirky collection contains every accessory imaginable with a plethora of floral satins and sheer chiffons.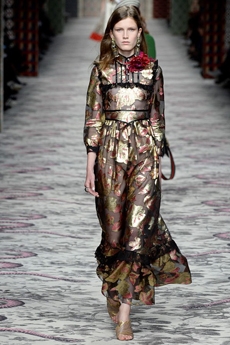 Models donning huge rocks walk up a printed carpet reminiscent of an aristocratic interior, against a backdrop of an older Italy's industrial landscape.
With corsages, oversized, sparkly glasses and head-to-toe printed suits, the current Gucci line is Renaissance-meets-the-seventies, and eccentricity is key.

www.gucci.com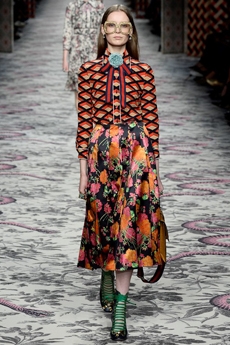 Fashion
Burberry Spring/Summer 2016 Collection at LFW
Military-style coats with regimental studs, ribbon cording that reminds you of army uniforms and intricate lace made in the UK – the distinctively British fashion brand lives up to its namesake.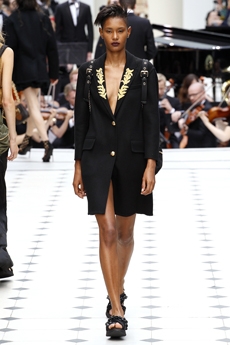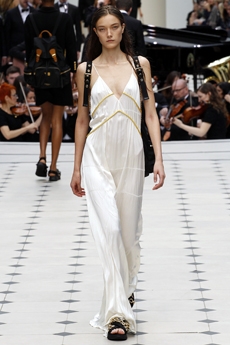 Throw in a classic trenchcoat and a personalized Cara Delevingne backpack and you couldn't get "more" Burberry, though the clunky, chainlink sandals teamed with flowing slips and maxi dresses scream urban grunge.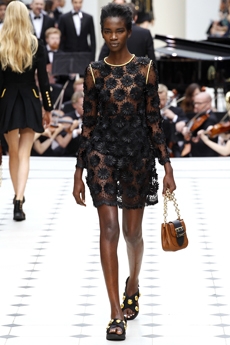 Mix this with a range of sophisticated, heavy coats and you see Christopher Bailey's move away from the idea of season-specific clothes with this collection. Making the show even more memorable, Bailey had Alison Moyet provide the soundtrack with the backing of a 32-piece orchesrtra.

burberry.com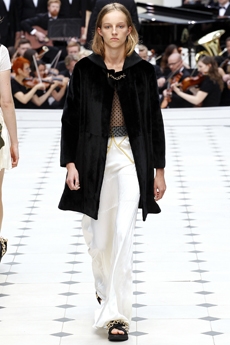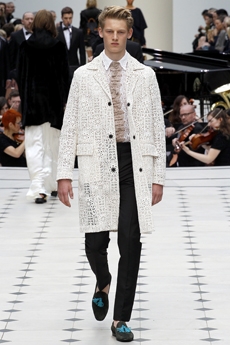 Fashion
MM6 Maison Margiela Spring/Summer 2016 Collection at LFW
Fanny packs, metallics and platform shoes. John Galliano is taking us raving. The dingy basements of London's club scene has undoubtedly influenced the urban fashion show with models stopping to fiddle with the stereo equipment before walking, as if choosing their own soundtrack.
Split hem maxi dresses, eagle prints, tie dye and exposed bikinis made up the basis of the current, ever-eccentric, MM6 collection… Think grunge meets punk meets glitterball. However, the sad thing is that by the fierce expression of the model/ravers, we might not be getting an invite to this cool party.

www.maisonmargiela.com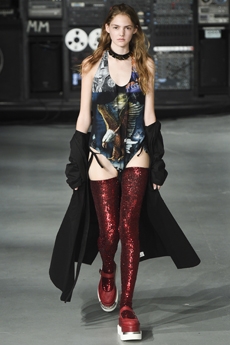 Fashion
"Volez, Voguez, Voyagez – Louis Vuitton"
The Grand Palais was constructed in preparation for Paris' spectacular Universal Exhibition in 1900. Around 48 millions visitors swarmed to the event, whilst George Vuitton created one of the most iconic attractions as part of his role in organizing the entire section concerning "Travel & Leather goods". A majestic merry-go-round formed the platform for an array of pioneering and elegant Louis Vuitton luggage and bags.

As a celebration of over a century of Louis Vuitton, the Grand Palais will now host "Volez, Voguez, Voyagez – Louis Vuitton". Retracing the label back to its 1854 origins, the collection consists of a remarkable overview of Louis Vuitton's journey, paying homage to both it's founders and current creators. Curator Olivier Saillard delved into the archives of the fashion brand to deliver "a fresh vision of our past, present and future", according to Louis Vuitton's CEO, Michael Burke.

The "Volez, Voguez, Voyagez – Louis Vuitton" exhibition will run at the Grand Palais from December 4, 2015 until February 21, 2016.

www.louisvuitton.com
www.grandpalais.fr
Fashion
Diesel Black Gold Spring/Summer 2016 Collection at NYFW
Apparently first inspired by a girl wearing her boyfriend's shirt, Andreas Melbostad has taken this idea and ran with it. Perhaps too far, as at times this collection can seem a little repetitive.
With hints of sportswear mixed into the cuts and footwear, Melbostad has created an urban line with that characteristically Diesel Black Gold biker effect...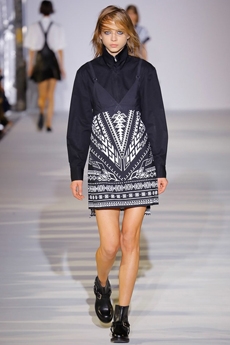 Think oversized leather dungarees, embellished leather jackets and patchwork jeans. This is all realized in a mainly monochrome palette with the emergence of a beautiful deep blue towards the end of the show.

www.dieselblackgold.com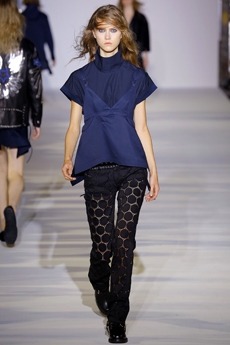 Fashion
Alexander Wang Spring/Summer 2016 Collection at NYFW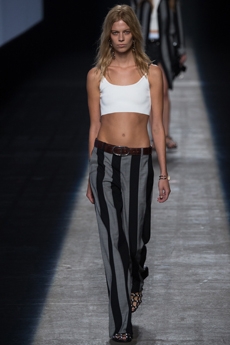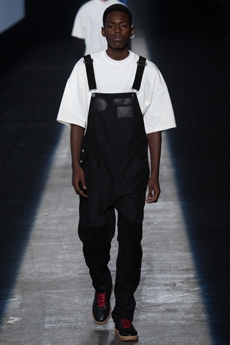 This sports-inspired line consisting of a neutral palette with the odd splash of vibrancy, suggests Wang has momentarily had his fill of all-black following last season. Mesh vests, crop tops, caps and sneakers make up the newly ex-Balenciaga director's collection, oozing contemporary casual.
Departing from last season's look of a subcultural, gothic-rave scene, with only studded sandals as a memento, Alexander Wang has chosen to shift his focus to urban New York streetwear for his Spring/Summer 2016 Collection.
Finished off with a nostalgic highlights reel of the past ten years of his career, along with a star studded front row, the shows reflects Wang as the great New York showman that he is.

www.alexanderwang.com
Art
Schinkel Pavillion Host Solo Paul McCarthy Exhibition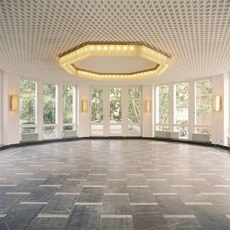 As part of Berlin Art Week, US-American artist Paul McCarthy opens the Schinkel Pavillion's new season with his confrontational, engaging current exhibition. Based on action and reaction, the viewer has no choice but to be included directly in the exhibition. Primarily concerning himself with life and death, waking and sleeping, presence and illusion, McCarthy uses the human body as a point of reference.
"Horizontal" (2012) is at the centre of the exhibition and is a synthetic, lifeless replica of McCarthy's naked body. This feature signals the existential, the obsessive and the voyeuristic, whilst a special extended exhibition space of the Schinkel Pavillion hosts McCarthy's sculptural video installation "That Girl T.G. Drawing Table – Drawing" (2011-2013).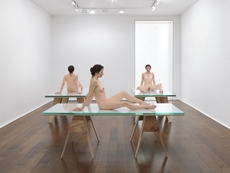 In support of the Schinkel Pavilion, Paul McCarthy will also donate an artwork to the Schinkel Pavilion e.V., to be sold at a benefit auction on October 17, 2015, along with 52 other artists at Christie's in London. Paul McCarthy's solo exhibition runs from September 12 to November 11, 2015.

schinkelpavillion.de
Fashion
Thought your carbon footprint was small? FEIT's is smaller.
FEIT was initially created as a response to the harmful global pollution caused by the careless mass production of unworthy, poorly constructed shoes. The first of its type, this "Neoluxury" brand promoting high quality, sustainability and individuality, was founded by the Australian born Price brothers, Tull and Josh. Solely hand-crafting their shoes with the highest level of skill, this pioneering duo adopts a contemporary, environmentally friendly production process when creating their footwear.

In collaboration with the artist / designer Jordana Maisie, FEIT now welcomes "Installation Two: Volume and Void", the second branch of their innovative company in New York's West Village. The store design has a geometrically shaped clean aesthetic, with timber opening sightlines between the store and outdoor street. Volumetric molds were used to carve out display spaces, in a similar manner to the process of molding leather to a last. The end result, quite like their shoes, is something truly special.

www.feitdirect.com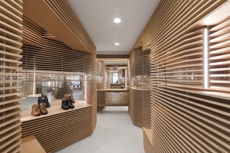 Art
Unseen Photo Fair and Festival 2015
Founded by FOAM Fotographiemuseum, Platform A and Creative Agency Vandejong in 2012, Amsterdam's Unseen International Photo Fair and Festival returns this year for the fourth time.

Celebrating emerging talent in the field of contemporary photography, the fair exhibits new artists alongside current work from already established photographers. Todd Hido, Jean-François Lepage and Inka & Niclas will be amongst the artists featuring around the old gasworks location, Westergasfabriek, whilst Peter Puklus provides the official artwork for this year's campaign as part of his current project "The Epic Love Story of a Warrior".

With the opportunity to engage and contribute your own artistic thoughts and expression through a number of debates and lectures throughout the 3-day fair, the international event brings together a wealth of photography enthusiasts and professionals. This year's edition includes 54 galleries, the Unseen Book market along with the presentation of two awards; the Unseen Dummy Award and the ING | Unseen Talent Award.

The Unseen Photo Fair runs in Amsterdam's Westergasfabriek between September 18 and 20, 2015. The Festival, which is accessible with an Unseen ticket, continues until September 27, 2015.

unseenamsterdam.com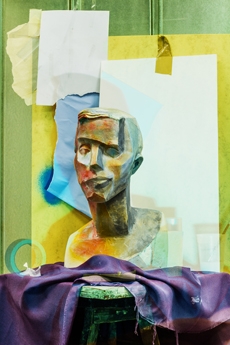 Art
Amsterdam's Tribal Art Fair (TAF) Runs for 13th Year
Keeping a family tradition alive is TAF organizer and owner of Amsterdam's infamous Galerie Lemaire, Finette Lemaire. The gallery is one of the oldest tribal art galleries in the world and was founded around 90 years ago by M.L.J Lemaire. The popular TAF collection boasts an impressive range of textiles, sculptures, masks, jewelry and utensils from all over Africa, Oceania, America and Asia. Twenty national and international galleries will be exhibiting these items in the fair, many of which have never been previously released to the public…Whether you are a collector, an expert or simply a passer by, they are worth checking out. An expert committee will also be judging the diverse collection, examining the authenticity of each item.

The Tribal Art Fair (TAF) 2015 is running in central Amsterdam's "De Duif" church from October 30, until November 1, 2015.

www.tribalartfair.nl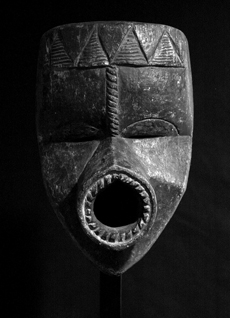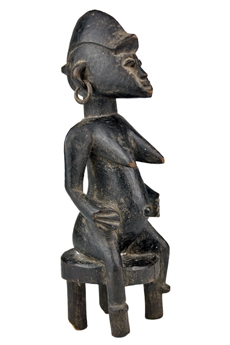 Fashion
Converse Celebrate a 35 Year Old Stüssy!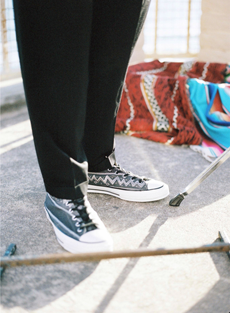 The all American brands Stüssy and Converse have teamed up in celebrating the former's 35th Anniversary. Commemorating Stüssy's iconic "Tom Tom" print of zig zags and dots, the collaboration sees an inspired version of the pattern printed on the high tops and low Ox shapes of Converse's 70s re-crafted Chuck shoe. The graphic featuring in achromatic shades and blue hues is embroidered on these exclusive sneakers in a unique fabric.

The Converse Chuck Taylor All Star '70 Stüssy 35 Collection will be on sale from August 28, 2015, at Stüssy Chapter stores worldwide with a general release on September 4, 2015.

www.converse.com

www.stussy.com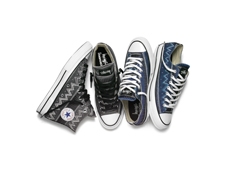 Art
Wish us Luck! LeadAwards Announce ZOO Magazine as a Contender TWICE for Upcoming 2015 Medal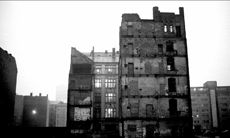 Hailed as Europe's' most significant photography awards, LeadAwards have announced ZOO Magazine as being nominated twice for the prestigious award. Each nomination will feature in the prestigious LeadAwards exhibition at the "Haus der Photography", which is known to host around 40,000 visitors.

Miron Zownir presents one nomination with her Berlin Noir in ZOO Magazines' Tenth Anniversary and Berlin Special, Issue 45. The series sees her depiction of Berlin in a post-war ruin, calling it "the Mecca of the Renegades and Penniless". She shoots working-class citizens in their natural environment of Berlins' then desolate, urban landscape.

Bryan Adams' visual representation of "Helmut Berger", taken from Issue 43's interview, presents the other nominee for the award. Shooting a day in the life of Berger, Adams offers a striking collection bursting with Bergers' larger than life personality.

The LeadAwards exhibition will run at the "Haus der Fotografie" in the Deichtorhallen, Hamburg, from September 19 until November 15, 2015.

The winners of the LeadAwards will be announced three weeks after the exhibitions' opening. Winners will be awarded at the LeadAwards ceremony on October 15, 2015.

www.deichtorhallen.de
Art
We Want More: 21st Century Music Photography
Currently shown at the Photographer's Gallery in London (17 July – 20 September), We Want More studies the changing dynamic between "image-making and music in the 21st century".

Unlike previous times, both the photographer and musician are no longer constrained by briefs given by particular publications. Instead they are freer to realize their own creative visions in the resulting images.

Curator Diane Smythe displays a range of energetic images, from Ewen Spencer's Ayia Napa ravers to Katy Perry impersonating royalty, as shot by Ryan Enn Hughes.


Pictured above is a still from Roger Ballens' series of alternative South African group Die Antwoord, from their iconic "Fink U Freeky" music video, which also features in the exhibition.  Notably, Die Antwoord actually sought out Ballen to direct this for them, as they believed that he specifically could understand the vision they wanted to create.  
www.thephotographersgallery.org.uk
Fashion
Emporio Armani Presents The Fall/Winter 2015/16 Campaign starring Calvin Harris
DJ and producer Calvin Harris stars in the Brooklyn located campaign, a monochrome of cinematographic features shot by photographer Lachlan Bailey. The highly prolific musician Calvin Harris is portrayed in various workplace environments clad in the FW collections' garments, ranging from leather jackets to the iconic Emporio Armani underwear, eyewear and watches. The continuing collaboration strengthens the ties between the fashion house to the world of the energetic dynamism of contemporary music – with innovation, and futurism intertwined with an assured sense of style. www.armani.com
Fashion
Moncler Campaign Fall/Winter 2015-2016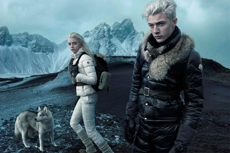 Drawn from the dramatic mysticism of the Nordic Sagas and traditional Russian and Slavik folklore, the Moncler advertising campaign takes a dark turn. The formidable photographer Annie Leibovitz evokes in Moncler's fairytale a take on various literary inspirations: from Tolkien to Hans Christian Andersen. Breathing life into these reimagined characters are the siblings Lucky and Pyper Smith, of the band "The Atomics". The stunning backdrop of the glacial Icelandic landscape frames the characters within a dream-like cinematography. Echoing the color palette of the Moncler collections, the earthy, raw tones are intertwined with nature, embodying the heartfelt relationship of the Moncler approach.

www.moncler.com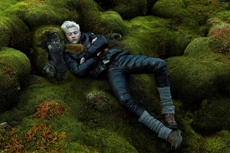 Fashion
Maison Margiela Fall/Winter 2015 at Paris Fashion Week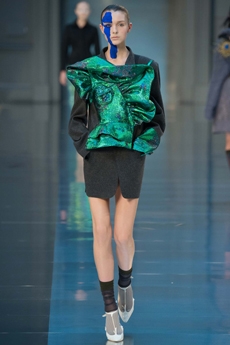 Recalling the striking blues of Yves Klein, abstract patterns and what looked like Granny's crochet patterns, designer John Galliano presented an otherworldly couture collection for Maison Martin Margiela. Disjuncture, contrast and curiosity seemed to be the unifying trend – the collection could swing from showing a majestic coat of beige simplicity to metallic abstraction in the way of a skirt and a paint-splattered ruched top. This fluctuation only served to highlight Galliano's inventive spirit, and his return to what he does best.

www.maisonmargiela.com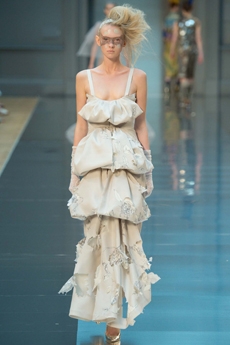 Fashion
Schiaparelli Fall/Winter 2015 at Paris Fashion Week
Inspired by the fantasy and extravagance of a cosmopolitan life from Parisian Chic to Roman baroque, Schiaparelli presents a collection that combines the essences of the contemporary urban woman. Fabrics were made to match the elegance and style of the Schiaparelli woman, from black and red-blooded velvets to intricately embroidered coats. Giving way for these luxurious fabrics was a silhouette of simplicity – giving the collection an aestheticism that can almost be regarded as androgynous if it weren't for the exuberantly feminine prints.

www.schiaparelli.com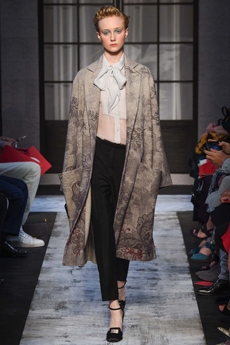 Fashion
Jean Paul Gaultier Couture Fall/Winter 2015 at Paris Fashion Week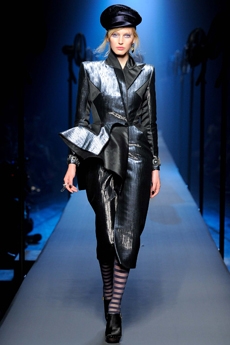 Inspired by Bretagne, the French region known for sailing, the Breton sailor stripe and Crêpes, Gaultier goes fully French. It was more than fanciful; it was a sneak peek into the continual curiousness of Mr. Gaultier's creative mind. Amongst his angular take on the beret, the part chefs-hat, part statuette headpiece exemplified the very present theatrical element of Gaultier's France. Theatrics aside, the collection contained an array of beautifully constructed fabrics, the intense yellow, gold, orange and blue color scheme only highlighting the mastery of construction. Despite the whimsicality of Gaultier's shows, it is something that has become a bit of a trademark — and in the end, his playfulness is always breath of fresh air.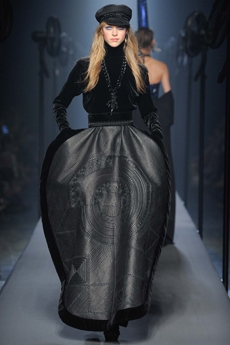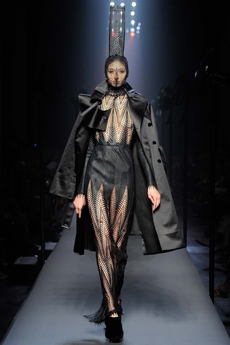 Fashion
Atelier Versace Fall/Winter 2015 at Paris Fashion Week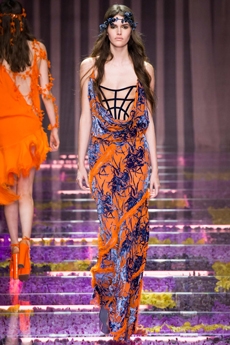 It was a dark and twisted fairy wonderland. Pastel colored fabrics draped beautifully and effortlessly around ethereal models were paired with shiny go go-dancer platforms, dark eye makeup and tousled 'morning after' locks. The spectacle of the Atelier Versace show was striking – thousands of glass-encased orchids lined the runway, headlining models included Doutzen Kroes, Karlie Kloss, Lara Stone and Sasha Pivovarova and the crowd was not disappointed. Donatella received a standing ovation at the end of the mystical fairy-gone-bad couture showcase. The gowns were mesmerizing and looked to be taken straight out of the Grimms' original fairy tales – gritty and fascinating as they are.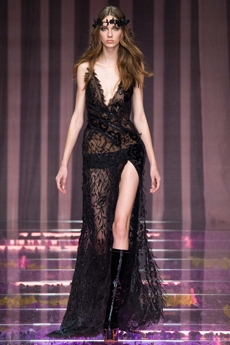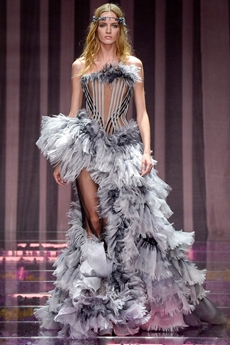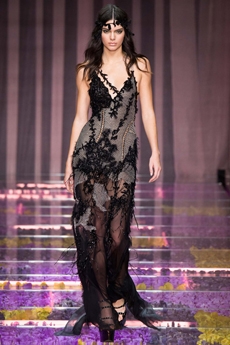 Fashion
Prada Fall/Winter 2015-2016 Womenswear Campaign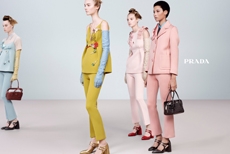 In a campaign shot by Steven Meisel, the FW Prada womenswear collection features an amalgam of new faces. Avery Blanchard, Estella Boersma, Inga Dezhina, Lineisy Montero, Ine Neefs, Greta Varlese and Maartje Verhoef make up the Prada pack. Embracing the beginning of the meta-modern age, Prada reframes notions of reality in an ode to what they have coined to be a meta-modern femininity. In this narrative, the virtual and the real seem almost indistinguishable – captured in Meisel's statuesque and vignette-style photography series. Like the innate contrast of the real versus the virtual captured in the campaign, the materials and shapes of this collection play with opposition. Formal trousers are colored statement pink and metallic tops with opera-sleeves signal the emergence of a new 'uniform - The Prada FW 2015 kind of uniform.

www.prada.com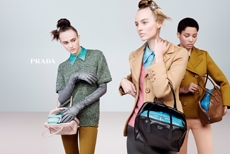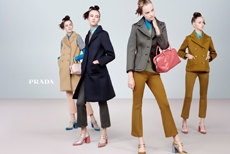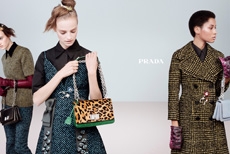 Fashion
Dior Homme Spring/Summer 2016 at Paris Fashion Week
"In All Disorder A Secret Order". Kris Van Assche, Creative Director of Dior Homme presented his contemporary take on the haute bourgeois man, a playful interaction between tradition and alternative masculinity. Influenced by the popular sportswear trend, traditional aesthetics are infused by an overwhelming sense of French chic – in true Dior style. Camouflage is paired with the tightly tailored suit, intense colors spread throughout the collection in the form of statement jackets, belts and sleeves enhance the sleekness and simplicity of the SS 16 vision.

www.dior.com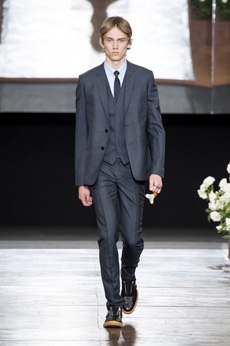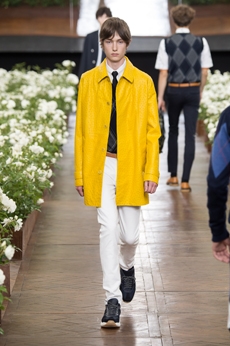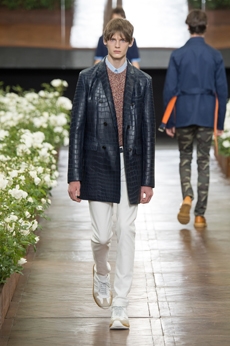 Fashion
Saint Laurent Menswear Spring/Summer 2016 at Paris Fashion Week
Another nod to the essences of rock stardom, Hedi Slimane's Saint Laurent man is one of effortless androgyny. Black skinny jeans and a fringed leather jacket, cut out jeans, flannel and printed lettermans – the SS 2016 collection seems tailor-made for the festival crowd. Considering the attention of which the stereotypical festivalgoer's outfit is subjected to these days, it is not surprising that a fashion house as big as Saint Laurent is manifesting their own take on the rugged urbanite. Like Woodstock's iconic fashion imprinted itself firmly in the mainstream, so it seems, does the reformulated versions of it – this time in the form of Hedi Slimane's vision of Californian music culture.

www.ysl.com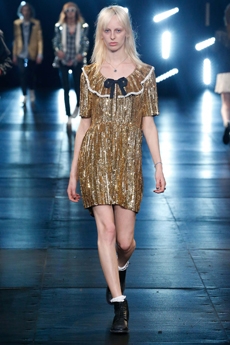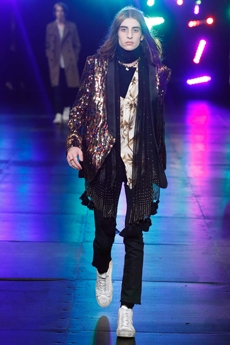 Fashion
Valentino Menswear SS 16 at Paris Fashion Week
The sports infused wardrobe is here to stay. Earthy tones of browns, greens and ochre abound in this very wearable menswear collection. Denims and camouflage round off this fully-fledged men's wardrobe. Valentino's Pierpaolo Piccioli and Maria Grazia Chiuri constructed with a true sense of quality a collection as multifaceted as it is flexible – the looks would certainly not seem out of place on most urban streets. Perhaps the only danger here is just how much the collections can be applied – wallets beware!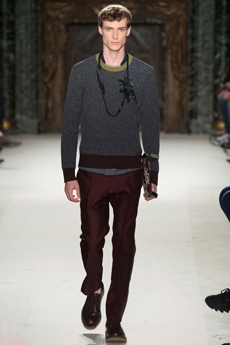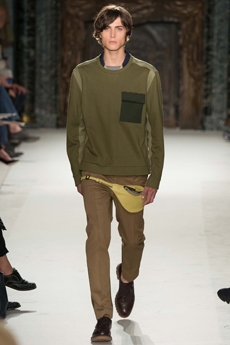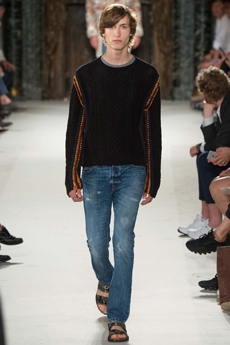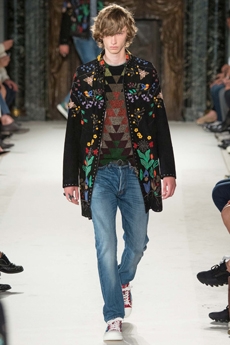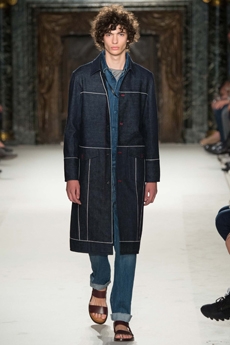 Fashion
Emporio Armani Menswear Spring 2016 at Milan Fashion Week
With a decidedly East-meets-West point of departure, the Emporio Armani 2016 show paired European silhouettes with contemporary cuts seen in the fashionable streets of the East. More of a resonance of the Eastern demand for European high fashion, Giorgio presents classic cuts, the 'Armanified' version of the coveted sneaker, sleek sunglasses and the occasional beret.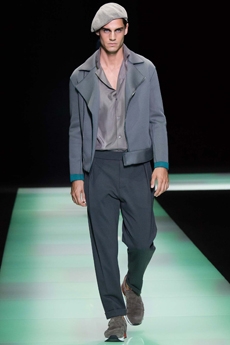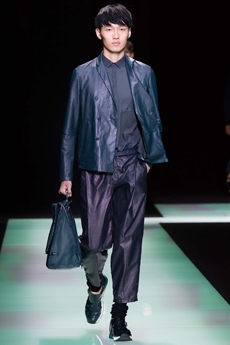 Fashion
Prada Menswear Spring 2016 at Milan Fashion Week
Leather shorts, black boots, tailored jackets and casually bold prints dominated the somewhat feminine take on menswear by Miuccia Prada. The collection was imprinted with the playful feeling of boyhood – oversized tops, colorful prints of rocket ships and racing cars and shirts tucked hurriedly into shorts. Boot-cut pants and zipped sweaters beneath printed shirts reflected the vintage 70s vibe that reverberated throughout the Prada showcase.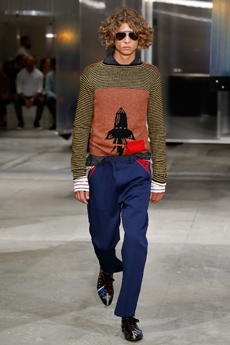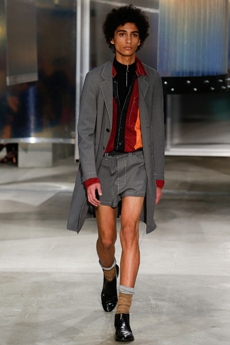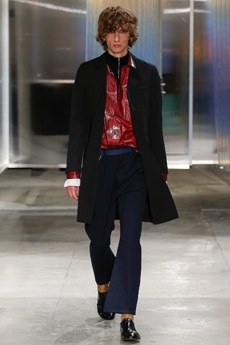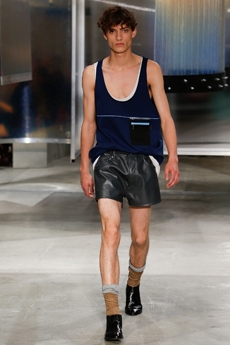 Fashion
OXYDO Capsule Collection by Felix Bauer
Berlin-based artist Felix Bauer joins the premium eyewear brand in the creation of a Collectors Capsule Collection aimed at reinterpreting the brand's all-time bestsellers while introducing new models.

Incorporating Bauers' surreal and dream-like illustrations, the eyewear takes on a fantastical and inspiring air of unconventionality. Bold black and white graphics are intrinsic to the Felix Bauer Collectors' edition glasses, whose monochromatic essence stylizes Bauers' illustrations of nature.

The OXYDO Capsule Collection by Felix Bauer will be available in four styles, offered as numbered limited edition pieces. The glasses come with a Bauer-designed booklet, which explores the creative process of incorporating the art with the eyewear.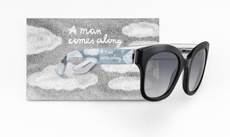 Fashion
Moschino Menswear Collection SS 2016
Inspirational origins were decidedly unsubtle and in-your-face at the Moschino Menswear SS 2016 show. Models walked out to the backdrop of a classical French mansion wearing accessories fit for… well Louis XVI himself. Certainly fascinating and absolutely eccentric, creative mind Jeremy Scott channels motor sports, French luxury and the rebellious air of Jimi Hendrix and Prince all at once.

Scott's take on menswear prescriptions are definitively not to be put into a pigeonhole. Indeed, the signal is that there is absolutely nothing keeping you from wearing what you want to wear but availability, and Moschino and Scott certainly delivers.

"This is not about more pocket squares, more deconstructed jackets, more athelisure, more meh. It's Moschino, baby."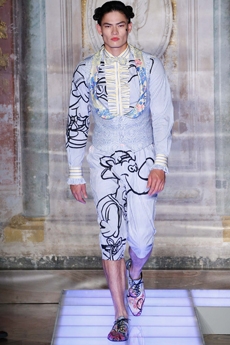 Art
Nude Animal Cigar – Paul Kooiker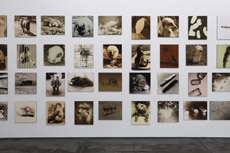 Commissioned by the Fotomuseum in The Hague, Dutch artist Paul Kooiker will present his distinctive photographs at Gallery Kromus + Zink in Berlin. Kooiker's ouvre is certainly not avoidant of the one-object focus. In fact, his ability to highlight objects, animals and the female form often evoke a lingering, curious gaze. Nude Animal Cigar is no different. Using sepia filtered hues, lit cigars, contorted torsos and animals are exhibited side by side. Unsettling perhaps - yet simultaneously captivating.

The photographs can at times seem like an invasion of privacy, a snapshot taken of those unaware. Kooiker is no stranger to this use of ambiguity, often utilizing provoking compositions in order to deconstruct and depersonalize female bodies. Perhaps part art social critique and part post-war cultural satire; Kooiker undeniably achieves a raise of the eyebrow.

The exhibition Nude Animal Cigar will run from June 13 until July 25, 2015 at Gallery Kromus + Zink in Berlin (Linienstraße 23).  
Read more about Nude Animal Cigar in ZOO Nr. 47 – out now.

www.paulkooiker.com
Fashion
Acne Studios Menswear Collection SS 2016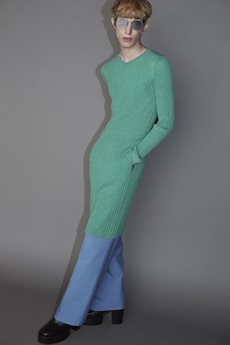 Inspired by the unisex approach to dressing in 70s New York (mostly in the shape of his love of the hard rock band New York Dolls), Jonny Johansson - Acne's creative director - has taken to creating a bold collection. Following his experiences surfing with surfer come artist Robin Kegel in the Swedish oceans, Kegel's distinctive surfboard art has colored the collection with individualism. Printed on loose fit jumpsuits in poplin silk and cashmere sweaters, Acne's take on the hard-rock 70s Swedish surfer is supremely awesome. With billowy shirts, abstract graphics and vivid red, blues and greens, the Acne collection is certainly made memorable.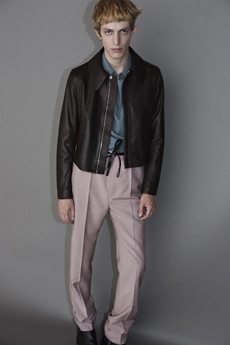 Fashion
SLOE presents their new collection 'Avidness'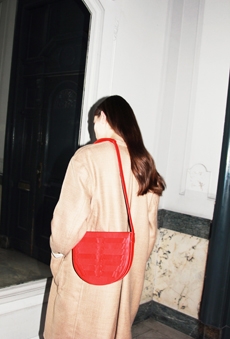 Founded by Antonia Siegmund and Matthias Last in the summer of 2012, the German label combines their belief in casual sensuality, urban grace and high-end materials in a sustainable form. With clean cuts and fine craftsmanship, SLOE launches their third collection 'Avidness'.

SLOE's collection typifies the fashion-labels' understated elegance and stoic perseverance of the simplistic and durable aspects of contemporary style. As the capstone of 'Avidness', the fringed leather shoulder bag is created through careful selection of materials, designed to stand the test of time and style. Classic colors, tailored coats and sweaters underpin their timeless quality.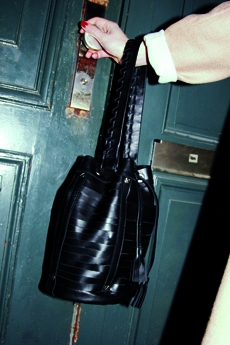 SLOE pieces can be purchased online and in selected stores.

www.sloeberlin.com
Music
HFN Reworked Vol.1 - Various Artists
In this first volume of the hfn's music catalogue rework series, Neville Attree modifies and electrifies selected tracks from Reptile Youth, Darkness Falls and Human Woman. The Faded Ranger producer Attree twists and reworks in unexpected ways, creating a distinctively club-friendly sound. Using freestyle remixing and retrospective futurism, the producers' compact instrumental form is delivered to you by way of melodic bass, attuned to both dancing pleasures and lounging leisure.

This reworked revelation includes three instrumental versions of reinvented classics hailing from the label's formative years. A style reminiscent of "retrospective futurism", Attree produces works fit for the bustling underground rave to the offbeat if not avant-garde soiree.

Various Artists – hfn reworked eins is available as of 25 May 2015 on hafendisko.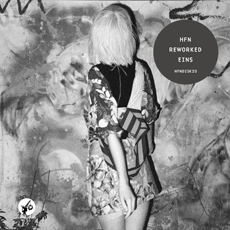 Travel
Schwarzhogerzeil Opens On The Torstrasse
Owned by Nicole Hogerzeil, the Berlin located fashion retail store Schwarzhogerzeil has found a new home on the Torstrasse. Recreated in spacious surroundings, the space appropriately reflects the brands hand-picked by Hogerzeil – elegant, minimal and luxurious.

Conceived by the interior designer Sylvester Koziolek, the space has a decidedly Parisian charm ca 1940, yet refined with the features of the contemporary. Neon lighting and sturdy steel clothes racks come together in the creation of a certain 'Schwarzhogerzeil atmo